2013 Holiday Gift Guide Suggestion
This post contains affiliate links. If you click and make a purchase, I will make a small commission at no extra charge to you.

In today's fitness market, the hottest new gadget seems to be the fitness bands which you wear on you wrist and it tracks your fitness activity levels. Last month, when Bowflex introduced their version of these bands, The Bowflex Boost™, I had the opportunity to to try it out for myself.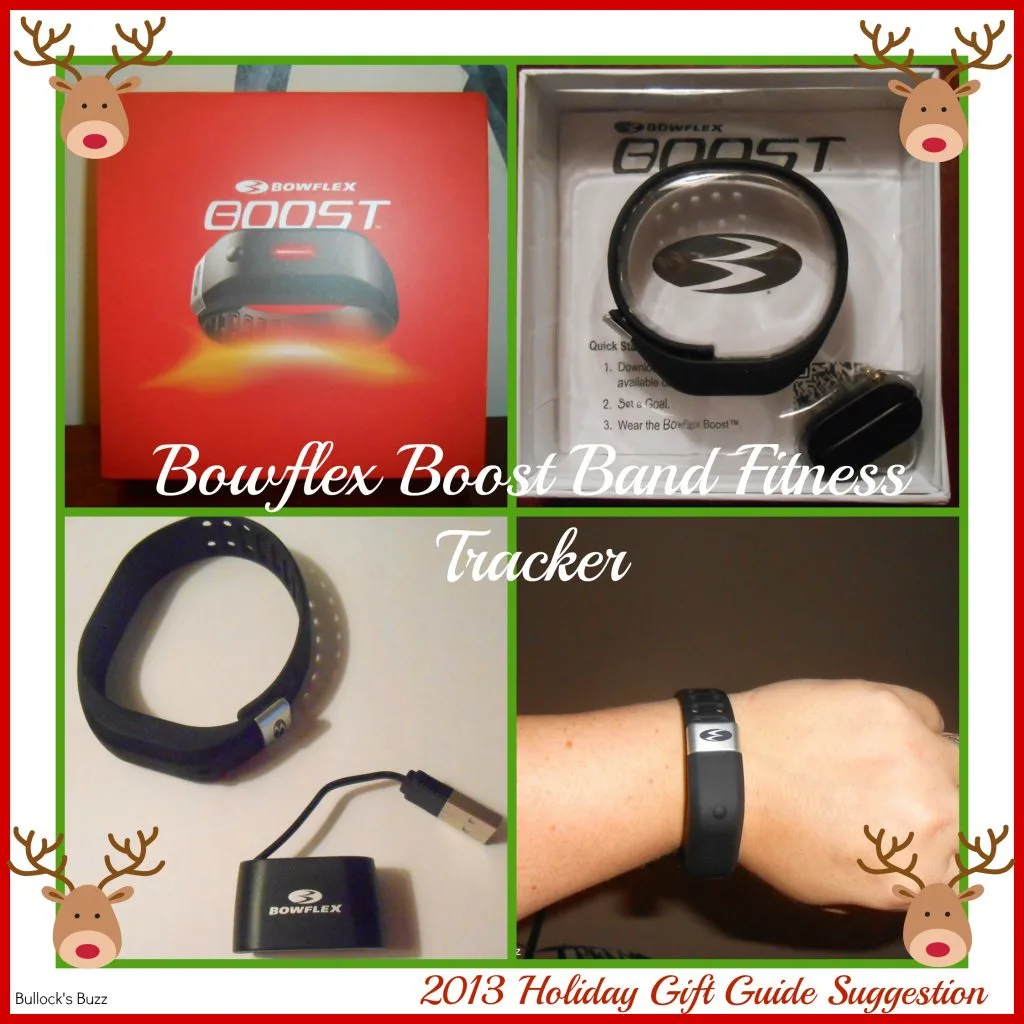 Bowflex, made by Nautilus, has long been the top name when it comes to home gym equipment. The brand is well-known for making exercise equipment that allows the user to get the full gym experience at home, performing dozens of exercises in short amounts of time. That, along with the fact that much of their equipment is portable and small enough to fit in a spare room, has made them a favorite with those who do not like going to a public gym.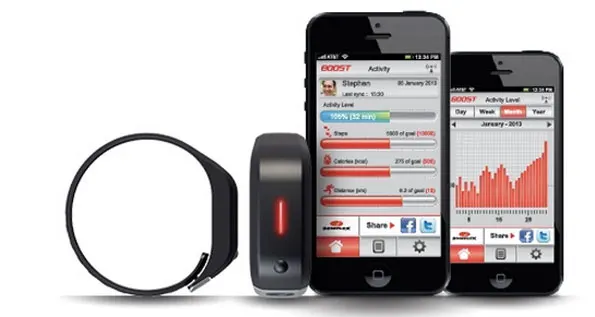 The Bowflex Boost™ is a 24-hour fitness monitoring band that tracks your activities throughout the day and into the night. Designed for people of all fitness levels, the Boost Band lets you personalize and monitor your daily fitness goals, offers insights to empower you to make positive change and even tracks your sleeping patterns. It will calculate your steps, distance traveled, calories, overall activity patterns and how well you sleep. It also comes with a companion iOS app which using Bluetooth® Smart technology allows you to sync data to your iPhone, iPod Touch or iPad (4S and higher) and keeps you accountable to your fitness goals.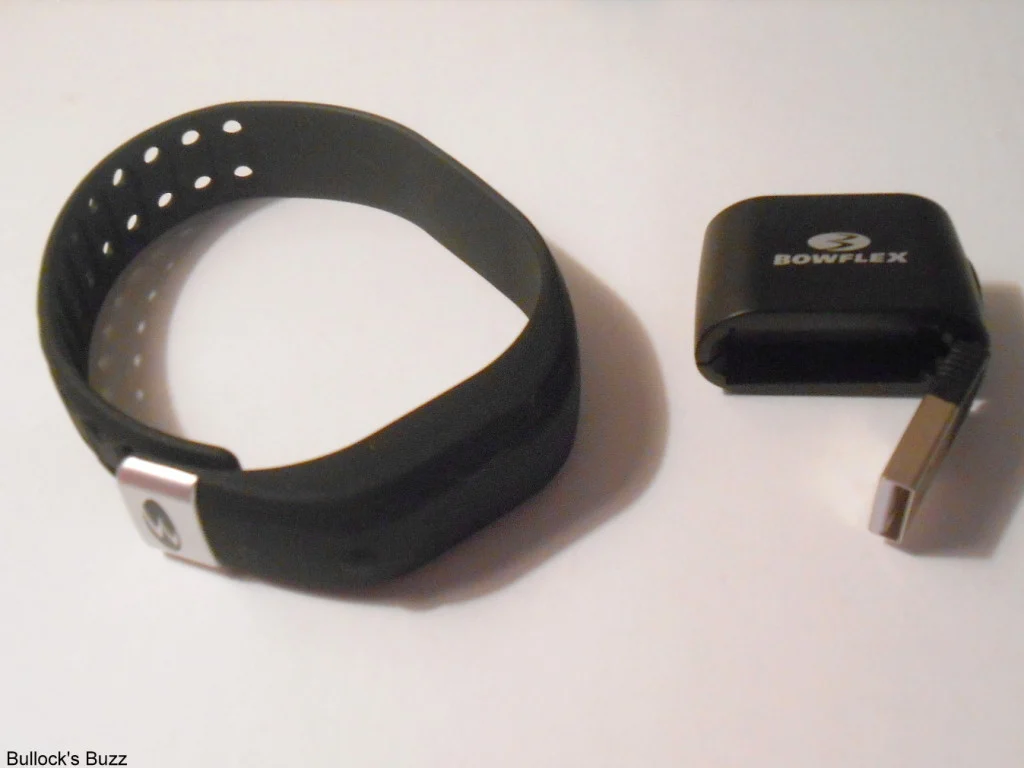 The Boost Band is basically a lightweight, black wristband with a sliver clasp that you wear all day and all night. It is made of a very soft, medical-grade silicone, measures around 9″ long and 3/4 of an inch wide, and weighs less than an ounce. While it is waterproof up to 1 meter which will keep it safe in the rain or shower, but it is not recommended to wear while swimming.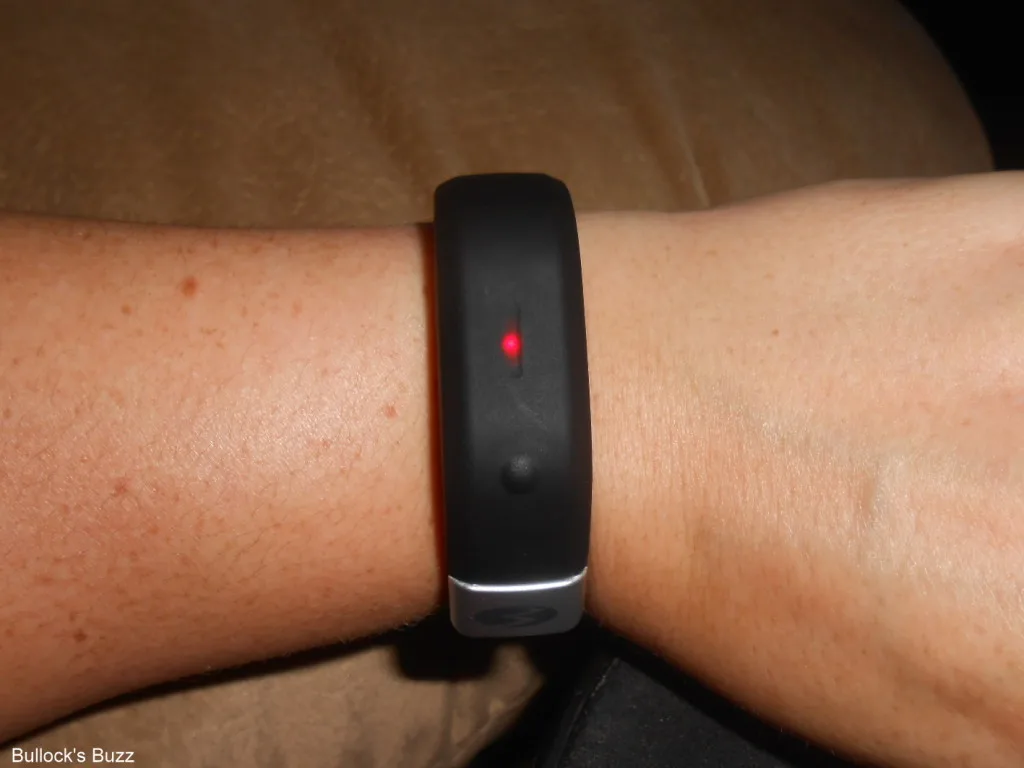 The Boost Band also features a small button that lights up when you press it and tracks your fitness activity levels while showing how close you are to reaching your daily goals. When you first start the day it will be red, then it will turn yellow when you're halfway to your daily goals, and green when you've finally achieved them. Your daily goals are set using the free iPhone app and includes a step goal (for example, 10,000 steps), a calorie-burning goal (500) and a distance goal (five miles). Throughout the day, you can check your progress toward these goals by pressing and holding the button on your Bowflex Boost™ for 5 seconds until the blue light blinks, and then opening your app to view your activity. Although it comes with default numbers, you can personalize them to your goals.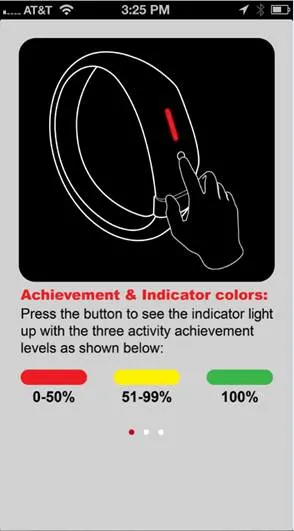 When I first used the Bowflex Boost™, it took close to two hours to fully charge using the included USB charger. On the underside of the band are two connection points, and you simply match these points to the ones on the included USB battery charger, then attach the USB cord to the port on your device. According to Bowflex, the battery will hold a charge for up to 11 days; for me, it lasted almost 15 days.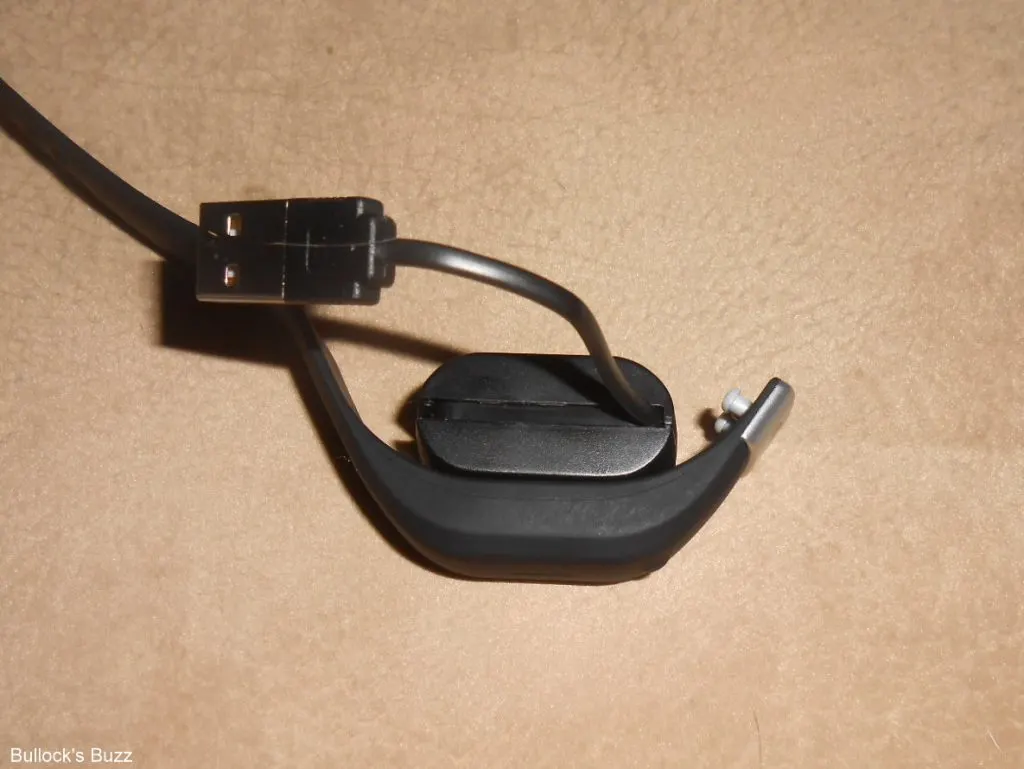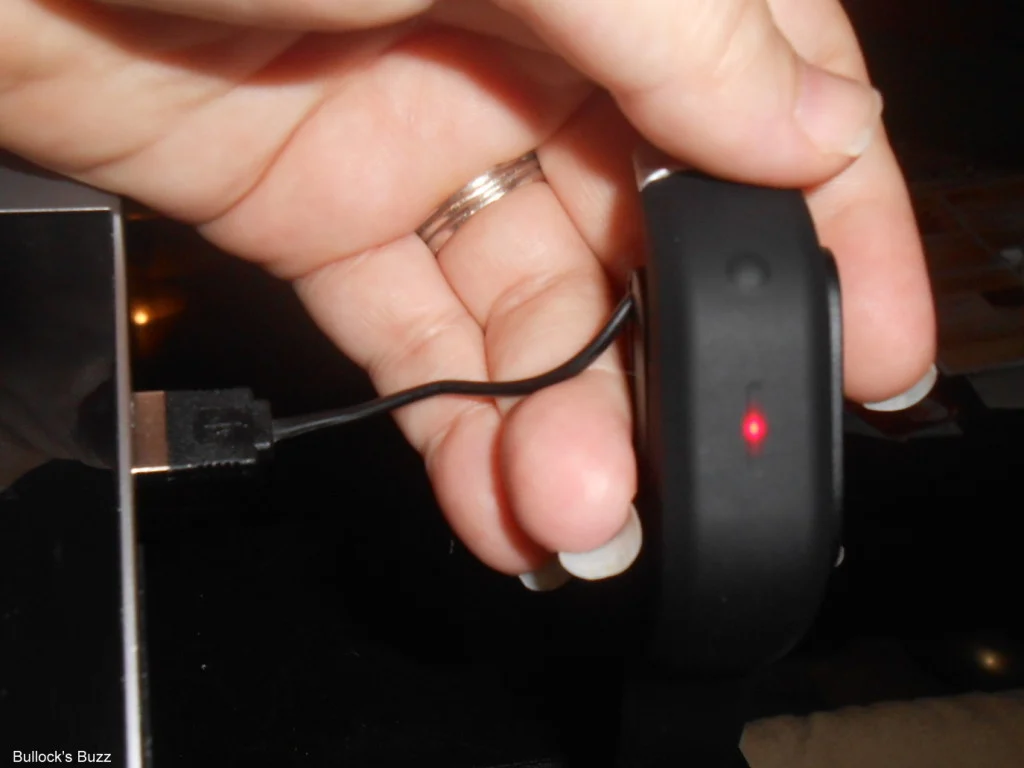 Once it had a full charge, I then installed the free software from the app store. Setting up the app was not very difficult as it takes you through a tutorial showing you exactly what to do. When you set up your User Profile you enter information such as your gender, date of birth, height and weight.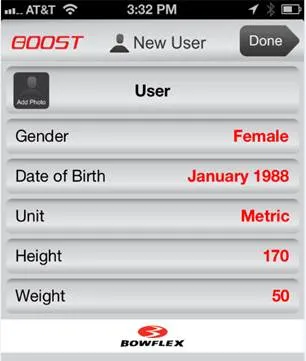 Next you are taken to the main Activity screen where you see your profile picture, date and time of the last sync, the battery life and information about your most recent activity level such as number of steps, calories burned, and distance walked/run. If you turn your mobile device to landscape mode while viewing this data you will be able to see a graph view of your activity.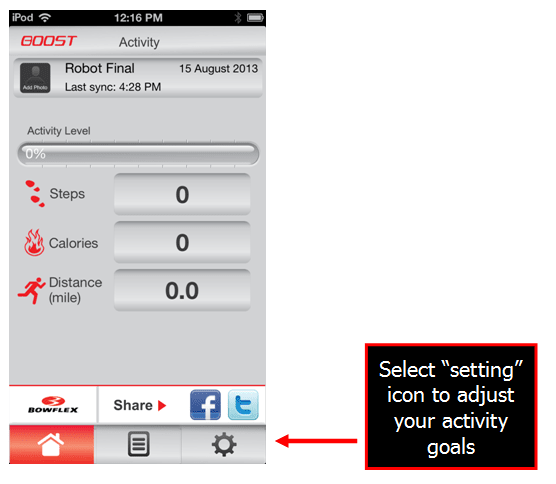 Touching the gear-shaped icon on the bottom right will take you to the Settings screen where you can adjust all of your activity goals and where you can enter your typical wake up time for weekdays and weekends. However, this is not an alarm, instead it is used to take your phone out of sleep mode after you have put the bracelet in sleep mode for the night.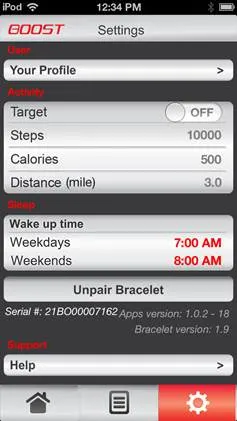 From the main Activity screen you can get to the Sleep Activity screen by simply swiping the screen to the right. Here you will see how long you spent in bed, how many minutes it took you to fall asleep and how many minutes you actually slept. Again, if you turn your screen to landscape mode, you will see this information in graph form. Being able to see how much you slept and how much you tossed and turned is a great way to see if how you are feeling during the day has anything to do with you sleep or lack thereof the night before.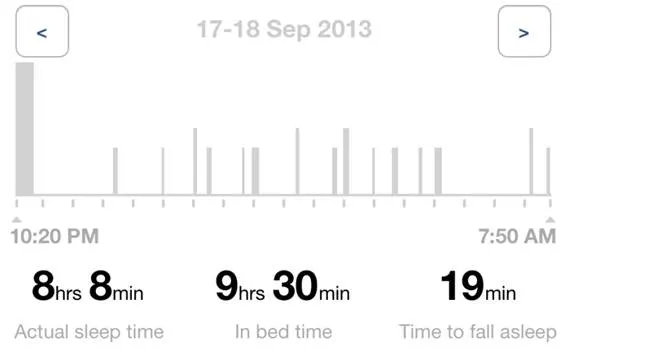 My Verdict of the Bowflex Boost™ Fitness Band
For $49.95, the Bowflex Boost™ is a very affordable, though basic, fitness band option. I say basic because unlike other fitness bands, the Bowflex Boost™is not a heart rate monitor or GPS. All of the information gathered is basically based on how many steps you take, how much you move your arm and the information you put in the app such as height and weight. It is not taking into account the type of exercise you are doing, nor does it have an accelerometer. Then there is the fact that much of the data both tracked and that you input into the app is not saved. So if you want to remember your goals from a week ago, you need to write them down or find some other way to keep track. The same goes for the data regarding your sleep. Finally, my last qualm, it is only available for iOS users, although an Android app should be available by the end of the year. As far as Windows platform users, who knows!
Overall I do really like the Bowflex Boost™. Not only is it a durable, reliable product made by a trusted company whose only business is fitness, but for less than $50, it is extremely affordable and a great option for those of us who can't or won't spend hundreds of dollars on a fitness band. It is a great way to see exactly how active you are, and I find that watching the activity monitoring light is a great motivator to making yourself get up and get moving – I keep wanting to get to the green faster and faster! And if you need a little boost in the form of support from family and friends, the Boost Band app has Facebook and Twitter functionality built-in, making it easy to share your progress!
Currently the Bowflex Boost™ is only supports iOS devices 4s and higher. You can get the free app software through the App Store. You can purchase the Bowflex Boost fitness band directly through the Bowflex Boost website, as well as through Amazon.com, and many other online and offline stores. Be sure to connect with the Bowflex on Facebook, Twitter and YouTube to keep up with all the latest products, information, promotions and more!