Today's post featuring a Copper Clothing review is a sponsored post. Regardless, all opinions are my own. Thank you Copper Clothing for gifting me a few products in exchange for an honest review.
Copper is an essential part of our everyday lives. Not only do many household products rely on it such as (electricity and the pots and pans we cook with), but it's also involved in the functioning of the human body and essential to growth.
It is also quite popular in copper-infused clothing and bedding with many people claiming that it can provide all sorts of benefits ranging from pain relief to helping reduce wrinkles.
I've always been curious about these claims, so when Copper Clothing reached out to see if I'd be interested in checking out some of their products, I couldn't wait. This is my Copper Clothing review.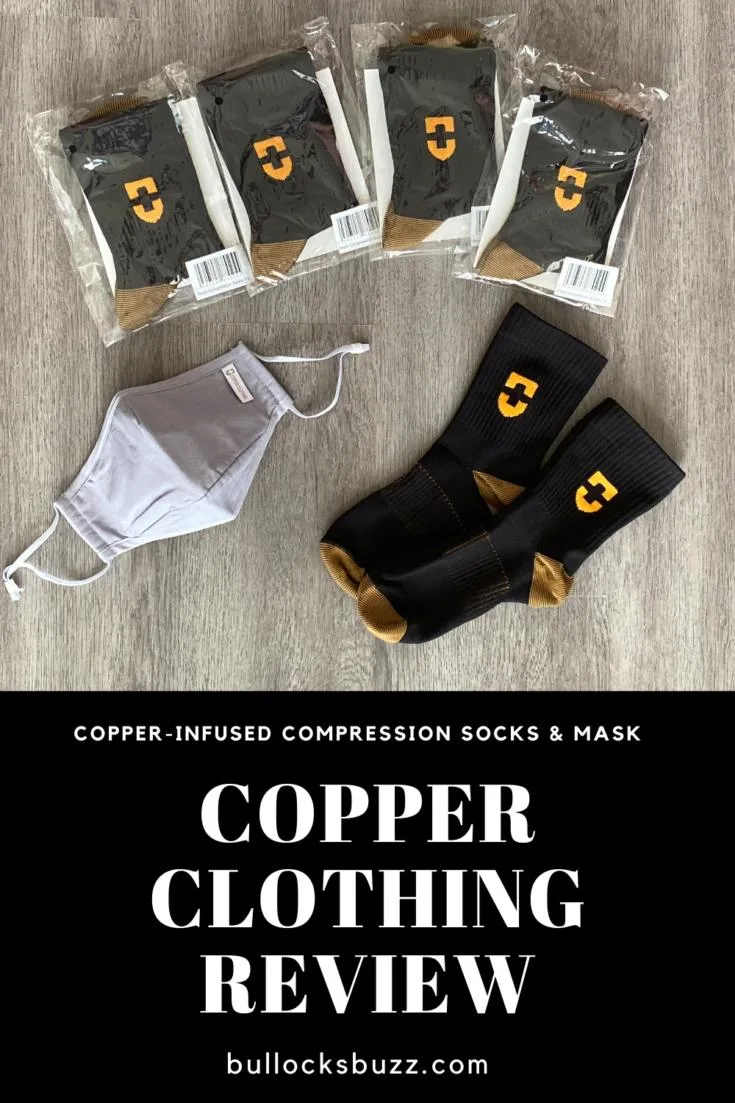 BENEFITS OF COPPER
Copper is well-known for it's anti-inflammatory and anti-microbial properties. In fact, in numerous published studies around the world, copper has been shown to destroy 99.9% of bacteria, fungi and viruses — within minutes of contact.
This means it's naturally effective against bacteria, germs, infections, bad odors, and more.
In the human body, copper helps strengthen the support structure within the muscular system which helps in relieving sore, painful and swollen joints.
It's also thought that copper helps to promote blood vessel development and angiogenesis, rejuvenating the skin by synthesizing elastin and collagen.
ABOUT COPPER CLOTHING
Copper Clothing sells a broad range of copper-infused products including gloves, face masks, compression socks, blankets, bed sheets, pet beds, insoles, eye masks, regular socks, and underwear.
This quote from the Copper Clothing website speaks of their goals best:
"Copper Clothing is pioneering the research and development behind copper-infused technology to revolutionise the way we tackle antibiotic resistance and prevent future pandemics. Our goal is to reduce the spread of infectious diseases through commercialising a range of safe to use, high quality, durable, non-drug, non-invasive and affordable anti-microbial solutions."

copperclothing.com
While researching of the brand, I found that Which? had included Copper Clothing's face masks in a round-up of effective COVID-19 face coverings, stating that they not only fit well, but that the brand also has lab results and independent certification to back up their antimicrobial claims.
MY PRODUCTS
The products I requested included their Short Copper Compression Socks and their Copper Infused Face Mask.
Short Copper Compression Socks
Compression socks are specially made medical socks designed to apply pressure to your lower leg . They're great for boosting the circulation of blood from your lower legs to the rest of your body therefore fighting swelling and discomfort. Both of which my husband and I suffer from. And we both have varicose veins as well.
Add in copper, and these copper-infused compression socks are supposed to be full of benefits including:
anti-inflammatory, helping to sooth aching joints and muscles.
anti-odor, helping to destroy odor-causing bacteria and fungi ensuring the socks stay fresher longer
self-cleansing and hygenic, as copper is anti-bacterial, anti-fungal, and anti-viral/microbial
promote blood flow
provide moisture management as they are made of a super soft, breathable, moisture-wicking material
durable – copper will last the lifetime of the product
comfort and support, as the socks gently provide enough pressure to help blood move up to help prevent swelling, chronic vein problems and edemas, and reducing the risk of blood clots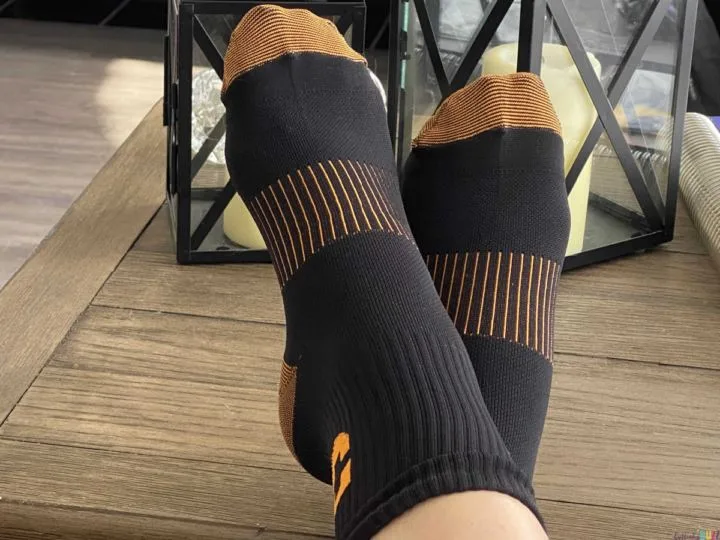 Our Experience
After wearing these socks for several weeks, my husband and I are both fully convinced of their benefits. His feet and ankles are no longer as swollen and painful after work as they have been for years. And I see a marked difference in the amount of pain I suffer as well.
The Short Copper Compression Socks hit about mid calf on us both. They are nice and soft, super supportive, and we've not noticed any sweating.
FFP2 Certified Four-Layer Copper Face Mask
Ever since the pandemic began, I Have been super careful about wearing face masks. I'd go through disposable ones like candy, and none ever fit my small face very well at all. So eventually I began looking for reusable face masks. I am super picky about the ones I will wear, making sure they have a minimum of 3 layers.
Copper Clothing's Face Mask is not only 4 layers, but it is also infused with copper making the masks anti-microbial and capable of filtering 99% of particles. They are also washable.
The four layers consist of:
Layer 1 is an Anti-Microbial Copper Layer which is designed to prevent the spread of infections. According to the site: "the Copper ions infused in the outer layer of the mask have been proven in tests and studies across the world to destroy 99.9% of bacteria and viruses on contact."
Layer 2 is a KN99 Filtration Layer whose polypropylene filtration material blocks more than 99% of fine particulate matter for maximum protection.
Layer 3 is a Cotton Filtration Layer which also blocks 99% of fine particular matter for maximum protection cotton filter and lining, the 3D space between layers for superior ventilation and improved moisture absorption.
Layer 4 is made of high quality, skin-friendly, natural 100% cotton for maximum comfort. It's super soft and skin-friendly.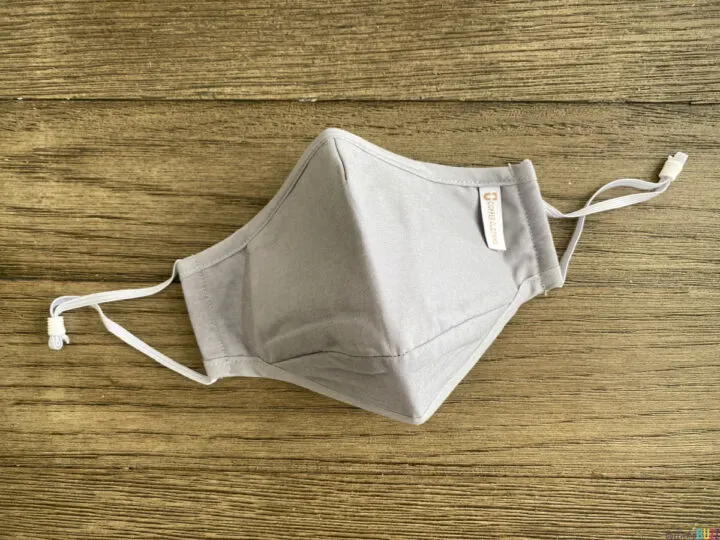 My Experience
I truly like this mask. Not only does it offer 4 layers of protection, but it is super soft and it fits perfectly – especially along the sides where most masks tend to gap open on me. I also like that it has adjustable ear straps, and a metal nose piece. Plus, despite the 4 layers, it is not hard to breath at all. I'll definitely be getting another one of these!
One thing that is important to note about this mask is that it needs to be washed in distilled or cooled boiled water. Instructions are included, but basically you boil the water and let it rest for about 15 minutes. You then soak the mask and rub gently. They suggest washing it once a week or after around 30-40 hours of wearing it.
Also, stubborn stains such as heavy makeup will stain it permanently.
FINAL THOUGHTS
Thanks to Copper Clothing, my first experience with copper-infused clothing has so far been a postivie one. I'm definitely interested in trying some more products.
Head over to Copper Clothing to see for yourself the great selection of products they offer.