Accent side tables should never be underestimated, as their potential for adding personality and style to your home is unmatched. Forget the days when these simple additions were used as a place to store all your random items that didn't quite have a home. These days, this versatile piece should be celebrated with beautiful and creative accent table decor ideas.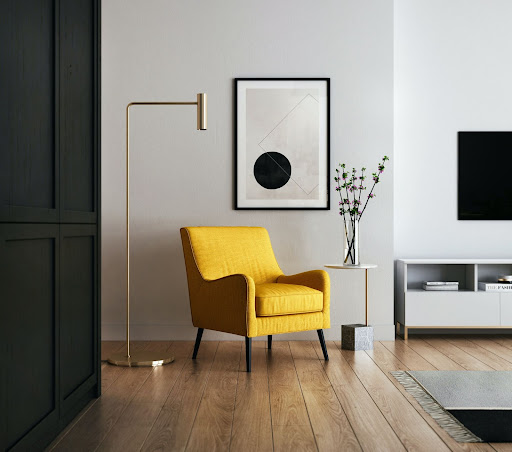 Whether your design choices push you towards elegant antique wooden pieces or chic marble side tables from RJ Living, taking just a small amount of extra time to adequately adorn these furniture items will elevate your room to the next level.
Here are some easy tips to help you come up with some unique and creative accent table decor ideas that will take your accent tables from boring to beautiful!
Be Bold
When it comes to accent table decor ideas, be bold in your choices. When a side table is not at risk of being trampled by rowdy children and flailing arms, it can be the perfect base for striking and eye-catching art pieces. The job of an accent feature is to draw the eye to a focal point within a room. What better way to achieve this than through art?
Employ the style rule of three, with three items contrasting in shape, size, and color, but find a connection through a general common theme. Additionally, adding a table lamp to finish off will serve the practical purpose of providing light.
Add Color
Adding color is another of our simple accent table decor ideas. You can bring in a pop of color through seasonal flowers, brightly designed vases, or retro design pieces like lit-up message boards. The color palette you choose to use should either complement the existing room or properly contrast the colors according to the color wheel.
If you like the idea of floral color but want something more low-maintenance, dried or artificial flowers will be good options to consider. Their color may not pop as brightly as fresh, but their subtle hues and pastel shades will add another dimension to the overall color scheme.
Think of the Big Picture
Every design element you choose for a room, from the pieces of furniture you incorporate to the color of the rug on the floor, must work together to create a cohesive and inviting environment. This is particularly important to remember when considering accent table decor ideas for your statement feature, as its intended job is to stand out.
You don't want to create a divide in your space or block off potential floor area with an ill-placed item. Instead, you should feature it alongside the existing main couch, a floor lamp, or a plant feature to tie it back into the room.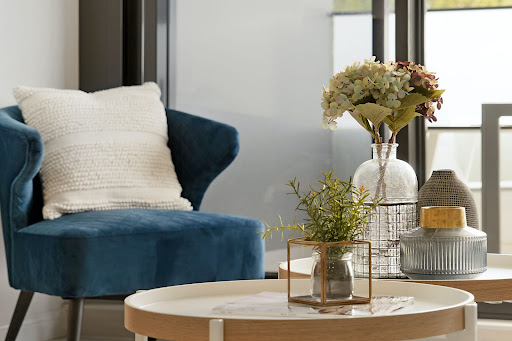 Bring Nature Indoors
Houseplants for decor have become some of the most popular options in homes worldwide. Not only are they incredibly good for your health and mental well-being, but they are also effortless to style into a room, making them the perfect choice for accent table decor ideas.
In a neutral color scheme, they bring a pop of color. Alternatively, they add a refreshing round out when combined with earth tones and nature-inspired color palettes by embracing the green tones. An elevated side table with a trailing plant in open-plan living rooms will create a dramatic yet elegant effect.
Incorporate Lighting
A side table is a common place for the perfect table lamp to find a home. But if you have not chosen to push your furniture back against the walls, it can become difficult to practically include this feature in the room without electrical wires trailing along the floor.
Instead, consider incorporating light features around the table. For example, you could opt for a dramatic standing lamp that can illuminate the room with a particular focus on the table. A chic wall sconce is ideal if the table sits flush against the wall, as it frees up both floor and counter space.
Embrace Simplicity
If your personal style leans more towards simplicity and subtle highlights, big, bold features will not work within your home. However, you are not left without choices for accent table decor ideas. For example, all side tables will occasionally play host to a coaster. But keeping them permanently on display is a small, stylish, and practical feature for the room.
Additionally, you can choose to stack books on a table with neutral-toned book covers. We have a never-ending supply of them, and they act as a great layering item with other pieces you may choose to incorporate.
Casual Home Bars
Casual home bars have become a very popular option in accent table decor ideas. Depending on who you are, you might be tempted to jump on the popular trend of a home bar. But like most luxurious design features, space plays a crucial role in whether we can incorporate these ideas.
In a smaller room, where space might be lacking, you don't need to completely give up on this dream. Placing elegant glass or crystal decanters with one or two beautiful bottles of your favorite spirits can create a statement corner with a twist. Add in two or four tumbler glasses, and you have a mini-home bar for the next time your friends come over.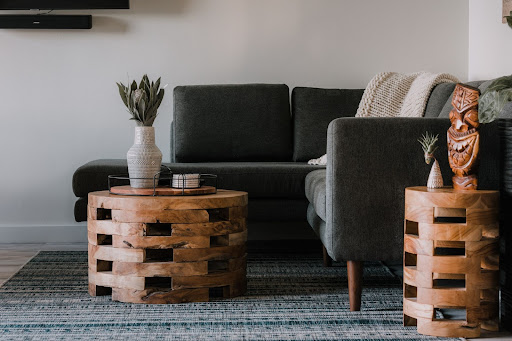 Space for Scents
If you fall victim to the appeal of scented candles and find yourself with an endless supply and no place to put them, an accent side table will quickly become your favorite piece of furniture.
Following the rule of three, adding candles with complimenting scents and colors will give your home a luxurious feel and an enchanting smell. Add a match striker for convenience, and switch out the candles as the seasons change.