Grinch Bark Christmas Candy is a fun and festive, no-bake holiday treat made with red and green candy swirled together and then topped with a sprinkling of red candy hearts.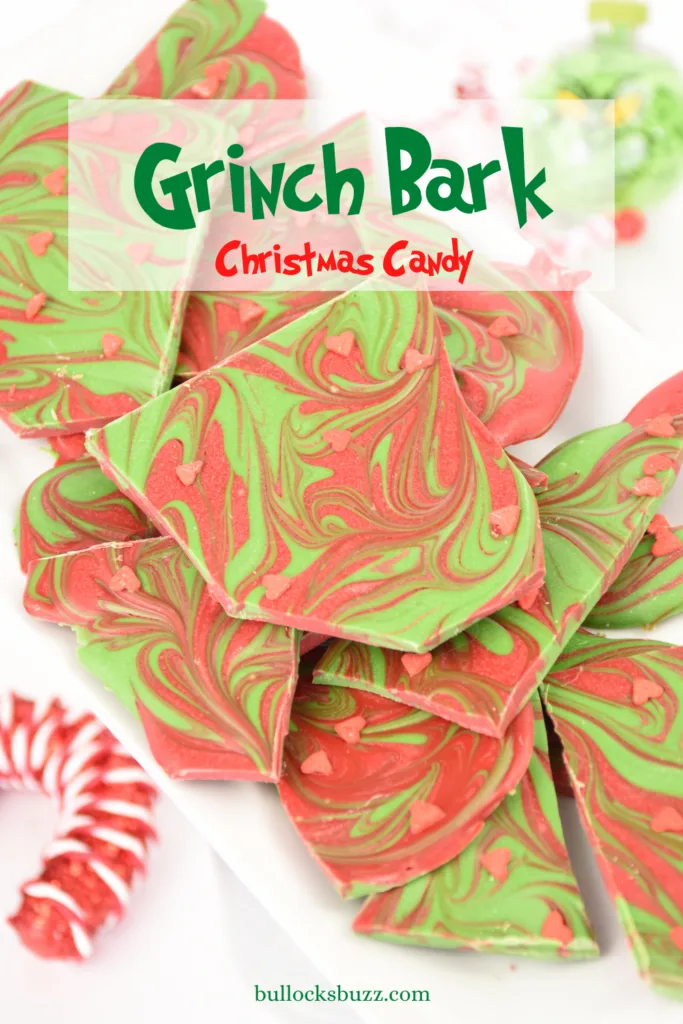 Get ready for this amazingly easy Grinch Christmas Bark Recipe! This no-bake holiday recipe with its red and green coloring is absolutely perfect for getting into the spirit of the season.
In fact, this sweet, tasty Christmas Bark is so yummy, it would please Santa himself! And, since it's quick and easy to make using only 3 ingredients, his elves would love it, too!
Pair this Grinch Bark Recipe with my Christmas Kitchen Sink Cookies, Double Chocolate Peppermint Brownies, Peppermint Oreo Pops, or my Coca-Cola Christmas Cupcakes for a mouth-watering Christmas. Or, fill your home with the irresistible smells of the holidays with my Pumpkin Gingerbread with Spiced Glaze.
Too busy to make this right away? Pin it for later! Pin this easy recipe to your favorite board on Pinterest and it will be waiting there when you're ready.
GRINCHMAS CHRISTMAS BARK CANDY RECIPE
The Grinch may have a heart that's two sizes too small, but this Grinch Bark Christmas Candy recipe is just the right size. This yummy candy is a delicious treat for kids and adults alike. It's the perfect Whoville treat!
And it's also perfect for those Christmas baskets and gifts!
Best of all, it's a quick and easy no-bake recipe that you can make with just 3 simple ingredients and less than 10 minutes of prep.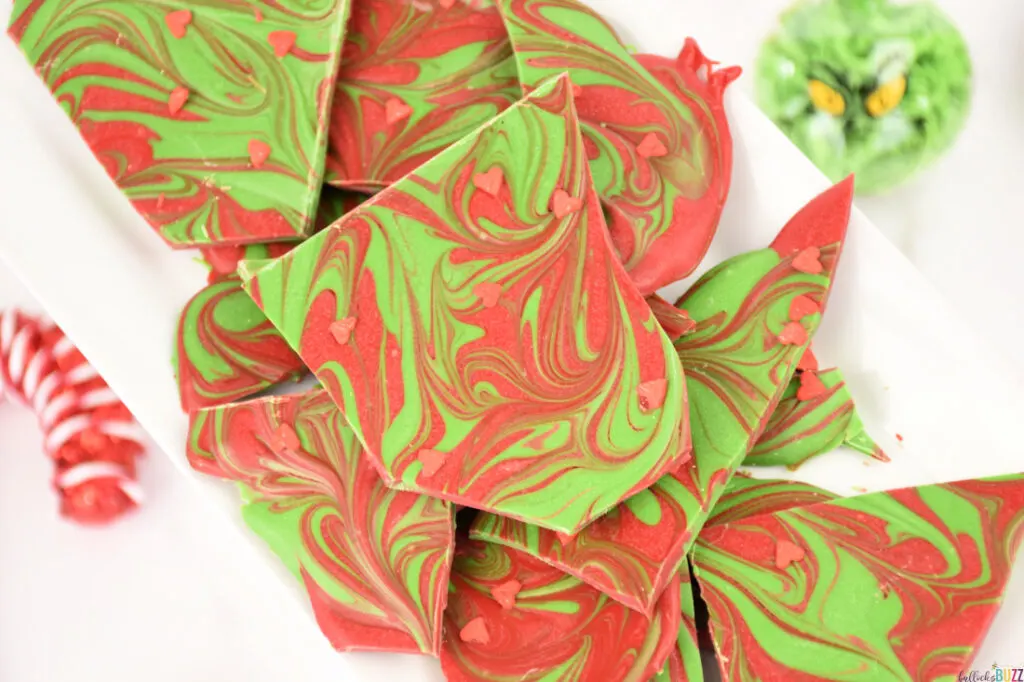 HOW TO MAKE GRINCH CANDY BARK FOR CHRISTMAS
When you have twenty things to do and just ten minutes to do them, and you are trying to prepare an amazing holiday for your family, this Grinch-inspired Christmas bark is spot on.
This homemade candy is incredibly easy (and quick) to make! So much so, that even the kids can help!
Disclosure: This blog post contains affiliate links for products or services I think you'll like. This means if you make a purchase from one of these links, I may make a small commission at no additional cost to you. By the way, I only recommend products that I use and love.
KITCHEN TOOLS YOU MAY NEED
GRINCH BARK CANDY INGREDIENTS
You will find the complete measurements, ingredients, and instructions in the printable recipe card at the end of this post.
This easy Christmas bark recipe uses just 2 basic ingredients.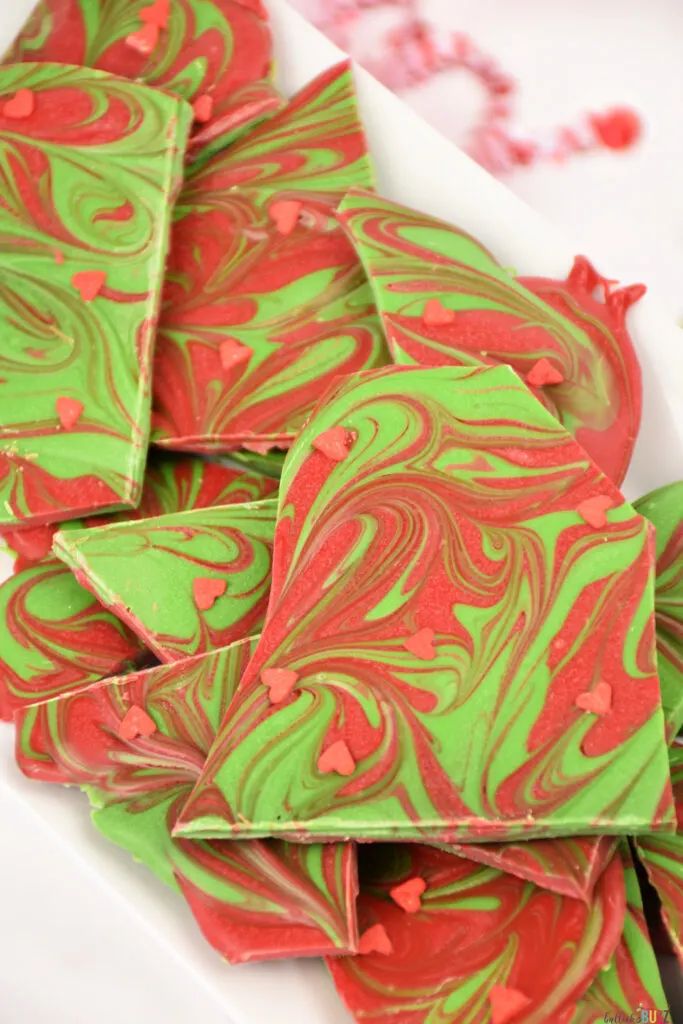 SWIRLED CHRISTMAS BARK INSTRUCTIONS
Although it may look difficult, making this swirled candy bark recipe is actually quite easy!
STEP ONE: PREP
Begin by lining a baking sheet with parchment paper or a Silpat mat.
STEP TWO: MELT
Next, in separate bowls, melt the red candy melts and the green candy melts as directed on the package. This will vary depending on the brand that is used.
STEP THREE: SPOON THE MELTED CANDY
Then, use a spoon to scoop spoonfuls of melted chocolate candy onto the piece of parchment paper making sure to alternate the colors. Try to make it into a rough square or a rectangular shape.
Pro Tip – don't make the melted candy too thick. Mine is about ¼-inch thick.
STEP FOUR: SWIRL
To get the swirled look for your Grinch Bark Christmas Candy, lightly drag the tip of the skewer, butter knife, fork, or another utensil through the melted candy swirling the colors together. Don't be worried about messing this part up. You won't.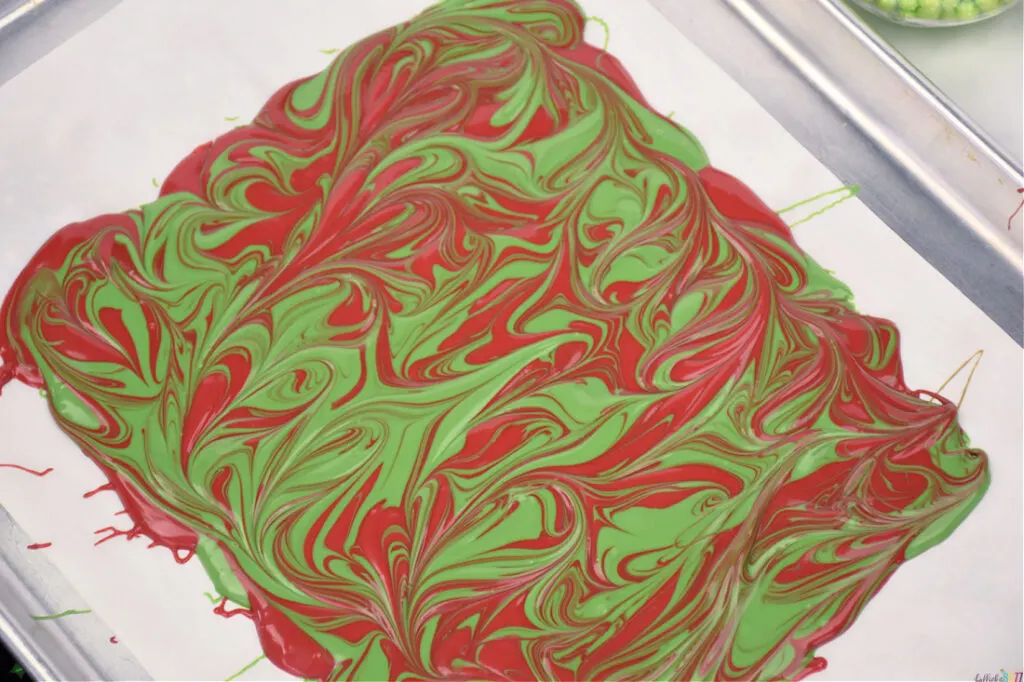 Pro Tip – do not over-swirl or the colors will become muddy.
STEP FIVE: ADD CANDY HEARTS
Next, add a light sprinkling of candy hearts on top of the Grinch Bark before the candy begins to harden.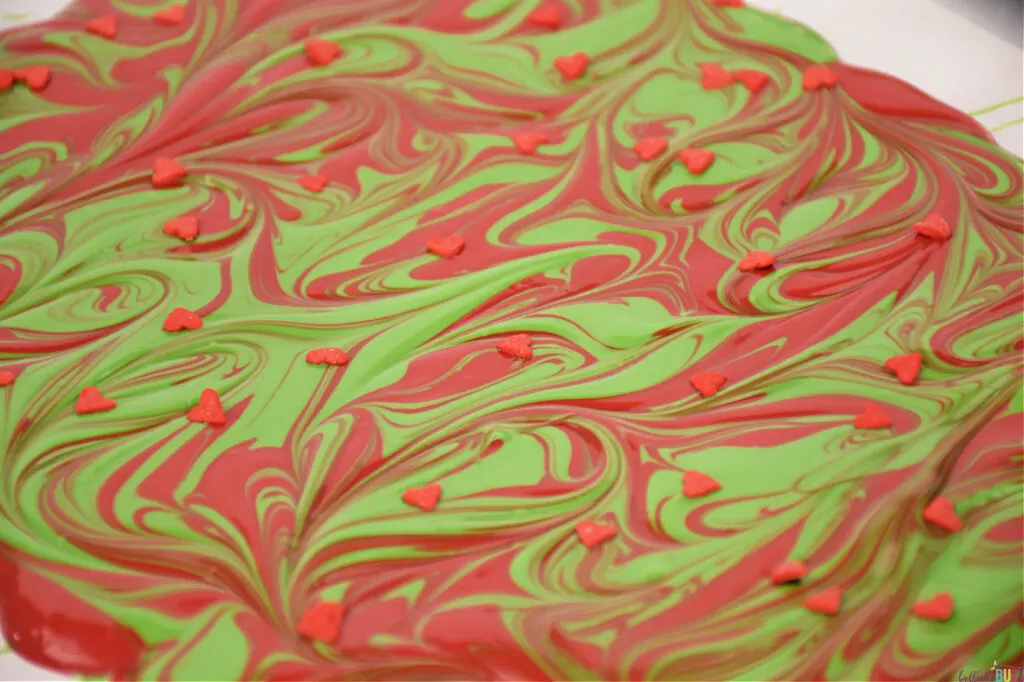 SET SIX: ALLOW TO HARDEN
Now for the hard part, let the Christmas Bark candy sit until it sets (hardens). This usually takes about 45 minutes to an hour.
If you are in a hurry, you can place the cookie sheet and all into the fridge for about 30 minutes or in the freezer for about 20 minutes.
The Grinch Bark Christmas candy is ready when it is solid and easily peels off the parchment paper.
STEP SIX: BREAK AND SERVE
Once set, remove the Christmas bark from the parchment paper and break it into smaller pieces to enjoy.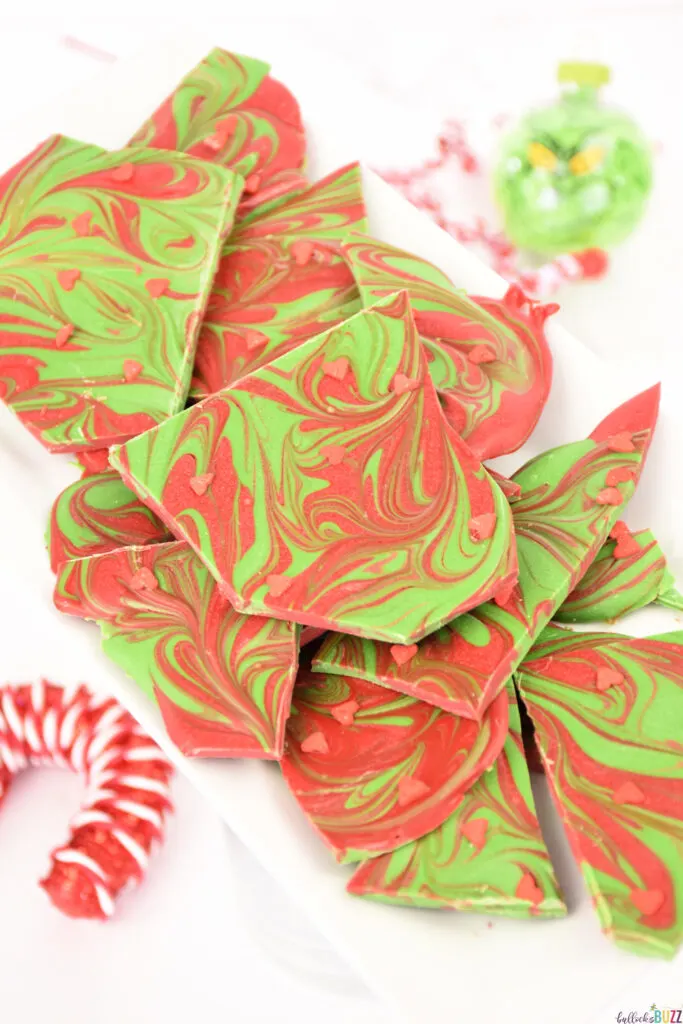 SUBSTITUTIONS AND ADDITIONS
SUBSTITUTIONS: while I used red and green candy melts to stick with the Grinch Bark candy theme, you could always make this Christmas bark with almond bark instead, and use oil-based food coloring to make whatever colors you want. Using oil-based food coloring instead of the alcohol-based you get at the grocery will prevent the almond bark from seizing.
You could also use different colored candy melts such as dark green and light green, green and white, or red and white. You get the idea!
ADDITIONS: add some extra wow by swirling three or even four colors together. I think red, green, and white would look great as would dark green, white, and light green.
TOPPINGS – try adding additional or different toppings. You could use colored sprinkles or red and green candy balls in addition to the red hearts.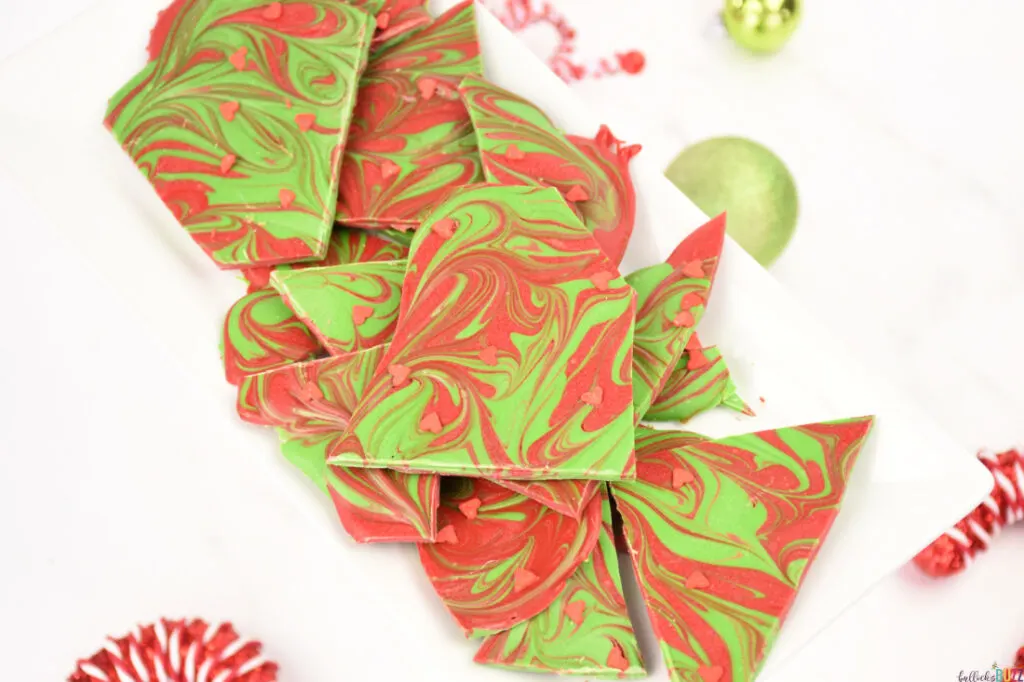 HOW DO I STORE GRINCH BARK?
Grinch Bark Christmas Candy can be stored in an airtight container in the fridge for up to 1 week. If you need to keep it longer you can freeze it.
NEED A HOMEMADE FOOD GIFT?
This red and green candy bark makes a great Christmas gift, just like these gorgeous Peppermint Chocolate Covered Oreo Pops and these no-bake Pretzel Christmas Trees. Simply wrap a few pieces of Grinch Bark in plastic wrap then wrap in a pretty red or green cellophane wrap. Tie closed with a pretty ribbon and bow and add a gift tag for an adorable holiday gift.
MORE CHRISTMAS HOLIDAY RECIPES
Looking for more delicious holiday recipes like this Grinch Bark Christmas Candy? Here are some of my other favorite Christmas and holiday-themed treats that you won't want to miss out on!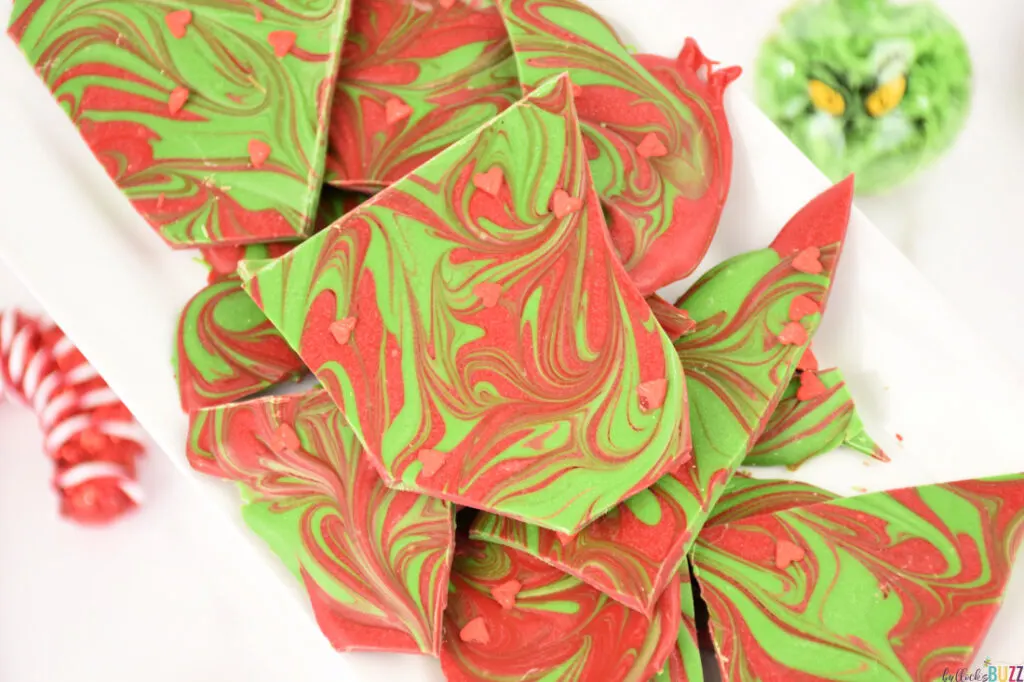 MORE CANDY BARK RECIPES
Looking for More Bark Recipes? Here ya go!

LIKE IT? LOVE IT? PLEASE SHARE THIS GRINCH BARK CHRISTMAS CANDY RECIPE!
I hope you enjoy this Grinch Bark recipe much as I did! It's so quick and easy to make, and even more, fun to eat!
If you give this holiday snack a try, I'd love to know! Leave a comment below and tag a photo @bullocksbuzz and #bullocksbuzz on Instagram or Facebook so I can see your holiday creations!
Be sure to Pin it to save it, and then share it with your friends and family by clicking the share buttons above the post title!
And finally, if you get a chance, please comment and leave me a ⭐⭐⭐⭐⭐ rating on the printable recipe card below!
Yield: 12 pieces
Grinch Bark Christmas Candy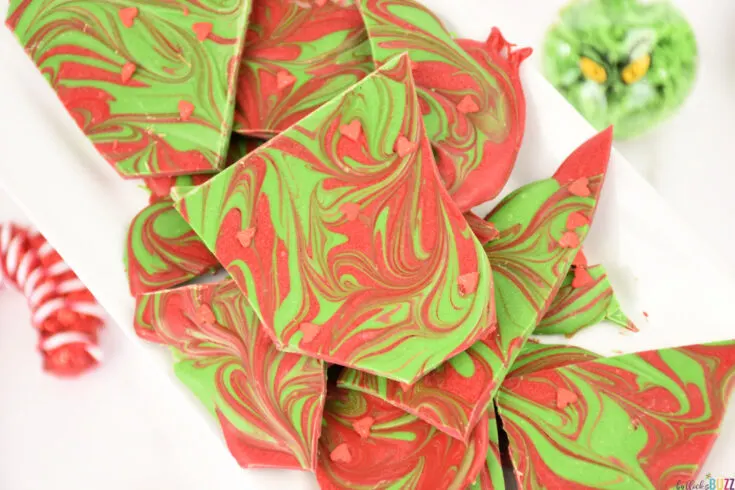 Grinch Bark is a fun and festive, no-bake holiday treat made with red and green candy swirled together and then topped with a sprinkling of red candy hearts.
Total Time
1 hour
10 minutes
Ingredients
1 cup Bright Green Candy Melts - 1 cup
1 cup Red Candy Melts - 1 cup
¼ cup Red Candy Heart Sprinkles
Instructions
Line a baking sheet with parchment paper and set it aside.
In separate bowls, melt the red and green candy melts according to the package directions.
Using a spoon, scoop dollops of the melted chocolate into a square pattern on the prepared surface, making sure to alternate colors.
Lightly drag the tip of a skewer, spoon, or butter knife through the colors, swirling them together.
Sprinkle with the red candy hearts,
Allow the candy to set. You can speed up the process by placing the baking sheet in the refrigerator for 10 minutes.
Once set, remove the bark from the parchment paper and break it into pieces.
Nutrition Information:
Yield:
12
Serving Size:
1
Amount Per Serving:
Calories:

169
Total Fat:

0g
Saturated Fat:

0g
Trans Fat:

0g
Unsaturated Fat:

0g
Cholesterol:

0mg
Sodium:

16mg
Carbohydrates:

42g
Fiber:

0g
Sugar:

27g
Protein:

0g
Nutritional information is automatically calculated with ingredients and serving size and may not be accurate. Please always double check with your own nutritional apps as well.