This is a sponsored post written by me on behalf of Plasti Dip for IZEA Worldwide. All opinions are 100% mine.
For all you crafters out there, guess what? Plasti Dip is adding a new product to their line that I've fallen in love with: Plasti Dip Craft! It's what I used to make this spooktacular DIY Black and Purple Halloween Wreath!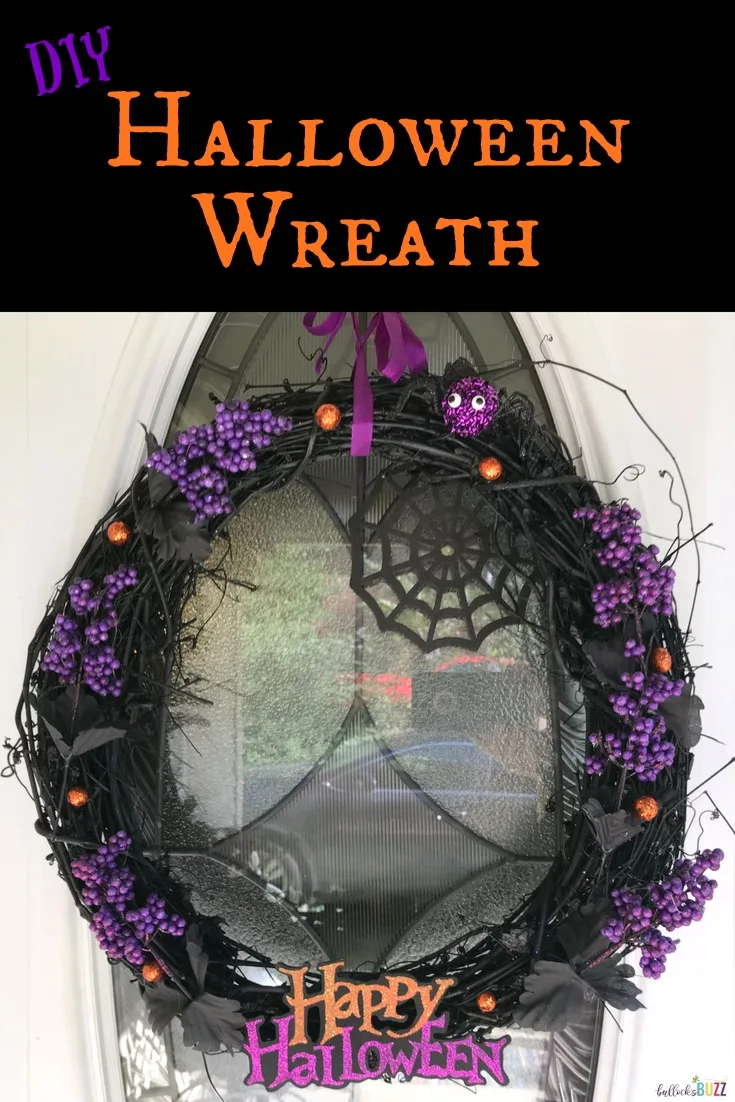 Never heard of Plasti Dip? Plasti Dip is the original flexible, insulating, non-slip, durable and peelable rubber coating. Originally used to coat the handles of tools, I've seen people use it on cars, on outdoor furniture, to make cosplay costumes, and so much more. It's the type of thing that really gets the creative juices flowing. So much so that the makers have created a whole new line, Plasti Dip Craft!
Plasti Dip Craft
Plasti Dip Craft can be used for all sorts of crafts and home improvement projects. It's similar to spray paint, but SO much better. This is because Plasti Dip Craft protects against moisture, corrosion, acids, and abrasion. It's also flexible, durable, and long-lasting. Plus, once dry, Plasti Dip Craft forms a comfortable, rubberized, non-slip grip.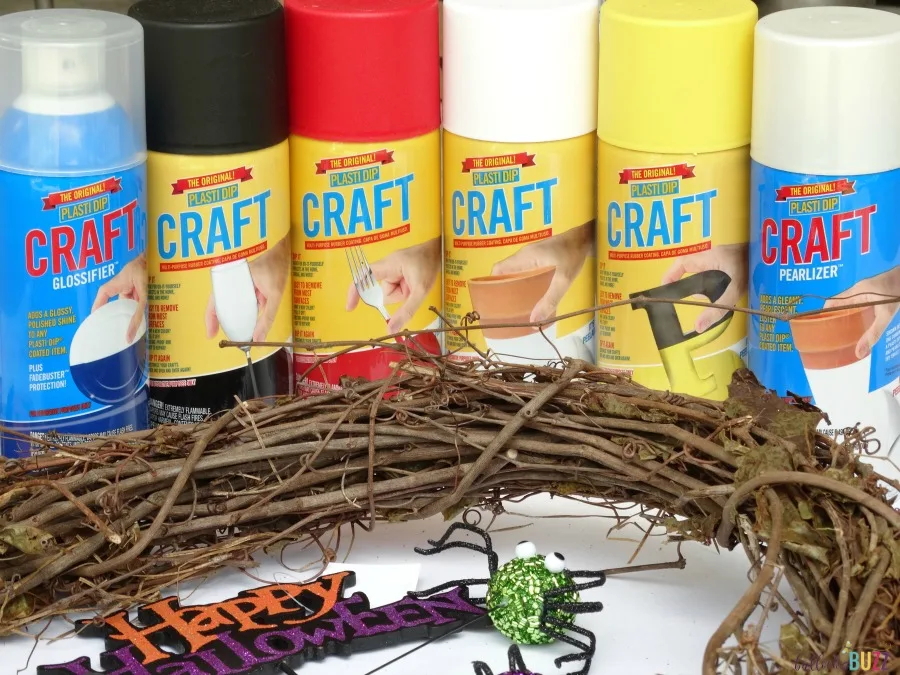 Best of all? Once dry, Plasti Dip is peelable! Yep, you read that right. Plasti Dip will peel right off of most surfaces. Made a mistake when spraying? No problem! Peel it off, and start again. Don't like the color you used? Peel it off and switch it up. How cool is that?
DIY Halloween Wreath with Plasti Dip Craft
I couldn't wait to try Plasti Dip Craft, so the first thing I decided to make was a DIY Black and Purple Halloween Wreath. And I love the way it turned out!
Supplies To Make DIY Black and Purple Halloween Wreath
8″ grapevine wreath
1 can Midnight Black Plasti Dip
Orange glitter foam balls vase filler
Purple spider
Mini foam spider web
Purple berries spray with black leaves
Orange and Purple Halloween wood pick sign
Purple ribbon for hanging
Scissors
Hot glue gun and glue sticks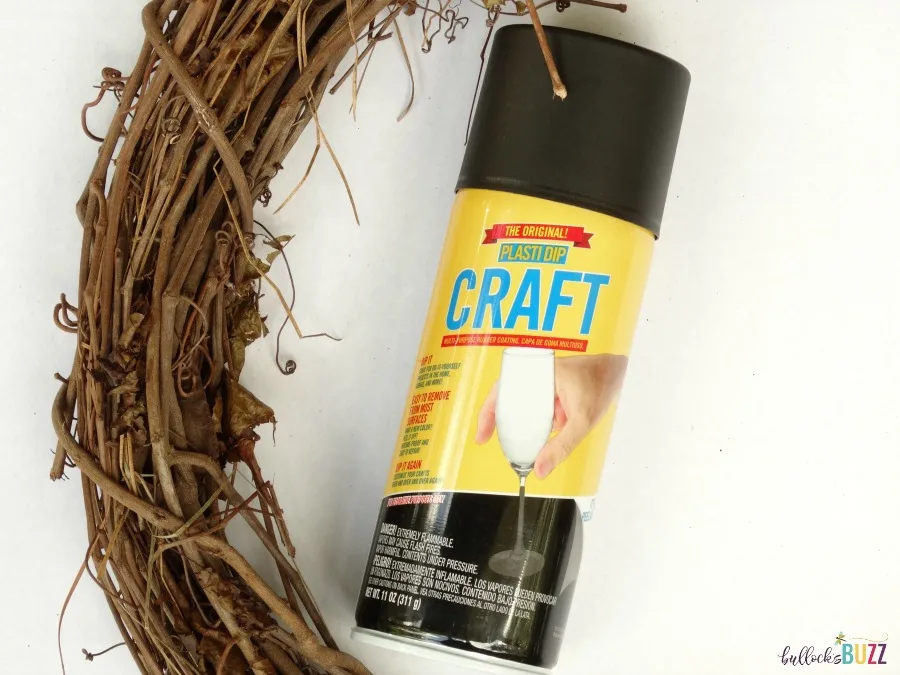 Directions to Make a DIY Black and Purple Halloween Wreath
I began by spraying the grapevine wreath on both sides with Midnight Black Plasti Dip Craft. Make sure you do this outside as the fumes are strong. This part takes the longest as Plasti Dip recommends 3-4 coats for best results, and you need to let each coat dry for about 30 minutes.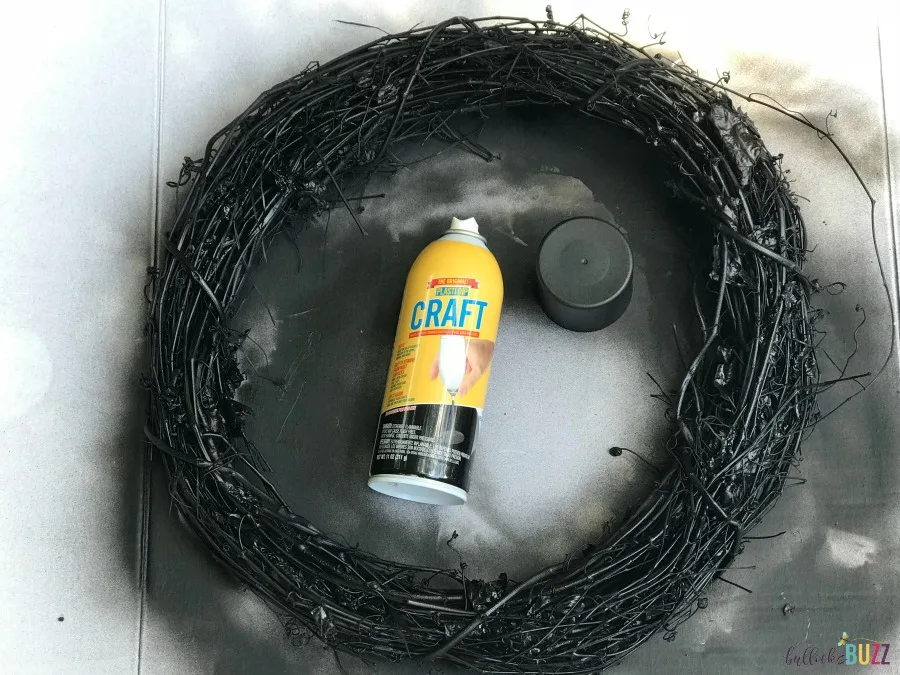 Once dry, I placed the wreath on a flat surface then laid out the embellishments where I wanted them to go. When I was happy with the way it looked, I used hot glue to attach everything to the wreath.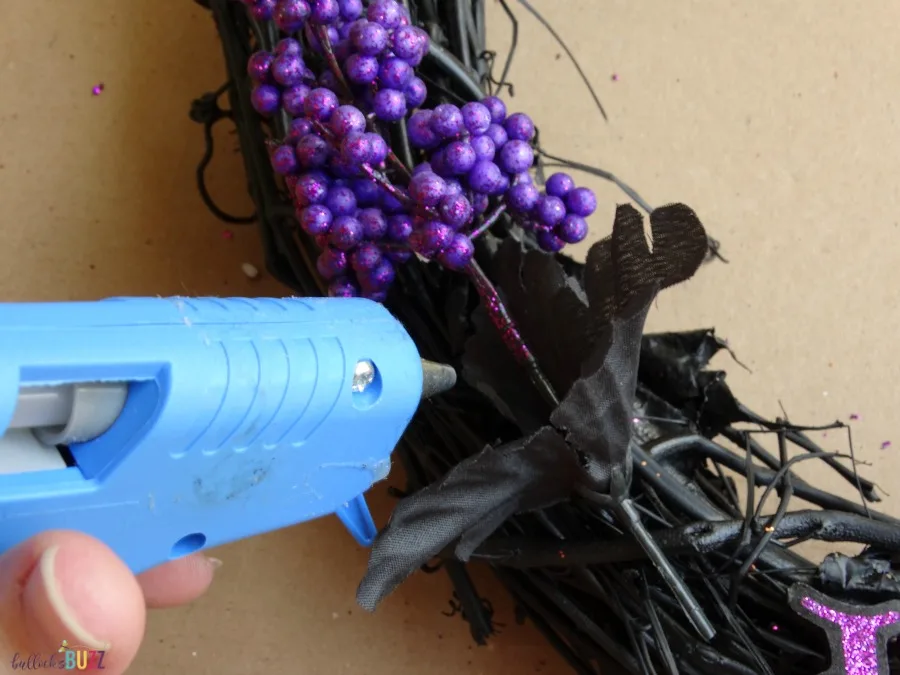 Next, I used a length of the purple ribbon to make a hanger.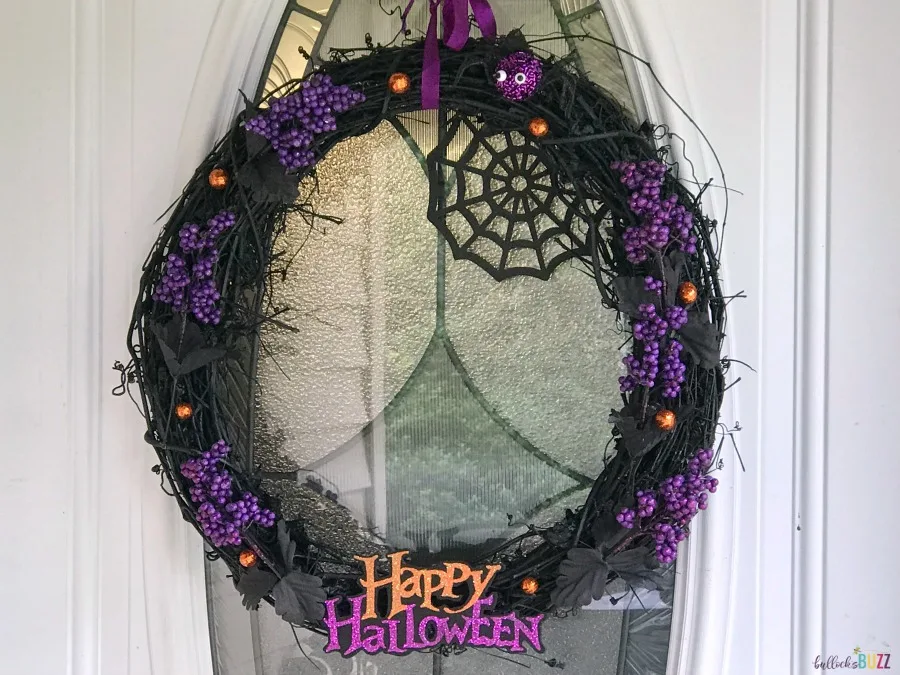 Then, all that was left to was hang the wreath on the door!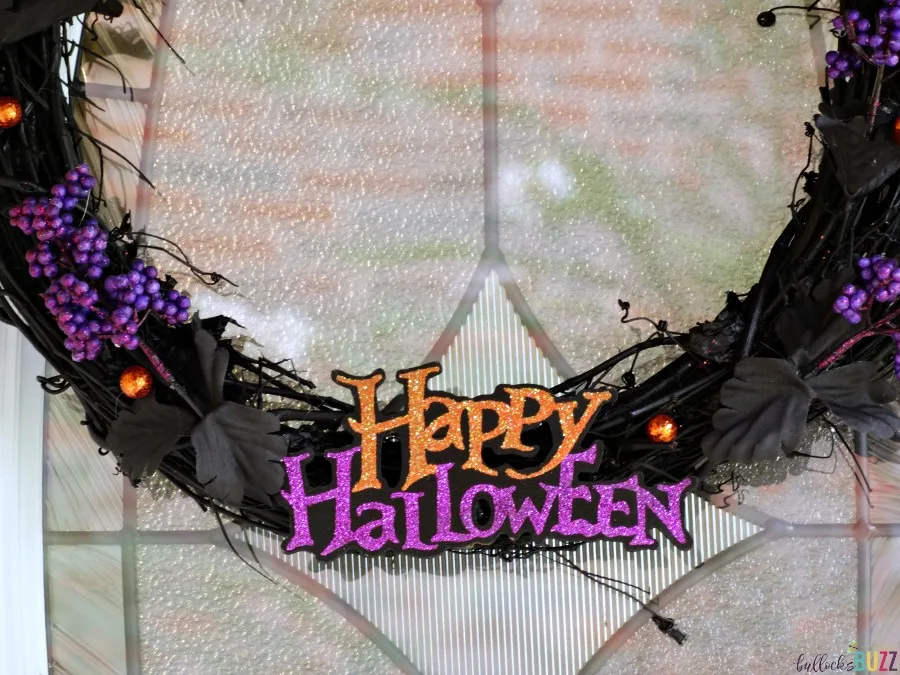 Isn't it adorable? I absolutely love the spider!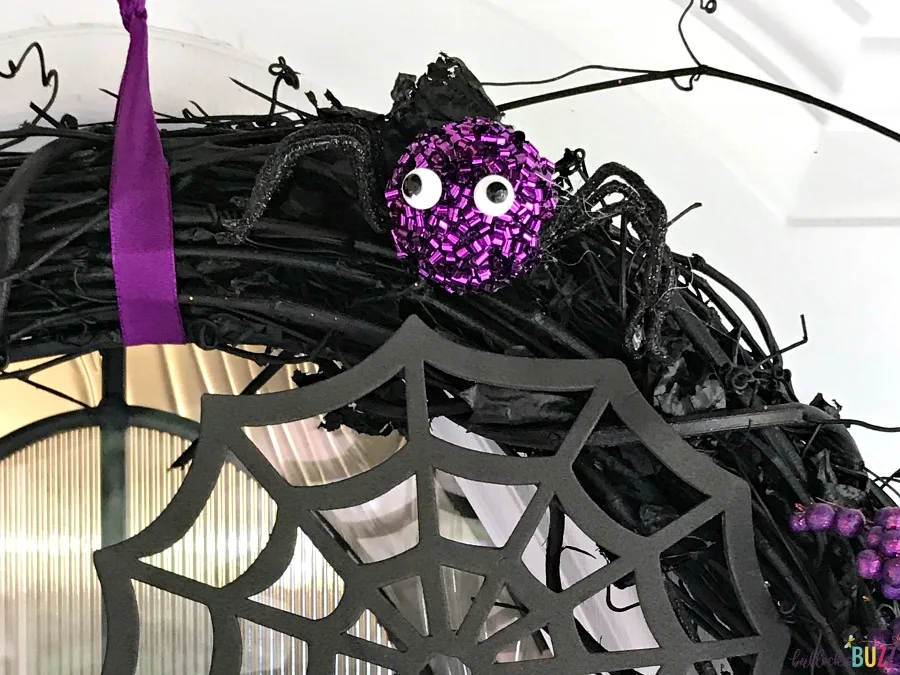 Last year, I used black spray paint to make this super cute DIY Halloween Wreath. While the wreath turned out great, I had to use almost an entire can of spray paint because the dried grapevine absorbed a lot of it.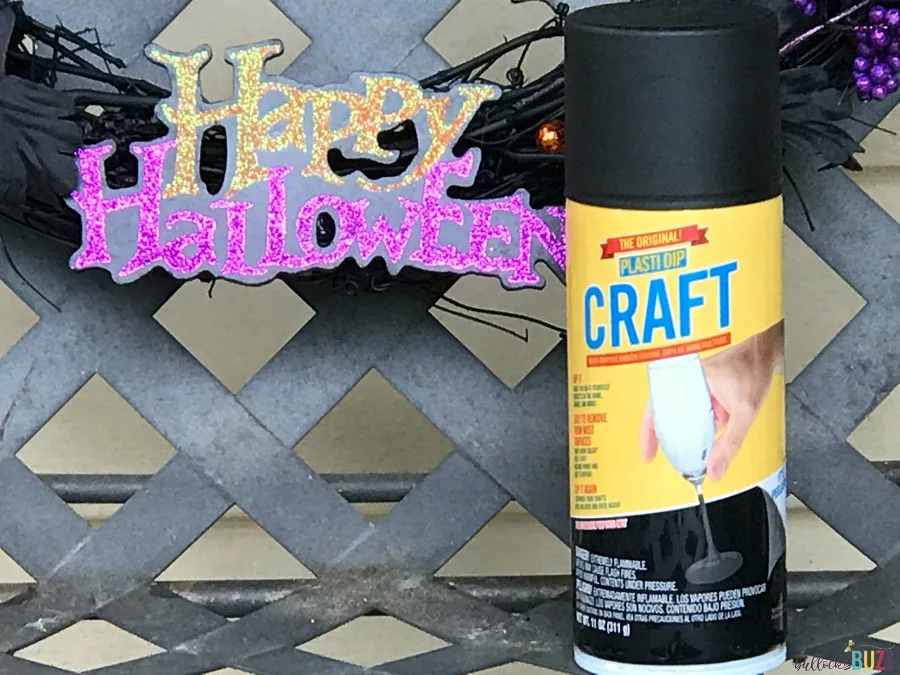 With Plasti Dip Craft, I only had to use two coats, and the wreath looks amazing! Plus, since Plasti Dip Craft is flexible and durable, the wreath form is holding together much better (no more broken pieces of grapevine falling off), AND it's protected from moisture!
DIY Outdoor Vase with Plasti Dip Craft
After the wreath was completed, I was hooked. I couldn't wait to try it on something else! Plus I really wanted to try one of the Enhancers. Since Plasti Dip Craft works well on any surface, I found an old clear glass vase, and gave it a try.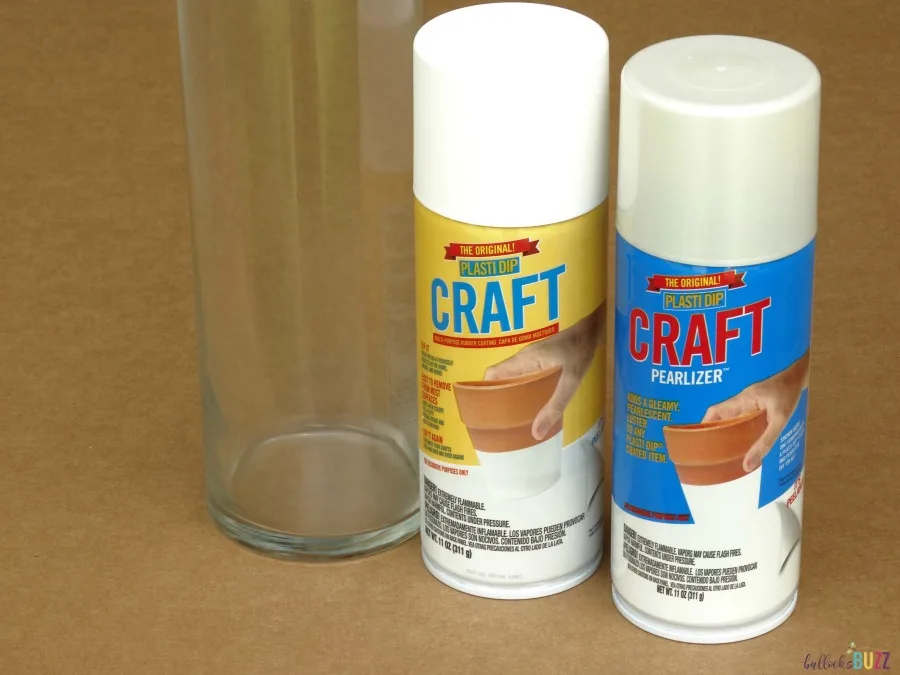 Like with the Black and Purple Halloween Wreath, I gave the vase several coats of several coats of Crisp White Plasti Dip Craft, letting each coat dry for about 30 minutes. Once the final coat was completely dry, I then added two coats of White Pearlizer Enhancer. The results were awesome!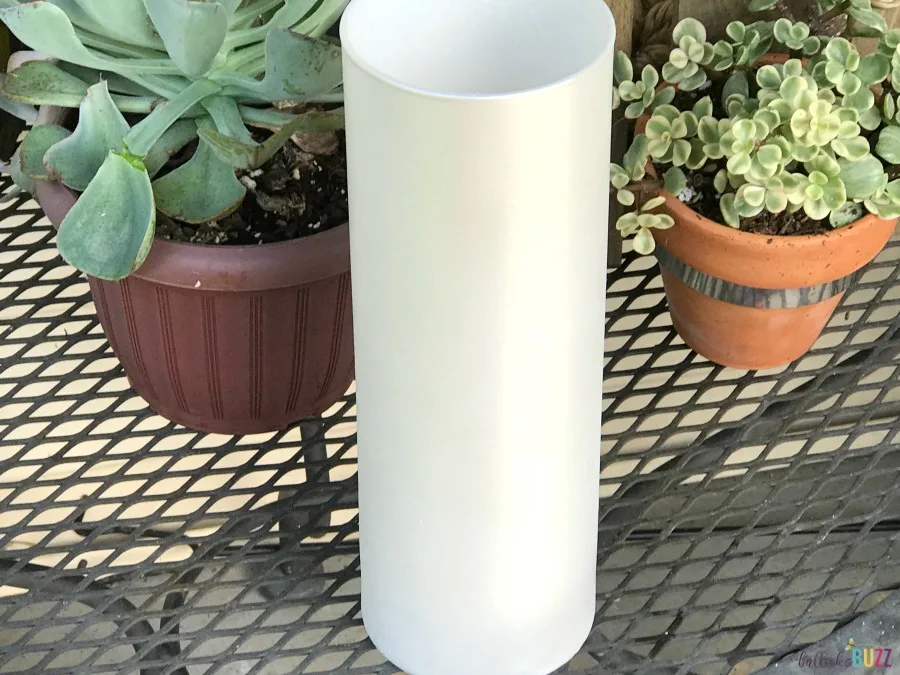 I love how the Plasti Dip Craft coats the vase perfectly, and adds a soft, almost velvety finish. And while it's hard to see in the picture, the Enhancer gave it a cool pearl-like finish.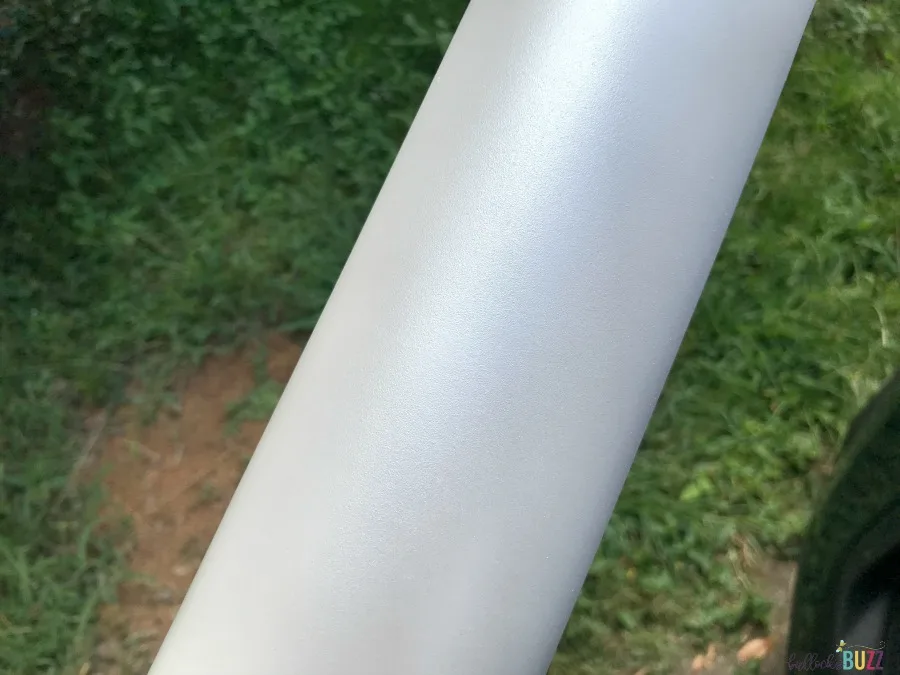 More About Plasti Dip Craft
Plasti Dip Craft is incredibly easy-to-use, and the colors come out bright, bold and true. Since you can use it on pretty much any type of material, the creative uses are practically limitless! Just make sure you don't use it on the inside of cups or mugs, or on plates, as it is not food safe.
Plasti Dip Craft is currently available in 7 great colors including:
Crisp White
Lemon Yellow
Tin Roof Red
Pumpkin Spice
Midnight Black
Gulf Coast Blue, and
Gator Green
Plus, there are three awesome enhancers:
Glossifier Enhancer
Silver Metalizer Enhancer
White Pearlizer Enhancer
Where to Find Plasti Dip Craft
Want to try the Plasti Dip Craft line for yourself? You can get yours at Amazon or shop now at Awarehousefull. You can also find a retailer near you.
What would you make using Plasti Dip Craft?