Trick out your door for Halloween with this spooktacular DIY Halloween Wreath. Dreadfully elegant and shockingly fun, I've got a full tutorial showing you how to recreate one for your home.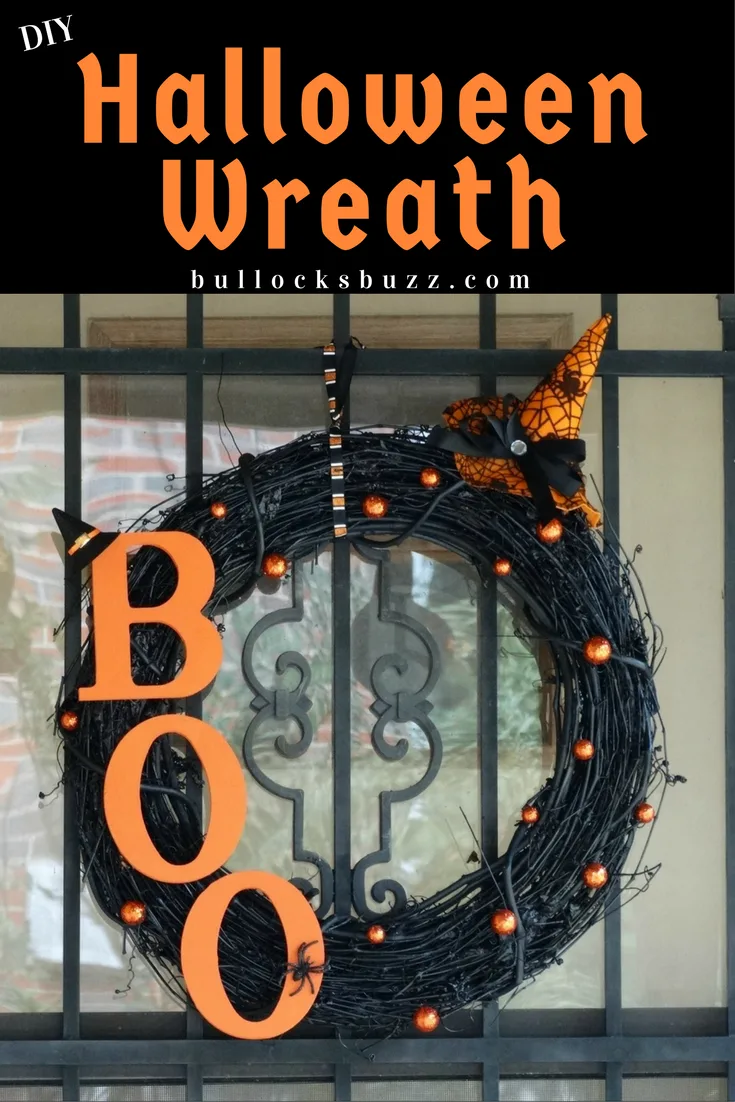 The Halloween season is here, and I am thrilled! It is one of my favorite times of the year with lots of fun crafts and recipes to make! Today I'm sharing how you can create some Halloween ambiance and welcome fall guests with a bit of spooky front-door decor you can make yourself. So if you are ready to craft a lot of bang for your decorating buck, read on for my super cute DIY Halloween wreath tutorial.
I've always loved Halloween wreaths, but they can be so darn expensive to buy. So last year, I decided to try my hand at making my own. Check it out – this DIY spooky wreath wound up being a big hit! And because it was so much fun to make, I couldn't wait to create another for this year!
This DIY Halloween wreath is super easy and affordable, and after spray painting the wreath form, it can be made in an hour or less. Don't be surprised if on Halloween night your house becomes a magnet for trick or treaters!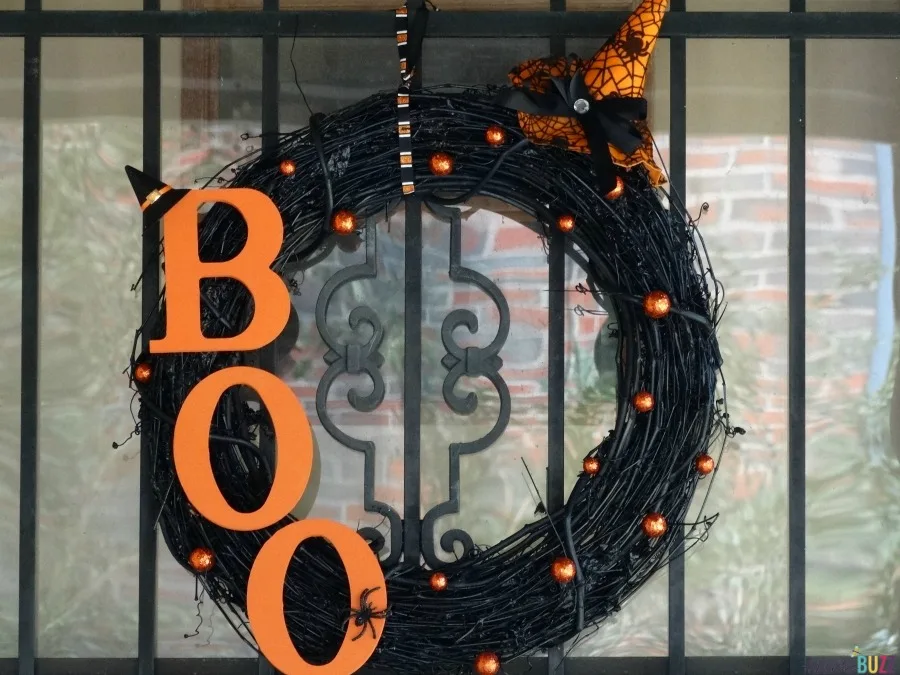 To Make Your Own Halloween Wreath you will need:
Please note, I added Amazon affiliate links to make shopping easy. If you make a purchase through these links, I'll make a small bonus at no extra charge to you:
8″ grape vine wreath (also found at Hobby Lobby)
Black spray paint (also at Walmart)
Orange craft paint (also at Walmart)
Black and orange glitter balls (also found at Dollar Tree or Hobby Lobby)
Black glitter spider (also at Dollar Tree)
Orange witch hat (also at Dollar Tree, was on a headband)
Mini witch hat (Hobby Lobby, pack of 8)
scissors
glue gun
Tip: if you can't find glitter spiders, get the regular ones and add the glitter yourself.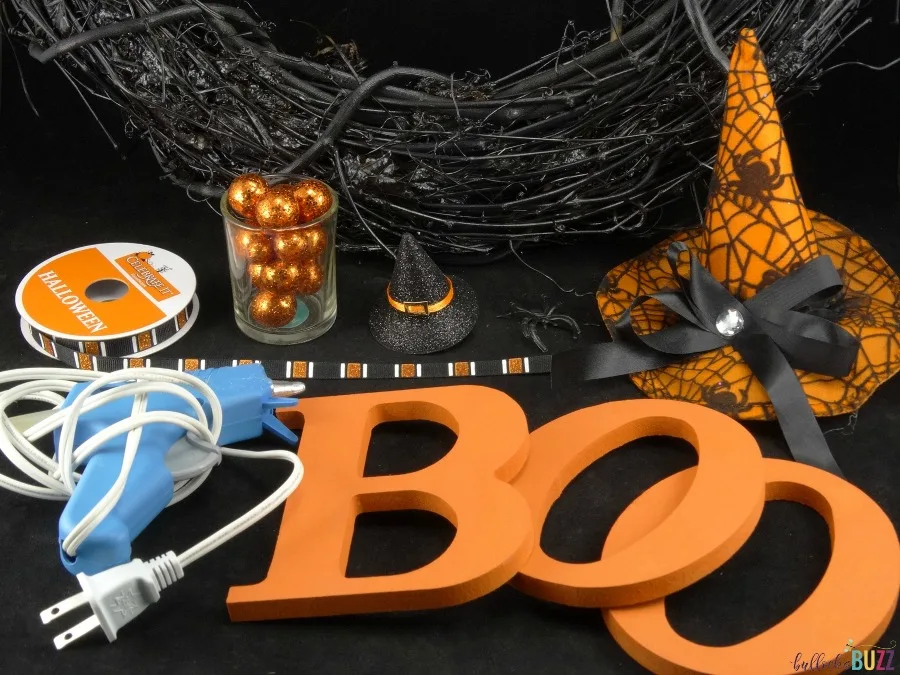 Directions to Make Your Halloween Wreath
Step One: Begin by spray painting the grape vine wreath black on both sides. Waiting for this to dry is the part of this craft that takes the longest. It took mine about an hour to dry, but I went ahead and let it sit overnight just to be sure.
Step Two: Paint the wood letters orange using craft paint, and set aside to dry. Mine took only about 10 minutes to completely dry.
Step Three: While the letters are drying, use the hot glue to attach the orange glitters balls around the wreath. For now, do not put any on the side of the wreath where the letters will go.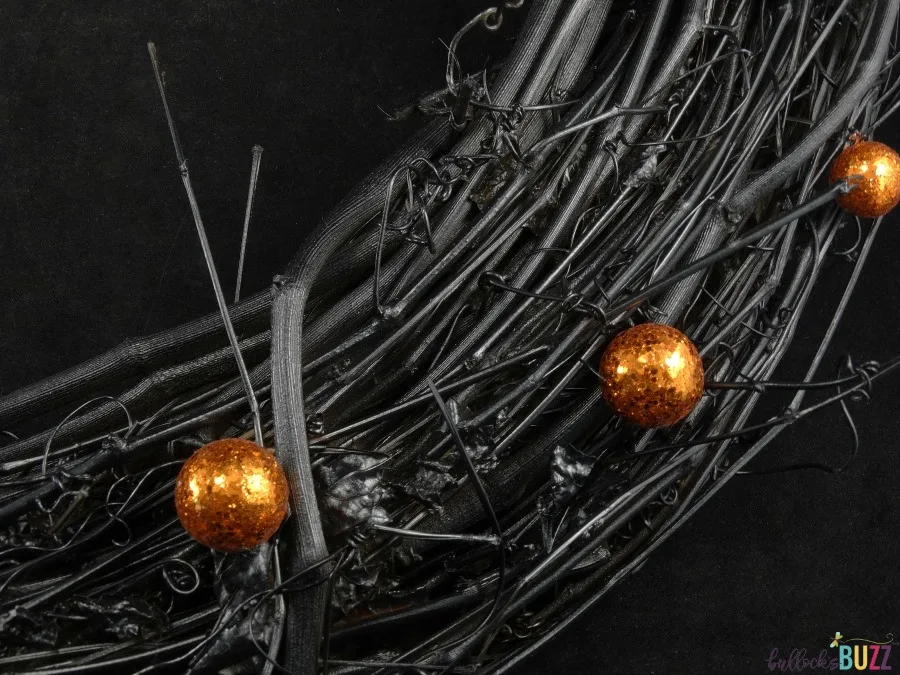 Step Four: Once the letters are dry, use the hot glue to attach the black glitter spider to one of the 'O's and the small witch hat to the letter 'B'.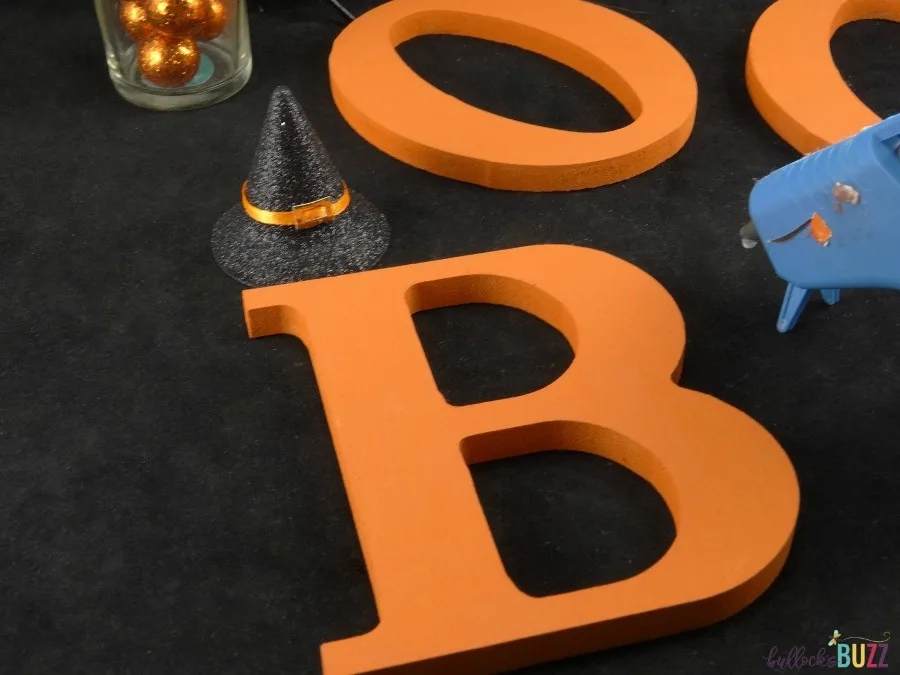 Step Five: Now it is time to add the embellishments. But first, I prefer to lay the wreath down flat on the floor (this gives me a more "distant" view when standing above it) and arrange everything in place BEFORE gluing them down. Once I'm happy with the way it looks, I'll hot glue everything into place!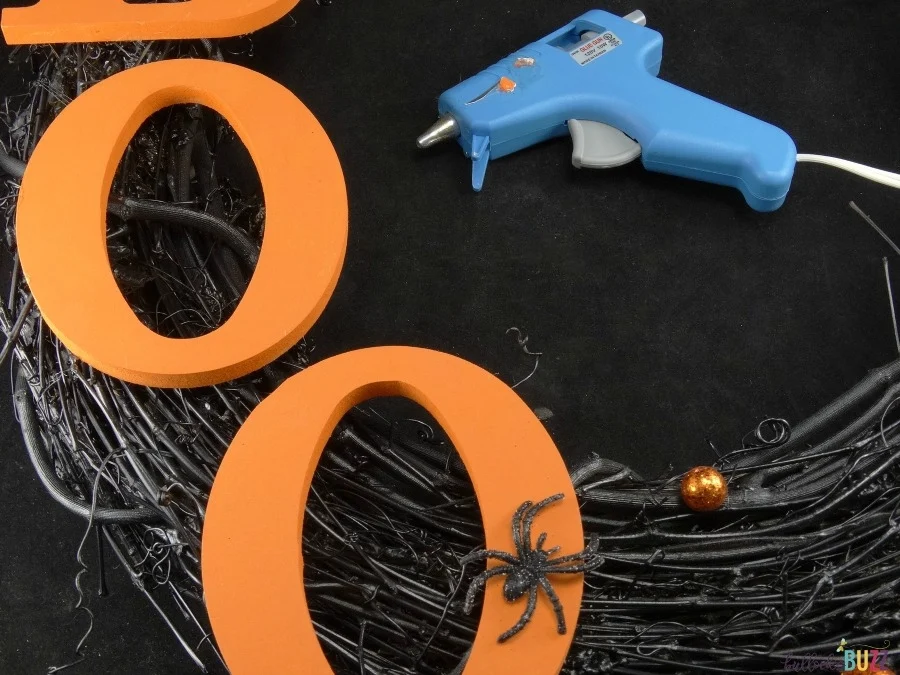 Step Six: Once the letters and witch hat are in place, add a few more orange glitter balls around the letters and to fill in any empty-looking spots where you want a bit more.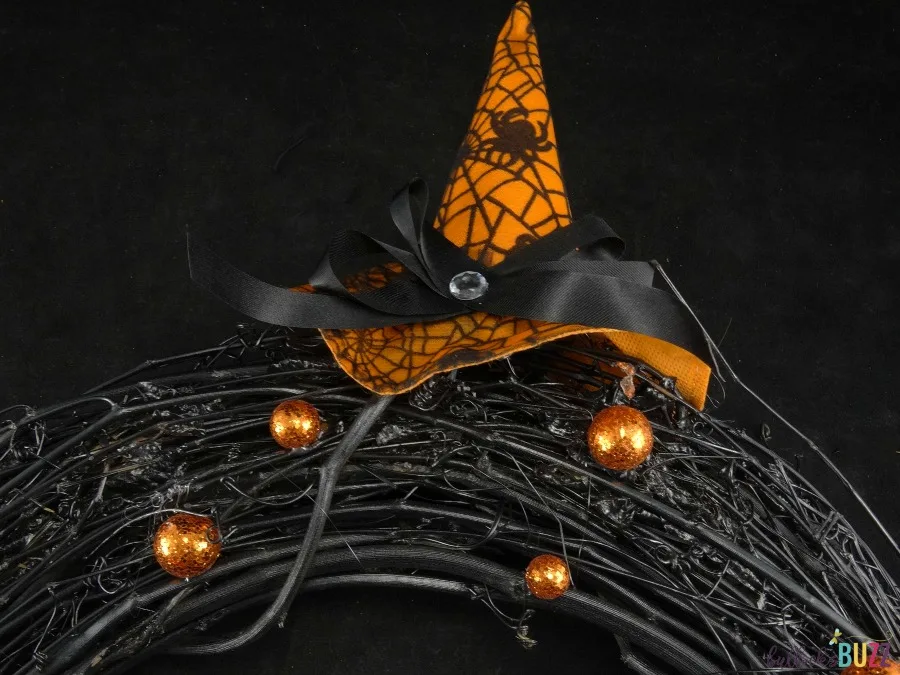 Step Seven: Now all that's left is to tie a ribbon into a loop at the top of the wreath to use for hanging, and you are done! Enjoy your Halloween wreath!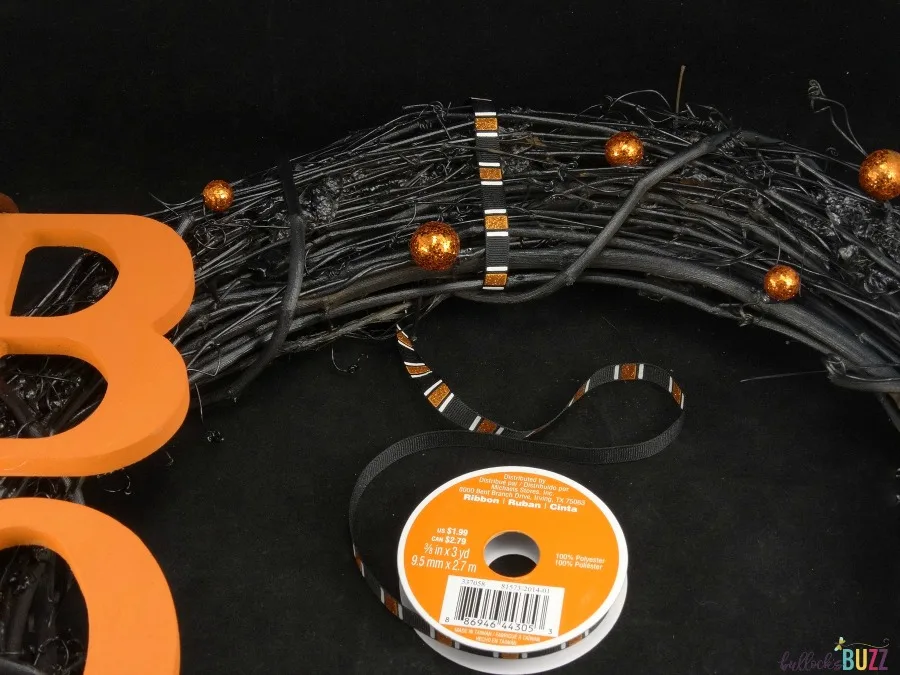 I hope you love this DIY Halloween Wreath as much as I enjoyed making it! Use the social sharing buttons below the post title to share with friends and family! And be sure to check out some more creepy and fun Halloween crafts below!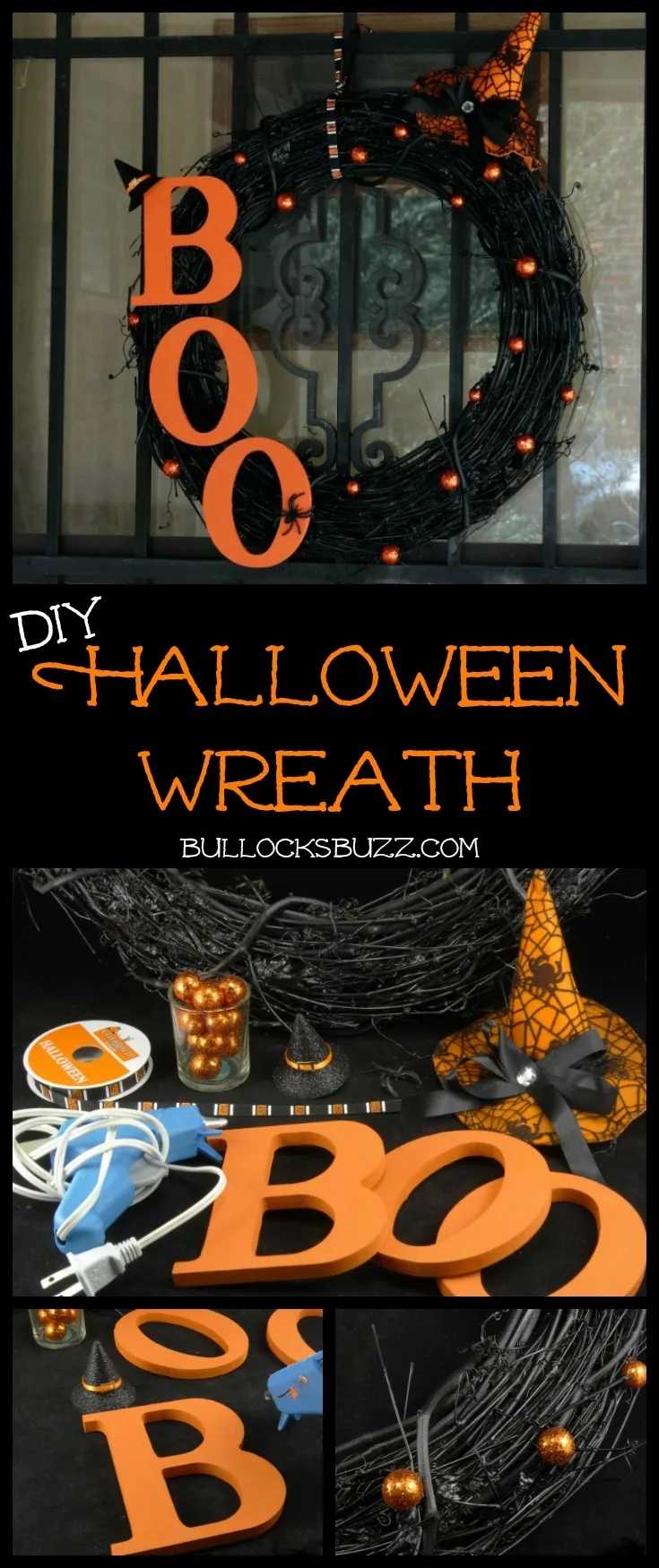 LET'S BE FRIENDS! STAY UP TO DATE ON ALL BULLOCK'S BUZZ FUN BY FOLLOWING ME ON:
FACEBOOK | TWITTER | PINTEREST | INSTAGRAM | GOOGLE+
Enjoy this post? Subscribe to our newsletter so you'll never miss another!
Subscribe to Newsletter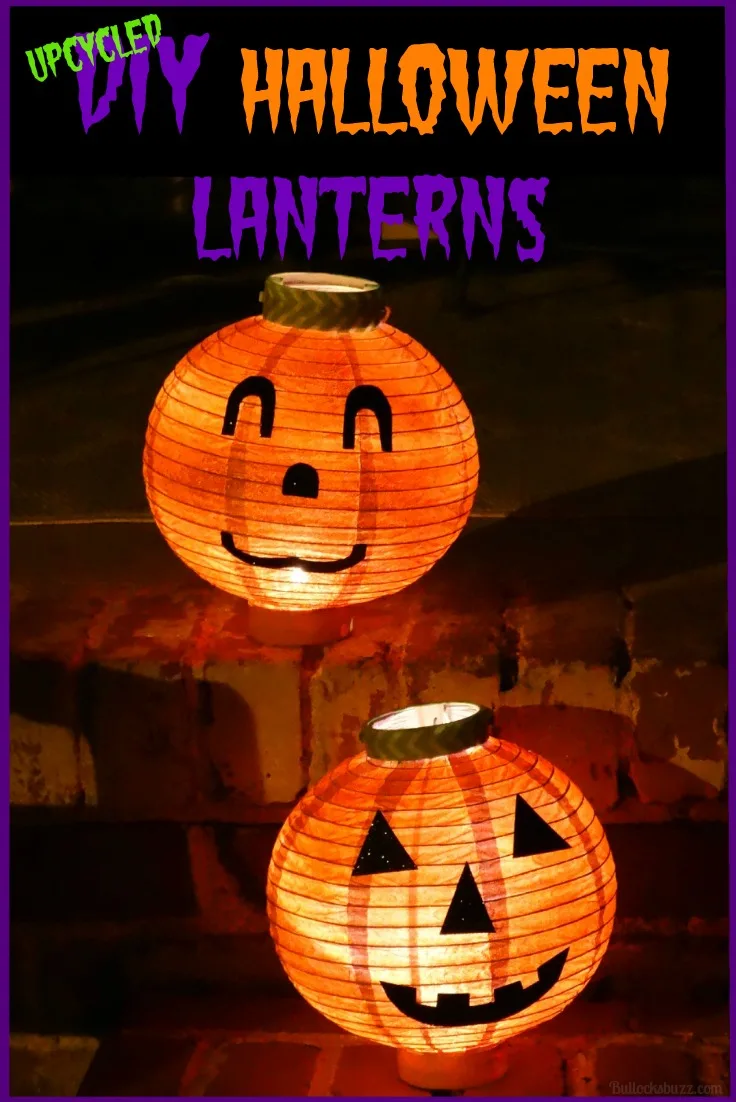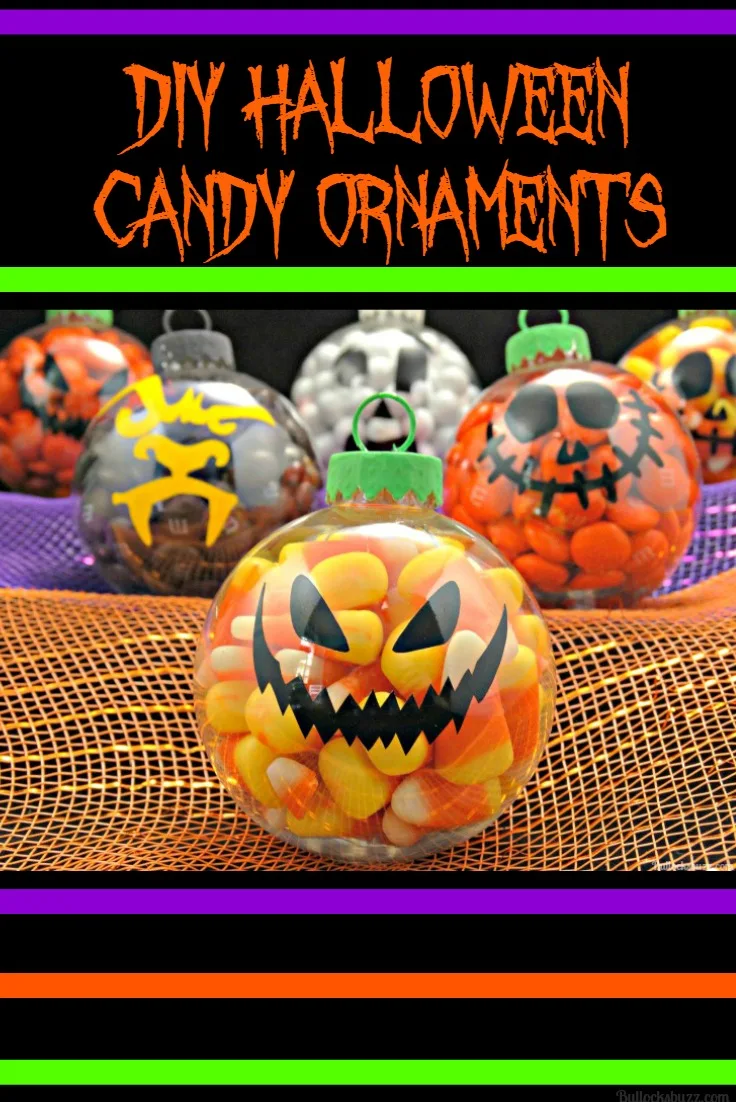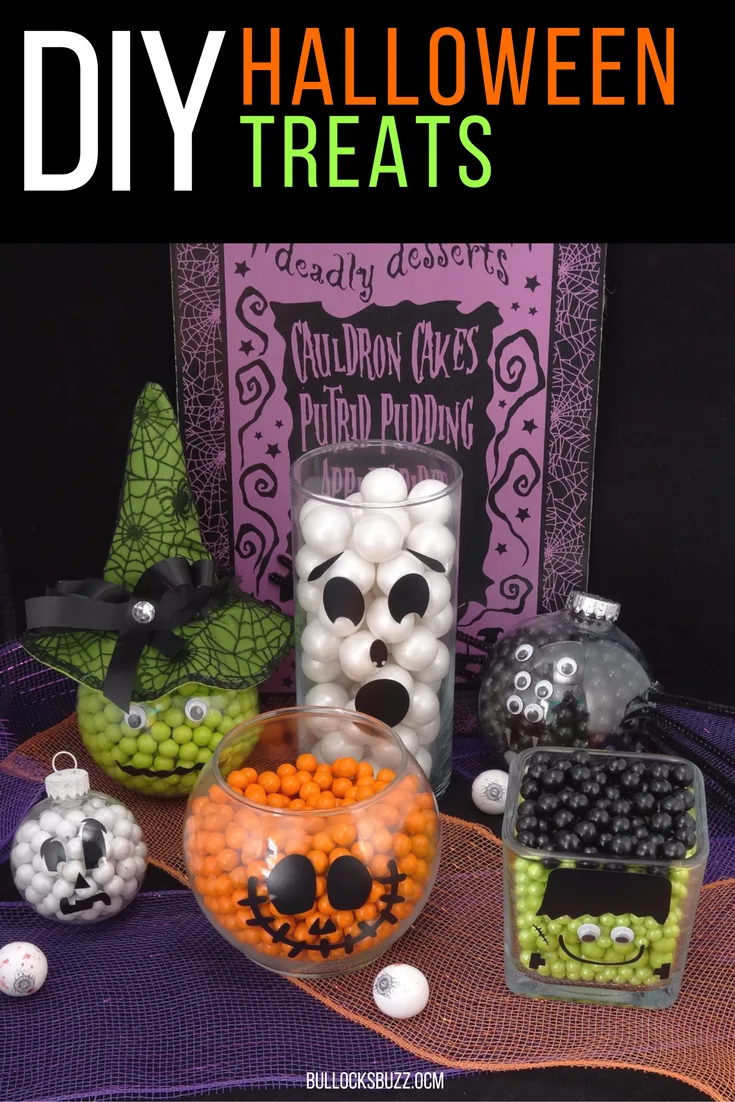 Do you have a favorite DIY Halloween craft? Share with us below!