Dress up your holiday table with these fun and festive DIY Napkin Rings for Christmas! These super simple Christmas Wreath Napkin Rings will help you create a stunning holiday table and can be finished in mere minutes!
Decorating your home for the holidays should be affordable and fun! And one of the best ways to do that is by making your own decor.
In fact, one of my favorite parts of any holiday is creating my own decor! From Halloween wreaths to Christmas ornaments, I love to create decor that no one else has.
And I enjoy sharing those creations with you even more!
Lately, one of my very favorite projects has become making DIY napkin rings. Last year I made these beautiful DIY Christmas napkin holders and I got so many compliments that I just had to come up with another homemade napkin ring idea.
So, this year, I created these lovely DIY Christmas Wreath Napkin Rings.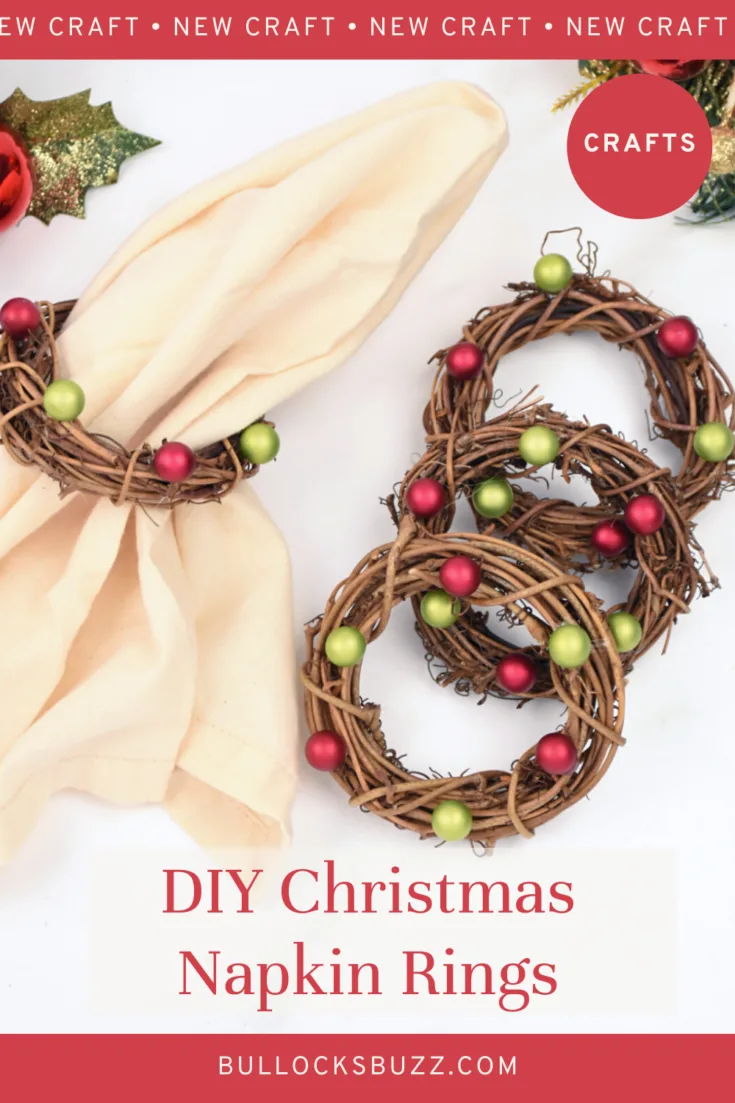 These beautiful DIY Napkin Rings for Christmas are designed to look like miniature Christmas wreaths and will work well with any decor style including natural, modern, farmhouse, and even rustic. Plus, they are very easy – and inexpensive – to make!
In fact, this entire project took about 5 minutes to complete, and only cost $2! Yep, you read that right. Two dollars! Now this is because I already had the mini wreath forms, but even if you don't, you can still complete this project for less than $20 (depending on how many you need to make)!
HOW TO MAKE CHRISTMAS WREATH DIY NAPKIN RINGS FOR CHRISTMAS
This super simple DIY will give your holiday table a fun festive look. All you need are some mini wreath forms and tiny balls. In five minutes or less, you can have unique DIY napkin holders for Christmas that look as though you spent a lot of money buying them.
While I choose to use red and green "berries", you can use whatever color you like and one that will fit well with your table decor. Silver and gold if you like non-traditional colors, red and gold or green and silver if you want to create a modern Christmas atmosphere, or even pastel shades which are a pretty option for soft decor.
You could even spray paint the wreaths white!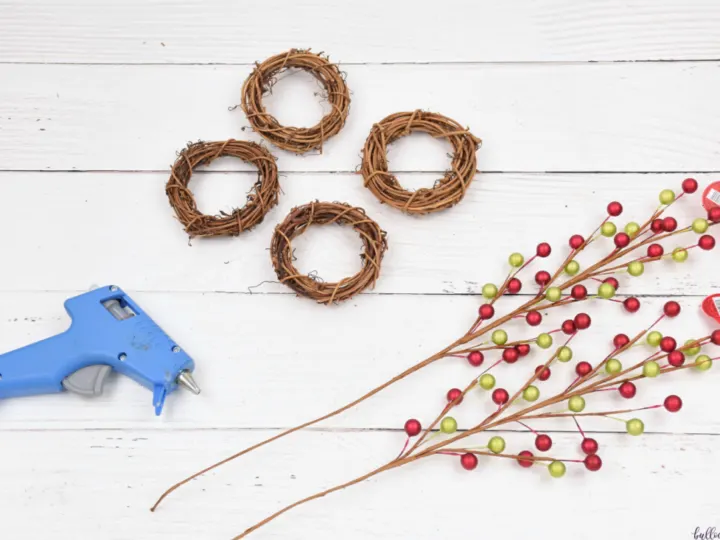 Disclosure: This blog post contains affiliate links for products I think you'll love. If you make a purchase from one of these links, Bullock's Buzz will make a small commission at no additional cost to you. As always, I only recommend products that I have (or have had), use, and love.
DIY CHRISTMAS NAPKIN RINGS SUPPLIES
These simple DIY Holiday Napkin Rings call for very few supplies. In fact, I was able to make them for less than $2 (because I already have some of the mini wreath forms).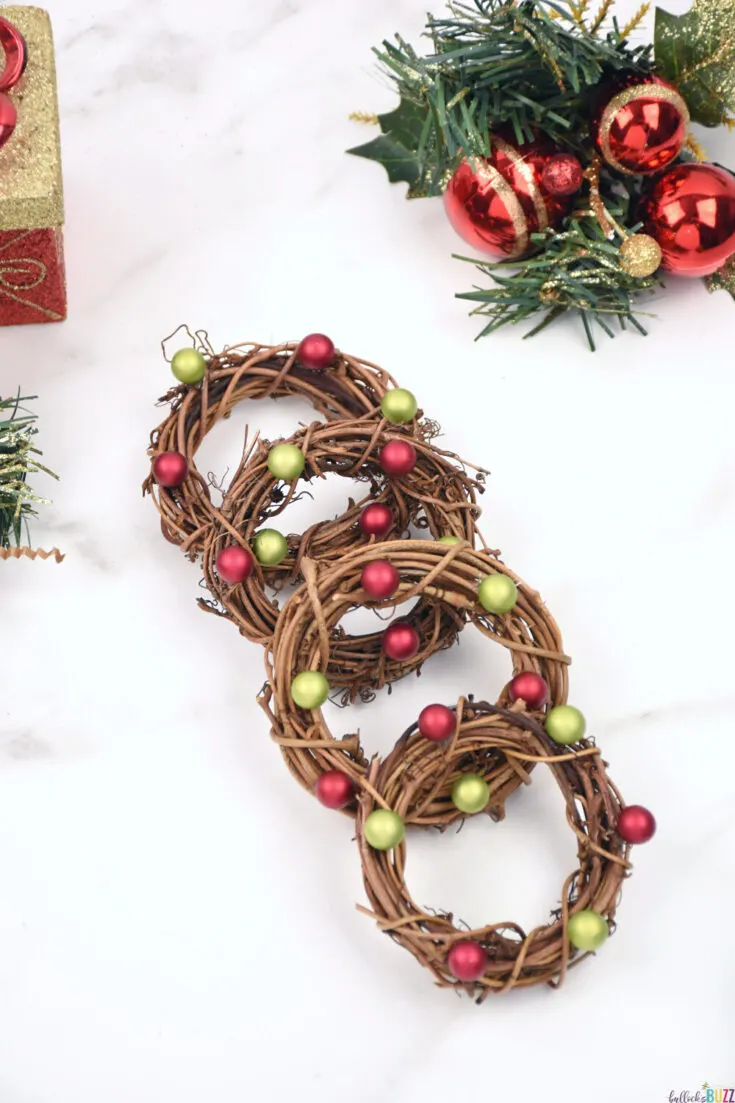 DIY NAPKIN RINGS FOR CHRISTMAS INSTRUCTIONS
Making these fun DIY napkin rings for Christmas couldn't be easier. If you have about 5 to 10 minutes and even the tiniest amount of craftiness, these DIY holiday napkin rings are perfect for you!
1. Trim the Picks
First you will need to remove the 'berries' from the pick. I was able to easily cut them off with a pair of wire cutters although I suspect a pair of scissors would work just as well.
Make sure you cut as close to the berry as possible.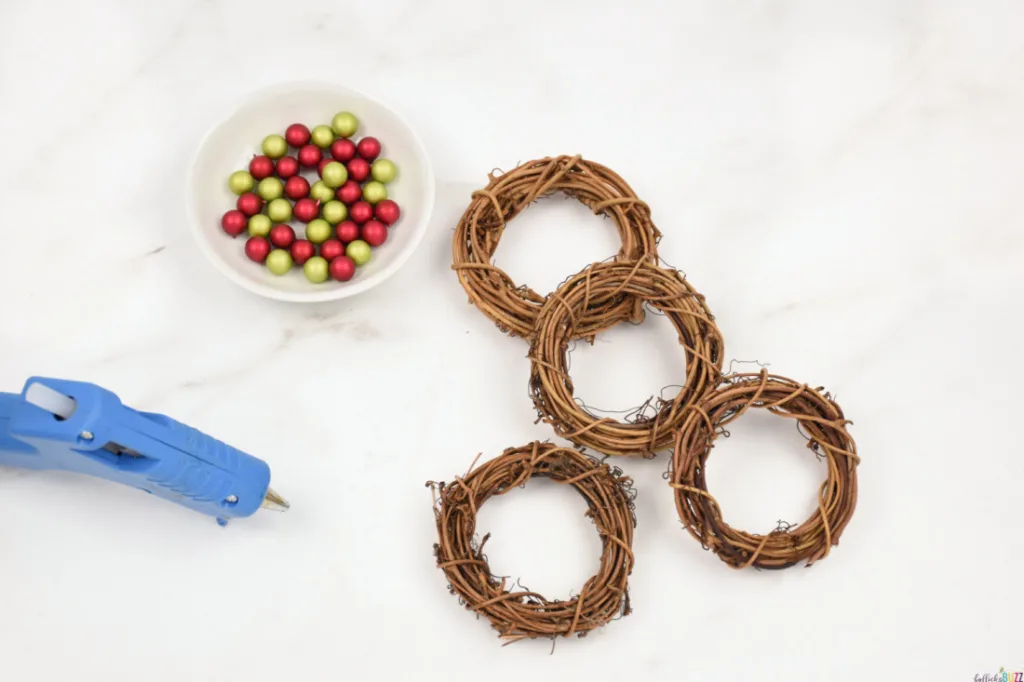 2. Add the Berries
Next, use hot glue to attach six berries to each mini wreath form. Make sure you evenly space the berries and alternate colors.
Also, be sure to position them so the berries sit closer to the outside edge of the wreath form rather than the inside.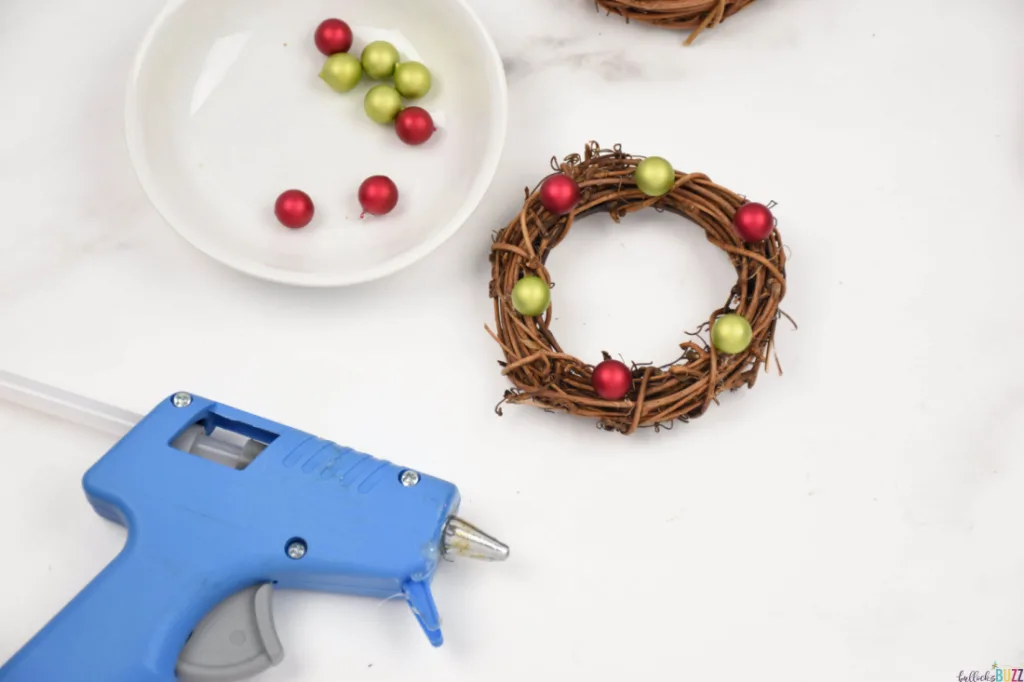 3. Let Glue Dry
Lastly, allow the glue to dry.
And you are done!
Now all that's left to do is insert your napkins and add them to your holiday table.
HOW TO FOLD NAPKINS WITH A NAPKIN RING?
There are several different ways you can fold napkins when using a napkin ring. Here are four of my favorites:
Open a napkin and lay it flat. Pull one set of opposite corners together. Then, in center of the triangle it formed, pinch and pull the napkin through the ring.
Fold a napkin in half; then fold it into thirds. This will form a rectangle that can then be pulled through the napkin ring to look like a bow. Fluff each end accordingly.
Lay a napkin flat; then accordion fold it by using both hands on either end. Next, fold the napkin in half to pull it through the napkin ring. Lastly, fan the napkin out.
Lay the napkin flat and roll half of it inward. Next, roll the other half until it meets in the middle. Then fold the rolled napkin in half and pull it through the ring.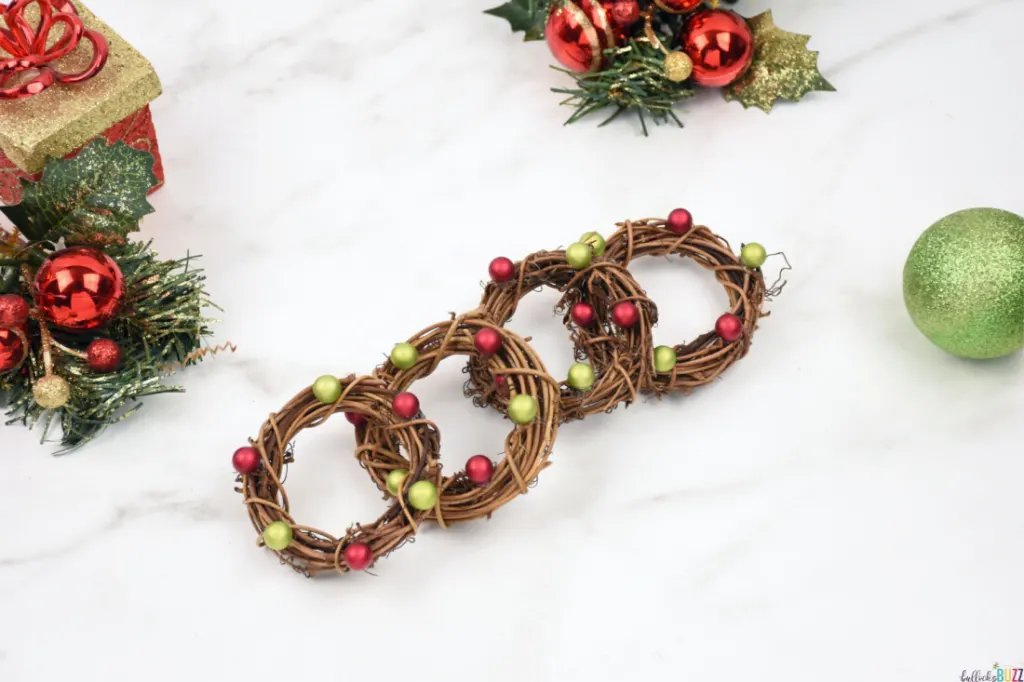 MORE DIY CHRISTMAS CRAFTS
Do you know how I said that I love making holiday crafts? Well, if you like these DIY Napkin Rings for Christmas, I bet you will love these other Christmas crafts!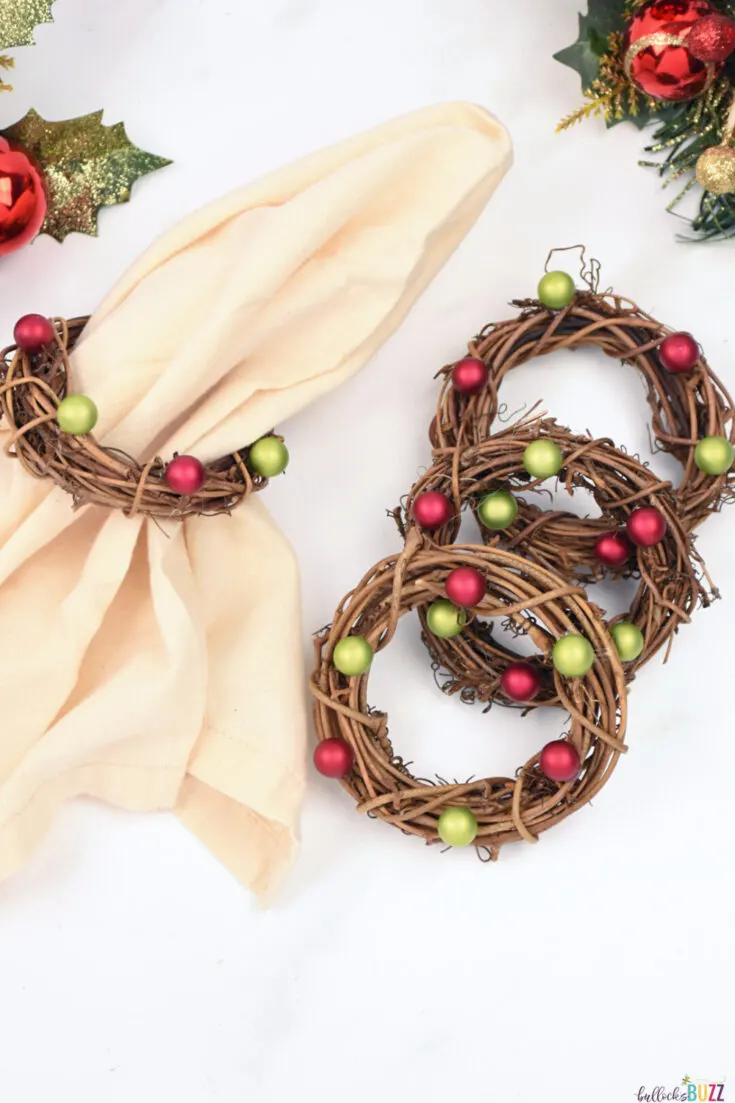 SHOW ME WHAT YOU'VE MADE!
I hope you love this DIY Napkin Rings for Christmas craft as much as I do! They are so simple and fun to make! If you do decide to give it a try, let me know! Nothing makes me happier than seeing your own take on my crafts!
Tag me at @bullocksbuzz (Instagram and Facebook) or @alainabullock (on Twitter). And be sure to use #BullocksBuzz so I can see your creation and share it!