Create a stunning holiday tablescape that has a natural, farmhouse, or rustic vibe with these pinecone and berry DIY Christmas Napkin Rings!
Give your holiday table a fun and festive touch with these super simple DIY Christmas Napkin Rings. You can create a stunning holiday table that has a natural, farmhouse, or rustic vibe in just five minutes or less.
These beautiful DIY Christmas napkins rings will work with several decor styles including natural, farmhouse, and even rustic. Best of all, they are super simple – and inexpensive – to make!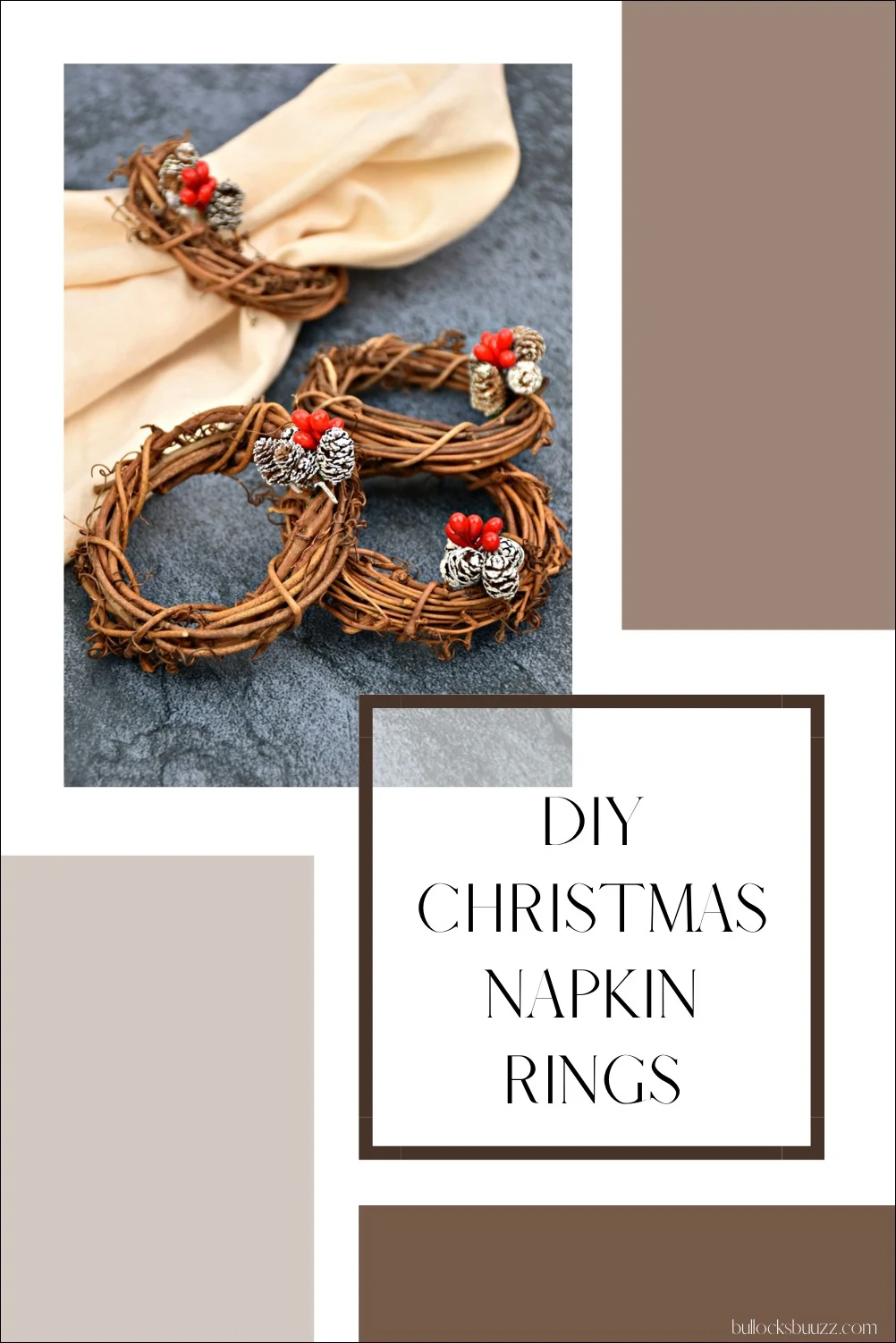 DIY HOLIDAY DECORATIONS
As most of you know by now, I adore decorating for the holidays. Whether it's a DIY Halloween Wreath, candy-filled Thanksgiving Turkeys, or Hanukkah Gift Tags, or Christmas Coke Bottle Characters, I find so much pleasure in creating things!
Last weekend, I made these DIY Christmas napkin rings and they came out so cute I just knew I had to share them with you.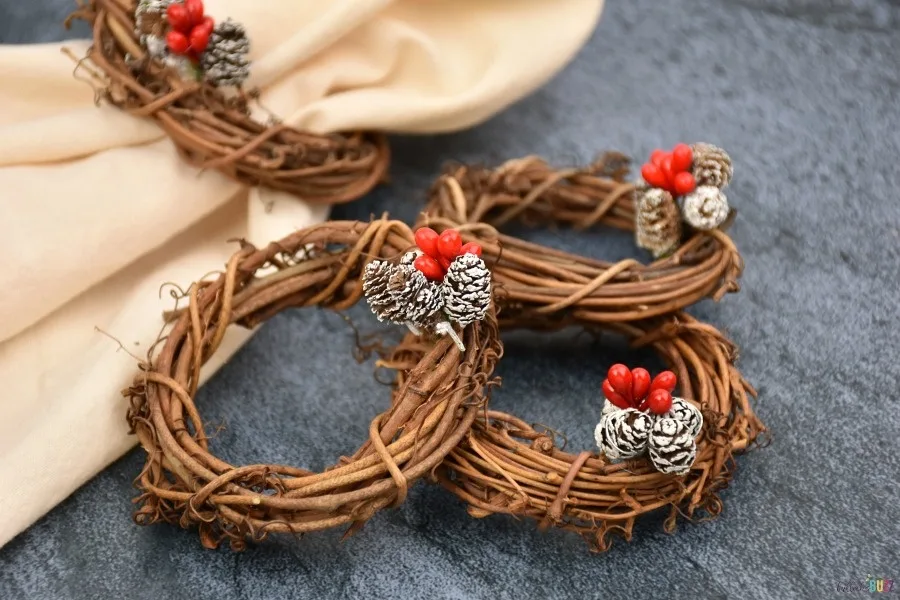 HOW TO MAKE DIY CHRISTMAS NAPKIN RINGS
Believe it or not, these homemade napkin rings literally took five minutes to make. Yes, you read that right! Five minutes and you can have Christmas napkin holders that look like you spent a pretty penny on buying them. Even better, these napkin rings are 100% unique! So you'll have one-of-a-kind holiday decor that nobody else has. How fun!
So, are you ready to see how I made these pretty napkin rings?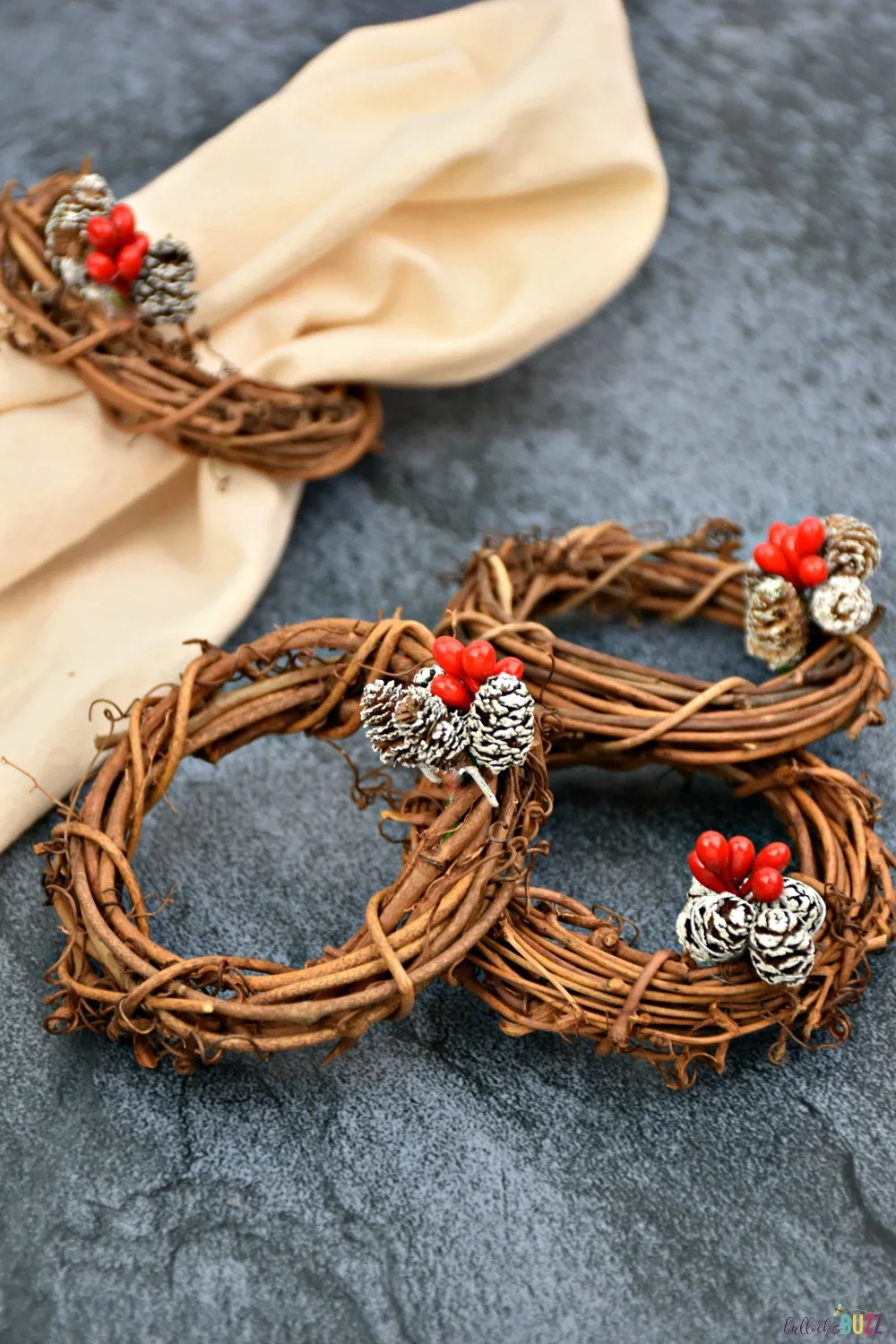 Disclosure: This blog post contains affiliate links for products I think you'll love. If you make a purchase from one of these links, Bullock's Buzz will make a small commission at no additional cost to you. As always, I only recommend products that I have (or have had), use, and love.
DIY CHRISTMAS NAPKIN RINGS SUPPLIES
Here are the supplies you'll need for this DIY Holiday Napkin Rings.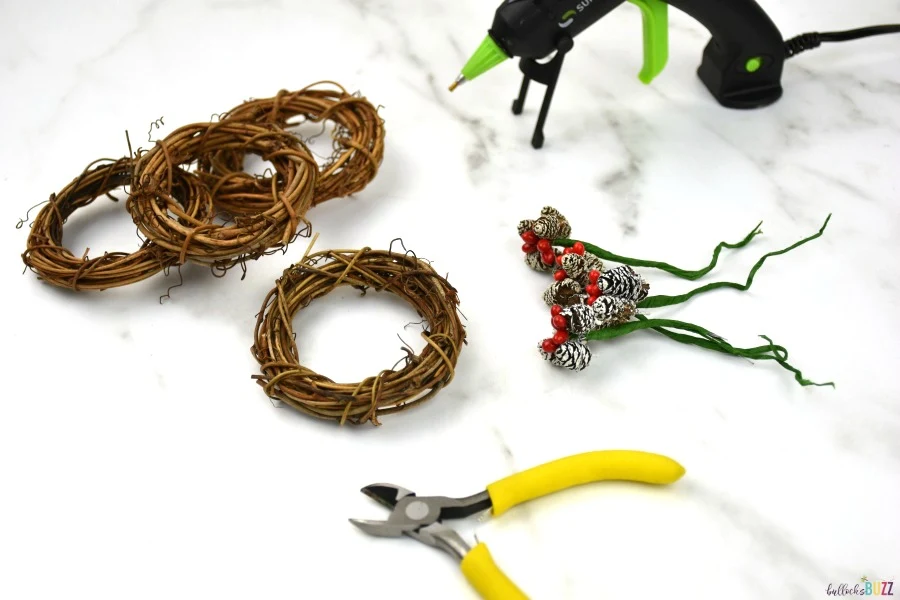 DIY CHRISTMAS NAPKIN RINGS INSTRUCTIONS
These DIY Holiday Napkin Rings are incredibly easy to make. Seriously…anyone can do it! If you have about 10 or 15 minutes and even the tiniest amount of craftiness, these DIY Napkin Rings are perfect for you!
1. Trim the Picks
The first thing you will want to do is cut the 'stem' on each pick so it is not so long.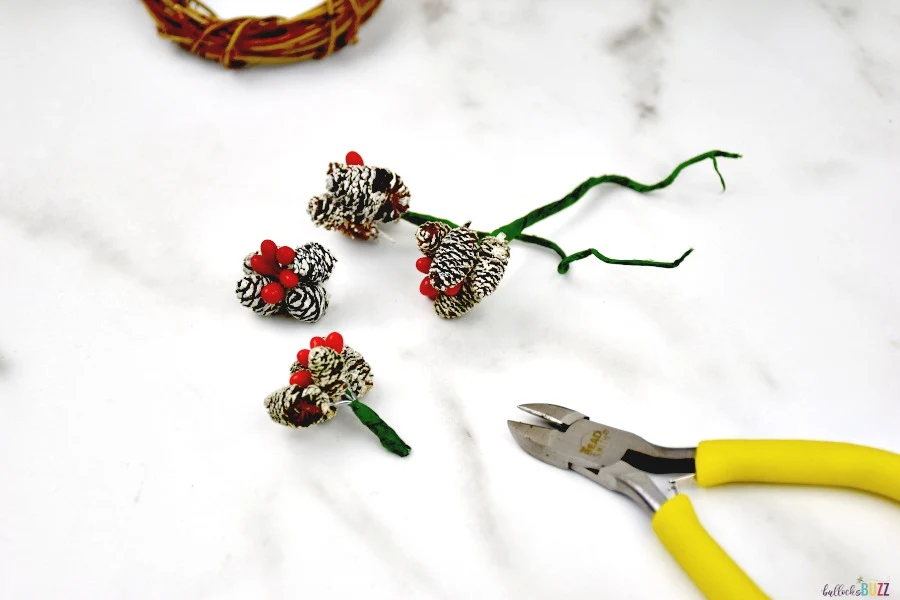 Make sure you leave about 3/4 to 1 inch of stem for gluing.
2. Add the Pinecone and Berry Picks
Next, add a tiny amount of hot glue to the remaining part of the 'stem', and then carefully attach the pinecone and berry pick to the inside edge of a mini wreath.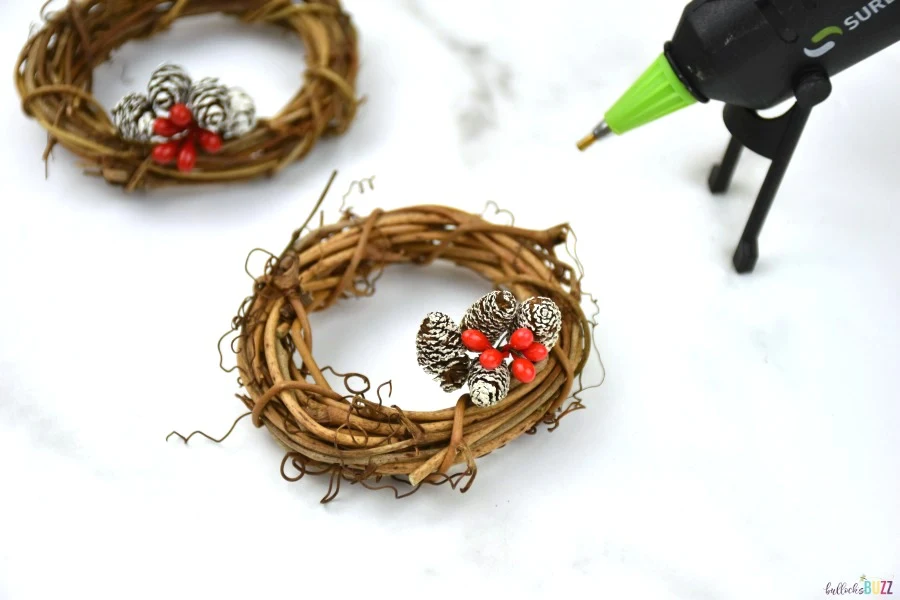 Make sure to position it so the pinecones and berries sit against the outside edge of the wreath form.
3. Let Glue to Dry
Now, allow the glue to dry completely.
And that's it!
Now all that's left to do is insert your napkins and add them to your holiday table.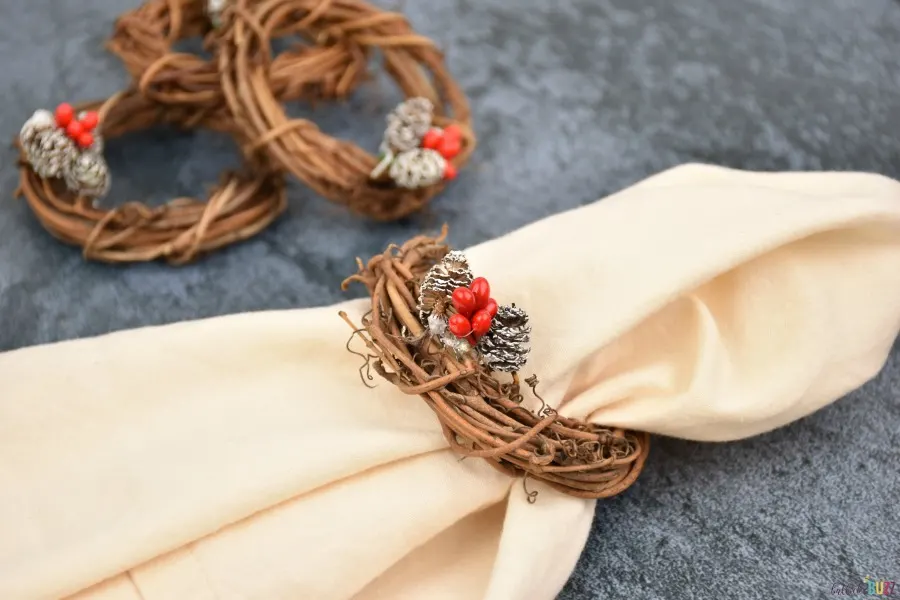 MORE USES FOR THESE HOMEMADE NAPKIN RINGS
These DIY Christmas napkin rings aren't just for Christmas. Nope. They'd look great on a Thanksgiving table, or anytime during the Fall and Winter
These fun DIY Christmas Napkin Rings also make wonderful gifts and hostess gifts! When I give homemade napkin rings as gifts, I like to cut some small napkins out of fabric, like little napkinettes. I then include a small napkin inside each napkin holder just to show what they are for those that may be confused. 😉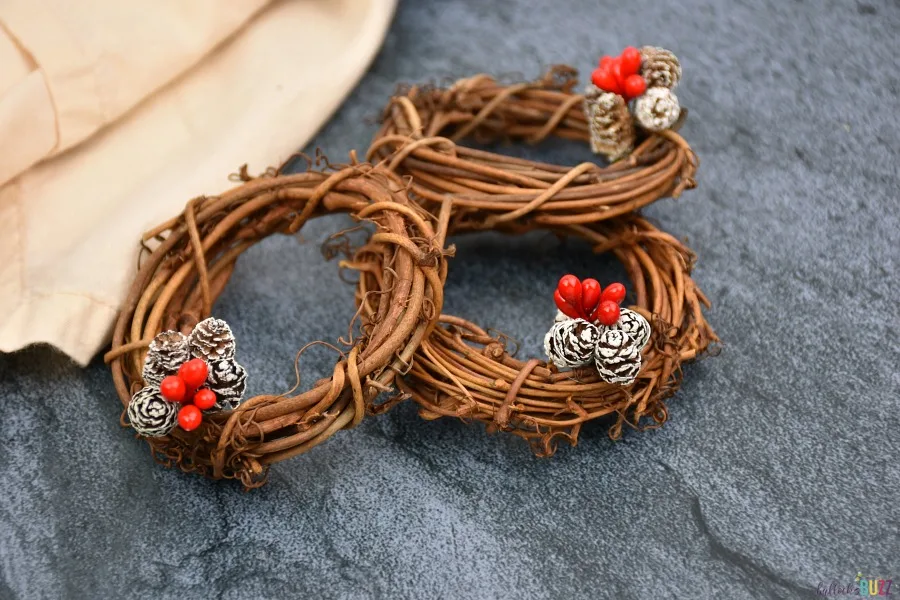 MORE DIY CHRISTMAS CRAFTS
Do you know how I said that I've made a lot of holiday crafts? Well, here they are!