2015 Holiday Gift Guide
Have a tech lover on your holiday gift list? Keep them connected with a device from the Echo PowerConnect collection!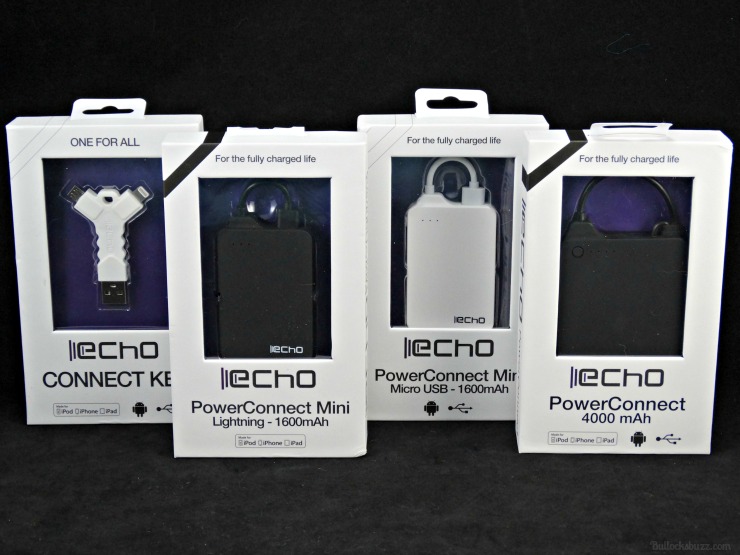 If you are anything like me than you live much of your life using technology which demands both connectivity and power. Yet the more we rely on and use our devices, the more power we need, and as is often the case, the batteries in our devices cannot keep up with the increased demand. Nothing is worse than needing to access your email or the internet or even your camera only to find that your battery is pretty much dead. That's where Echo comes in.
Founded in 2014, Echo is dedicated to creating the highest quality electronic devices to keep you connected in the modern world. Combining both technology and fashion, they create exciting everyday electrical devices perfect for today's busy lifestyle. With a wide range of power solutions, Echo has something for everyone, including their line of innovative Echo PowerConnect products.
Echo PowerConnect Dual 4000mAH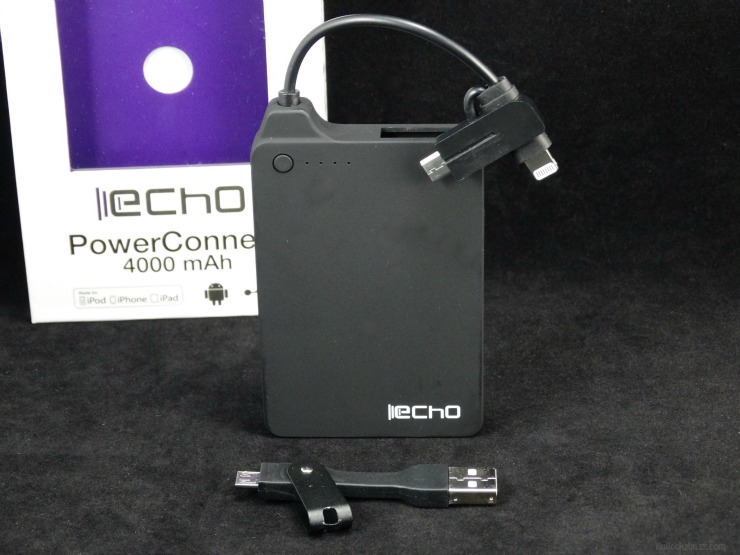 The Echo PowerConnect is a MFI certified dual connector portable battery pack for both iPhone and Android devices. This 4000mAh battery pack is slim, lightweight, and small enough to fit in your pocket. In fact, it's not too much larger than a credit card; measuring a little over 3.75 inches tall (or a tad over 4.5 inches if you include the height of the cord), 2 3/4 inches wide, and 1/2″ inch thick. It weighs just 2.65 ounces.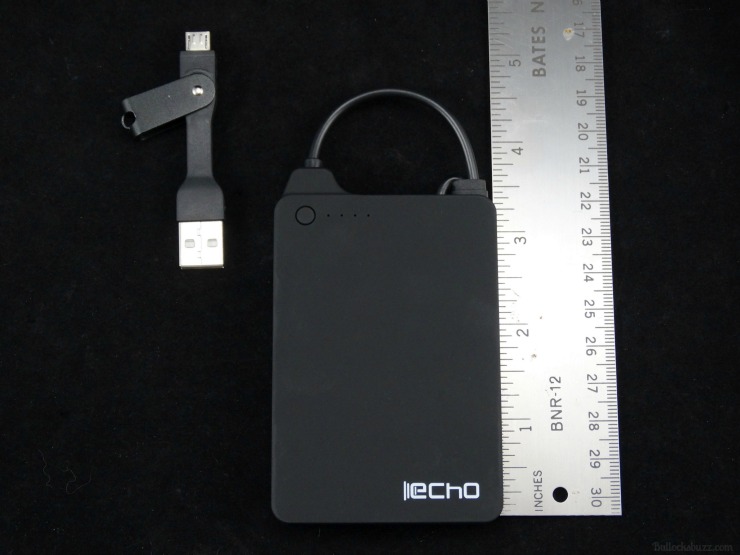 It has a nice, easy-to-grip soft outside covering (which does tend to show fingerprints and smudges), and even comes with a separate micro USB to USB connector to re-charge your PowerConnect. This connector actually reminds me of another Echo product, the Connect Key, which I mention later in this post. It can easily be attached to the PowerConnect using a small ball chain.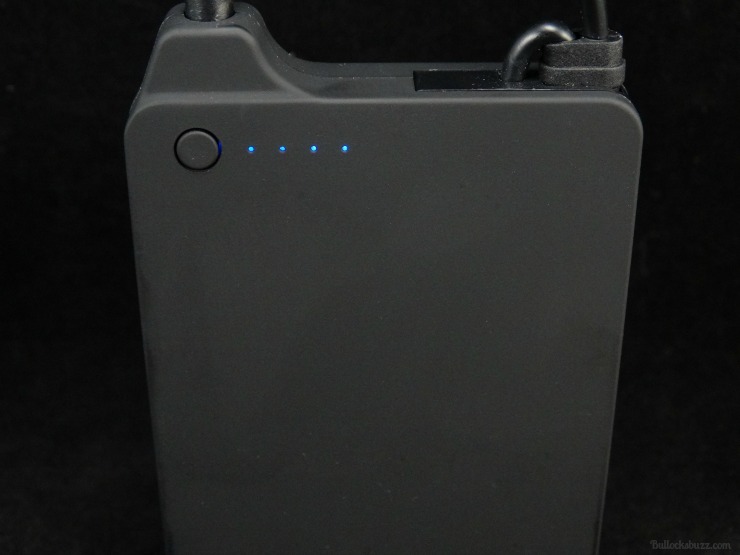 Since it is fitted with both Apple Lightening and micro-USB connectors, this portable battery pack is perfect for charging almost all modern mobile phones, tablets, cameras, and any other wireless device. You can easily see how much charging power remains via a three light indicator. And I love how the cord stows away into a little nook when not in use! I was able to charge my iPhone 6 almost 2 full charges with no problems. It's definitely a handy thing to have when you need to stay connected! The Echo PowerConnnect is available in two colors: black and white, and comes with a two year warranty.
Echo PowerConnect Mini Lightening or Micro USB 1600mAh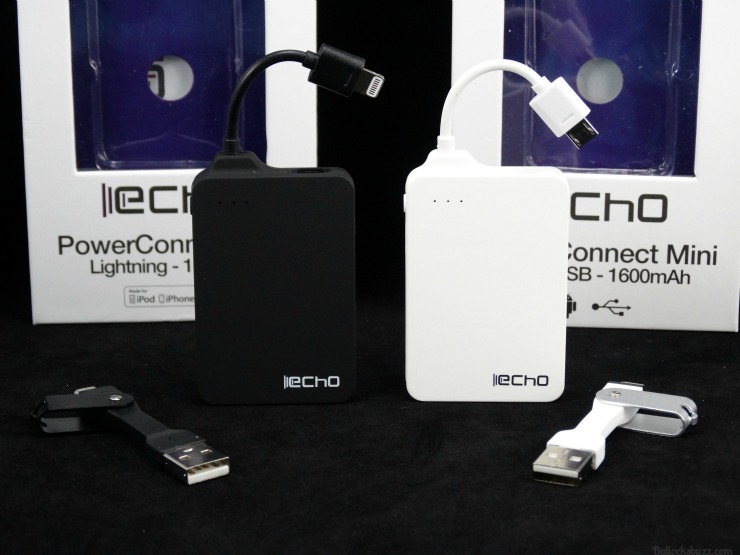 The Echo PowerConnect Mini Lightening is by far one of the smallest and the most portable powerbanks I've reviewed to date. Similar to the PowerConnectl, but even smaller in size and a bit smaller in power supply, the PowerConnect Mini is a 1600 mAh battery pack which gives you about 1.5 X charging power. This one is about half the size of a credit card measuring around 3.5″ in height (incl., height of cord), 1 3/4″ in width, and less than 1/2″ thick. Plus it only weighs a mere 1.52 ounces. Tiny!
Available in two models, the PowerConnect Mini Lightening for iOS and the PowerConnect Mini Micro USB for Android and just about everything else, both come with a short, attached cable that is about 2.36″ in length that stows away neatly when not in use. A separate micro USB to USB connector for charging the PowerConnect Mini is also included in the package, but it can actually be easily attached to the PowerConnect Mini by using a ball chain or other type strong string onto the Lightening or Micro USB cord.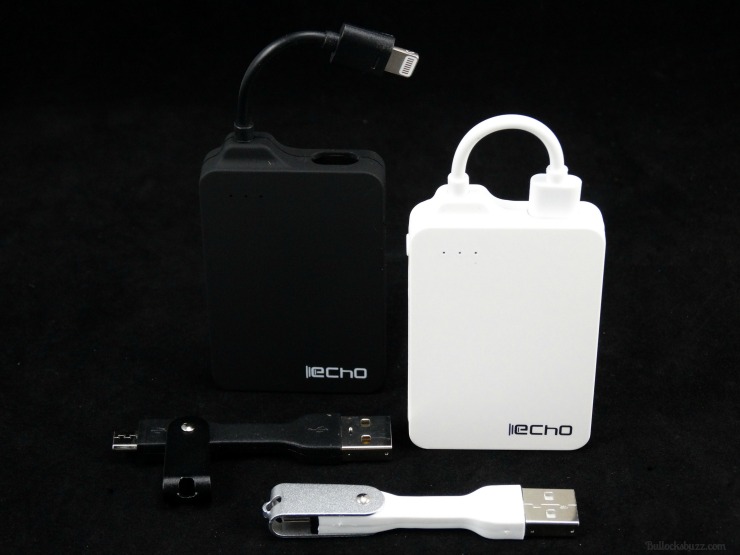 The PowerConnect Mini's are covered in a soft, matte material that is much easier to grip than a slick, hard metal, but it does tend to show fingerprints and smudges a bit more. Like the larger PowerConnect, you can easily see how much charging power remains via a three light indicator. The PowerConnect Mini is available in two colors: black and white, and they all come with a one year warranty.
Echo Connect Key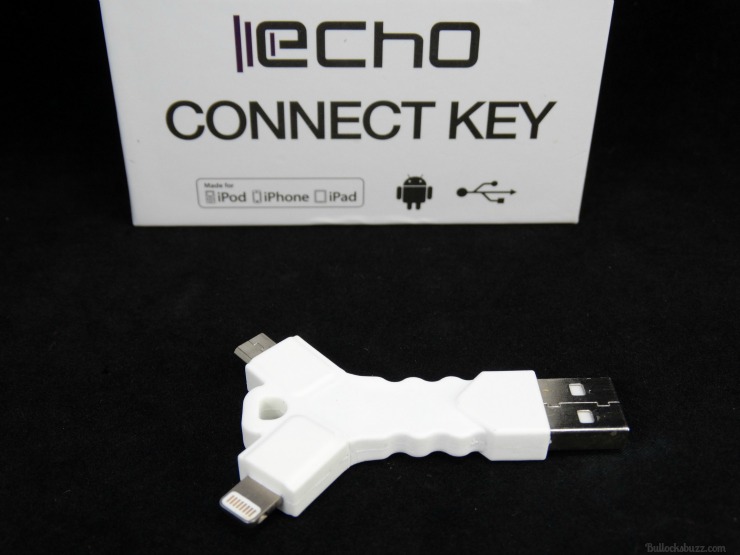 Out of all of their Connect products this is by far my favorite! Introducing the world's first Apple licensed dual connector! It's one key for all of your devices – both Apple AND Android!
How many times have you been out and about only to discover that your iPhone is low on juice, and while you have access to the USB on your computer or dashboard, you do not have a Lightning cable to plug-in? Small enough to fit in your pocket, your purse or even on your key chain, the Echo Connect Key is a small, flexible Y-shaped connector with a micro USB connector on one branch, a Lighting connector on the other, and a USB connector on the end that you can use to charge your device via any USB socket! And the handy hole on the end makes it perfect for attaching to your key chain so you are never without a way to charge your iOS or Android device! This innovative little device also supports data transfer and data syncing. And if you need to charge both a microUSB and iOS device at the same time, the Echo Connect Key also has built in what they call the "either or switch" which will protect against data transfer between the devices.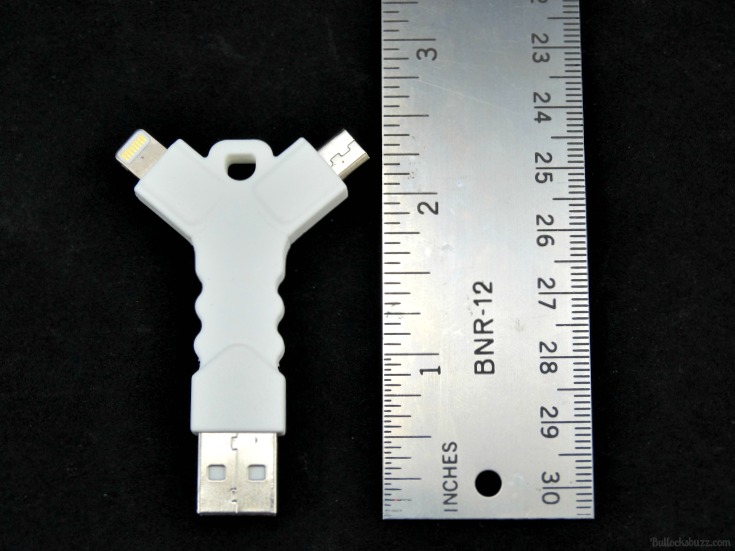 Keep in mind that at a bit over 2″ in length, the Echo Connect Key for iOS and Android does not give you much slack when it comes to charging your device at a distance from the power source. Instead it is perfectly designed to get your device connected to a handy USB port to grab a quick charge when needed. While the Echo Connect Key is similar to other devices on the market, only it is MFI certified as well as having the ability to do Android, iOS and Windows Phone.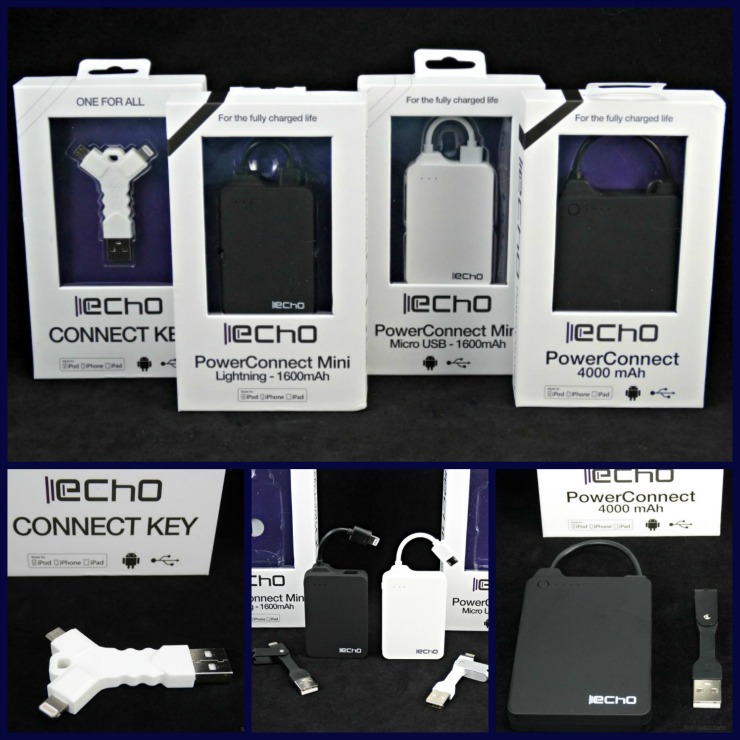 Echo PowerConnect products can all be purchased directly through the Echo website for some very reasonable rates. The PowerConnect Dual costs around $37.21. The Power Connect Mini Apple costs about $28.28, and the Micro USB is around $22.33. The PowerConnect Key costs around $19.34.
Connect with Echo: Shop | Facebook | Twitter
Disclosure of Material Connection: I received one or more of the products or services mentioned above for free in the hope that I would mention it on my blog. Regardless, I only recommend products or services I use personally and believe will be good for my readers. I am disclosing this in accordance with the Federal Trade Commission's 16 CFR, Part 255: "Guides Concerning the Use of Endorsements and Testimonials in Advertising."