2015 Holiday Gift Guide
I've always been a sucker for fried food, who hasn't? But since it is not exactly the most healthy way to cook, I tend to try avoid it. But boy do I miss homemade french fries and fried chicken! If you, like me, find yourself longing for your favorite fried foods, but don't want the fat and grease that goes along with it, give the Rosewill Air Fryer a try.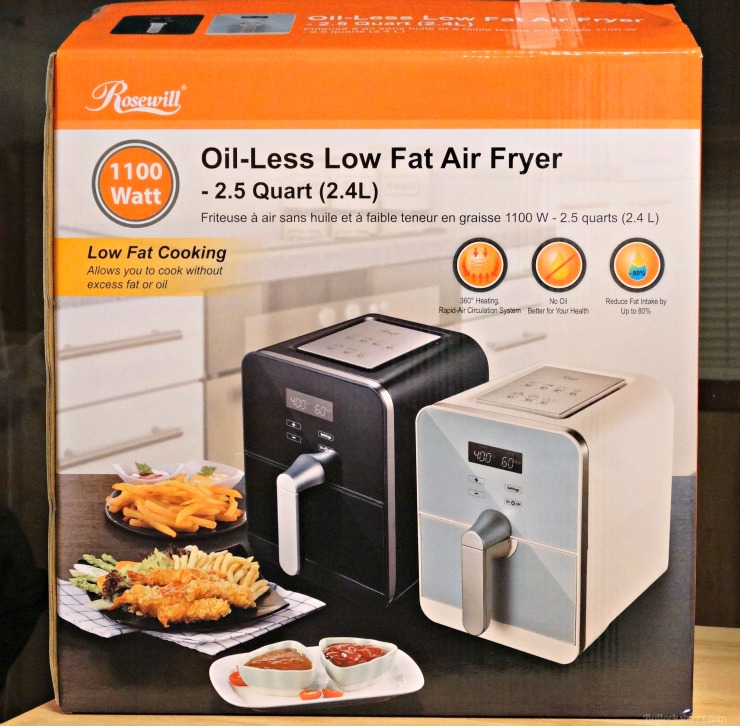 I have to be honest and say that when I first heard about air fryers, I was a bit skeptical. I mean how could "frying" chicken in hot air give you that same crispy, crunchy texture and moist tender inside? Or how could it give you that same light golden outside and soft, chewy inside for your favorite fries? Despite my doubts though, I decided to give it a try in the hopes of finding the answer to the predicament of wanting fried foods but not wanting all of the fat that goes with it.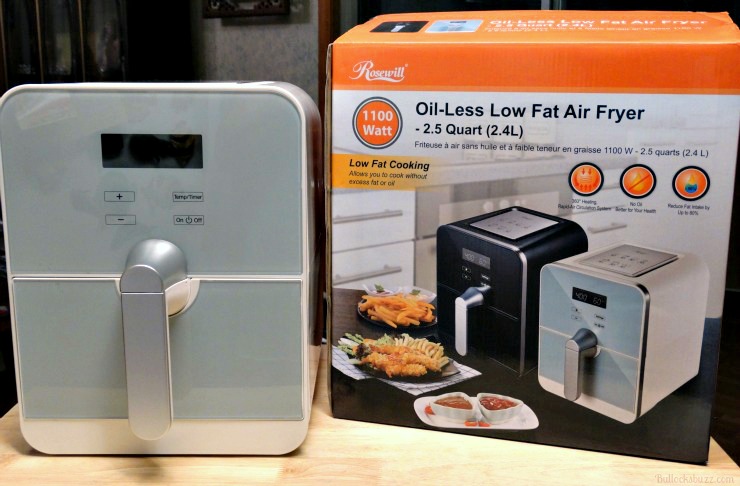 How Does the Rosewill Air Fryer Work?
Instead of using hot oil to cook foods, the Rosewill Oil-Less Low Fat Air Fryer works by using hot air in combination with high-speed air circulation (Rapid Air) and a top grill. Basically you set your food inside the basket, adjust your time and temperature, and a mechanical fan then circulates the hot air 360º around the food at high-speed, ensuring that it cooks evenly, thoroughly and quickly. You can air fry all sorts of foods such as potato chips, french fries, chicken, fish, and even pastries. But the absolute best part is that air fried foods are much healthier than oil fried foods. For example, air fried French fries contain up to 80% less fat compared to fries prepared in a deep-fat fryer. In fact, when using an air fryer, many ingredients don't even require the use of oil at all while others call for only a small amount!
The Rosewill Air Fryer is quite easy to use. Simply plug it in, set your desired temperature, and then press the ON/OFF button to allow the appliance to preheat. Once the desired temperature has been reached, open the drawer, place the food inside the basket, close it, set the timer, and then select the ON/OFF button to begin. Be sure not to fill the basket past the max line printed on the basket's side. Keep in mind that with some foods you will still need to use a bit of oil, but nowhere near what deep-frying calls for. For example, when making homemade fries you will need to use about 1/2 Tbsp. oil. If you are not sure about times and temps, the included manual has a very helpful guide!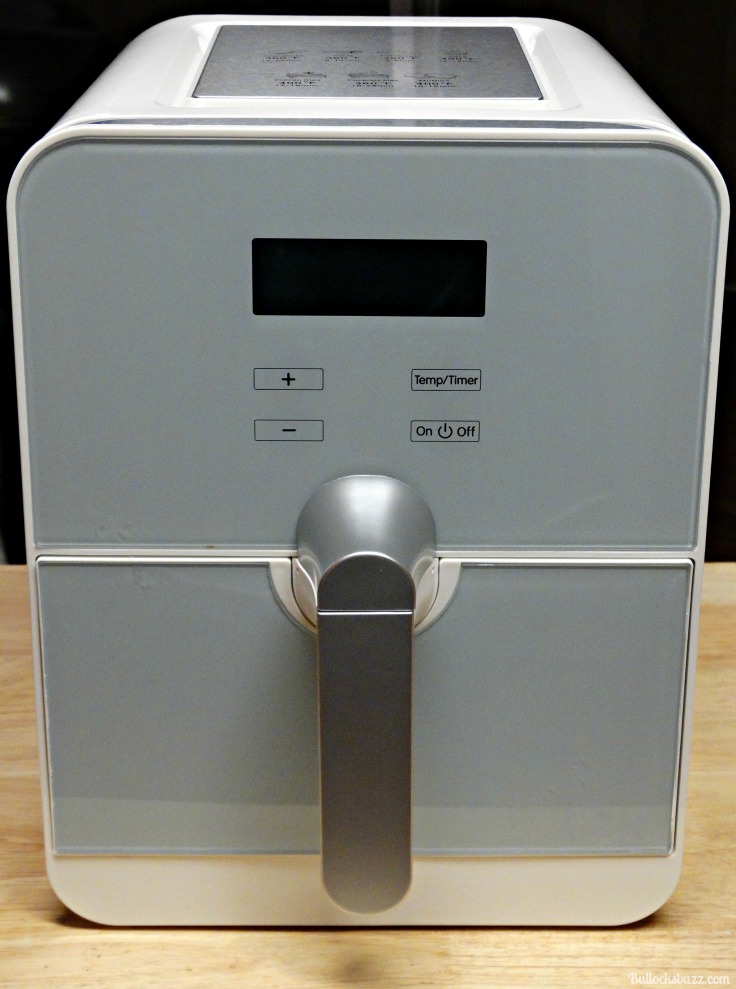 You can use the air fryer for all sorts of foods including steaks, pork, spring rolls, frozen chicken nuggets, cakes, rolls, muffins, and so much more. Yes, you read that right: cakes, rolls, muffins and more. You can bake with the air fryer. In fact, you can also grill, roast and even use it to reheat ingredients. According to the manual, when you bake and use ingredients that rise, you need to use the tray only. I've yet to try this, although I definitely plan to soon! The timing guide inside the manual is very helpful. You just find the item you are cooking on the chart and from there it will show you what temperature to use and how long to cook it for. It will also tell you if you need to use oil or not. And if you need a quick reference guide, on the top of the Air Fryer there is a little metal plate that gives you cooking temps and times for some of the more common items you may be cooking.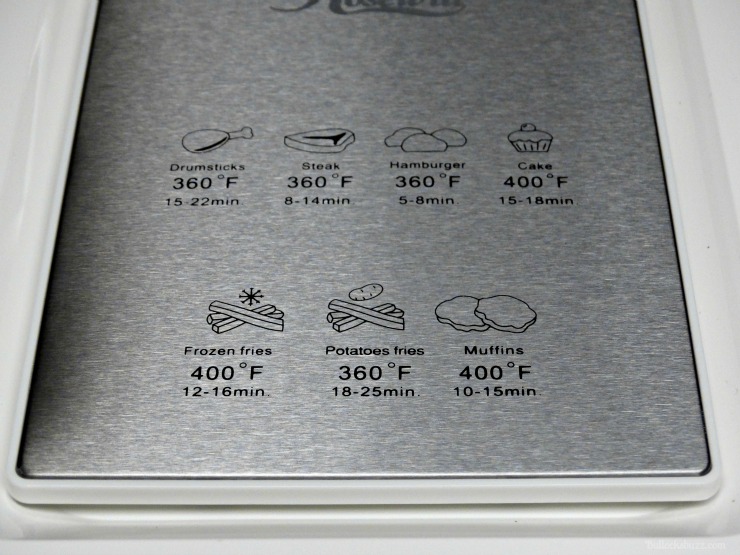 So far we have used it for homemade fries, chicken, pork chops, and potato chunks, and all have turned out perfectly cooked and tasting delicious! I have noticed that the cooking times are a bit longer, for example our tater tots took about 13 minutes as opposed to the 4 minutes in a deep fryer. But for me, the excellent taste, the lack of oil, and the overall healthier way of eating is well worth the added time.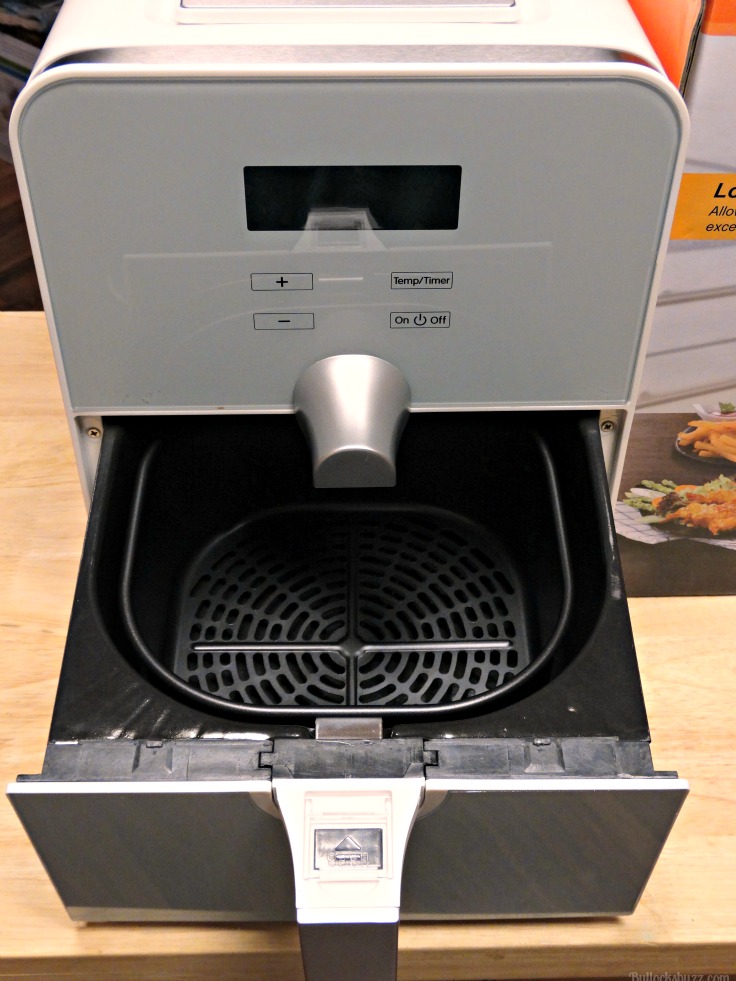 In addition to being easy to use, the Rosewill Air Fryer is also easy to clean up after. If you've ever deep-fried foods then you know just how messy that method of cooking can be. Not only does the fryer itself need lots of cleaning, but over time the counter tops and anything else nearby gets covered in an oily residue. Since the Rosewill Air Fryer uses hot air circulation, there is no greasy mess left to deal with! Instead, once finished, you simply remove the frying basket and tray and wash them using warm, soapy water. Or you can simply toss them both into the dishwasher. The air fryer itself is also easy to clean as the interior is non-stick and wipes right out with a slightly damp, clean cloth.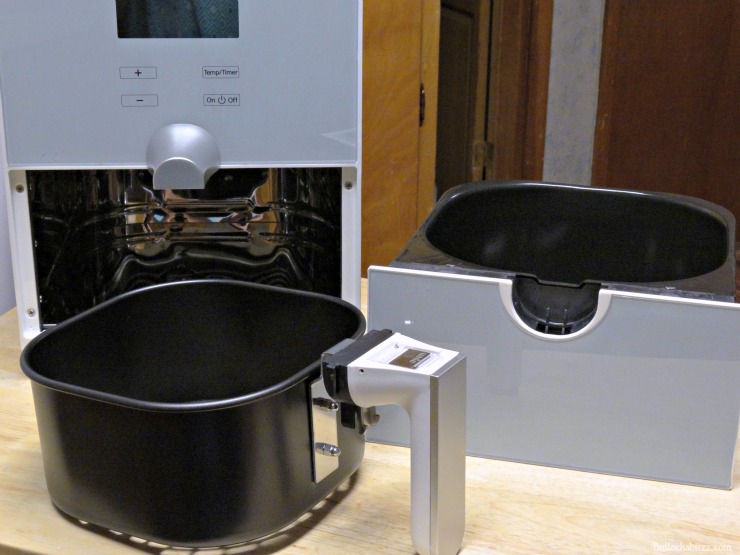 At just 12.6 by 10 by 12.8 inches, the Rosewill Air Fryer fits nicely on the counter top, and is also small enough to tuck away in a cabinet. This particular model has a 2 quart capacity (2.4L), and features an LED display with glass panel. Other specs include:
1100 Watt

Temperature control 122 – 392 degree F

Cooking Timer goes up to 60 Minutes

Double protection circuits for frequent use

LED display with glass panel

Touch button control

Healthy way for fry without oil, also for grill, roast, bake
The Rosewill Air Fryer can be purchased through Amazon and is also available at your local Sears & Home Depot. Rosewill also makes several other small kitchen appliances that can help you cook healthier easier.
Connect with Rosewill: Website | Facebook | Twitter
Do you have a favorite air fry recipe? I'd love to know! Share with us below!