An armchair, recliner and bed all in one, the Esright 3-in-1 Convertible Chair is fun, functional, and stylish!
A big thank you to Esright for sending me the Esright 3-in-1 Convertible Chair to try. As always, all opinions are my own. This post may contain affiliate links.
I've worked at home for years, and while I've been blessed to have a spare room, I've never really set up a formal office. A few months ago, we moved into a new house, and this time, I've set my mind to creating an office that I will use and love.
A good and comfortable workspace is a priority for me. I want to create a space that is functional and stylish, that enables me to work calmly, and makes me happy!
It took me several months, but I finally found a computer-writing desk I love and shelving for my craft supplies and food photography props. Yet, there was still something missing, a chair.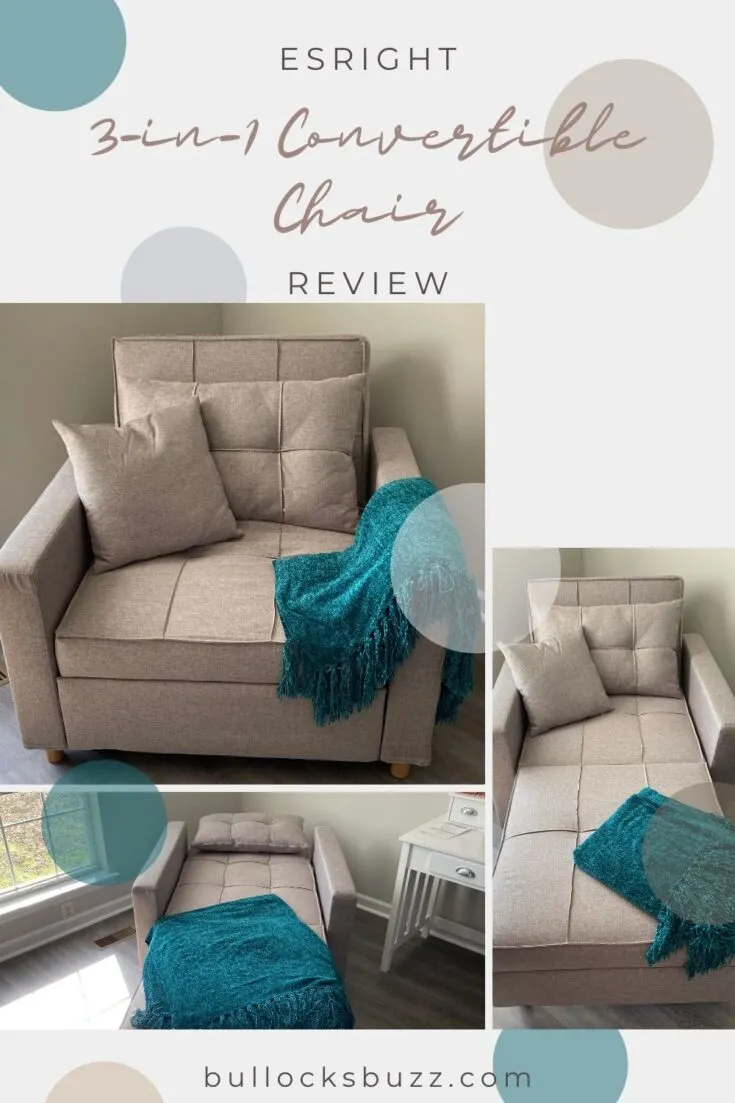 I knew I wanted some type of armchair, recliner, or futon to further style the room to make it comfy and welcoming. So, when I was offered the opportunity to try the Esright 3-in-1 Convertible Sofa Bed Chair, I jumped at the chance.
Who Is Esright?
Esright is a fairly new company that manufacturers modern, stylish and functional furniture. They are well-known for their Power Lift Recliners which are one of the top sellers in America.
In addition to their Power Lift Recliners and this 3-in-1 Chair, Esright also makes recliners, glider recliners, sofas, room dividers, and more.
Today I'm sharing my review of the new Esright 3-in-1 Convertible Sofa Bed Chair.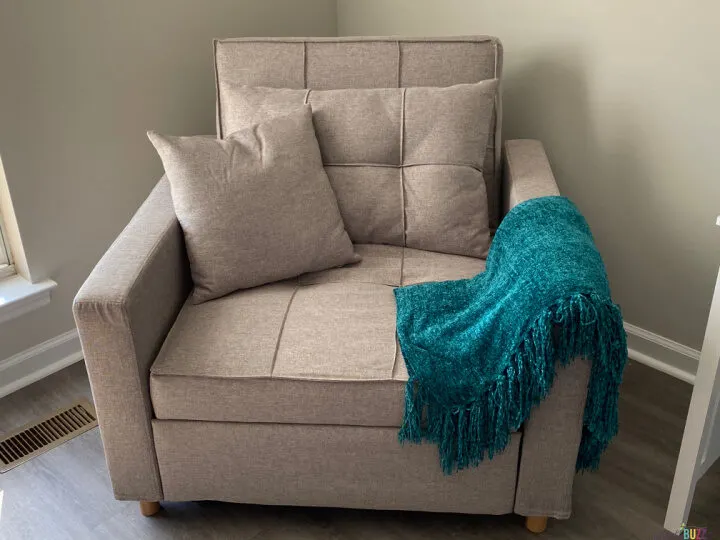 Esright 3-in-1 Convertible Sofa Bed Chair
When it comes to functional furniture, I am all for it. Don't get me wrong, style still tops the list, but the more functional the piece the happier I am. And this piece practically screams functionality. An armchair, recliner and bed all in one.
Design and Features of the Esright 3-in-1 Convertible Chair
The Esright 3-in1 Convertible Chair has lots of great features including:
3-in-1 Convertible Design – can be easily and quickly converted into an armchair, a recliner, and a bed.
Adjustable -it has a 3-level adjustable backrest, making for a comfortable sitting or lying down experience.
Handy strap – makes it easy to pull out the leg part to convert it to a recliner or bed.
Sturdy Frame- an all-steel frame ensures durability and longevity, plus it can support up to 330 pounds.
Breathable Fabric – tufted synthetic suede fabric is soft to the touch.
High-density foam – provides excellent support while still be comfortable to sit or lay on.
Large size – the chair measures 40″ in width and extends out to 78″ length as a bed offering more room for better comfort and relaxation.
Minimalist, modern design and available in 4 color options – to match a variety of interior decor styles.
Easy to assemble – with included instruction manual and ability to contact customer service for help.
What's in the Box?
This chair came partially unassembled in three, very large boxes. Inside is everything you need to put the chair together including assembly screws, washers, and an instruction manual. There are also two pillows included: one throw pillow and one for your back.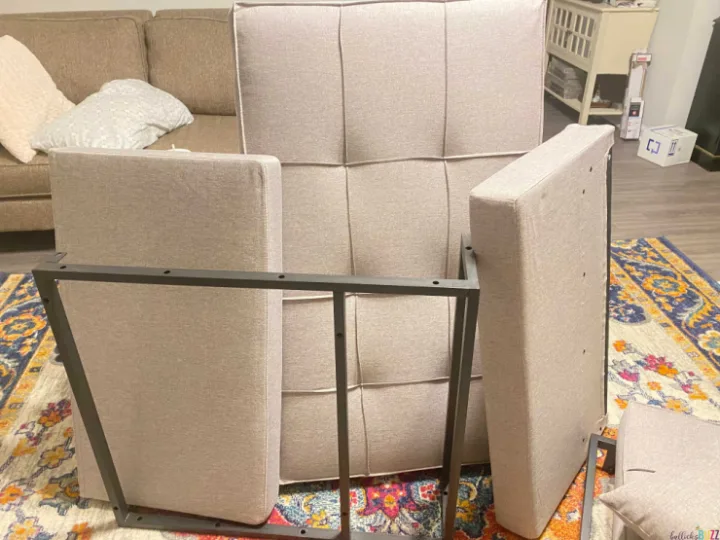 Assembly
When it first arrived and I saw all three boxes, I was worried that it was going to be very difficult to assemble. But it wasn't. In fact, the majority of the chair was already put together, so assembly was more connecting the frame to the cushions and then connecting the pieces together.
Although my husband helped, I know I could have put it together by myself. But having him help made it easier and quicker.
How To Change the Esright 3-in-1 Convertible Chair from Armchair to Recliner to Bed
Switching from chair to recliner to bed is pretty easy. To move it into the recliner position, you first pull on the attached strap to bring out the leg part. This part is on wheels so one tug and out it comes.
You can then pull the back part forward and it will release it to fold all the way down. From there you can raise it back up until it clicks into one of several slots that will hold it at different angles for use as a recliner.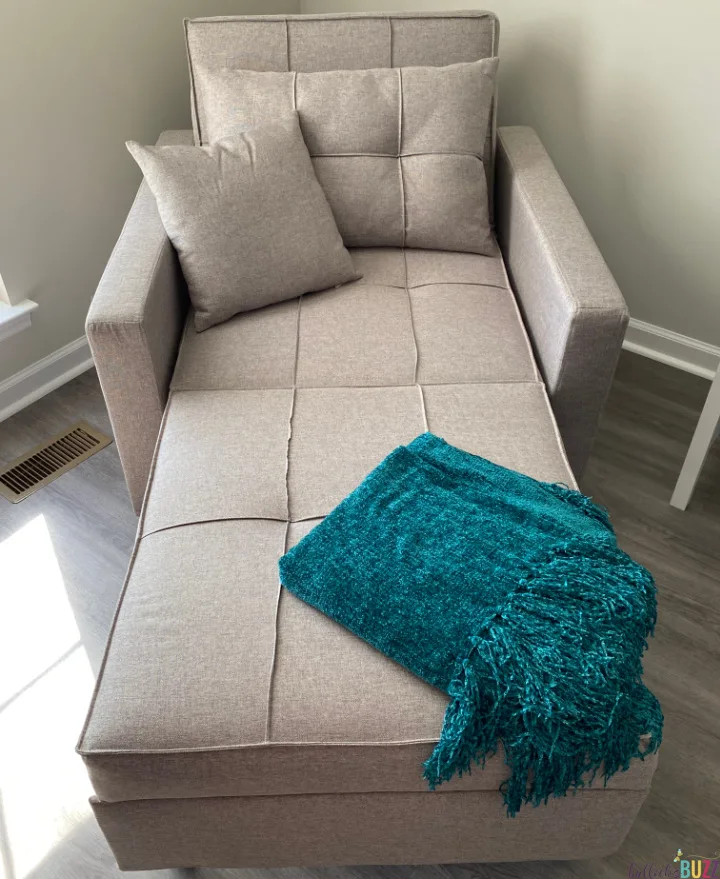 Or you can leave it all the way down and use it as a bed.
When ready to switch back into an armchair, just bring the back into the upright position, and then push the leg part back under the seat.
And that strap I mentioned? When using it as a chair, simply stick the strap back under the seat and it is completely hidden.
What I'd change
The only thing I think I'd change is the firmness. It is definitely firm whether you're sitting in it or lying down. However, I'm thinking that my body will either get used to it or the firmness will ease with more use.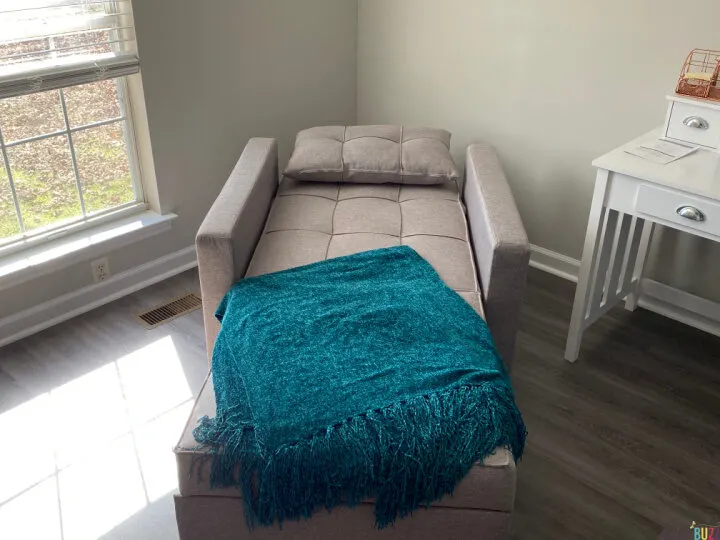 Final Thoughts
So far, I am really liking my Esright 3-in-1 Convertible Sofa Bed Chair. Though firm, it is quite comfortable to sit in. And I love that I can use it as an armchair or as a recliner or as a bed.
The fabric is a pretty light shade of grey and feels nice and soft to the touch, not scratchy. And I like that they included two pillows, too.
As a bonus, I now have an extra spot where guests can sleep if we have more than will fit in our guest room! WIN!
Best of all, this piece finishes my office perfectly!
Price: $399.99 – $419.99
Where to buy: Amazon
Colors: The Esright 3-in-1 is available in 4 different colors including dark grey, light grey, navy, and yellow.
Source: The sample for this review was provided by Esright.