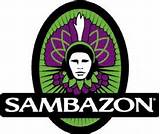 Over the past several months we have been trying to live a more healthy lifestyle which includes using more 'green' products and trying to eat a lot healthier. One large part of eating healthy is trying to get as many fruits and veggies as possible. Oftentimes I have heard that the benefits of drinking your fruits and veggies can actual be even more beneficial than just eating them. And one of the most popular ways to do this is with fruit juices and smoothies.
Over the past several months I have tried quite a few brands of juices and smoothies, and while I find that I like the juices, I have yet to find a smoothie that tastes good. It seems that they always have a chalky flavor and leave a bitter after-taste. I have heard several people talk about Sambazon juices and smoothies, saying that not only are they super-healthy but they taste great. So when I was given the opportunity as a Mom's Meet Blogger to try Sambazon® juices and smoothies, I figured this would be the perfect opportunity to find out just how good their smoothies may be.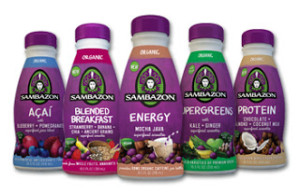 Sambazon® juices and smoothies are made with the finest organic Amazon Superfoods™ on the planet such as Açaí, Acerola & Yerba Mate and are available in both juice and smoothie form. They offer a variety of delicious flavors, and are packed with antioxidants and healthy omegas. They are also NON-GMO, gluten-free, vegan and USDA certified Organic and Fair Trade! So while they are providing you with whole food nutrition, they are also supporting 2 million acres of the Amazon Rainforest and over 10,000 family farmers!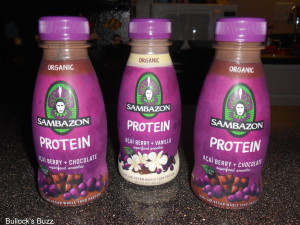 Their juices and smoothies are available in several formulas and flavors such as Energy, Breakfast Blends, Supergreens and more. One thing I find I am lacking in my diet is Protein, so I was happy to discover that Sambazon also carries a line of Protein Smoothies meant to help build lean muscle and healthy omegas to help keep you full longer. I decided to try both the Açaí Berry & Chocolate and the Açaí Berry and Vanilla flavors.
The Açaí Berry & Chocolate is an interesting blend of açaí berries (over 100 berries per bottle!), chocolate soymilk and hemp protein. I was quite impressed with the test! Other drinks I have sampled that contain açaí berries have a slight bitter taste, the Sambazon did not! Instead it had a strong chocolate flavor with just a hint of the berry. While I am not a big fan of soymilk, I actually like the way it tasted combined with the other flavors!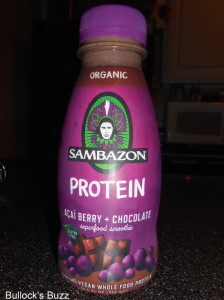 The Açaí Berry and Vanilla is a blend of açaí berries (over 100 in there!) with vanilla soymilk and hemp protein. I was not as impressed with this flavor, especially since I could barely taste the vanilla. It was okay, but I just prefer the chocolate over the vanilla.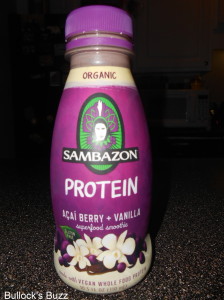 Sambazon fruit juices and smoothies come in 10.5 ounce bottles and sell for around $2.94. I find this is the perfect size to provide me with a quick meal replacement or a light snack. Although they are a bit pricey, when you consider the amount of nutrition you are getting in just one bottle, it is well worth the cost!
Sambazon also makes multi-serve bottles as well as frozen treats, energy drinks, supplements and more. There products can be found both at many retailers both online and off, including Amazon.com, and Vitacost.com, Winn Dixie, Whole Foods and Walmart. There is a handy Sambazon store locator on their website which you can use to find a retail location near you. Be sure to connect with Sambazon on both Facebook and Twitter to keep up with the latest products, promotions and deals!