Gadget Grab: A Review
Like the majority of people today, I use my phone and my tablet for so many different things that I am rarely without one or the other. Whether I am texting or playing games, watching videos or reading the news, updating social media or even following a recipe as I cook, there have been many times where I have wished I had something that was easy to carry around and use as a stand. Well now I do have that something in the Gadget Grab.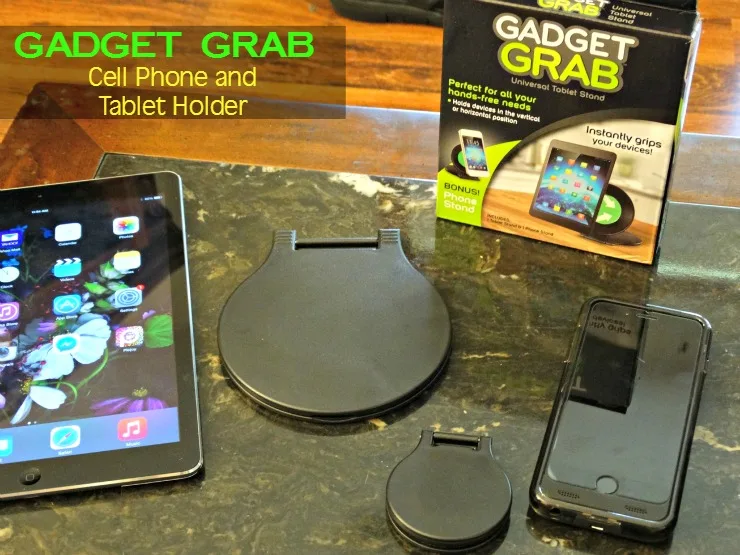 Gadget Grab is a portable tablet and cell phone holder that easily holds your device in the vertical or horizontal position for convenient viewing just about anywhere. Just grab it, stick it, and stand it! It's perfect for both home and on-the-go use as it is small and compact, yet strong and sturdy.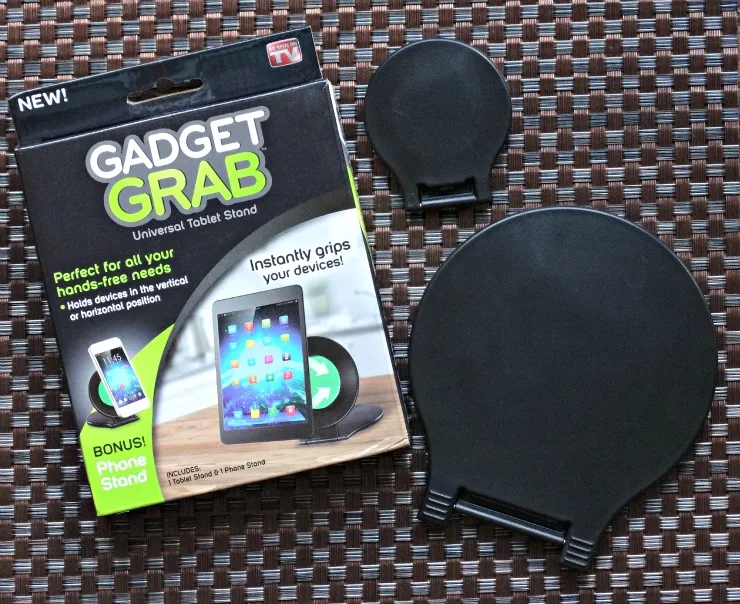 Two Gadget Grabs come in a box – a small one for your phone or small tablet, and a larger one for large tablets. They are basically round, flat discs that open up just like a compact. Inside are two grip pads, one which adheres to the table or other surface you place it on, and the other which adheres to your device. The sticky material is actually a "unique polymer surface" which "acts like a million suction cups that instantly grip and release over and over again". And if it gets dirty, you simply rinse with water, and it is as good as new!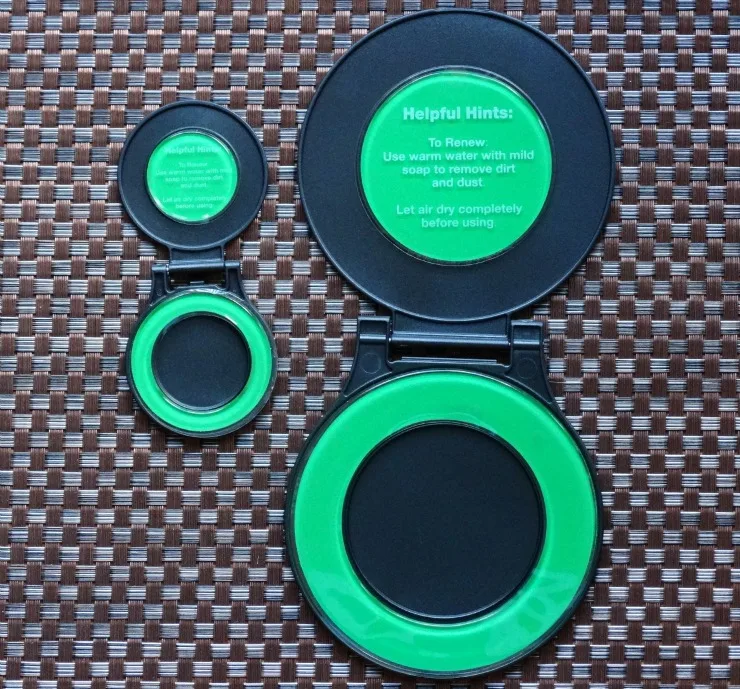 To use the Gadget Grab you simply open it up and remove the protective plastic covering the grip pads. Now place the side with the ring-shaped grip pad on the table or other surface you want to use and push down slightly. Once it is attached, push the other side backwards until it clicks in place (this is to give you the proper angle), and then place your device against that grip pad. Give it a slight press to make sure it is securely attached, and you are good to go!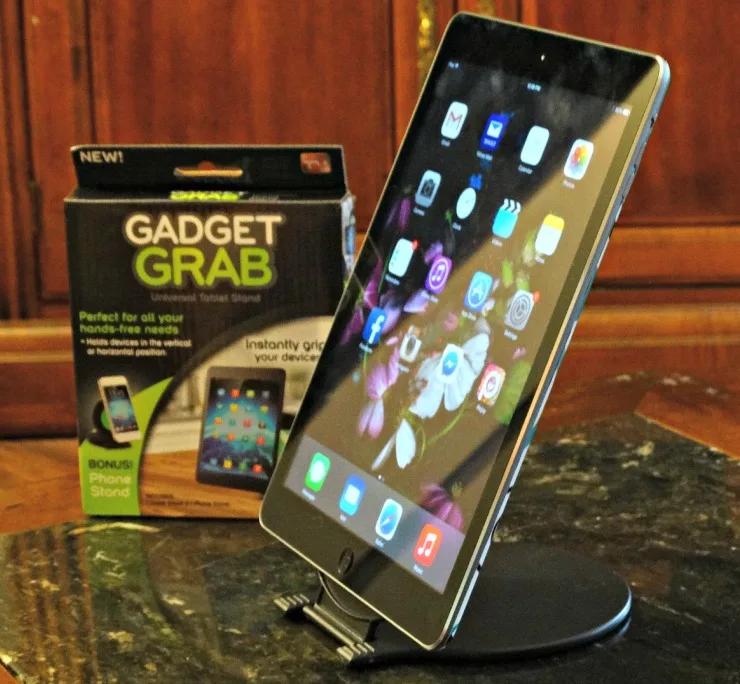 At first I had a few worries, basically about whether or not the grip pads would damage my device or the surface of whatever I placed it on, and also how securely the devices would be held. I need not have worried. The material is actually so sticky that I had to sort of wiggle my device from side to side while pulling in order to get it to release. I even went so far as to leave my phone and my tablet attached to a Gadget Grab overnight. You know how some holders lose their grip after awhile? Not the Gadget Grab. Both devices were still firmly attached the next day. So definitely no worries there about anything coming unstuck and falling.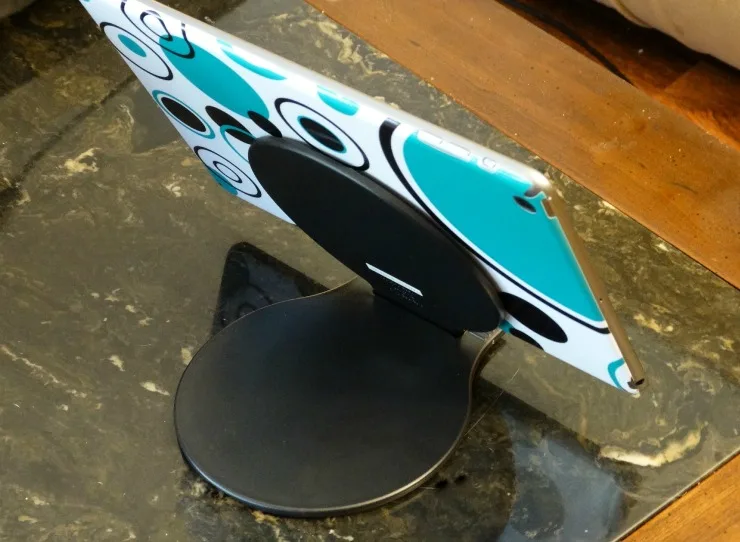 Amazingly, in spite of this extreme hold, I have also found that the Gadget Grab does not harm the surface you apply it to. I have tried it on wood, marble and glass, and none of those surfaces were damaged, nor was the surface of my tablet or my phone. I'm not too sure I would recommend using it on painted wood or any other surface which may be, or already is, cracked or peeling in any way. And here's a helpful tip: if you find the grip pads are too sticky, simply rub them against your shirt, pants or other material a few times and it will lessen the amount of stickiness. Don't worry about anything coming off on the material, the table or on your device as the sticky material does not transfer between things.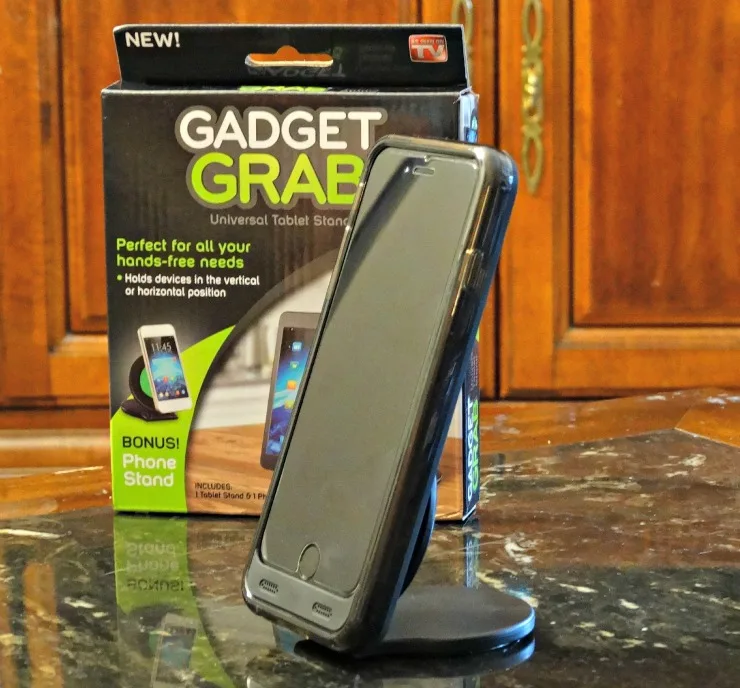 Overall I am definitely happy with my Gadget Grab! It is so easy to use, lightweight and compact that I can easily take it where ever I need to go. Plus, since it folds up so flat, it fits perfectly in my purse or bag, and storage is a breeze. I definitely recommend Gadget Grab for anyone needing a convenient and portable tablet and cell phone holder!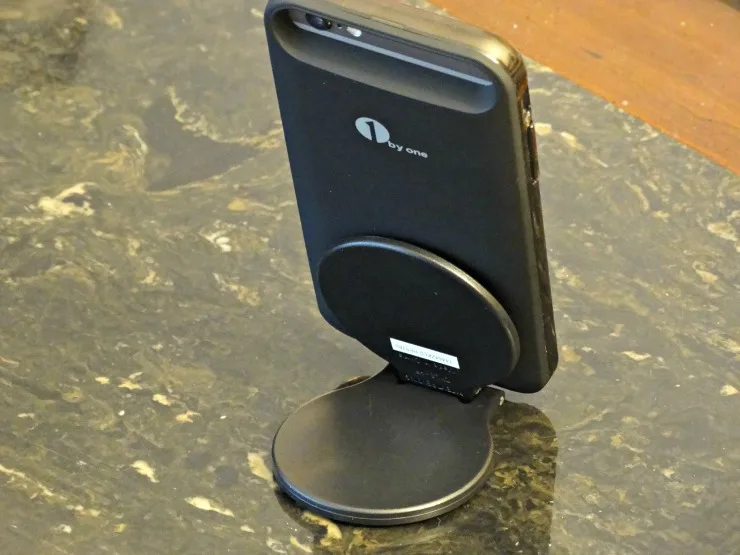 Want to try it for yourself? Gadget Grab is available directly through the website, as well at big box stores across the country!
Connect with Gadget Grab: Website | Facebook
What are some things you like to use your phones and tablets for other than the obvious?