These homemade Boozy Gummy Brains make for a spooktacular adult-only Halloween party treat. They look creepy, taste great, and are a wonderful alternative to boring old JELLO shots! Best of all, they take little time to make.
Want to learn how to make alcoholic gummy brains from scratch? Read on!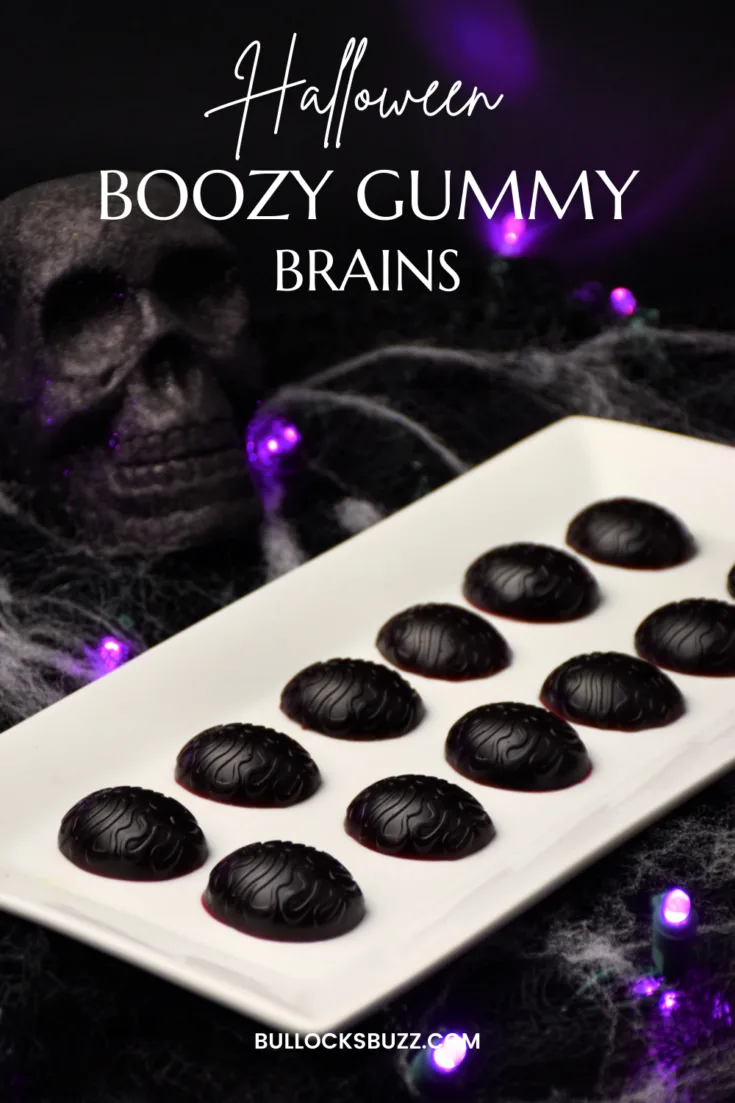 Halloween is definitely one of my favorite times of year – especially because I get to play the roll of the mad scientist and let my creative juices flow. To me there's nothing better than conjuring up some spooky Halloween sweets and creepy Halloween cocktails!
Speaking of Halloween recipes, last year I made the most spookalicious adult Halloween treat, Boozy Gummy Skulls. These homemade alcoholic gummies were such a hit, I couldn't wait to whip up some more!
If you are looking for an adults-only Halloween recipe to start boozing up your Halloween, look no further than these devilishly delicious, homemade vodka gummy candies.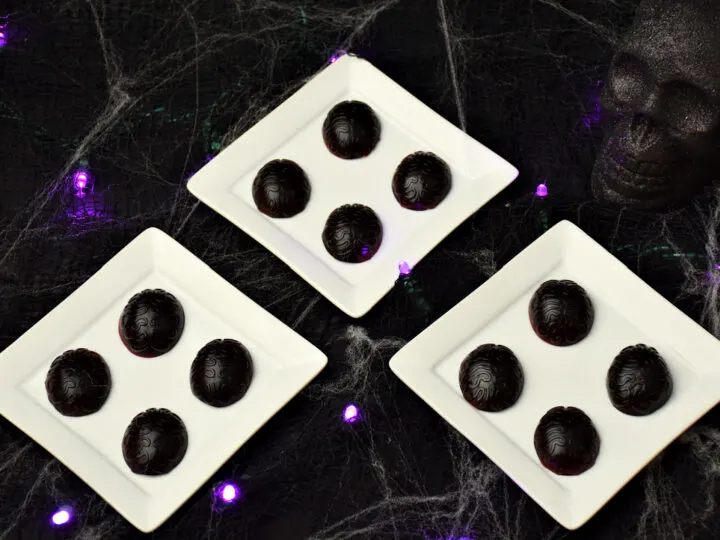 These Halloween Boozy Gummy Brains are the perfect wickedly boozy Halloween candy for your Halloween celebration, and they're super easy to make!
In fact, with just three simple ingredients, a mold or two, and 5 to 10 minutes of prep time, these homemade boozy gummy brains will be ready to enjoy before you can say 'boo'!
MADE-FROM-SCRATCH ALCOHOLIC GUMMIES FOR HALLOWEEN
One thing I really like about this homemade drunken gummies recipe is that there is no overpowering taste of alcohol or overwhelmingly sweet fruit flavor. Instead, you get a hint of pleasantly sweet grape which is quickly followed by a tantalizing bite of vodka. it's the perfect balance of both.
I also like that these gummies come out a bit firmer and a lot less slimy than the ones you soak! Plus, I think they taste a lot better than the other kind.
Remember, this terrifyingly tasty no-bake Halloween drunken gummies recipe is for ADULTS ONLY. So be sure to keep these ghoulish gummies out-of-sight and out-of-reach from your little ghosts, ghouls, and goblins so they don't mistake them for candy.
HOW TO MAKE HOMEMADE ALCOHOLIC GUMMY BRAINS FOR HALLOWEEN
These vodka gummy candies make for a frightfully fantastic Halloween treat for adults. They look creepy, taste great, and are a wonderful alternative to boring old JELLO shots! Best of all, they take little time to make.
You've most likely seen or had vodka infused gummies which are also easy to make, but have to soak for at least 24 hours to really get the alcohol in there.
Well, with this boozy gummy recipe, prep time is about 10 minutes and they can be ready to eat in under three hours!
That's because this recipe doesn't involve any soaking as the gummies are made from scratch. But don't let that scare you! These Halloween Drunken Gummies are so easy to make, it's eerie.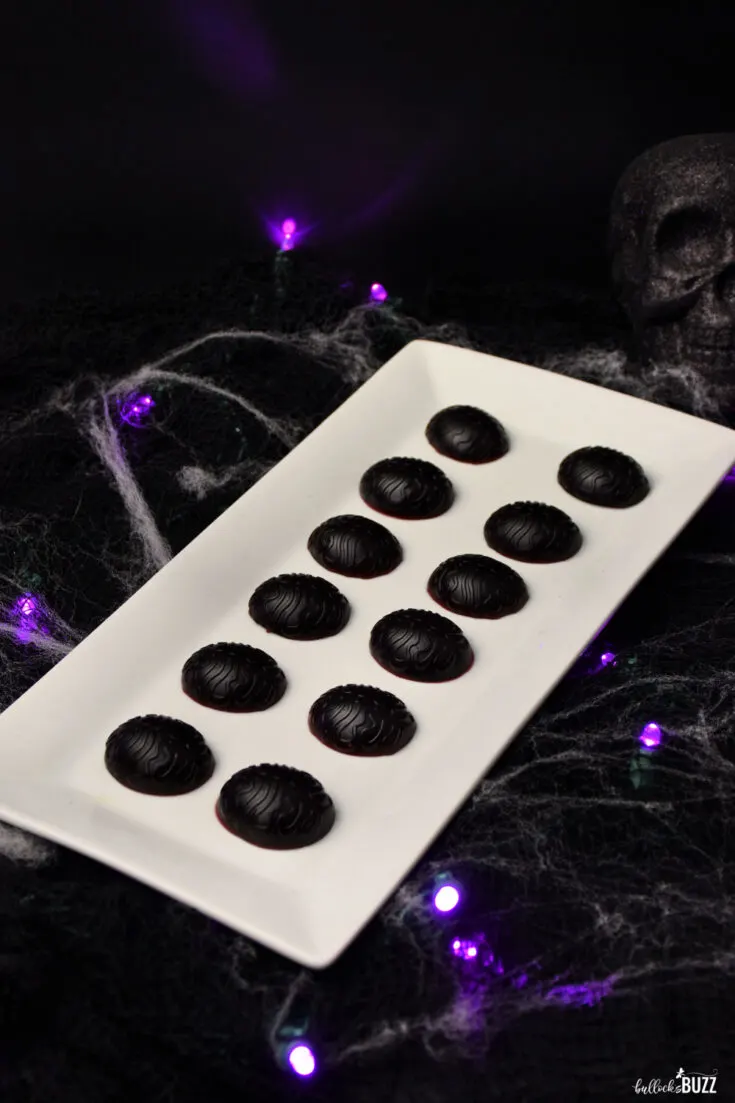 So without further ado…here's how to make Halloween Boozy Gummy Brains from scratch (the complete ingredients and instructions are listed in the printable recipe at the bottom of this post).
Disclosure: This blog post contains affiliate links for products or services I think you'll like. This means if you make a purchase from one of these links, Bullock's Buzz will make a small commission at no additional cost to you. I only recommend products that I use and love.
KITCHEN TOOLS YOU MAY NEED
To make these alcoholic gummies you will need just a few easy-to-find supplies. In fact, the only "special" equipment you will need are the molds.
Pro Tip: Use a dropper to fill the molds. It is SO much quicker, easier, and cleaner! I used an old medicine dropper I had and it worked perfectly.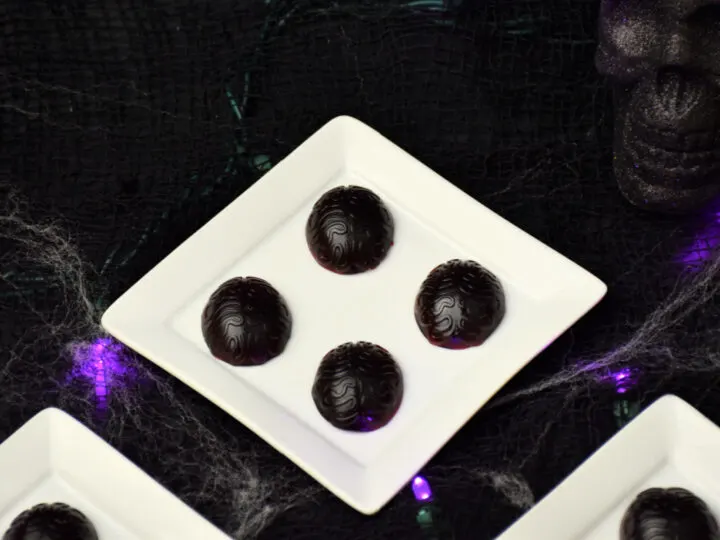 VODKA GUMMY BRAINS INGREDIENTS
With just three basic ingredients you can have some adult Halloween candy that'll make you scream with delight!
flavored vodka
grape Jello
Knox gelatin
EASY VODKA HALLOWEEN GUMMIES RECIPE INSTRUCTIONS
Making these homemade alcoholic gummies couldn't be easier. In just a few quick steps your spooky Halloween treats will be ready to put in the fridge so they can set. A couple of hours later and they'll be ready to enjoy!
STEP ONE: WHISK
Whisk together the vodka, gelatin, and Jello, and gelatin.
STEP TWO: HEAT
Heat the mixture over medium heat, stirring constantly, until the Jello and gelatin are gelatin are completely dissolved and the mixture is hot but not boiling. Do not bring allow it to boil as boiling will cook the alcohol out!
STEP THREE: FILL MOLDS
Remove from heat and use an eyedropper to quickly fill each mold with the mixture. Make sure you fill each mold to the very top.
STEP FOUR: ALLOW TO SET
Place the molds in the fridge to set, usually about 2-3 hours.
Once the brain gummies have set, simply pop them out of the molds then serve.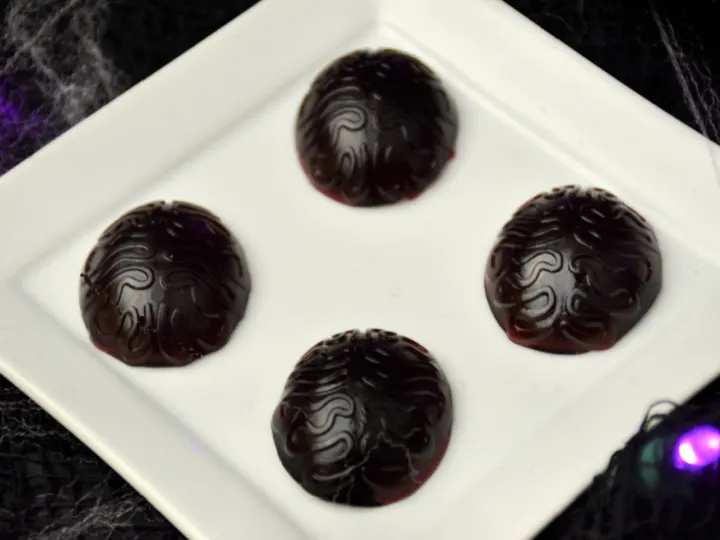 PRO TIP – if your molds are not the non-stick kind, add a teeny tiny amount of butter or oil to a paper towel or napkin and then lightly grease each mold. This will make removing the vodka gummy brains a breeze.
HOW TO SERVE BOOZY GUMMY BRAINS
There are lots of creative ways you can serve these Halloween boozy gummy brains. Some ideas include:
serve gummies in individual shot glasses so everyone can grab a "shot" worth of gummy brains!
place a bit of toasted coconut in the bottom of a small bowl or ramekin and lay some gummy brains on top
lay out gummy brains on a spooky Halloween-themed dish along with a small cup of toothpicks or spoons next to the serving dish to keep things sanitary.
When serving, keep in mind that these alcoholic gummies can be a bit tacky and will likely stick together.
HOW LONG WILL VODKA GUMMIES LAST?
Vodka gummies will usually last three to four days. After a few days, these Vodka Gummy Brains will begin to dry out and shrivel up. Keep them fresh longer by storing them properly.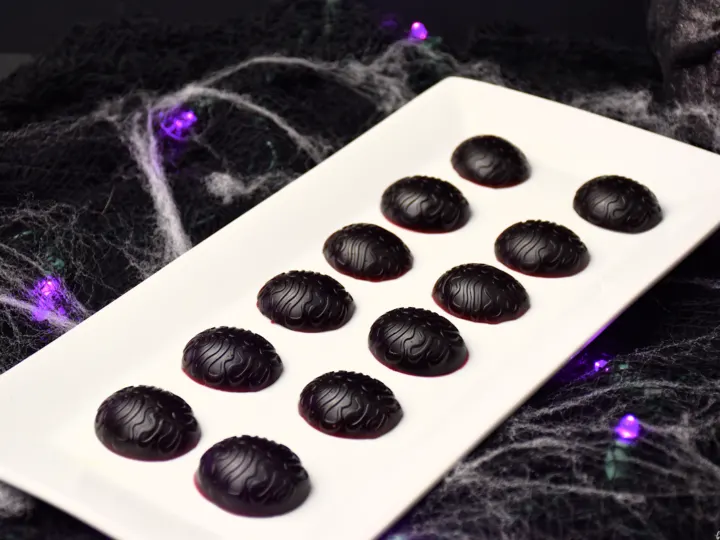 HOW TO STORE HOMEMADE BOOZY GUMMY BRAINS
Alcoholic Gummy Brains should be stored in an air-tight container in the fridge until you are ready to serve them.
Do not leave them sitting out at room temperature for a long period of time or they will slowly 'melt' and become a frightful, sticky, gooey mess.
DO BOOZY GUMMIES GET YOU DRUNK?
Beware! These Halloween Boozy Gummy Brains are petrifyingly potent. They are pretty much pure alcohol since no other liquid goes into making them. Plus, they are so terrifyingly tasty, it's easy to eat a bunch before you realize it!
As with any drink or food item that contains alcohol, moderation is advisable. Sop please drink…errr…eat responsibly!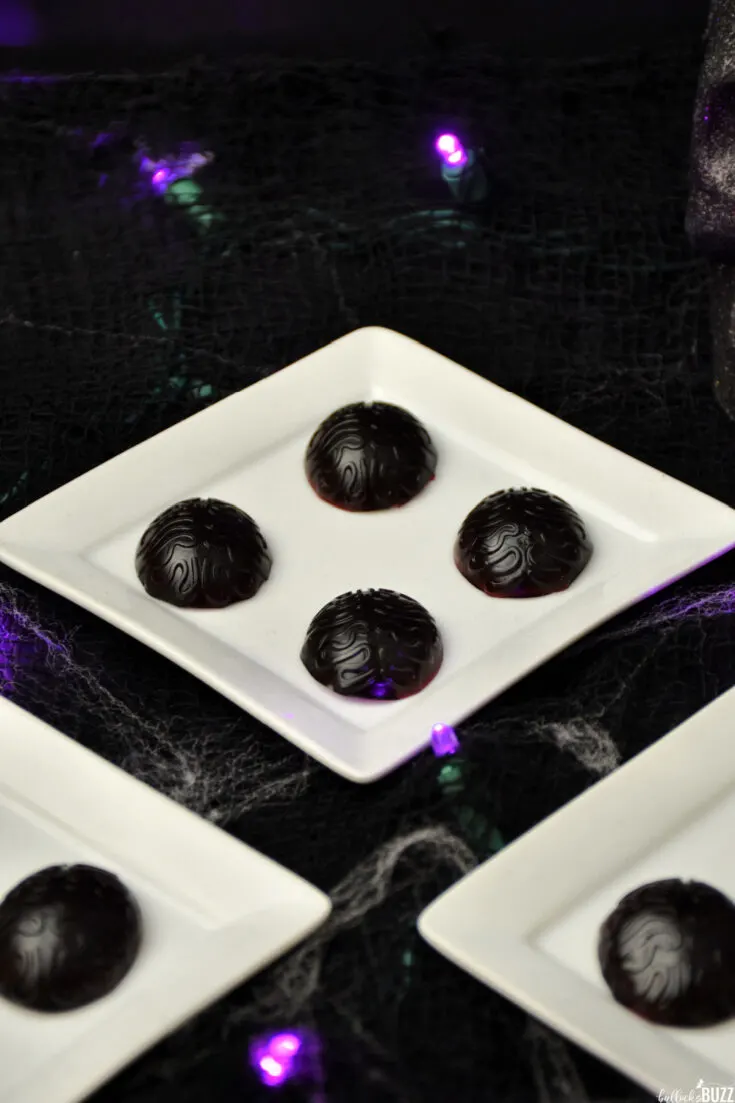 BOOZY GUMMY BRAINS VARIATIONS
These alcoholic Gummy Brains are not only eerily easy to make they are also simple to customize. You can make them in any flavor, color, and shape you want! Do a little mad scientist experimenting!
For example, you could use flavored vodka or another type of alcohol such as rum. You could also switch up the flavor of Jello, too. For example, limoncello gummies sound amazing! Or limoncello mixed with with raspberry Jello! Or how about blueberry flavored Jello with vanilla vodka? The sky's the limit!
This recipe also makes it a breeze to make as large or as small of a batch as you want.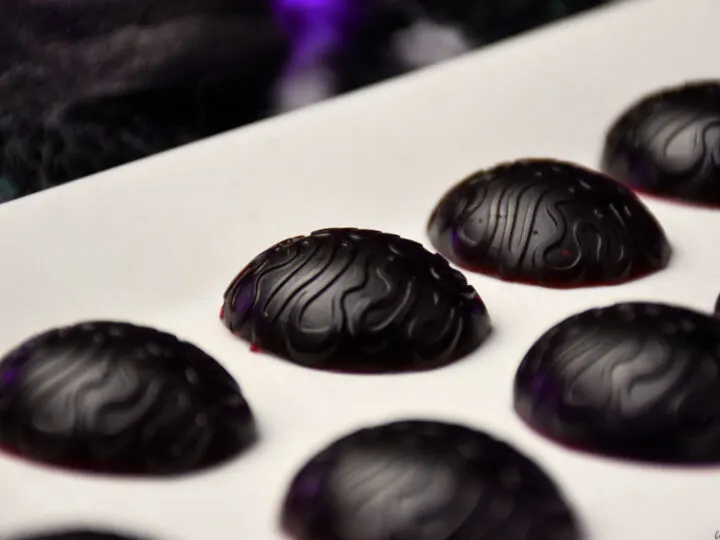 MORE EASY HALLOWEEN TREATS
Looking for more Halloween treats? Check out these wicked finds that are perfect for kids and adults:
Yield: 12 gummies
Halloween Boozy Gummy Brains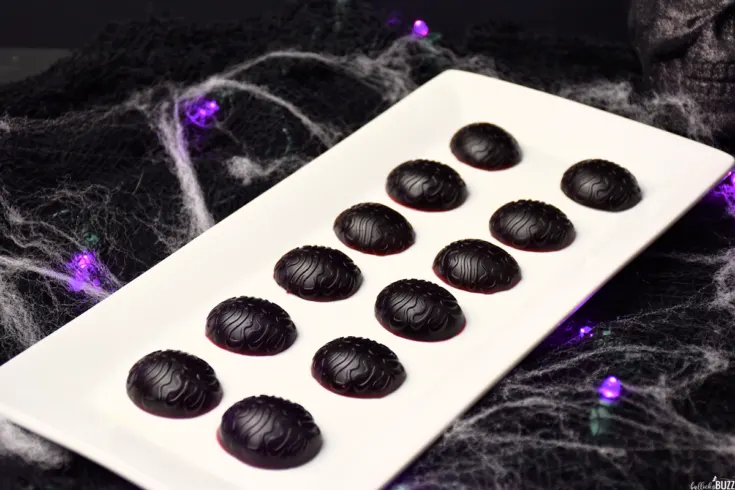 These homemade Boozy Gummy Brains make for a spooktacular adult-only Halloween party treat. They look creepy, taste great, and are a wonderful alternative to boring old jello shots! Best of all, they take little time to make.
Total Time
2 hours
10 minutes
Ingredients
½ cup vodka
1 box grape JELLO
1 envelope Knox gelatin
Instructions
Whisk together the vodka, JELLO, and gelatin in a small saucepan, substituting the vodka for the water.
Heat the mixture over medium heat, stirring constantly, until the gelatin and JELLO are fully dissolved and the mixture is hot but not boiling. Do not bring to boil as it will cook the alcohol out.
Remove mixture from heat, then quickly use an dropper to transfer the mixture into gummy brain molds. Fill molds to the top.
Transfer the molds to the fridge to set, about 2-3 hours.
Pop gummies out and enjoy!
Nutrition Information:
Yield:
12 gummies
Serving Size:
1 gummy
Amount Per Serving:
Calories:

31
Total Fat:

0g
Saturated Fat:

0g
Trans Fat:

0g
Unsaturated Fat:

0g
Cholesterol:

0mg
Sodium:

10mg
Carbohydrates:

2g
Fiber:

0g
Sugar:

2g
Protein:

1g
Nutritional information is automatically calculated with ingredients and serving size and may not be accurate. Please always double check with your own nutritional apps as well.