Add a little sweetness to your spooky Halloween celebration with this no-bake Boneyard Halloween Candy Bark. This swirled Halloween Candy Bark recipe is so easy to make, it's scary!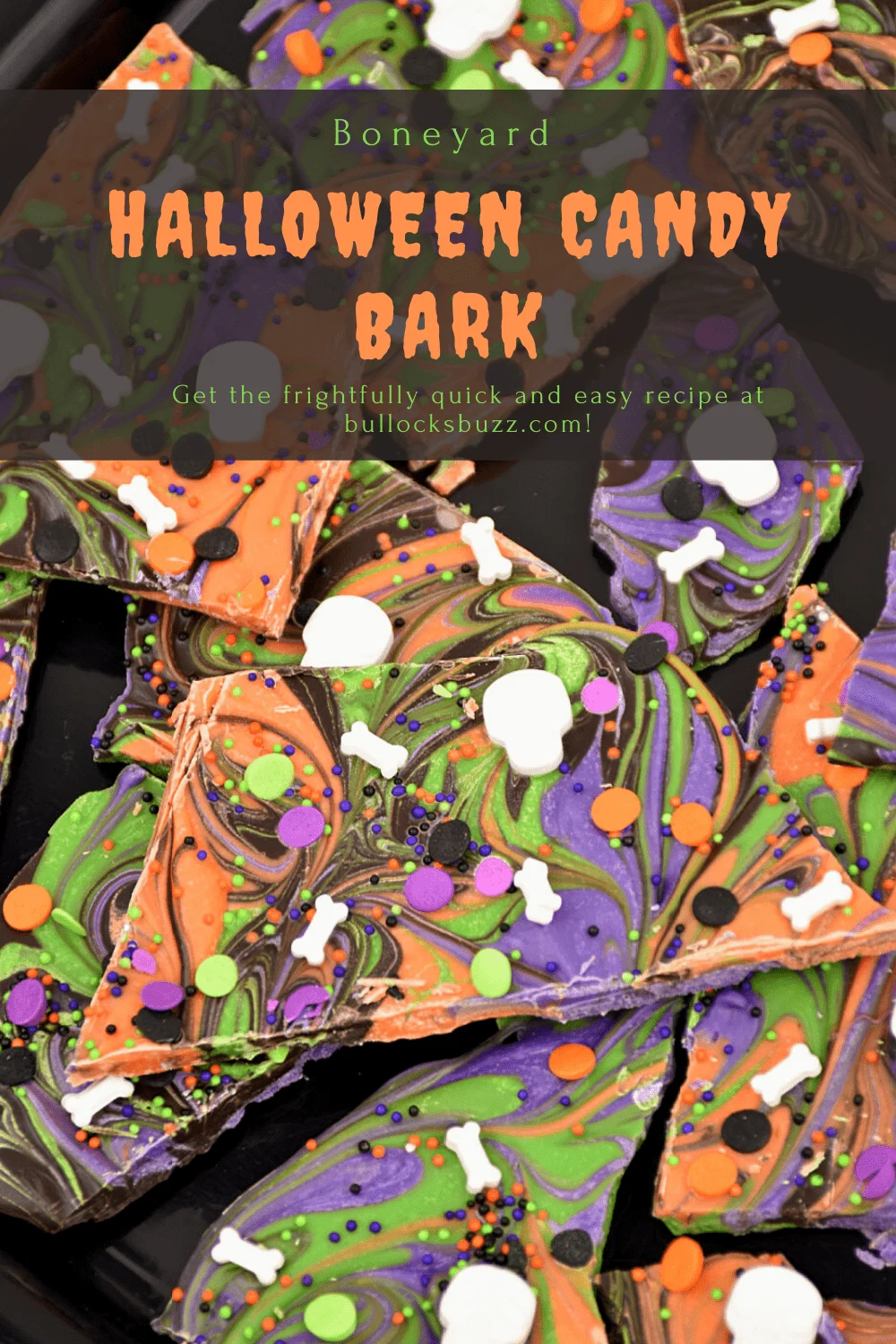 I love to make candy bark because it's quick, it's simple, and it's fun. Plus, it's incredibly easy to customize to the occasion. Remember my New Year's Eve Bark from last year?
Chocolate candy bark really is perfect for all occasions — it's as welcome as a Springtime treat as it is a part of your Shark Week television binge— but it's definitely at its most dreadfully delightful at Halloween.
How to Make Halloween Candy Bark
No-bake swirled Halloween Candy Bark is eerily easy to make. You only need a few common ingredients and just a little bit of time. In fact, you can have this spooktacular treat ready to eat in less than an hour!
To me, making this colorful homemade chocolate bark is sort of like finger painting with food, but you get something delicious to eat when you're done!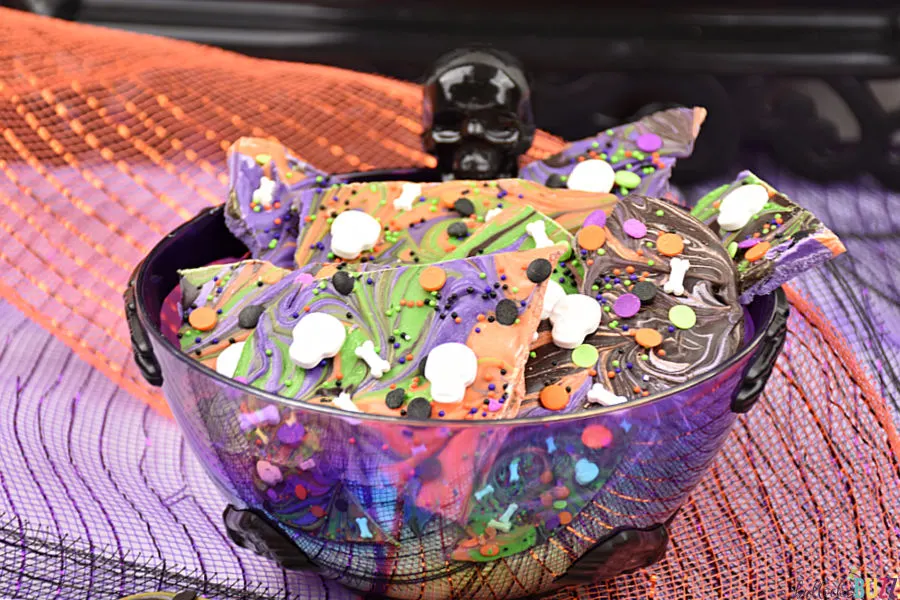 Disclosure: This blog post contains affiliate links for products or services I think you'll like. This means if you make a purchase from one of these links, I may make a small commission at no additional cost to you. I only recommend items I use and love.
Kitchen Tools You May Need
Halloween Bark Ingredients
This colorful candy concoction calls for nothing more than two spookily simple ingredients and some candy decorations. All of which you can find on Amazon, at Walmart, or even in your local grocery.
semi-sweet dark chocolate chips
Halloween Sprinkles (I used the ones found in this set, Halloween colored quins, candy bones, and candy skulls – all of which I found at Walmart)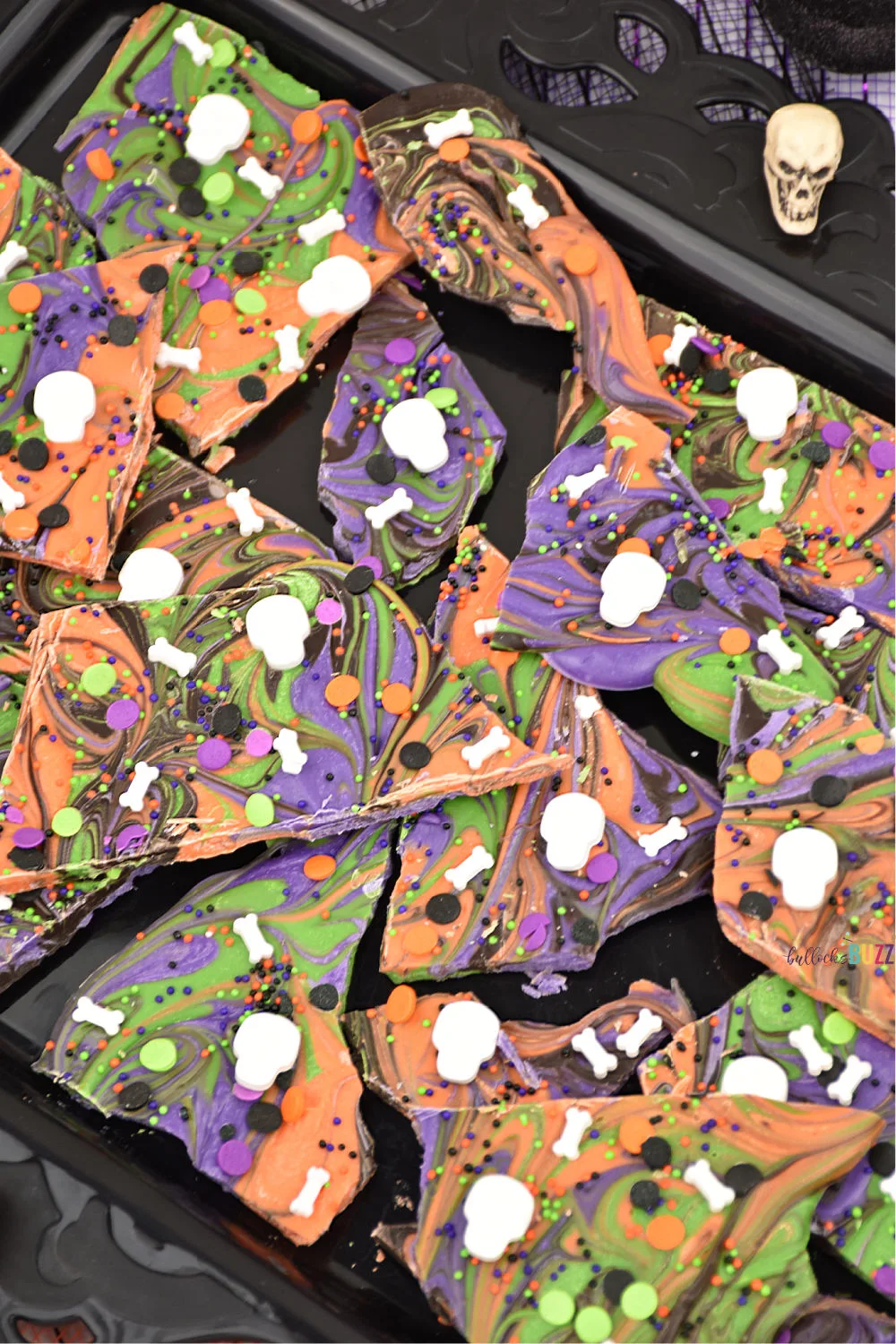 Halloween Bark Recipe Instructions
To make chocolate bark, you simply melt the chocolate and candy melts and then add toppings. Then you let it sit until it's ready to eat!
Even though making candy bark is incredibly simple, there is one thing you need to remember and that is to work fast.
I always get all of my ingredients set out and ready to go (opening the candy bags, taking the lid off the sprinkles, etc…). This is because when you are working with melted chocolate, it hardens rather quickly so you need to work quickly as well.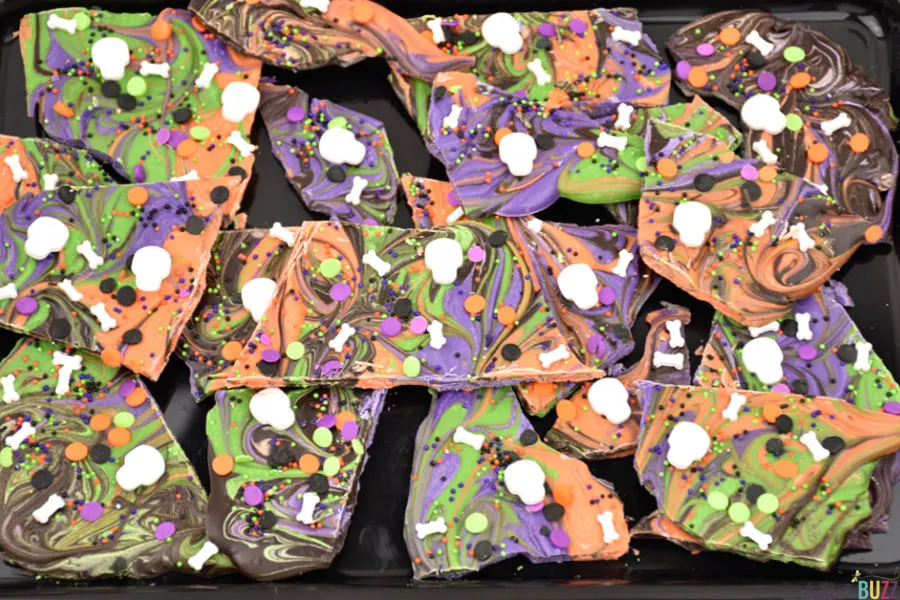 Tips for Making Swirled Candy Bark
Swirled Halloween Candy Bark is made pretty much like all other candy bark recipes, except you will be melting several different colors, and then adding spoonfuls of each color onto the prepared surface.
Make sure you scoop out the melted chocolates into a square or rectangular pattern, and alternate the colors.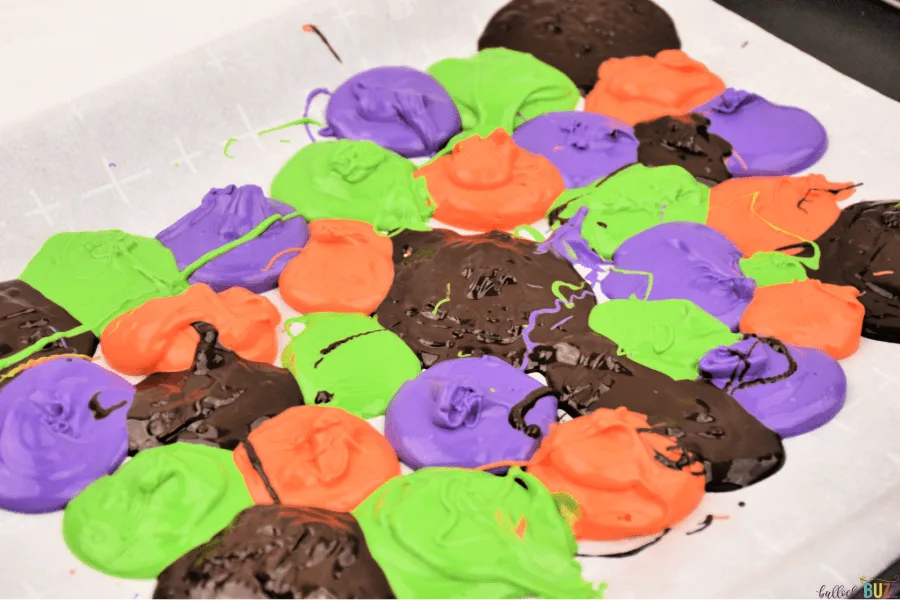 You'll then swirl it all together by dragging a skewer, chopstick, or butter knife through the top layers of melted color in a swirling and/or circular pattern.
And don't be scared of messing up. You can't go wrong here. Whatever colors you choose to use and how you do the swirling will result in a unique finished product. Every piece will be unique, beautiful, and different – just like you!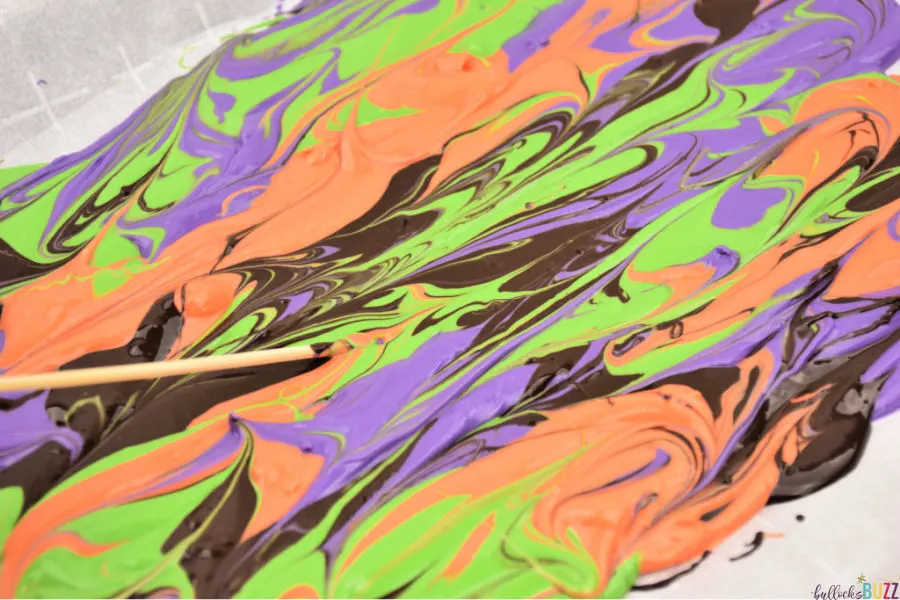 I do suggest that you watch out for over swirling. While it's super fun to make those swirly motions and watch the colors blend together, too many of them can result in the colors mixing together and becoming one muddy color rather than the multi-color magical swirl you want.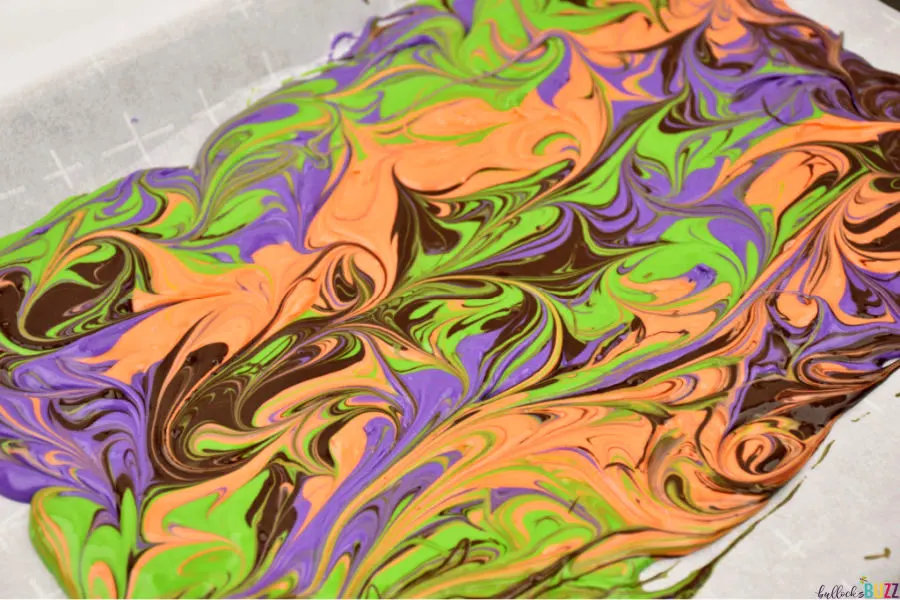 Now all that's left to do is add the sprinkles and candy! I used Halloween colored nonpareils and quins and small candy skulls and bones sprinkles.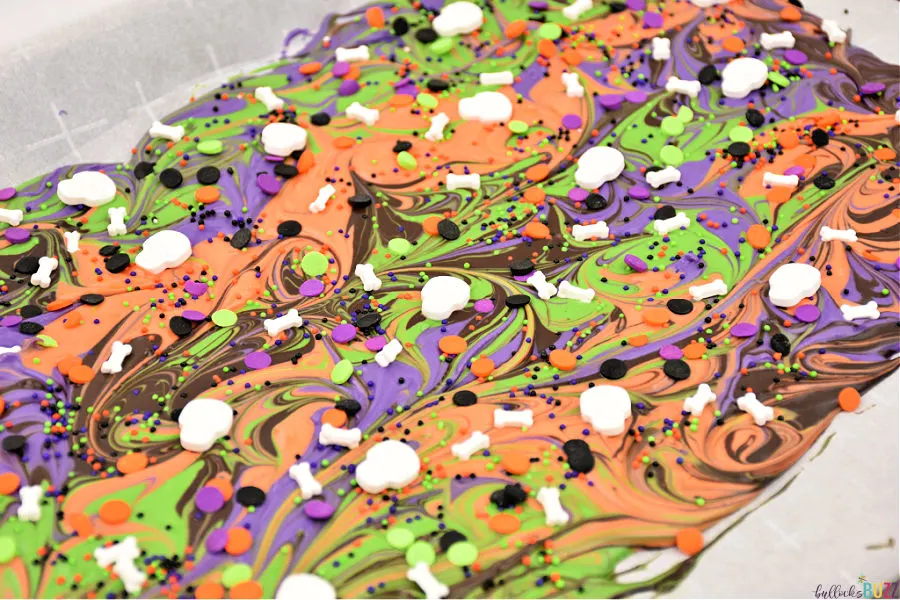 Then you simply let it sit until the candy hardens, and then break or cut it apart. This usually takes about 30 to 45 minutes. However, you can speed it up a bit by placing the candy in the fridge.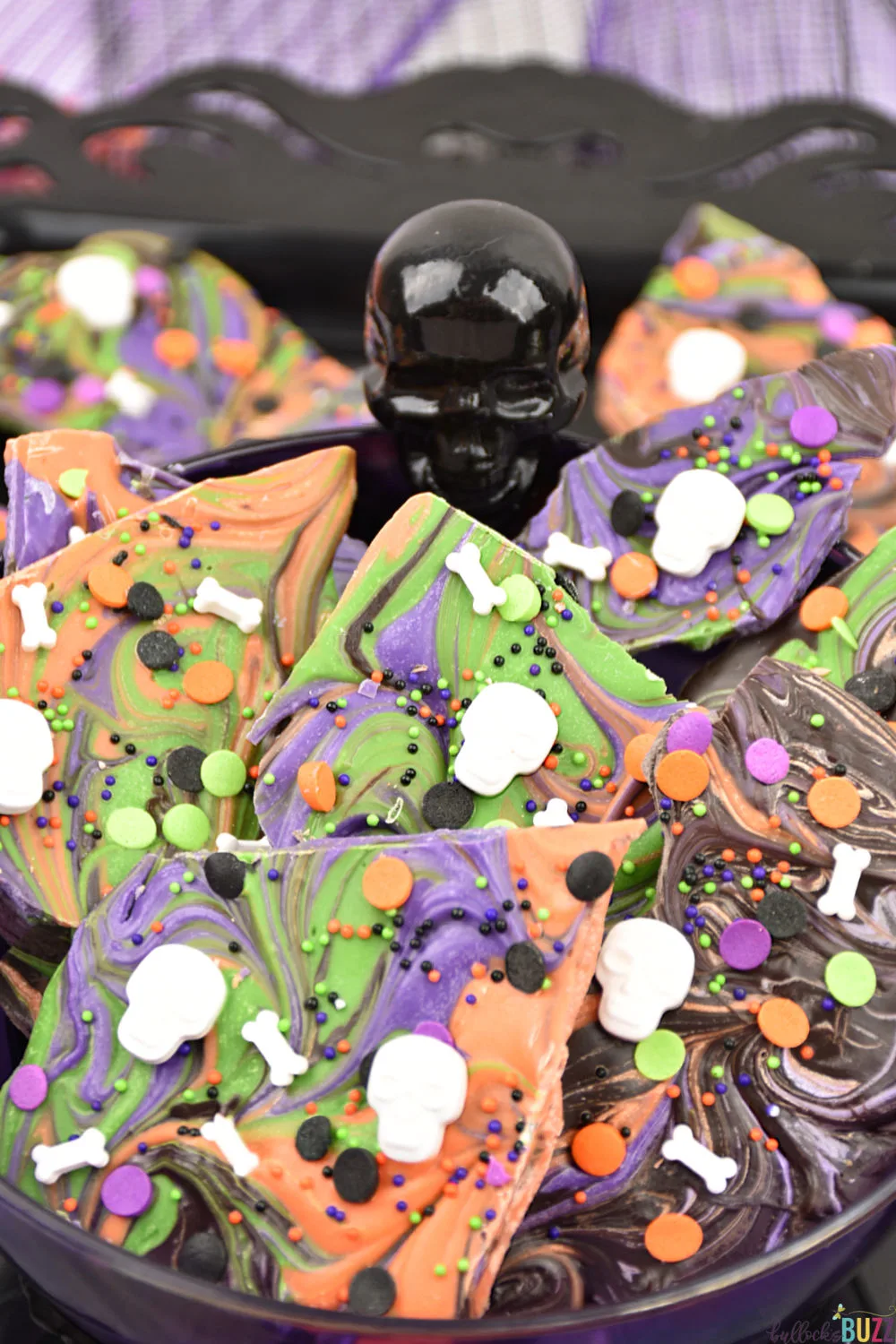 Add-Ins for Candy Bark
One of my favorite things about this melt-in-your-mouth Halloween Bark is that it can be customized using your favorite colors, sprinkles, and candy.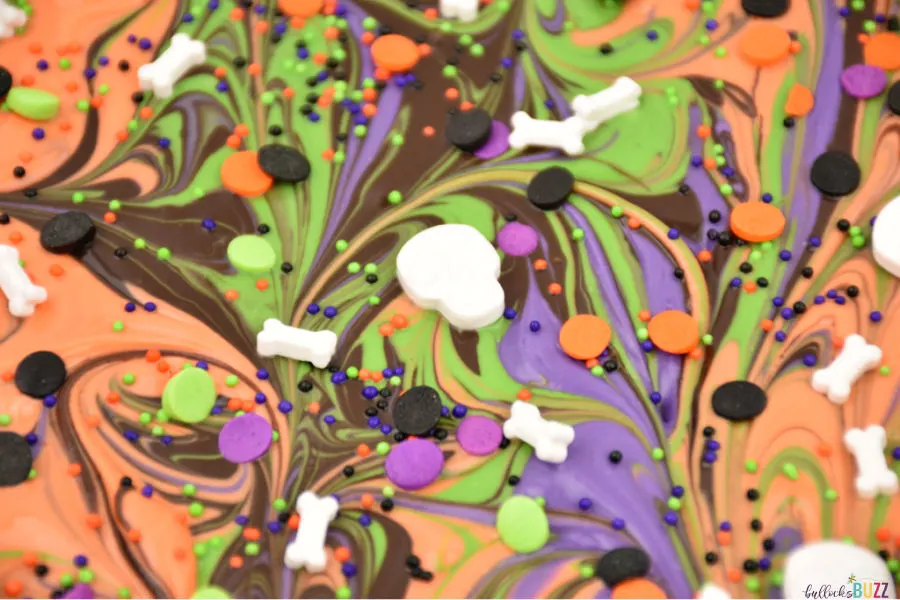 You could try using different colored candy melts on top of a layer of white chocolate, or adding in some Rice Krispies or another crispy cereal. Or mix in some leftover Halloween candy. However, you choose to make it, have FUN!
Halloween Bark Printable Recipe
Yield: 12 pieces
Halloween Candy Bark Recipe - Boneyard Swirled Halloween Bark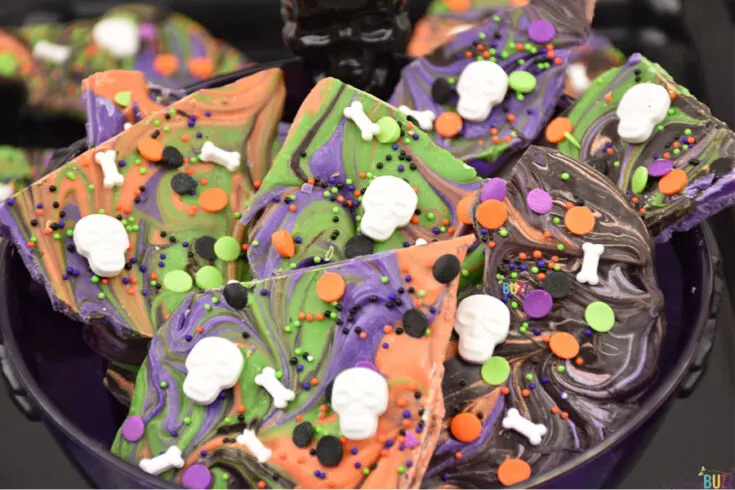 Add a little sweetness to your spooky Halloween celebration with this no-bake Boneyard Halloween Candy Bark. This swirled Halloween Bark candy recipe is so easy to make, it's scary!
Setting Time (tops)
1 hour
Total Time
1 hour
20 minutes
Ingredients
¾ cup semi-sweet chocolate chips or almond bark
¾ cup purple candy melts
¾ cup green candy melts
¾ cup orange candy melts
2 tbsp Halloween-colored sprinkles
2 tbsp Halloween candy skulls and bones
Instructions
Prepare a baking sheet with parchment paper or a Silpat mat.
In separate bowls or bags, melt each of the colors according to package directions using either a candy melter, a double boiler, or a microwave.
Using a large spoon, scoop big dollops of the melted chocolate into a square or rectangular pattern on the prepared surface, making sure to alternate colors.
Using a knife, skewer, lollipop stick, or chopstick, begin dragging the different colors together by making swirling motions on the surface until you are satisfied with how it looks. Remember, less is more.
Immediately add the sprinkles and candy evenly over the chocolate before it sets.
Allow the candy to set before breaking or cutting it into pieces. If you want the Halloween Candy Bark to set quicker, stick the pan in the refrigerator for about 20 minutes.
Notes
Store at room temp. or in the fridge in an air-tight container.
Nutrition Information:
Yield:
12
Serving Size:
1 piece
Amount Per Serving:
Calories:

136
Unsaturated Fat:

0g
More Dreadfully Delicious Halloween Treats
Looking for some more easy, yet spooktacularly delicious Halloween treats? Then take a look at these frightfully fantastic Halloween recipes! And be sure to check back soon as I have lots more on the way! Happy Haunting!