This hot chocolate mix makes the most delicious rich, chocolatey, creamy, warming hot chocolate. Keep it for yourself or give it as a gift.
With cooler nights finally on the way, I am looking forward to snuggling on the couch with a good book, a blanket and a steaming cup of hot chocolate complete with marshmallows! And I don't mean hot chocolate made with store-bought mix. I'm talking about a cup of rich, chocolatey cocoa made from my 3-ingredient homemade hot chocolate mix!
Why get the store bought, prepacked mix when homemade hot chocolate mix is so easy to make and inexpensive?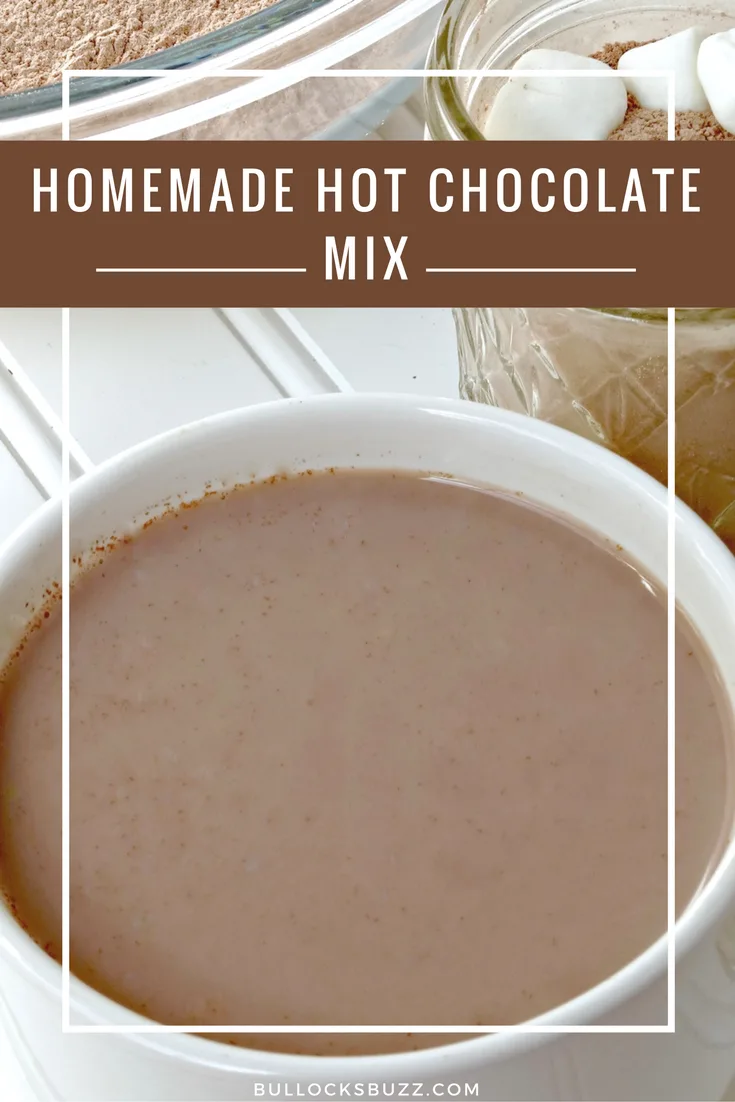 This homemade hot chocolate mix doesn't have any of those undesirable ingredients such as preservatives and hydrogenated oils that you find in store-bought mixes.
Instead it contains just three simple ingredients. Yet, it still tastes just as delicious, if not more so!
Even better, it takes just minutes to make, you can even store it for up to six months. Just keep the homemade hot chocolate mix in an air-tight container and add hot water or milk whenever you want some hot chocolate.
HOW TO MAKE THE BEST HOMEMADE HOT CHOCOLATE MIX
A lot of hot chocolate mix recipes call themselves 'the best'. However, the key to truly making the best mix ever is to use the best ingredients
You really cannot go wrong if you use high-quality ingredients.
If you take my advice and use the best ingredients, then you will end up with a mug full of scrumptious hot chocolate.
It really is THAT easy.
Scroll down to find the complete recipe in an easy-to-read recipe card that you can print for free. But first, I have some step-by-step photos and tips that explain it in better detail.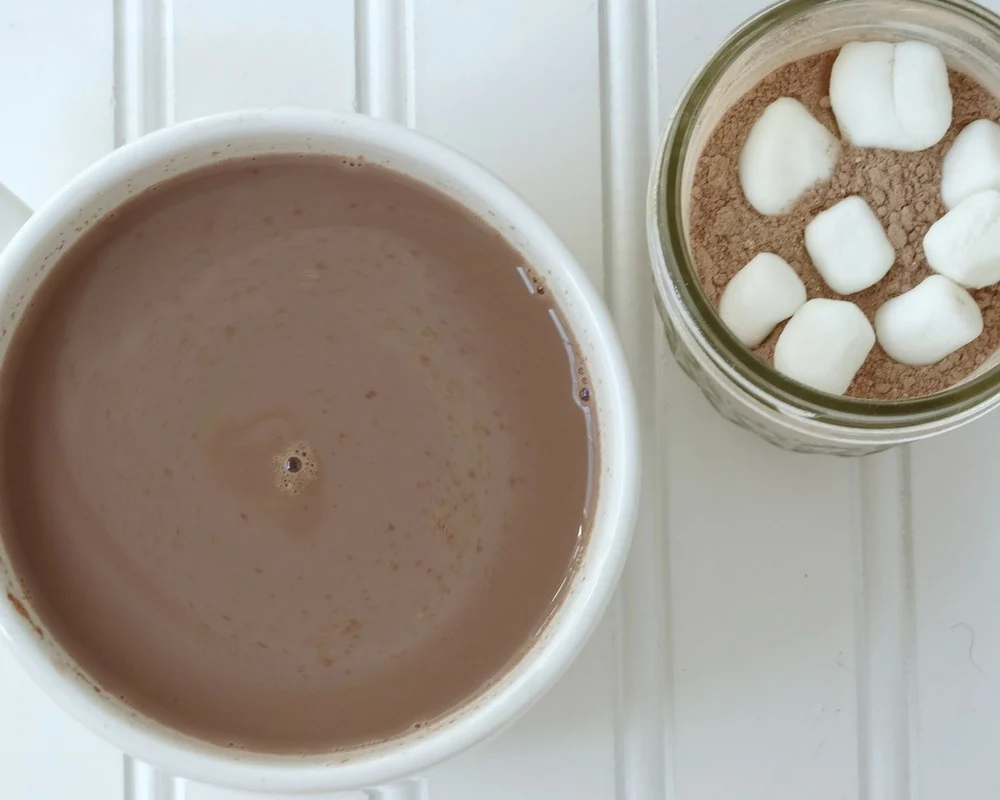 SUPPLIES NEEDED TO MAKE HOT CHOCOLATE MIX
Disclosure: This blog post contains affiliate links for products or services I think you'll like. This means if you make a purchase from one of these links, Bullock's Buzz may make a small commission at no additional cost to you. I only recommend items that I use and love.
INGREDIENTS YOU WILL NEED TO MAKE HOT CHOCOLATE MIX
This easy hot chocolate mix recipe uses just three simple ingredients:
HOMEMADE HOT CHOCOLATE MIX INSTRUCTIONS
Making this mix is incredibly easy. You could even get the kids in on helping make it! Plus, it takes a mere five minutes, tops.
Step One: Sift
First, in a large bowl, sift in the confectioner's sugar.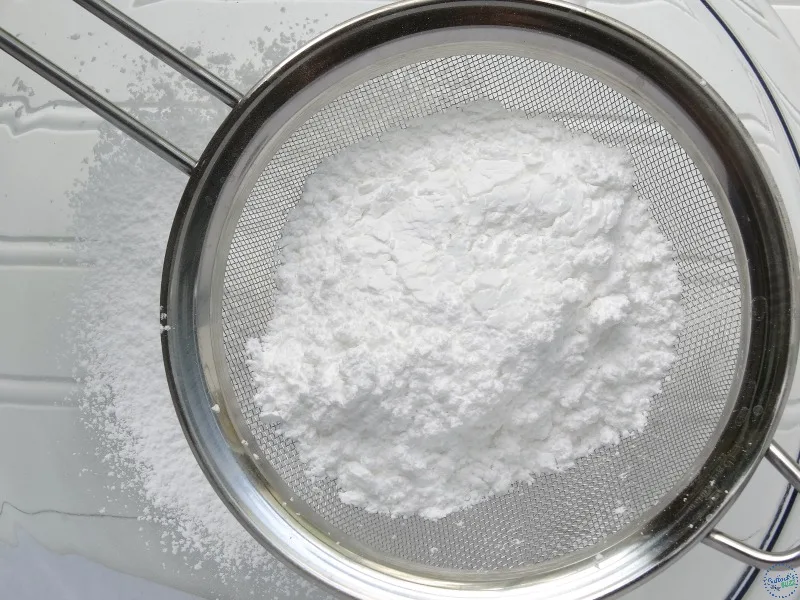 Next, sift in the unsweetened cocoa.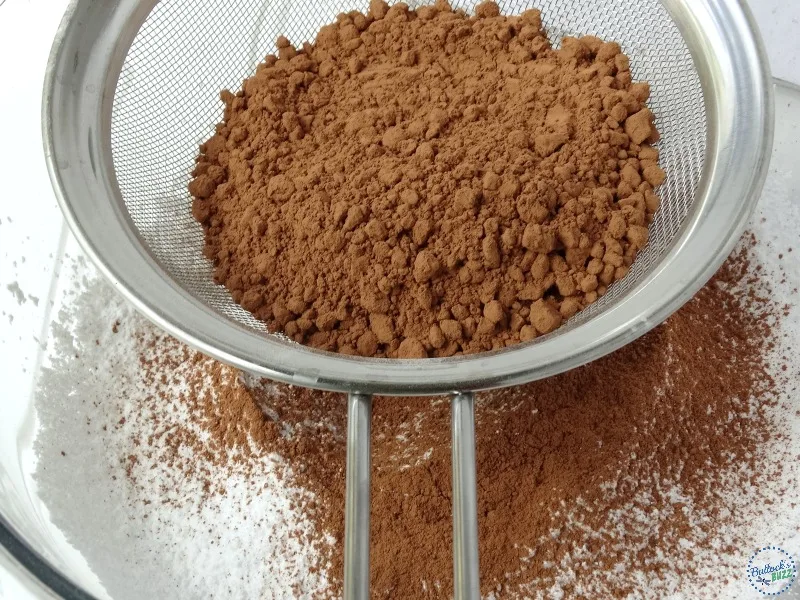 Step Two: Stir
Add in the powdered milk.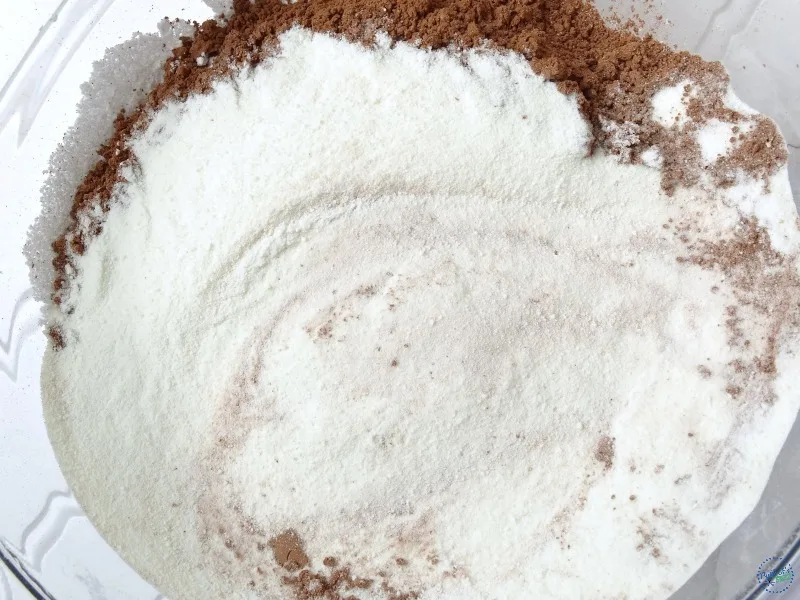 Step Three: Mix Well
Now whisk until everything is well combined.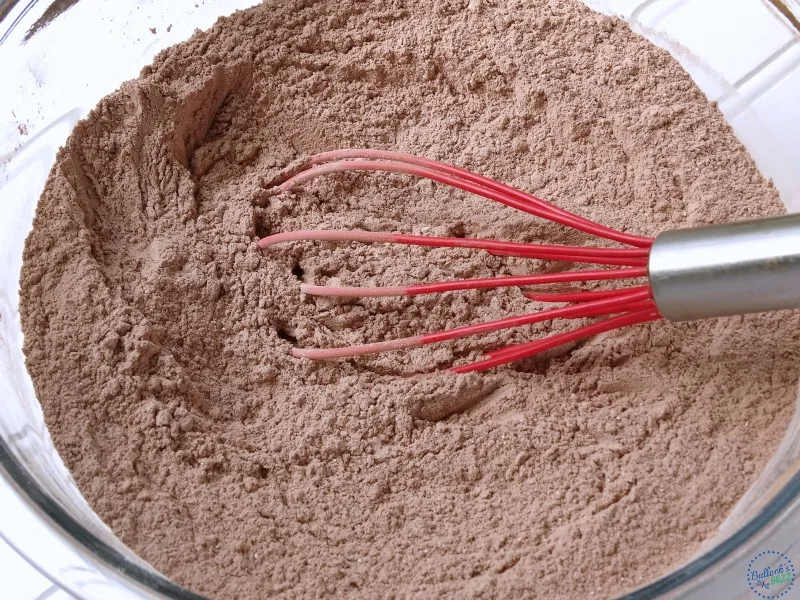 Step Four: Store
Divide the homemade hot chocolate mix into mini Mason jars or into an air-tight container.
HOT CHOCOLATE MIX WITH MARSHMALLOWS
I love marshmallows in my hot chocolate. I'll often add a big handful of marshmallows when the hot chocolate is nice and hot and ready to serve. However, if you are wanting to add marshmallows to the actual hot chocolate mix, I recommend getting some of those teeny tiny dehydrated marshmallow bits.
They are the same kind of mini marshmallows that you find in the store-bought mixes. And, because they are dehydrated, they won't go stale like regular marshmallows. Plus, you can easily add some to the mix when giving it as gifts or storing it in your pantry.
You can get a full one-pound bag HERE. For a pop of color, use rainbow marshmallows instead.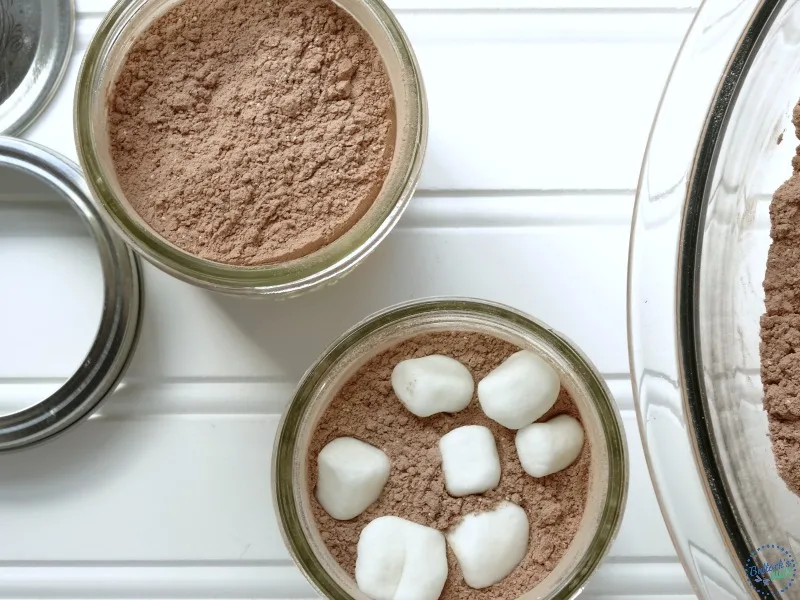 HOW TO MAKE A CUP OF HOMEMADE HOT CHOCOLATE
To enjoy a cup of homemade hot chocolate, combine equal parts hot chocolate mix and hot water or milk. I like to use ½ cup of cocoa mix and ½ cup hot water to make my ideal cup of chocolate. I'll also use milk a lot as it gives the hot chocolate a richer, more chocolate-y taste.
Put the hot cocoa mix in the cup first, and then add the hot milk or water on top. Stir well in order to break up any lumps. Enjoy!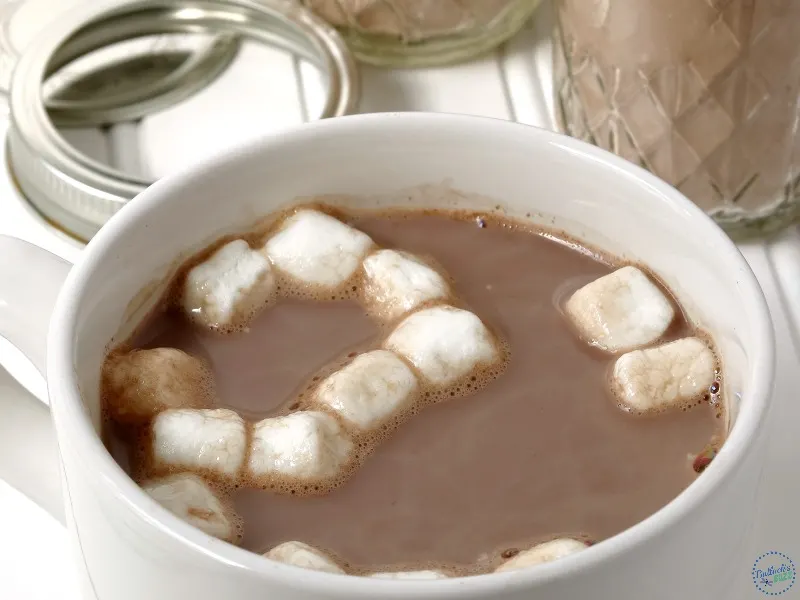 HOW DO I STORE HOT CHOCOLATE MIX?
You can store the homemade hot chocolate mix in an airtight container at room temperature. I usually store mine either in a large mason jar or a storage container. Be sure to keep it somewhere that is cool and dry, though. Humidity and/or moisture will make it clumpy and can even shorten its shelf-life.
HOW LONG WILL HOMEMADE HOT CHOCOLATE MIX STAY GOOD?
While pure cocoa does not really go bad as long as it stored properly, the flavor and quality do decrease over time. However, because this hot chocolate mix also contains powdered milk, it will actually expire and go bad.
How long this homemade hot chocolate mix lasts depends on two things:
How fresh the ingredients you use to make it are.
How you store it.
For best results, use new ingredients to make it.
To store it, place the mix in an air-tight container in a cool, dry place. You can also try freezing your hot chocolate mix in a freezer bag or freezer-safe container. No matter how you store it, make sure that it is in a cool, DRY place.
If you do this, your homemade hot chocolate mix will last between 6 to 8 months.
HOT CHOCOLATE VARIETIES AND ADD-INS
One of the most wonderful things about making hot chocolate from scratch is that you can make it exactly the way you want it!
Want flavored hot chocolate? Add cinnamon, peppermint extract, a shot of espresso, or a drizzle of caramel sauce. Add some crushed peppermint candy to the mix for a minty twist! Or spice things up by adding a dash of cayenne pepper.
Want it extra rich? Use milk instead of water. Or add some half and half.
Want it more chocolate-y? Add in some bittersweet/dark chocolate chips right before you add your hot milk.
Want it healthier? Use almond milk or skim milk.
HOT CHOCOLATE IN A JAR GIFT
Looking for a fun (and delicious) homemade gift idea? Mix up a batch of this easy Homemade Hot Chocolate Mix and pack it in a pretty jar!
Be sure to layer the ingredients in the mason jar and then add a recipe card or and gift tag!
There are lots of fun ways to decorate the jars. You could use paint or stickers, or you could take the simple route with just a bow and a gift tag tied on.
You could also stick the mix in a decorative bag, add another bag of mini marshmallows, and place it all in a mug like one of these super cute marshmallow mugs or a DIY mug along with some candy canes or cocoa stirrers.
Add a cute printable gift tag, and you're good to go!
SHOW ME WHAT YOU'VE GOT!
I hope you love this Homemade Hot Chocolate Mix Recipe as much as I do! It's so easy to make, and it tastes great! If you do decide to give it a try, I'd love to know! Nothing makes me happier than seeing your own take on my recipes!
If you make some Hot Chocolate Mix inspired by this post, please tag me at @bullocksbuzz (Instagram and Facebook) or @alainabullock (on Twitter) and use #BullocksBuzz so I can see your creation and share it!
And, if you liked this recipe, please rate and review it in the recipe card below.

MORE HOT CHOCOLATE RECIPES
Looking for some more tasty treats for Valentine's Day? Give these a try!
PRINTABLE HOMEMADE HOT COCOA MIX RECIPE
Yield: 8 servings
Homemade Hot Chocolate Mix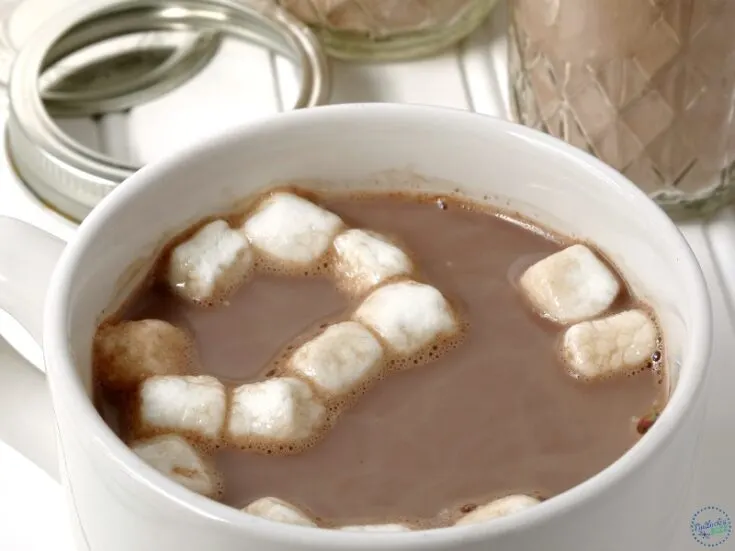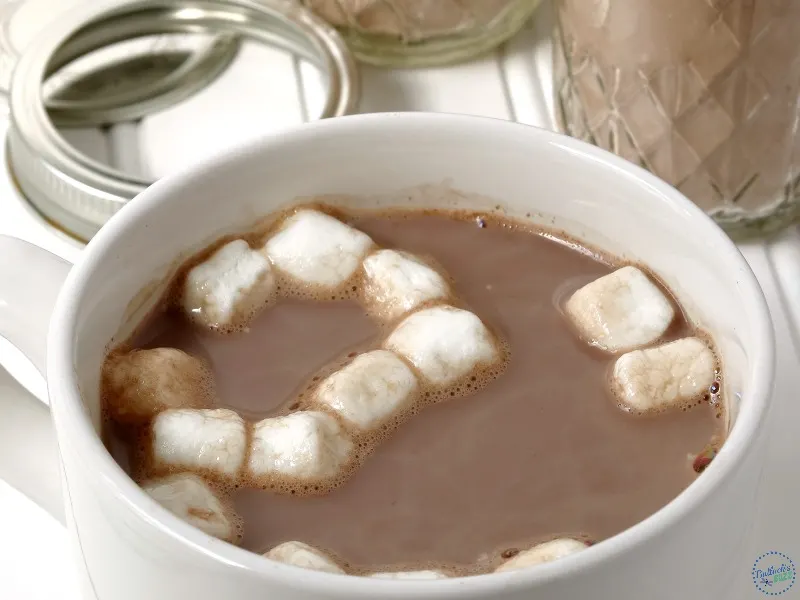 A quick and easy hot cocoa mix recipe so you can indulge in rich, chocolatey cocoa!
Ingredients
2 cups confectioners sugar
1 cup unsweetened cocoa powder
2 cups powdered milk Or instant nonfat dry milk
Instructions
For the Mix

First, in a large bowl, sift in the confectioner's sugar.
Next, sift in the unsweetened cocoa.
Stir in the powdered milk.
Whisk until everything is very well combined.
Divide the homemade hot chocolate mix into mini Mason jars or into an air-tight container. Add mini marshmallows to the container, if desired.

To Make a Mug

When you want to make hot chocolate, combine equal parts hot chocolate mix and hot water. I like to put the hot chocolate mix in the cup and then add the hot milk or on top.
Stir well in order to break up any lumps.

Notes
Makes enough for 6 servings. Simply double the recipe to make more.
Store in an airtight container, in a cool, dry place. Keeps for 6 months.
Nutrition Information:
Yield:
8
Serving Size:
1
Amount Per Serving:
Calories:

240
Total Fat:

1g
Saturated Fat:

0g
Trans Fat:

0g
Unsaturated Fat:

0g
Cholesterol:

5mg
Sodium:

142mg
Carbohydrates:

47g
Fiber:

2g
Sugar:

40g
Protein:

11g
Nutritional information is automatically calculated with ingredients and serving size and may not be accurate. Please always double check with your own nutritional apps as well.
ROSEWILL ELECTRIC HOT WATER DISPENSER REVIEW
Instead of having to wait for a pot of water to boil, or heating a cup in a microwave), I love to use my Rosewill Stainless Steel Electric Hot Water Dispenser. This hot water dispenser can hold up to 4 liters of water, and has three temperature settings making it ideal for hot drinks, hot cereals, instant soup and more. It even has a auto-clean setting!
It takes about 10 minutes to heat a gallon of water up to the highest temperature, but then it will hold it at that temp unless you select a different one. The Rosewill ( R-HAP-01) Electric Hot Water Dispenser saves me a lot of time and makes getting hot water for my homemade hot chocolate mix (and many other things) a breeze!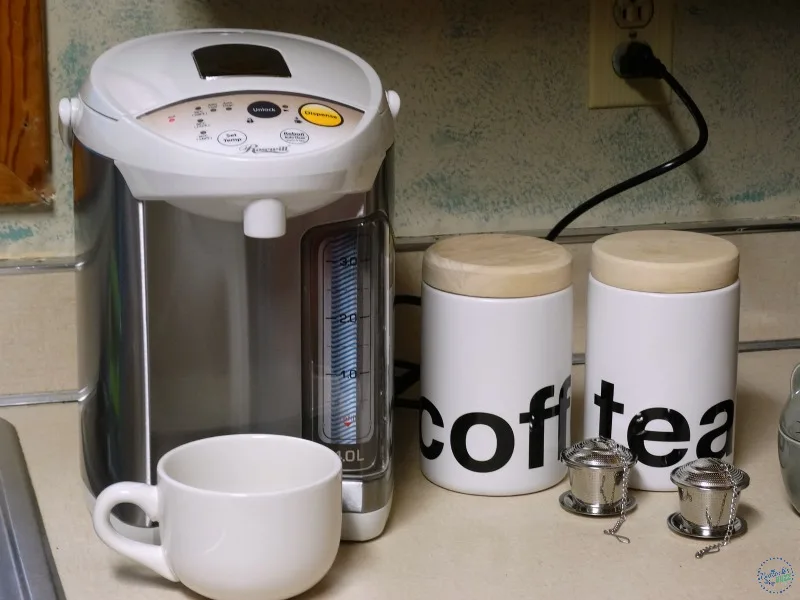 The stainless steel outside and inside gives the appliance a sleek, modern look. And I love that at a mere 8.5″ in width, it takes up very little counter space.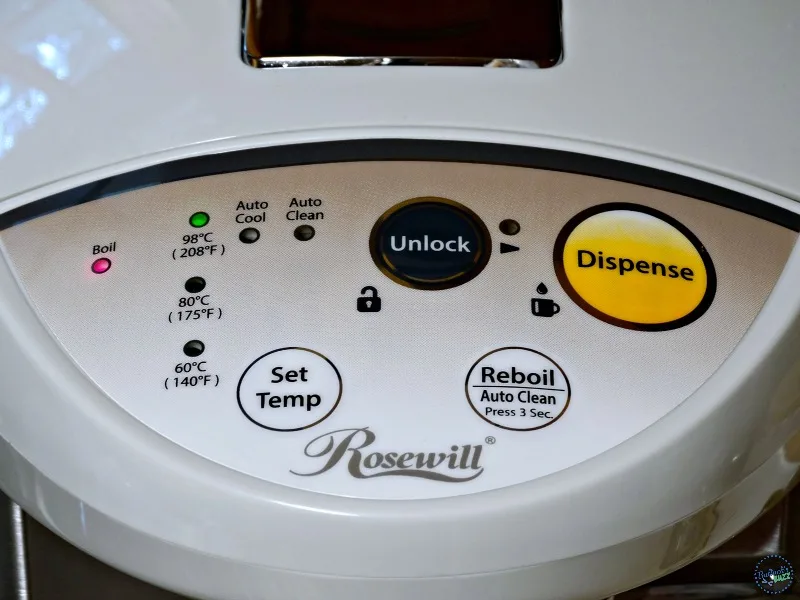 Other features include:
holds 4.2 Quarts (4.0 Liters or 1 gallon)
hot water splash prevention
a re-boil design
auto-clean function (my favorite!)
360-degree rotatable base for easy access from any direction
handle for easy carrying
3 temperature settings, suitable for instant food, tea, coffee, milk powder, plus, keep liquids warm
Fast/slow water dispense with lights indication
low water indicator
night-light indicator
a micro-controlled temperature-control system bottom heater so that you can be sure that it is safe to handle.
auto safety lock
dry-boil protection
Find the Rosewill (R-HAP-01) Electric Hot Water Dispenser (aff. link)on Amazon.
Love this recipe? Share with friends and family by using the share buttons at the top of this post