If you're looking to boost your fitness, feel healthier and get into better shape running is a fantastic option. However, if you're 'not a natural runner' it can be tricky to know where to start without becoming overwhelmed. Rather than just legging it right out of the gate and running the risk of injury, we've put together some tips for you to follow so you can become a runner the right way. Check them out below!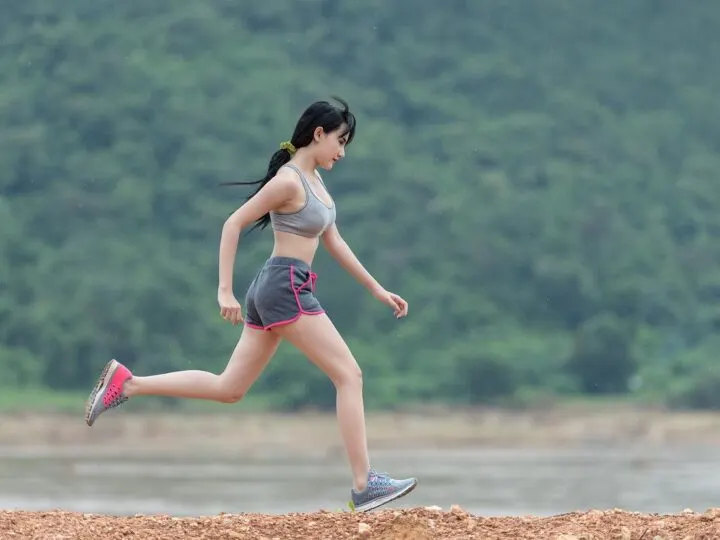 Pick The Right Shoes For You
When looking to become a runner, one of the most important things to do is ensure you pick the right shows for you. Everyone's feet are different, so just because a pair of sneakers works for your friend, doesn't mean they'll be as comfortable for you.
Shoes are the most important piece of kit you can have when running. A good pair of running shoes will support your feet, be flexible enough to enable proper foot movement, and be durable enough to last, especially if you're running outside.
The type of shoe you pick will depend on where you're running and the terrain. If you're strictly a gym treadmill runner then you'll be fine with lightweight running shoes, however, if you love jogging on hiking paths or uneven terrain then trail running shoes will have stronger outer soles and special liners.
Do some research into the right type of shoes for your feet and activity and make sure you give them a good try around the shoe store. And don't forget to check the inside and if it can be removed, this way, you'll be able to add your own insoles for running and have more support in your feet.
Purchase Some Headphones
Music can make or break your running experience. It is proven to have an effect on your mood, with the ability to change your emotions for the better. It can get you hyped up for a great running session, giving you energy and pushing you to work harder for longer. It can help keep you consistent with your pace especially if you are starting out, and choosing to do interval running to build your stamina.
Wires can be super annoying and get tangled in your arms as you run, so wireless headphones are best, and models with a neckband will ensure that they feel secure as you're pounding the sidewalk (or treadmill), look for the best Sony neckband headphones online for fantastic sound quality.
Make A Training Plan
It's all well and good wanting to become a runner, but it takes time and discipline. When you're starting out it's best to make a plan of action. Don't over-commit to five days a week as you'll find yourself falling off track early on. Pick two or three days a week that you know you'll be free and then increase your days over time. This is also important for your safety and wellbeing as you may end up injuring yourself if your body is not used to regular exercise. You don't want to be pulling muscles and hurting your joints.
Do Strength Training
While running is cardio-based, it is important to build up strength in your muscles, particularly your legs so that you can carry yourself for the duration of your run. Regular exercise and strength training will decrease your risk of injury and increase your stamina, making you a much better runner overall.
Try Interval Running
Another way to become a runner is to try interval running. Interval running is similar to a HIIT workout. The principle is that you run or jog for a period of time, then follow with a walk or slower pace for a shorter period, for example, a two-minute walk and then a one-minute walk, repeated for 20 minutes. This is a fantastic way to build up your stamina initially and you can gradually adjust the periods of running and walking, until one day you'll be flat out running!
Use Smart Technology
Apps like Nike Training Club or Map My Walk will record your runs. You will be able to see your route, your speed, and the duration of your run so you can have a better understanding of your achievements. Invest in a fitness tracker or smartwatch so that you can see your steps and your pace per mile. This way you'll have all of your metrics handy on your phone.
Have A Goal
It's easier to excel at something if you're working towards a goal. Start off with something simple like taking part in a 5K run. Once you hit that goal you can choose to either beat your time or push for something greater like a 10K, you'll be running a marathon in no time!
Fuel Your Body Correctly
Living off junk food will not help you become a runner. Your body should be fueled by a balanced and nutritious diet. Don't cut out any major food groups such as carbs or fat as these provide power for your body, just stick to whole grain carbohydrates and natural fats such as avocado and nuts.
If you don't eat meat, there are lots of high-in protein foods that are not animal by-products such as eggs, legumes, and tofu. If you hate to cook but want to up your protein intake you can never go wrong with a delicious protein shake.
You can also combine protein shake with other supplements, such as BCAA, as suggested in this guide on stacking supplements for beginners, to help elevate your running performance and improve muscle recovery.
Make sure you're drinking around 3-4 liters of water on your rest days and increase this amount as you see fit on your running days when your body is craving a little extra hydration.
Don't Give Up
Becoming great at anything is not easy and it can be tempting to give up or cut back after reaching your first goal. Even if you fall out of favor with your plan, it's important to get back on the horse and lace up your sneakers if you want to become a runner. Where would Usain Bolt be if he gave up after his first race? It takes a whole lot of dedication to make your dreams come true so stick with it and the end result will feel even sweeter if the path to get there did not run smooth.
Are you ready to get going with your running regime? Share your plans to become a runner in the comments to help other readers or share your top tips if you're a sprinting specialist!