Finding the perfect place to rent in a big city like Atlanta can be a tough task. If you rush or make a mistake, you could find yourself facing many unpleasant issues such as paying too much rent, living with poor management, or not getting the exact apartment you want. To help you find your dream apartment in Atlanta, I'm sharing a few tips on how to find an apartment in Atlanta.
Today's post on how to find an apartment in Atlanta is a sponsored post on behalf of Zumper.
Rent Research and Your Budget
When looking to find an apartment in Atlanta the first thing you need to consider is the financial aspect. This includes the cost of rent and your budget.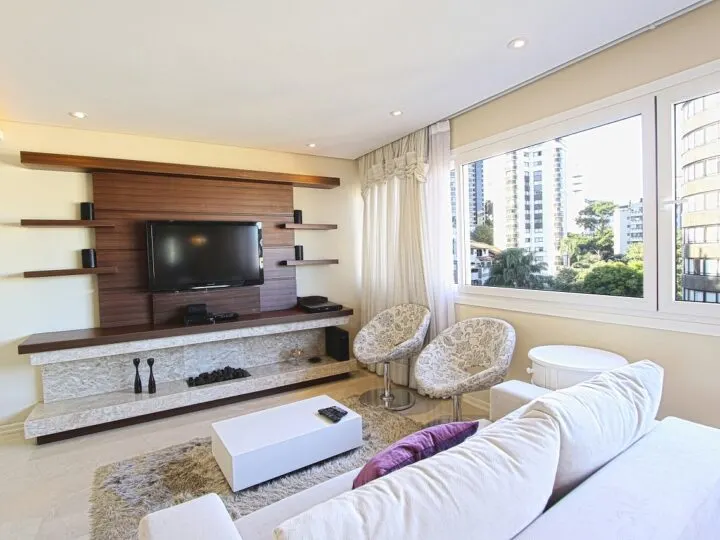 First, you need to determine how much you can spend on rent. A general rule of thumb is that you should spend no more than 30% of your monthly income on rent. This number will vary, of course, depending on your other expenses.
To figure out your amount, simply take your average monthly income and multiply it by .3 (or 30%) – the result will be the ideal maximum amount you can spend on monthly rent.
Next, you need to take a look at how much rent in Atlanta is. For example, according to Zumper, a studio rents for $1655, a one bedroom rents for $1735, and a two bedroom for $2245.
Doing a bit of rent research will not only help you determine how much rent you can afford, but it will also help you determine both the area in which you can afford to look and the type of type of apartment you can afford to get.
On Zumper's website, you can also take a look at the average rent costs by specific area in Atlanta. For example, in Edgewood rent averages $1573 while in Greenbriar it averages $977. This is a great tool for determining the areas in which you can afford to look.
Learn the City
Learning the city is an important step in knowing how to find an apartment in Atlanta. Now that you have a better idea of what you can afford and some of the areas you may want to look at, it's time to narrow down where your perfect apartment might be located. Be sure to consider your needs and wants. Do you have kids? If so, what areas have the best schools in Atlanta? How far are you willing to drive to work? Are there grocery stores and other stores nearby? Look for places that will fit all of your needs.
Make a note of the specific areas around Atlanta that you would be willing to live. Then pull up Google Maps and figure out exactly where these locations are. From there, research the neighborhood thoroughly checking for things like safety, proximity to work and schools, and any other places you frequent like your doctor's office, the bank, your dentist, etc.
Tip: in most cities, if you look at neighborhoods that are slightly farther out from the city center, you may find larger apartments for less money. Just remember, money is not the only factor – safety is important, too!
List Your Wants, Needs and Things to Avoid
Knowing exactly what you are looking for is another important part in finding an apartment in Atlanta. In order to be happy in your apartment, you need to make sure that it meets your needs, as well as your standards. The easiest way to do this is to make a list of needs, wants, and things to avoid.
In the Needs column, make a list of things you absolutely have to have. For example, the number of bedrooms. Bathrooms. Do you need things like a dishwasher and washer and dryer in the apartment? What about safety measures such as cameras and a security gate? Do you have pets, and if so, are they allowed?
In the Wants column, write down the things that you would like to have, but aren't necessary if the price is right. For example, a swimming pool, fitness room, or tennis courts. A dog park, on-site playground, a fireplace, etc.
Lastly, in the Things to Avoid column, you will list the things that you are absolutely not okay with. For example, an area that is rife with illegal activity and crime, a noisy neighborhood, poorly kept common areas such as a rusted-out, dirty playground. No assigned parking spaces.
When you have a better idea of what you want and need, you can start looking for apartments that offer those amenities and facilities.
Use a Reliable Source to Search
Now that you know the areas you'd be willing to live in and you know your needs and wants, the next step in knowing how to find an apartment in Atlanta is to do the actual searching.
While searching online through sites like Zumper is a great way to find an apartment in Atlanta, once you've narrowed down your choices, you need to call your top choices and verify availability.
Schedule A Tour
Schedule a tour to see your top contenders in person. Visiting the apartment in person will give you a better feel for the neighborhood, and a better understanding of the building's layout, and the apartment's true size, finishes, and functionality.
While there ask any questions you may have and take note of things such as the roominess and functionality of the kitchen layout and appliances, closet size, water pressure, your cell phone signal, whether or not you can hear the neighbors and outside noise, and how well the property is lit at night.
Familiarize Yourself with the Management Company
Another important step in knowing how to find an apartment in Atlanta is making sure you are dealing with a reputable management company. Once you sign that lease, you'll be dealing with them for an extended period of time. Therefore you want to know as much about them as you can.
Research things like whether or not they care about their residents' experiences? Do they respond to resident complaints and needs quickly and fully? Find out how long they've been in the Atlanta area, and whether or not they are growing or have other properties.
You can find these things out from online reviews, Googling the company for any rankings, and even by asking a current resident if possible.
Know The Lease Agreement Terms
Finally, before you sign a lease, make sure you carefully read and consider the lease agreement terms. This contract will let you know things like what amenities are included, the length of the lease, any history of damages, the pet policy, and the full price you will have to pay.
You also need to look at things like how much it would cost you to break the lease if you suddenly had to leave.
Make sure that you read the entire lease agreement carefully and thoroughly and that you completely understand what you are about to sign. Ask questions if you are unsure about anything.
Final Thoughts
Whether this is your first apartment of your 10th, when it comes to knowing how to find an apartment in Atlanta, the above steps remain the same and can help you find the perfect place to call home.