This is a sponsored post written by me on behalf of BestNursingHomes.com. All opinions are my own.
Did you know that today, May 27, is National Senior Health & Fitness Day – the nation's largest annual health promotion event for older adults? That makes today also the perfect time to bring up a topic concerning our loved ones that many of us find difficult to face. Nothing about watching your parents grow old is easy; and thinking about, then coming to the realization that your parents need more care than you can provide can be extremely difficult. I know, because I went through this with my father.
For as long as I can remember, my dad was a vibrant, healthy active man. Then, after several bouts with cancer, things began to go down hill. At first, my sister and I took turns caring for him at his home. But the day soon came when we were no longer able to give him the level of care he needed, and we had to face the fact that he needed to go to a place that could meet his needs.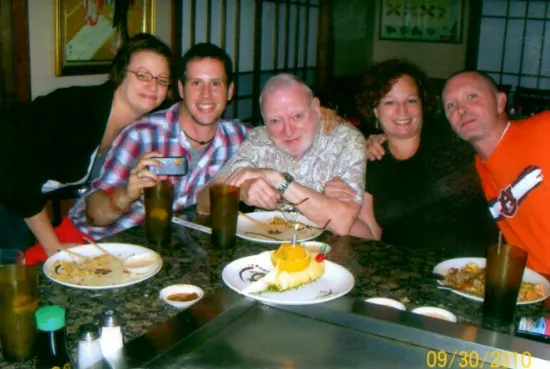 My sister and I had heard the negative stories and the bad rap that nursing homes have, but there was no way we could afford in-home care, and neither of us could quit our jobs to move him in and give him the full-time care he needed. We were left having to make a very hard decision.
For my dad, it was a difficult and scary decision as well. He was afraid of losing his independence, and didn't want to give up the things he enjoyed. At the same time, he was in the very beginning stages of dementia, and that just added to the uncertainty and fears for all of us.
I'm not going to lie to you. The process of finding the right place for him was a hard one. By this time my sister had to remove herself from the situation, so it fell to me and my husband to find him a place to stay. Having never had to deal with this before, I was scared and unsure of what to do. I wound up spending hours on the internet, even longer on the phone, and I know we visited at least 12 different homes in our area.
To make a long story short, we eventually found the perfect place. And, at the same time, we also discovered that despite the bad rap nursing homes have gotten, there really are some good ones out there. Places that are more like a hotel than a hospital, and that give you more personalized therapy and attention than if you were in a hospital. Thankfully I was able to find a place like that for my dad. He wound up making many friends, participating in lots of fun activities, eating great food, and was still getting the level of care he needed.

How do you find these places?
If you are seeking short-term or long-term care for someone you love, you don't have to go through the same process I did thanks to BestNursingHomes.com. This online site was created specifically to help people like you find the best nursing homes out there. Provided free of charge to the public by the Association of Skilled Nursing Providers, BestNursingHomes.com lists five-star nursing homes and rehabilitation centers that are rated by the Centers for Medicare and Medicaid Services. This means that you will only see the best nursing homes with the highest ratings on the site.
What's so different about this site than others?
First of all, BestNursingHomes.com is run by a nonprofit organization whose public mission is to make people aware of the good places to go. Because of this, it is a free list, and there will be NO annoying sales calls. You don't have to enter any personal information, and no one is going to contact you when you search the site.
Secondly, BestNursingHomes.com lists ONLY the best sites. Anything on their list has been pre-approved by Medicare as one of the top places in the country, so you can relax knowing you will be finding the places that provide a great standard of care. In addition, BestNursingHomes.com makes the task of finding the perfect place much easier through the use of their five-star rating system, independent reviews (by real residents and family members), and detailed descriptions. For the facilities that have chosen upgraded listings, you can even see what the center looks like through slide show photos and featured videos!
While searching the site, if you see an option that you like, then you can contact the home directly simply by calling the facility or sending an email using the contact form. The whole site is designed to help you find everything you need to make an informed, confident decision, and to make what can be an emotional and difficult time, a little bit easier.
Best Nursing Homes has been made possible by the generous donation of North American Health Care and its CEO, John Sorensen. John has made it his life's work to serve the elderly population and has sponsored the development of BNH and donated it to the ASNP for use. "We are very grateful for the leadership of John Sorensen in the post-acute care industry," said Amy Osmond Cook, Ph.D., Executive Director of the Association for Skilled Nursing Providers. "John is a leader in his field, a generous philanthropist, and a great example of someone who places serving the patient above anything else. We are proud to be associated with John and North American Health Care and grateful for his support to promote best practices in skilled nursing."
For more information about Best Nursing Homes or the Association of Skilled Nursing Providers, please contact Dr. Cook at [email protected] or 949-813-0182.
How do you go about finding information about the best nursing homes?