This is a sponsored post written by me on behalf of Sterling for IZEA. All opinions are 100% mine.
But I don't wanna take a bath! How many time have your heard these words come out of your toddler's mouth? Bath time should be a fun and relaxing time for both you and your toddler, but somewhere between the toddler years and preschool, for many it becomes a water-soaked nightmare. But it doesn't have to be that way! Check out these 15 tried-and-true ideas for making bath time fun!
Try adding a few drops of food coloring to the bath water – it won't stain the tub or your child! If you are hesitant about using food coloring, Fizzing Bath Tablets make a great alternative. Your child will love watching them fizz and change the color of the water as they dissolve.

Drop colored ice cubes in the bathtub and watch your toddler chase them around before they melt, dying the water.

Pick up some glow sticks from your local dollar store and drop them in the tub.

Make or buy a couple of bath puppets and have a bath time puppet show.

My personal favorite, craft foam! It magically sticks to the walls, can be used over and over again, and it's extremely cheap!

Play with shaving cream – colored with food coloring, or as is. Squeeze some out onto the edge of the tub or onto toy dishes, and then let your child sculpt it using her hands or even toy flatware.

Get creative with bath paints and crayons! You can also make up a batch of bath paint instead of buying it. All you need is shaving cream and a few drops of food coloring.

Pull out those watercolors and let your toddler paint the bath! They wash right off the walls!

Fill a spray bottle with water and watch your little one have a blast spraying the walls, the bubbles, and himself.

Grab some magical growing capsules from your dollar store. The tiny capsules disintegrate in water and magically grow into fun foam sponge shapes like animals or cars.

Kids love emptying and filling containers. Gather some plastic containers of different shapes and sizes, and let your child have a blast filling them up and pouring the water into another cup or container.

You've heard of singing in the shower. Why not sing during bath time with your child?

Make a bath time theme! For example, make a Space Theme by adding a glow stick to the water, cutting out some planets, stars, rockets and other space-themed shapes from craft foam, and using glow-in-the-dark washable paints. Turn out the lights, and let the fun begin!

Have a bath time treasure hunt! Fill the tub with lots of bubbles, and place several objects that will sink into the water (do this before your child climbs in). He can then go on a treasure hunt!

Sneak some learning in with fun foam letters!
Now that you have an arsenal of ideas for making bath time more fun and comfortable for your child, what about your comfort?
There is nothing worse than leaning over the tub to bathe your child while the metal shower door track presses uncomfortably into you – not to mention how difficult they are to clean! Now, thanks to the new Sterling shower doors with ComforTrack technology, your bathtime routine will be easier and more comfortable!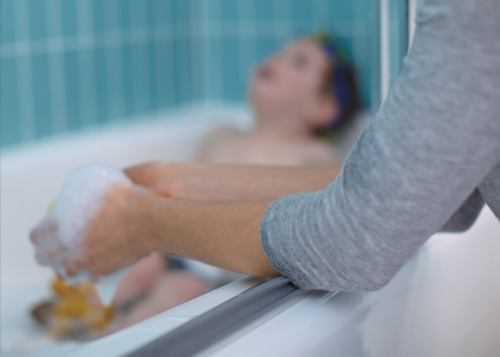 ComforTrack technology – found on Sterling Prevail shower doors for both baths and showers – is a flexible bottom track that supports the shower door's glide, but also bends to applied pressure! This means you can comfortably kneel, sit or lean on the track while bathing children or pets and while cleaning!
This new technology is not only flexible, it is also extremely durable. Made of a heavy-duty material that withstands rigorous testing, it will outlast day-to-day wear and tear. Plus, it is low profile with a sleek shape that is easy to clean! Just imagine how much more comfortable bath time will be with the above tips and a new Sterling Prevail Shower Door!
What are some of the ways you make bath time fun?