Halloween is slowly creeping up, and there's no time like the present to learn how to pick the perfect pumpkin for carving.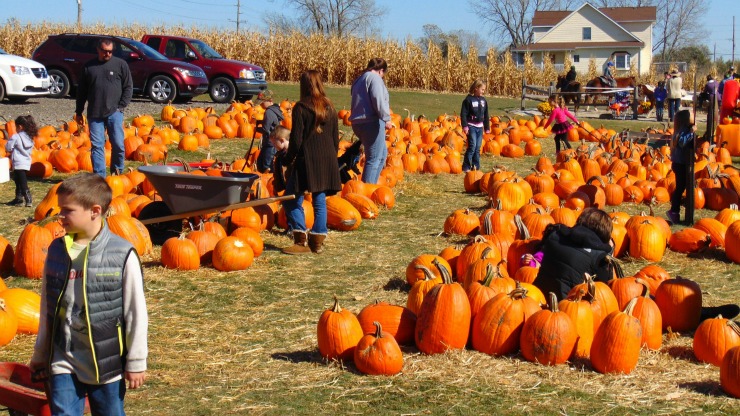 Pumpkin carving happens to be one of my favorite parts of Halloween – oh heck, who am I kidding? I love everything about Halloween! From the cooler weather to the costumes, from the cute Halloween treats to the tasty candy! Yet before you can turn a pumpkin into a piece of art, you need to know how to pick out a good one. Here are my tips for how to pick the perfect pumpkin.
1. Make a Plan
Before you begin your pumpkin picking journey, it's helpful to have a general idea of your carving or decorating plan. Are you wanting a tall, oval-shaped pumpkin, or a squat round one? A big pumpkin or several small ones? If you already have a plan, then finding the perfect pumpkin will be that much easier.
2. Color Matters, Too
While shape and size play a large part in pumpkin selection, the color matters too! It doesn't matter whether you are headed to a local pumpkin patch or going to your favorite grocery when learning how to pick the perfect pumpkin, find one that is uniform in color.
The perfect pumpkin will be orange all around. If you see a pumpkin that still has patches of green, it's most likely not fully ripe. This can cause difficulties when carving or decorating.
Additionally, keep an eye out for any other odd discolorations, which is usually a sign that the pumpkin is past its prime.
3. Avoid Soft Spots
Avoiding pumpkins with soft spots is another thing to watch for when learning how to pick the perfect pumpkin. Pumpkins that have soft spots are not a great choice. Once you've found a pumpkin of shape, size, and color you like, you then need to check that it does not have any soft spots. Be sure to check the entire pumpkin all the way around. If you find a soft spot, look for another one.
4. Don't Overlook the Stem
Then next thing to look for when learning how to pick the perfect pumpkin is to take a look at the stem. Most people tend to focus on the body of the pumpkin, but you shouldn't overlook the stem. A pumpkin with a full stem not only offers an easy way to remove the lid once carved, but it can also lend to the overall look of the decorated pumpkin.
Many people actually incorporate the stem as part of their finished design, too! Just remember, never carry a pumpkin by the stem as it can do some serious damage.
5. Watch Out For Bugs
When learning how to pick the perfect pumpkin watch out for bugs! Bugs and insects love pumpkins. The last thing you need to check for when picking the perfect pumpkin is for any creepy crawlies hanging out around or on the pumpkin. Also, look carefully for tiny holes as this can indicate there is a colony of insects already living inside.