Spring fever has definitely hit and so has the urge to spring clean. When most people think about 'spring cleaning' the first thing that comes to mind is their homes. But rarely do people think about their cars. If there is one thing I cannot stand, it is a dirty, cluttered car, especially on the inside. Cleaning your own car may take a bit of time and effort, but it isn't as hard as most people think. Here's a handy 10 point interior car cleaning checklist so you can keep your car looking and smelling like it did the day you brought it home.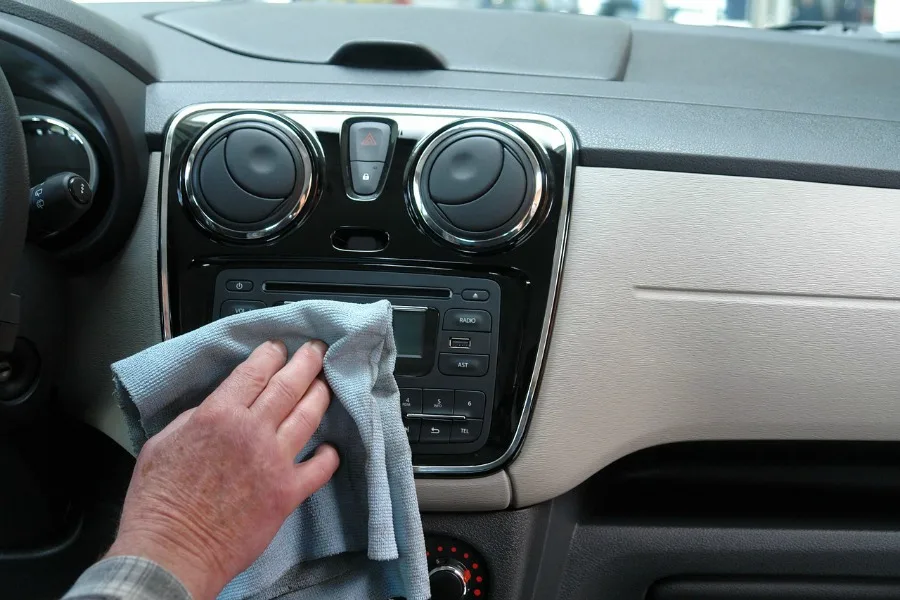 Car detailers take a lot of time and effort to maintain the appearance of a car. And detailing a car involves a lot more than just a basic car washing and cleaning. You have to scrub off stains, vacuum the floor and clean the seats. It involves cleaning out every nook and cranny that has collected dirt and debris over time. Using this interior car cleaning checklist as a guideline can help you restore your car to showroom status.
1. Use Proper Cleaning Products
Cleaning a car's interior is not as simple and straightforward as washing the exterior of your car. There are specific types of automotive cleaning products that are made to clean certain fabrics and materials. For example, if you have leather seats, you should only use leather cleaning products. The same holds true for suede or wool. Only use window cleaners on the glass. And make sure you have the right polish for any wood or metal trim.
2. Remove Trash and Clutter
Once you gather the proper products, your first step is to remove the trash and car clutter that has accumulated. Make sure you poke through the different holes and corners that contain hidden trash. Get under the seats, the floor mats and in the glovebox. Don't forget about the trunk.
3. Clean Up Any Stains
Almost every car has stains that have become ingrained into the surfaces – especially if you have kids. Unfortunately, sometimes, blotting a napkin with water and scrubbing is just not enough. If you do not have any upholstery cleaner, try creating your own solution made of part-soap and part-water
4. Clean the Seats
Now it's time to get down to the nitty gritty. Start by cleaning the seats. using a brush, vacuum or even a steam cleaner. Just remember to take extra care if you have to scrub sensitive seat materials like suede or wool.
5. Clean the Floor
Next up, the floor. begin by removing all of the floor mats. Shake them out really well, then, depending on what they are made of, either spray them down with a hose or use a brush to clean the surface. Last, run a good car vacuum over the floor – including under the seats. Make sure you get in every little nook, cranny and corner. This is where using a powerful car vacuum with a long suction hose really comes in handy!
6. Clean the Ceiling
Most people do not even think about cleaning the ceiling, but they should. Use a soft or hard-bristled brush on the whole surface. Use the same upholstery solution that you used to clean the seats.
7. Organize the Glove Compartment
Detailing is the ideal time to clean out the glove compartment. Remove any junk and only leave the items that are absolutely necessary, such as a flashlight, insurance cards and car registration.
8. Clean Steering Wheel, Brake Pads
Remember to clean the steering wheel and brake pads, too. Just make sure you do not use too much cleanser or soap and water on these parts, and wipe it off very well. You do not want to drive with slippery pedals or steering wheel.
9. Clean Metal Grilles
Found at the front of the car, the metal grilles are the A/C vents that allow hot or cold air through. If you have rusted metal to clean, try mixing cream of tartar with lemon juice and let the mixture set before removing it with a soft toothbrush. You could also try using WD-40 to get rid of rust. Make sure that moisture does not sit too long on the metal.
10. Clean the Windows
Use a basic glass cleaner to remove dirt and fingerprints from the windows. First, clean the exterior of the windows and then do the interior.
In Summary
There is nothing better than driving a vehicle that smells clean and looks clean. If you want a detailed car cleaning, spend more than a few minutes on the task and take advantage of this 10-point interior car cleaning checklist. And remember, part of having a car that looks great is one that runs great. Be sure to take your car in to a trusted mechanic like those at Akins Jeep RAM of Georgia on a regular basis to keep your car running its best.