Laken Bottles – An Eco-Friendly Solution to Disposable Bottles

Did you know, according to the Container Recycling Institute, only about 14% of all disposable water bottles are recycled? As for the other 86%, Americans alone add 30 million PET water bottles to landfills every day! And the few bottles that do make it to the recycling center become 'down-cycled' into a lower form of plastic which are very seldom remade into other plastic bottles. I don't want to keep contributing to these numbers which is why we have only been using environmentally friendly, reusable bottles like these I received from Laken.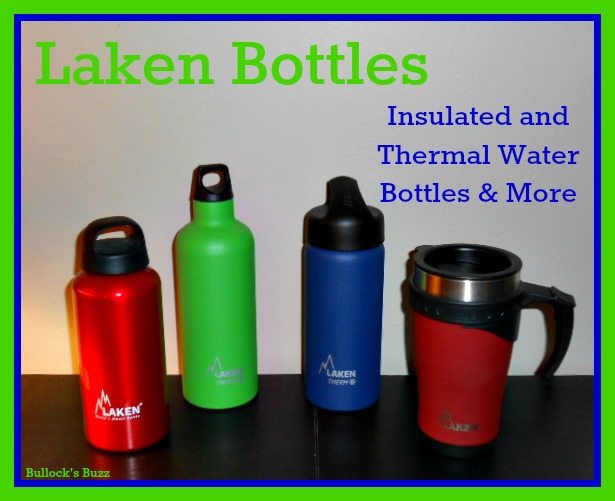 Since 1912, Laken has been specializing in environmentally friendly bottles and containers for drinks and food. Today they offer a huge selection of colorful and stylish thermoses, drinking bottles, canteens, flasks, food containers, cookware and more; all of which are made of certified, guaranteed safe materials such as food grade stainless steel and aluminum. All Laken bottles are also BPA, phthalate and lead free, 100% recyclable and a great way to save money!
I don't know about you, but in my experience, with many stainless steel – and some aluminum – bottles either the taste or the smell (or sometimes both) of my drink has always been slightly affected by the material, so I began staying away from bottles made of those materials. With the Laken bottles however, I have not noticed any difference in taste or scent at all! In fact, all of Laken's bottles are chemically unreactive to hot and cold beverages which means they remain completely taste and scent neutral. Even if it the bottle is filled with a highly acidic liquid such as coffee or juice, I have detected no change at all!
Another characteristic I have noticed with Laken water bottles is that because of the way they are made, (stainless steel bottles and containers have high performance vacuum insulation between double walls) the liquid in the bottle remains either toasty hot or icy cold for up to 24 hours or longer (individual products have different amounts of time)! Plus, regardless of whether the bottle is holding hot or cold liquid, the exterior always stays dry and comfortable to the touch, never getting too hot to hold or slippery wet from condensation. And I love their bottles are so lightweight, and that the tight-fitting lids work so well at preventing leaks and spills!
Laken has a huge selection of styles, sizes and colors from which to choose. In fact, they have even employed some world-class designers to make their bottles even more fun and attractive ensuring you will find one for every member of your family. Laken also offers several accessories for their bottles including neoprene sleeves, ISO pouches, and all kinds of caps and lids.
For ordering and to check out their entire collection of bottles, accessories and more visit, Laken online. And be sure to visit often as they offer some amazing deals with great savings! Their products are available for shipping to many countries around the world, and if you live in the US and order more than $50, shipping is free! You can also find a good selection on Amazon.
Possible Spoiler Alert….could there be a giveaway in the future?????? Check back!
Which Laken bottle is your favorite?