Disclosure of Material Connection: I received one or more of the products or services mentioned above for free in the hope that I would mention it on my blog. Regardless, I only recommend products or services I use personally and believe will be good for my readers. I am disclosing this in accordance with the Federal Trade Commission's 16 CFR, Part 255: "Guides Concerning the Use of Endorsements and Testimonials in Advertising."
FATHER'S DAY

GIFT GUIDE

SUGGESTION
"Maple Syrup Like You've Never Seen It Before"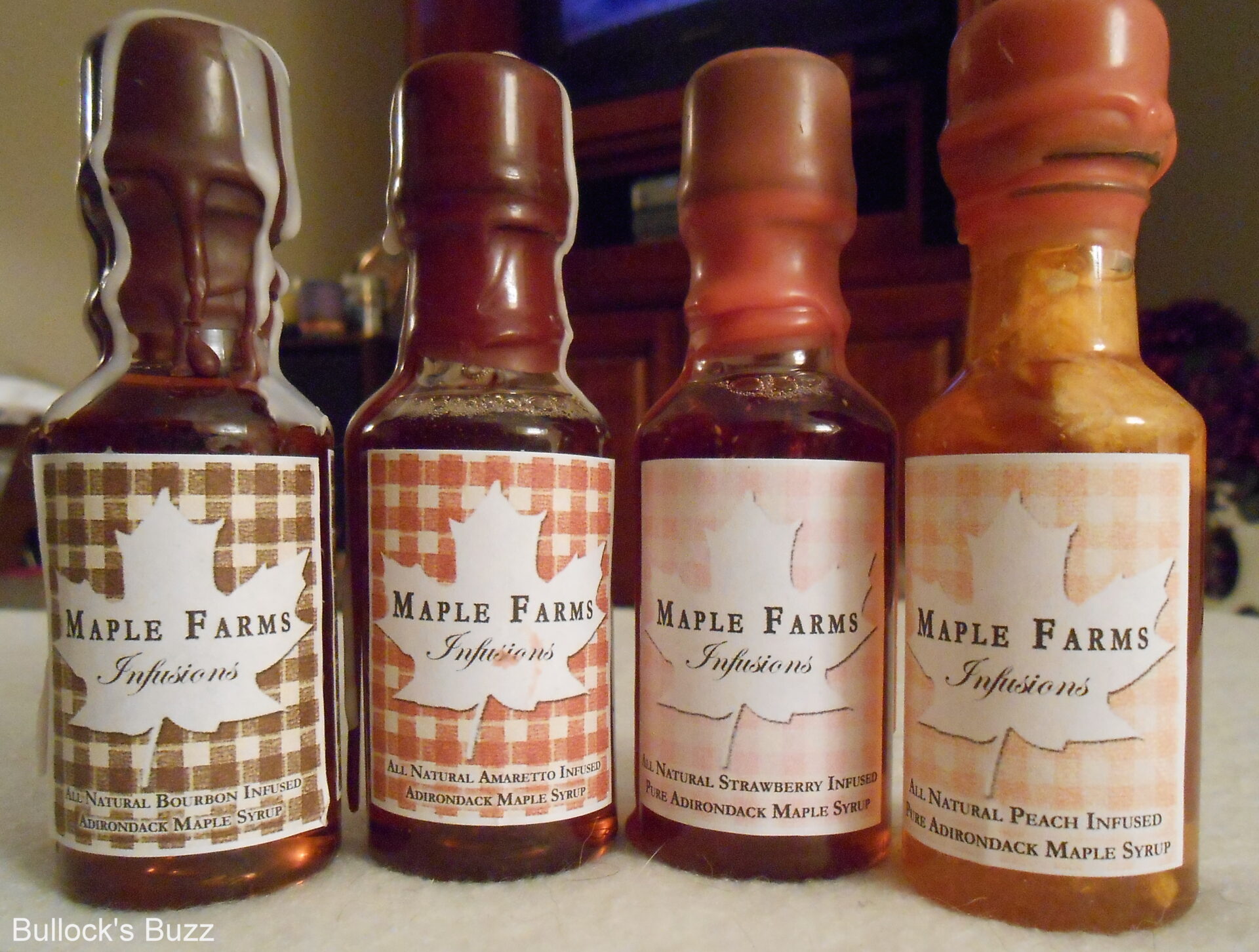 "Deep in the heart of the Adirondack Mountains, Maple Farms stands among towering old-growth Red and Sugar Maple trees that produce some of the finest, all-natural maple syrup in the world."
There is nothing better than all-natural maple syrup, especially when it has been barrel-aged and infused with organic, fresh fruits from local farms. Maple Farms has created over a dozen different flavors of infused Adirondack amber maple syrup, using their unique double-infusion process that naturally preserves the fruit pieces added to the syrup and packs in the rich fruit flavor more than ever before.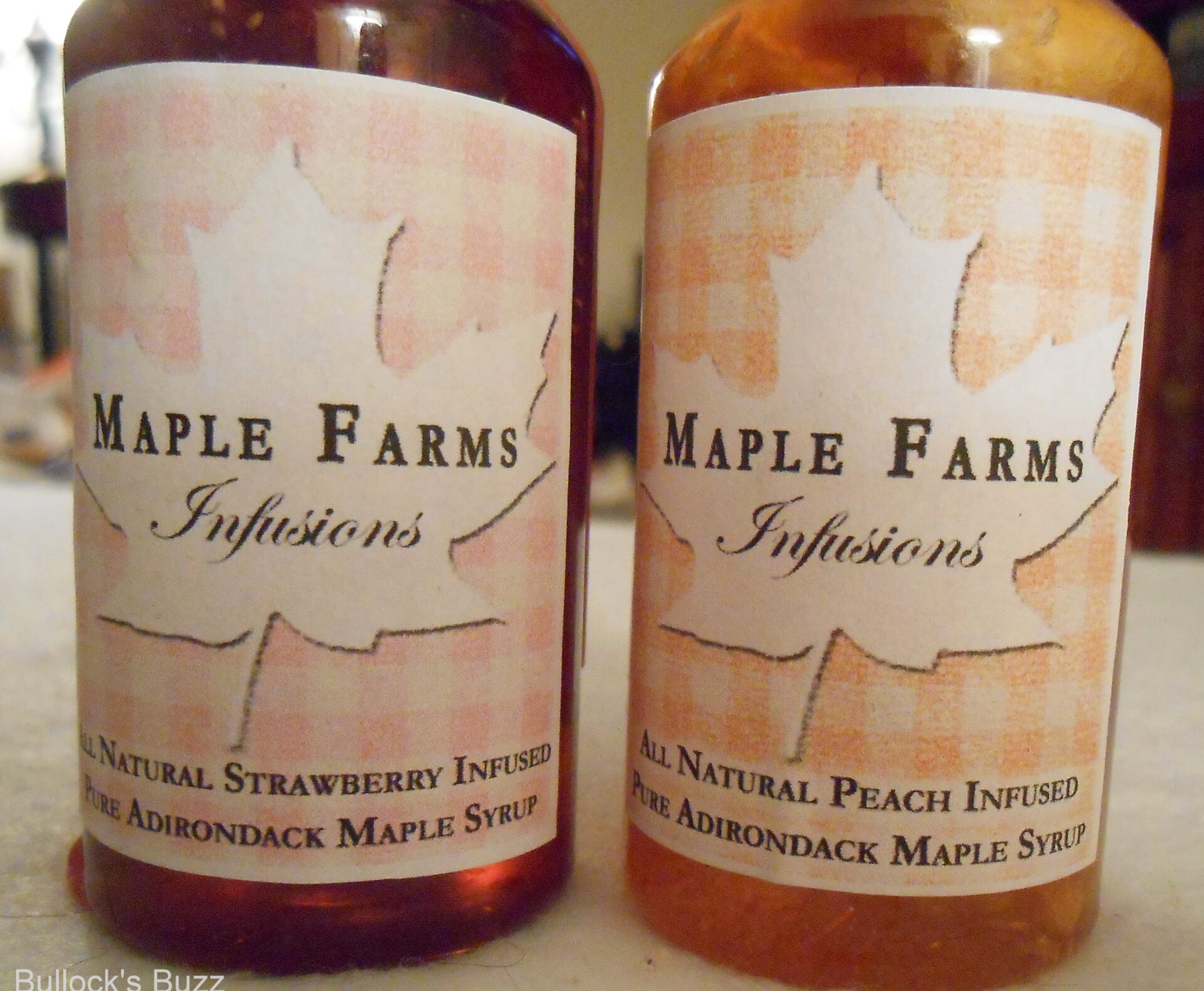 They have also created a line of innovative liquor-infused syrups by aging the maple syrup in oak casks previously used by some of the country's top small batch distilleries! The syrup is aged for four to six months in order to draw out all the natural flavors locked inside the oak. It is then bottled in ornate, artisan swing-top glass flasks, triple sealed and dipped in wax to ensure none of the flavor escapes.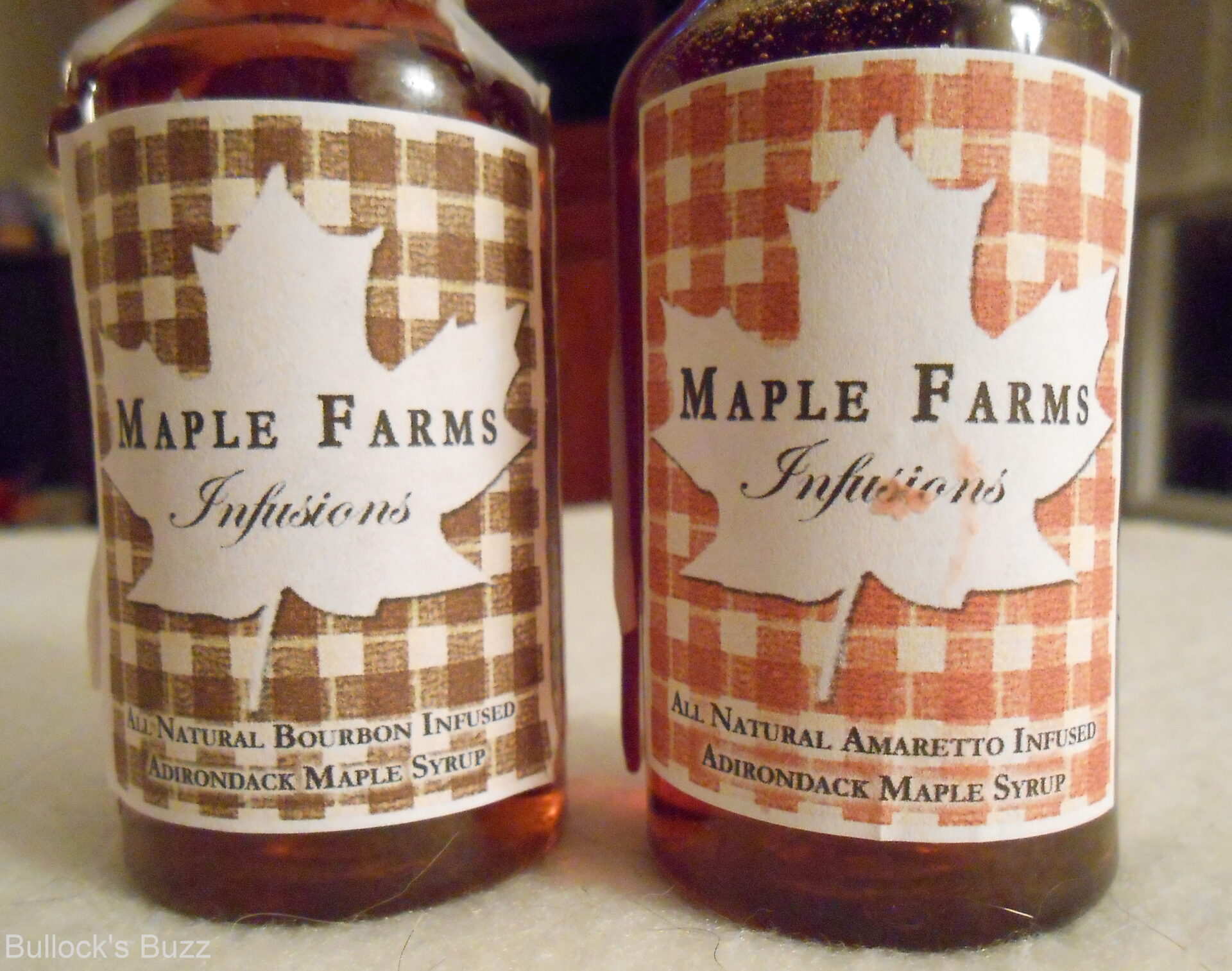 Maple Farms' full product line includes both fruit and liquor infused maple syrups, cream, candy, and gourmet gluten-free pancake and waffle mixes. All products are available in over a dozen different flavors from Adirondack Apple to Rhode Island Raspberry, as well as delicious liqueur infusions including Amaretto, Berkshire Mountain Bourbon, Irish Cream and more.
My Review
Although it is not yet available in stores, I had the honor of trying a few of their syrups for review. The syrups I received included two fruit-infused flavors, Strawberry (yummy!) and peach (cannot wait to try), and two liquor infused flavors, Bourbon (next on the list to try!) and Amaretto (OMG!).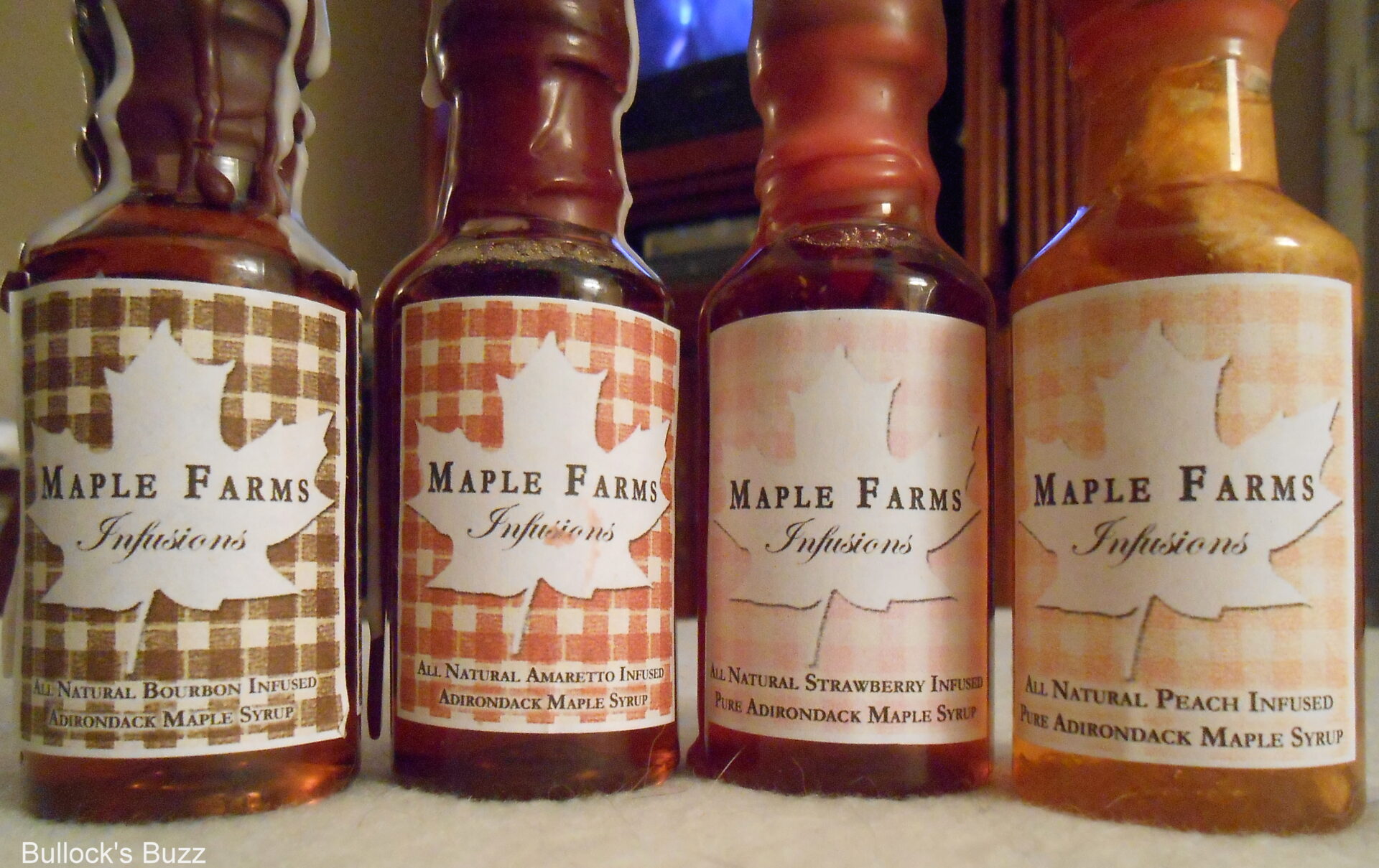 As soon as I picked up the package I could smell an incredibly delicious, sweet-smelling scent that immediately had me fearing a broken bottle. As I opened the package, the scent got even stronger until I was practically expecting to stick my fingers in sticky, gooey syrup. Low and behold, each bottle I removed was perfectly intact! Each bottle was dipped in wax and sealed as promised. In fact, the looked so neat and cool, I really didn't want to open them to try it at all! But since I know you are all counting on me to tell about this product, not to mention the smell was making my mouth water, I sampled two of the four bottles.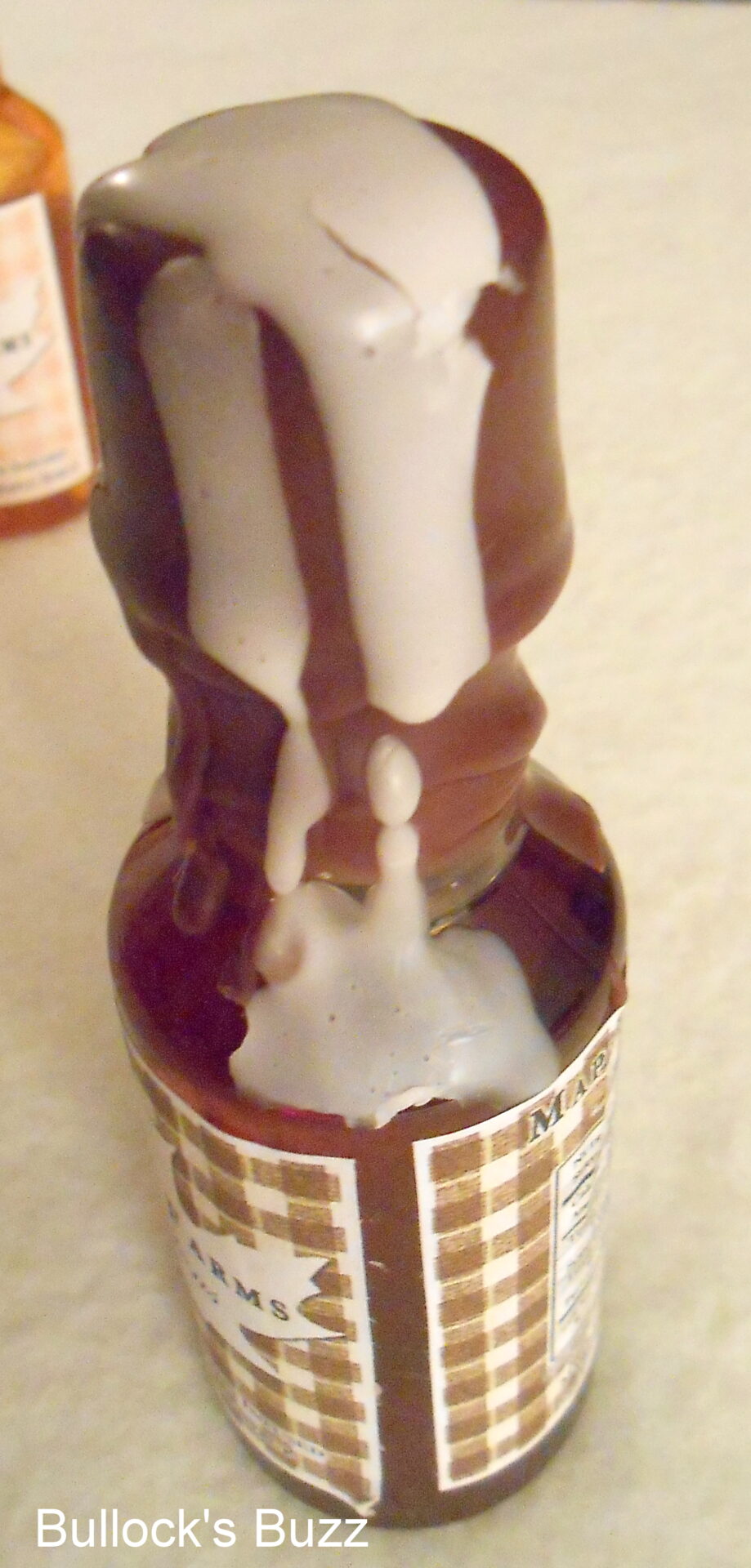 My Verdict
It is incredibly easy to sum up my opinion in one word: WOW!
Seriously! I have never had syrups that are as delicious and flavor packed as these! I have had fresh maple syrup before, back when my mother lived in Connecticut, but even that did not compare to this flavor. Of course I've had fruit-infused syrups before, but none of them have had such a strong, fresh fruit flavor like Maple Farms does. And their liquor infused syrup, now that is a creative and innovative idea and a completely new experience for me!
As I mentioned above, they smell incredibly good! Rich and sweet enough to have your mouth-watering before you even open the bottle. And I love how the syrups consistency was thicker than some, but not so thick that you are having to bang on the bottom of the bottle to get it out, nor were they so thin that they poured like water.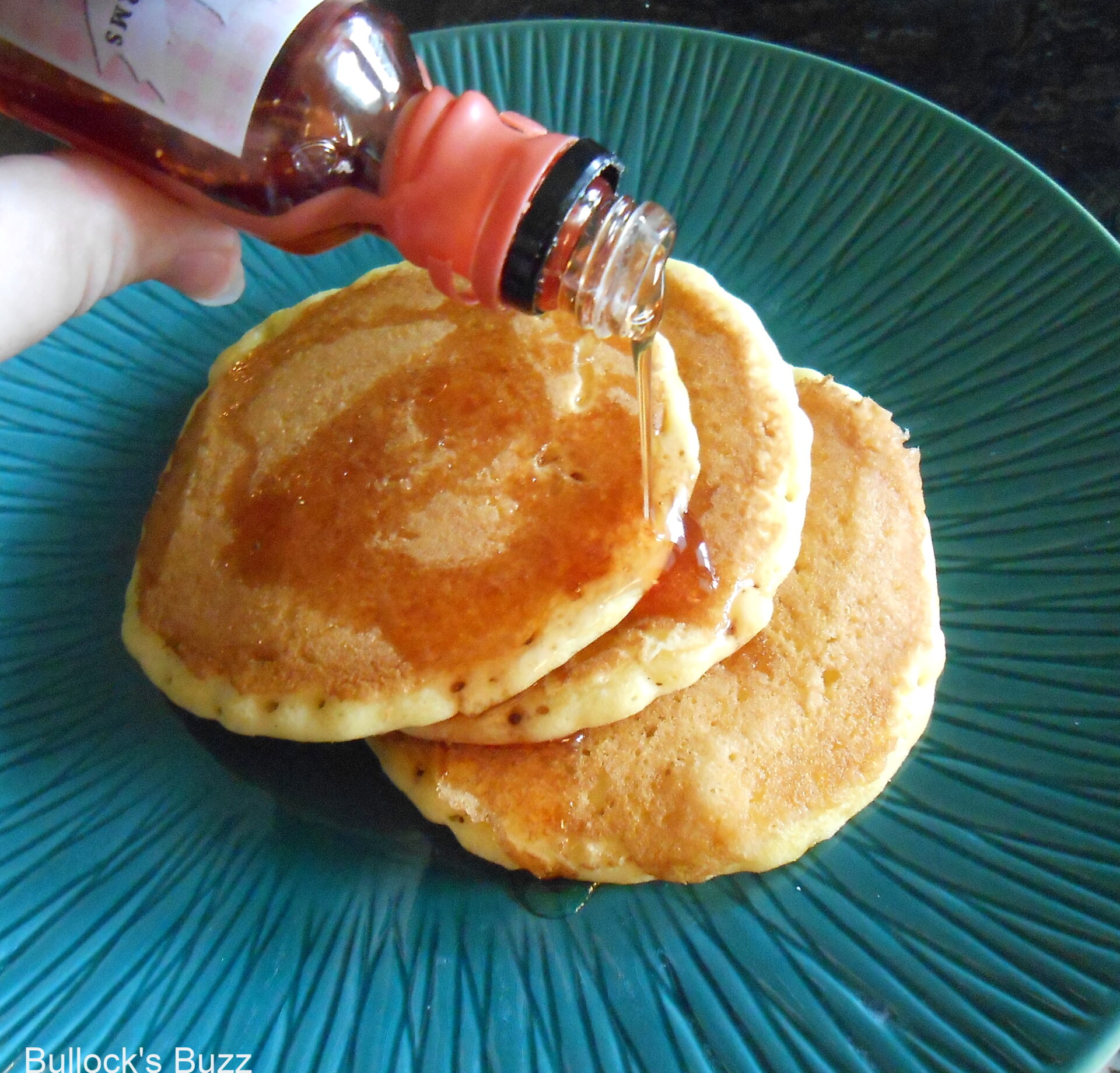 You could really tell that the strawberry infused syrup was naturally sweet and flavored with real strawberries (and there were chunks of real strawberries in it). There was no fake fruit taste or over-powering sweetness. The liquor-infused syrup was just as good, although it is a totally different taste than I have ever had before. You have the naturally sweet taste of the maple syrup combined with the rich, nutty taste of Amaretto which helps to make the flavor deeper and richer than ever!
The Maple Farm Kickstarter Campaign
On May 15th the official Maple Farm Kickstarter campaign began. It offers backers the first chance to receive some of these delicious and unique new products. The more one contributes, the more products the backer receives. For more information about the company including a list of what products come with each contribution amount click here.
Be sure to check out the entire page as it is loaded with information and cool products! It is a great way to support small business and help people reach their dreams (not to mention you get some really delicious products in return)!
How Else Can You Get Some Maple Farms Infused Maple Syrup Products?
Unfortunately as I mentioned above, these delicious products are not available in the stores yet! But hold on! You can get all of their delicious products through the Maple Farms Gift Shop on their website! And they even offer free shipping on orders over $50!
I am really wanting to try some of their other maple syrup products such as the candy and the pancake mixes, not to mention some of those other delicious flavors like the Blueberry! I cannot think of anything that would make for a better tasting breakfast than some Maple Farm pancakes or waffles covered in their delicious infused syrup, especially if it was breakfast in bed! And speaking of breakfast in bed! What a great Father's Day gift idea this would make! Maple Farms Syrup is truly "Maple Syrup Like You've Never Seen It Before"!