FATHER'S DAY GIFT GUIDE SUGGESTION
As much as I enjoy touch screen technology, there is one thing about it I cannot stand: how truly dirty the screens get. Each time you touch the screen or talk on the phone the screen glaringly shows every fingerprint, smudges from all the oils from your skin, make up, dirt, dust, not to mention germs, making it difficult to read through the cloudy/blurry display.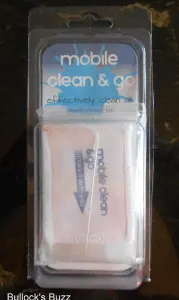 It seems as though every time I pull out my phone or open my lap tap, the screens get progressively worse. I have tried many different methods to clean them from sprays to cloths, but carrying those items with you all the time is not very conducive to saving space. Those little spray bottles always wind up leaking in my purse, and over time those micro-fiber cloths start to do nothing but smear the dirt around.
Well now there is a new and easy way to keep your touch screens clean, the Mobile Clean and Go kit! It is small enough to carry with you anyway where you go, is perfectly safe for all your mobile devices and is even TSA approved for air travel.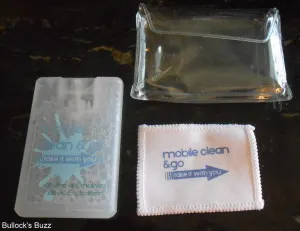 The cleaner comes in an innovative rectangular-shaped flat spray bottle unlike anything I have seen before. The solution was created by two PhD chemists and is perfectly safe to use on phones, laptops, MP3 players, iPads, cameras and more. The 15 mL bottle has enough solution for 250 sprays, so it will last you for quite a while!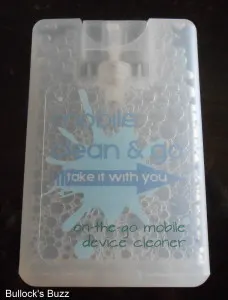 Also included in the kit is a unique dual hybrid microfiber pad that is safe for use on all screens. The pad has two differently textured sides which quickly and effectively remove facial oils, make up, filth and grime without scratching or harming the screen. You use the textured side for cleaning, and then polish with the smooth side.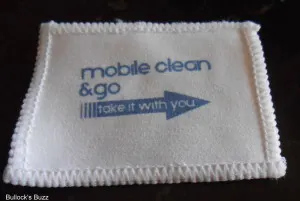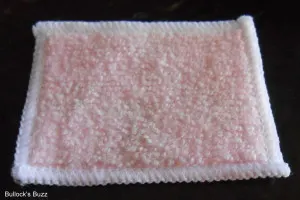 Both the cleaner and the pad slip easily into a handy plastic carrying case which has individual compartments for each component. The entire kit is compact enough to easily fit in your pocket, purse or briefcase so you can have it with you when you need it.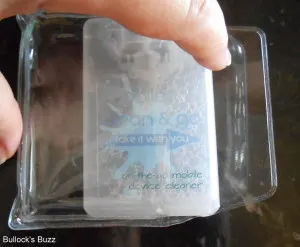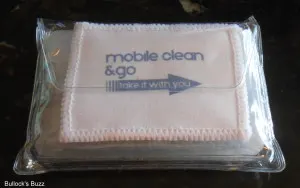 I tested it out on both my smart phone and my laptop. It couldn't be easier to use and the results were ideal!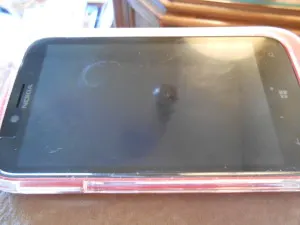 Starting with my phone, I sprayed a bit of solution on the textured side of the cleaning cloth and gently wiped it down.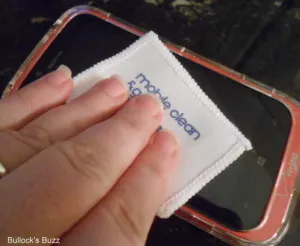 Then I used the other side of the cleaning cloth to polish and that was it. The difference is amazing!
Next came the laptop. Following the exact same procedure my screen was crystal clear within minutes!
Mobile Clean and Go is the perfect solution for cleaning your screens on both your mobile technology and you home technology. It is available as a starter kit (as photographed) or as a value pack that includes 2 sprays and 2 hybrid microfiber cloths. The entire kit is smaller than my phone which makes it ideal for carrying with you. It sure beats trying to clean your screen with the tail of your shirt, a napkin or whatever other handy cloth is within reach!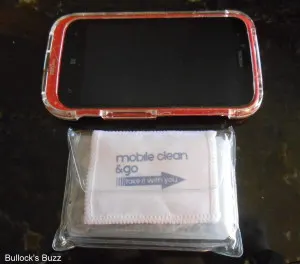 You can purchase the cleaning kit directly through the Mobile Clean and Go website. I suggest getting the value pack so you can have one kit at home and one to carry with you. Consider adding one of these to dad's gift this Father's Day!
Be sure to connect with Mobile Clean and Go on both Facebook and Twitter for the latest deals, promotions and coupons!