Ah, the Messy Eater. Almost every family has one. You know what I am talking about; you put the food out only to wonder a short while later if there is more food on the floor than there is in their tummy! But do you know who I am talking about? I bet you are thinking about your child or children, but I'm not! Nope, I am talking about the family pet! Beloved Fido or Mittens, or in my case, our beloved cat, Sookie.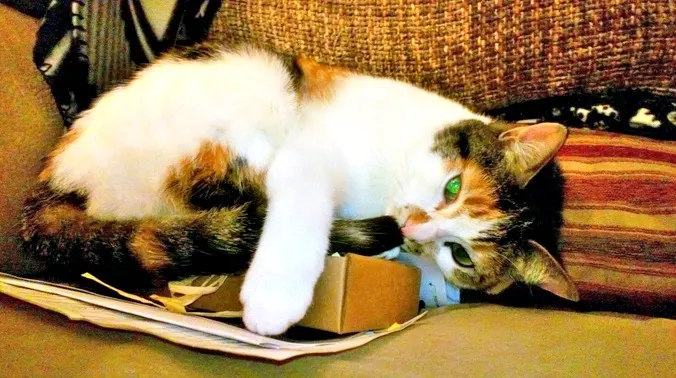 As many of you know, Sookie often reviews products for my readers that have pets as part of their family. This time she had the opportunity to review a much-needed product that is perfect for all of the four-legged messy eaters in the world, the Neater Feeder!
Sookie has her eating routine down pat. I have watched her eat many times, and it never varies. She will crouch in front of the dry food bowl, stretch her neck out and grab a couple of pieces, then move her head back just a bit and chew. Since her head is no longer over the bowl, tiny bits and pieces of food fall from her mouth onto the carpet that we put under her bowls in the vain hope of making clean-up a bit easier.
After doing this several times, you can imagine the mess! And while she hasn't yet knocked over her water bowl, I have seen her play in it and splash and drip water everywhere, so I am willing to bet that day is coming! Or rather I should say that day would have come were it not for the Neater Feeder!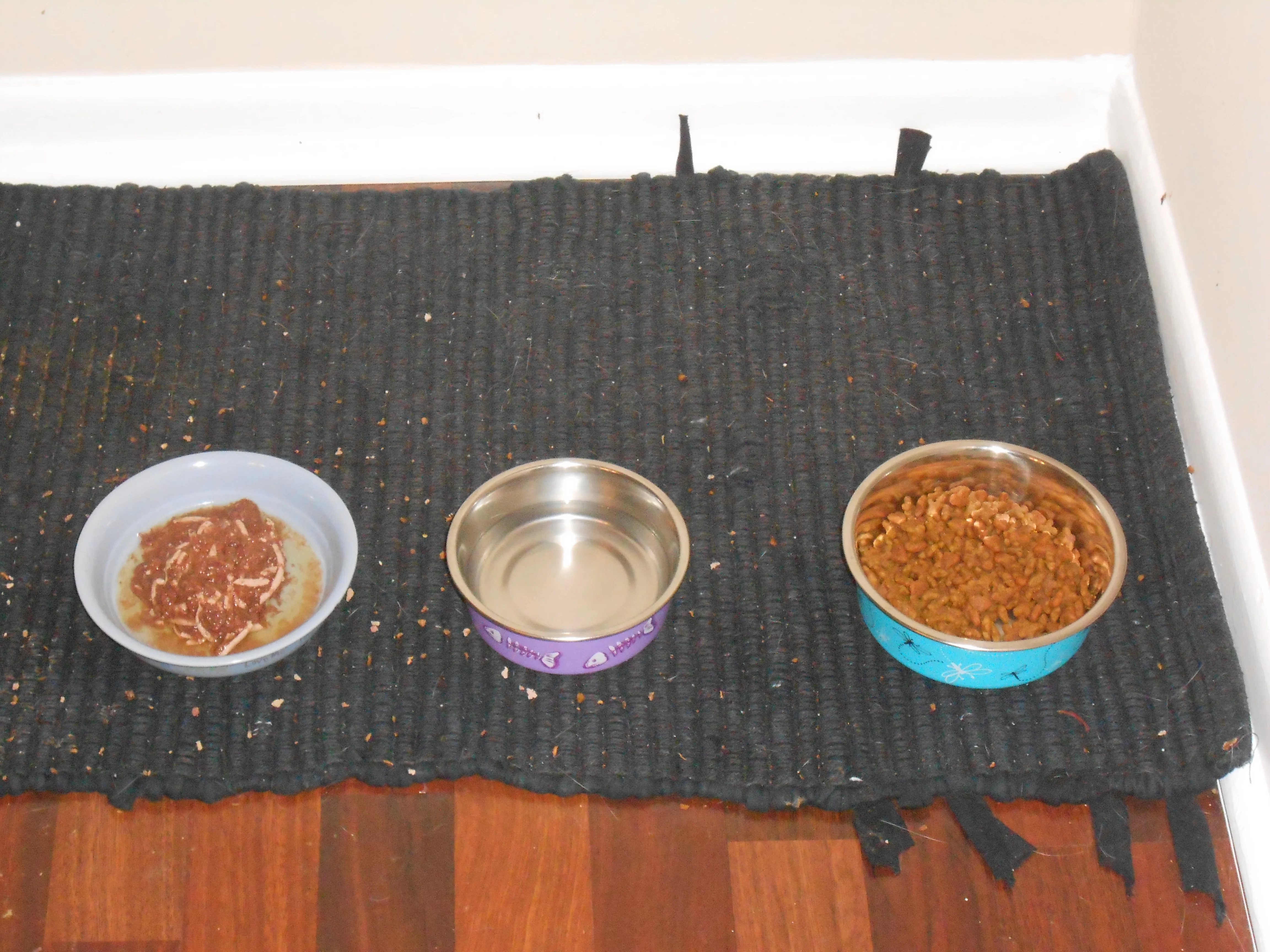 What is the Neater Feeder?
The Neater Feeder is basically an elevated feeding station that has been specially designed for messy eaters of the cat and dog variety. It is available in many different sizes so you can order the one that works best for your pet based on their shoulder height and weight.
There is a Size Chart on the Neater Feeder website to help you find the correct one. Plus, you have a choice of color between Bronze and Cranberry.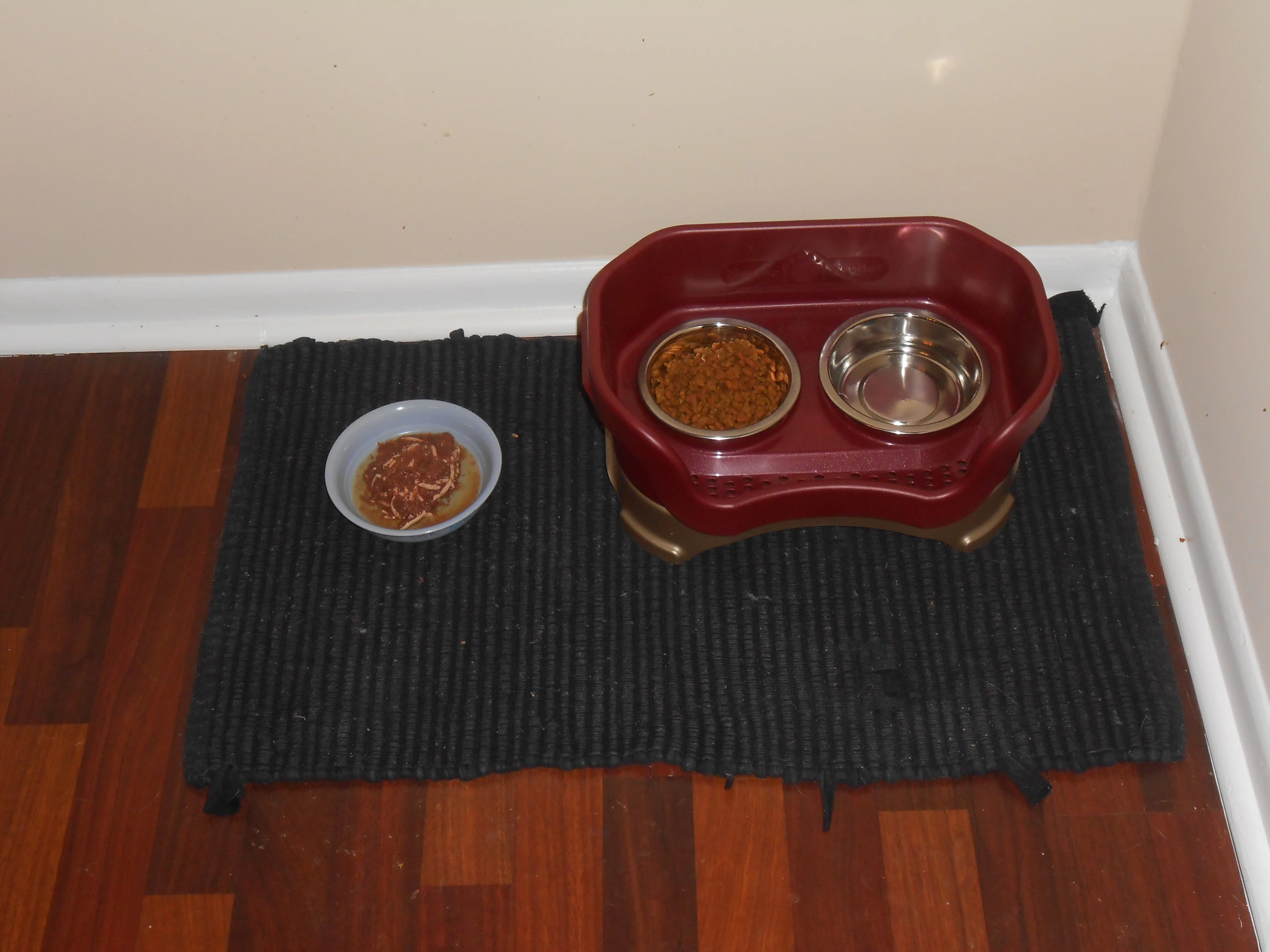 For Sookie, we ordered the Cat Neater Feeder for cats with up to a 6″ shoulder height in Cranberry. It sits about 3″ off the floor and is 14″ wide, which is the perfect size for her where she can either stand up or sit down and still comfortably reach her food.
The Neater Feeder comes with two stainless steel bowls, one 1 cup bowl for food and one 1.5 cup bowl for water, plus a set of non-skid pads. Stainless steel bowls are ideal in that they are easy to clean, they won't stain and they look quite nice, too!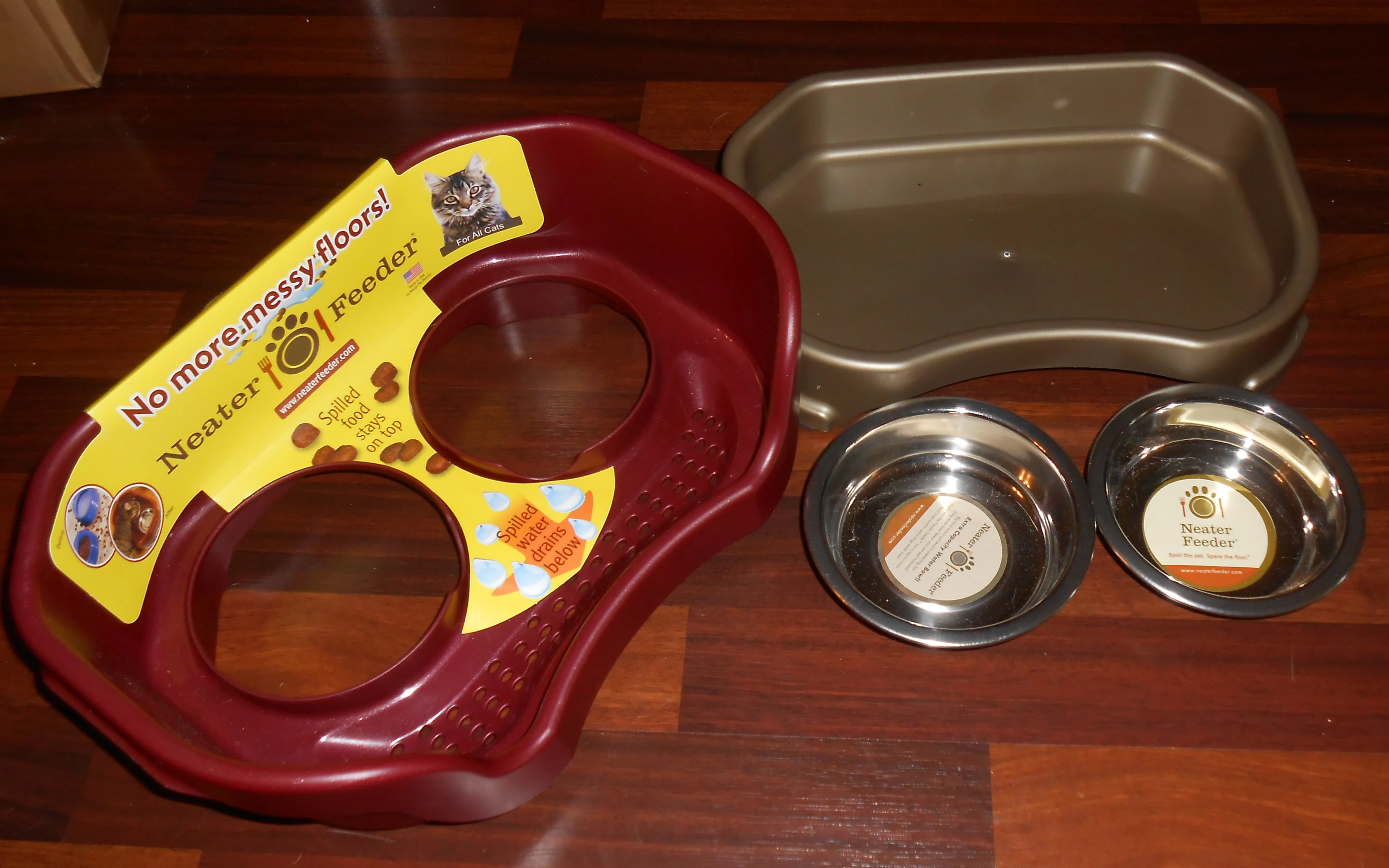 The neatest part of the Neater Feeder is its unique, spill-proof design. It is actually two separate pieces that together form a two level feeding area which traps food and water, effectively keeping them from landing on the floor. The upper level sits directly on top of the lower and forms a platform to catch spilled pieces of food.
It also has small holes in it exactly like a collendar which allows any spilled water to flow directly down to the lower reservoir while any food particles remain on top. The lower level can hold more than a bowlful of water, so it protects your floors until you are ready to dump it out.
The Neater Feeder also has gently sloped walls to keep splashes from accidental kicks or playful pets from hitting your walls and floors. It is the perfectly designed neat, clean way to feed your pets.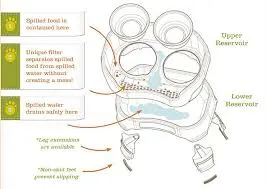 Yet there are other benefits to using a raised feeding station aside from reducing the amount of mess. Did you know that having your pet's food elevated actually has health benefits? It can help improve your pet's posture, reduce neck strain and aid digestion.
Plus, it provides a much more comfortable eating position. And with no food or water constantly sitting out on your floor, you floors look better and last longer, plus ants are much less likely to come around.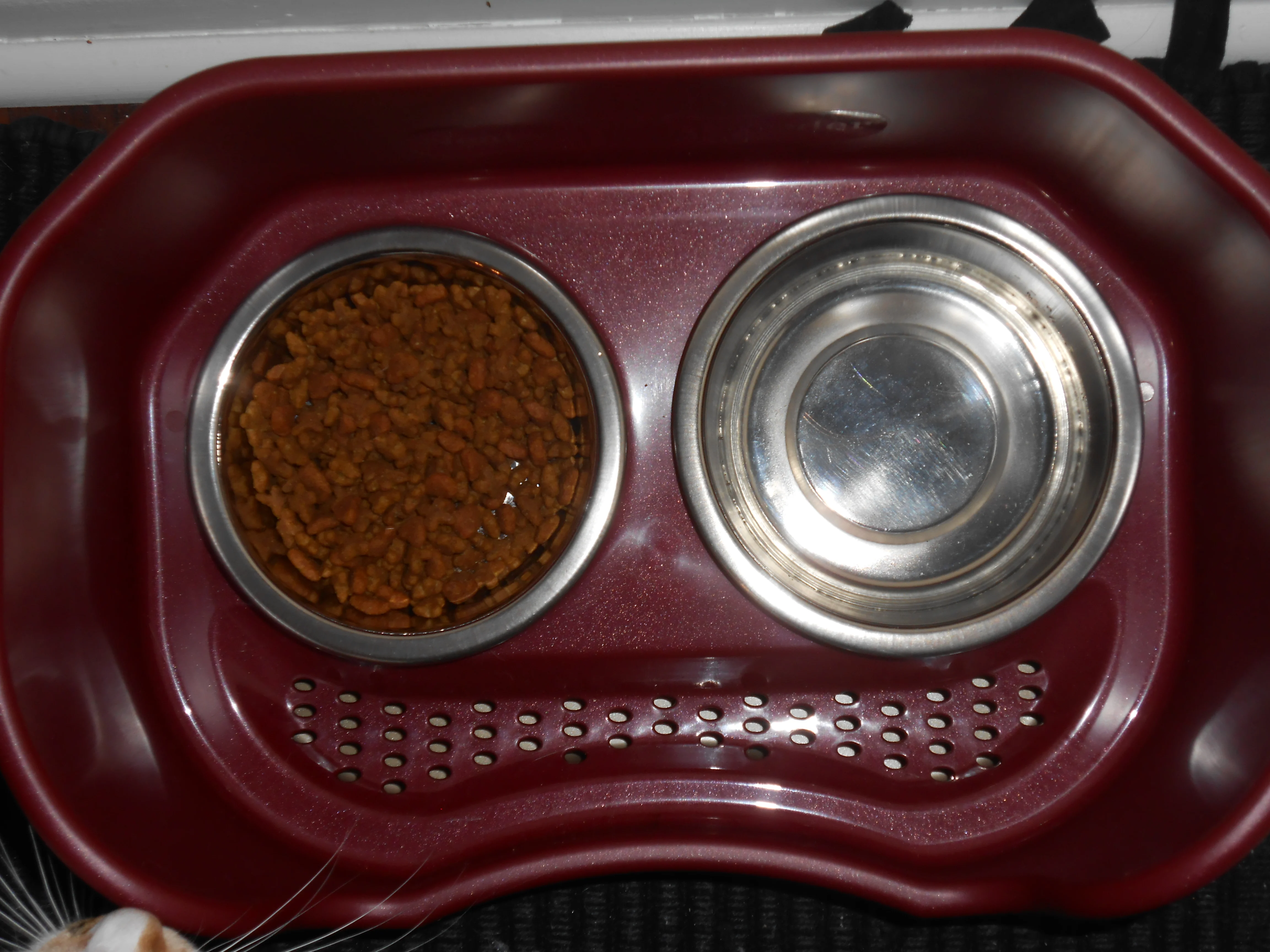 When she first saw it, she wasn't too sure about it and approached cautiously. Once she saw her food in it though, she went to town, and has had no problems with it since! I love that there are no longer thousands of tiny pieces of food all over her carpet and water splashes on the walls and hardwood floor!
I also love how easy it is to clean, and how neat and organized her little feeding area looks now that there are no longer a bunch of different bowls.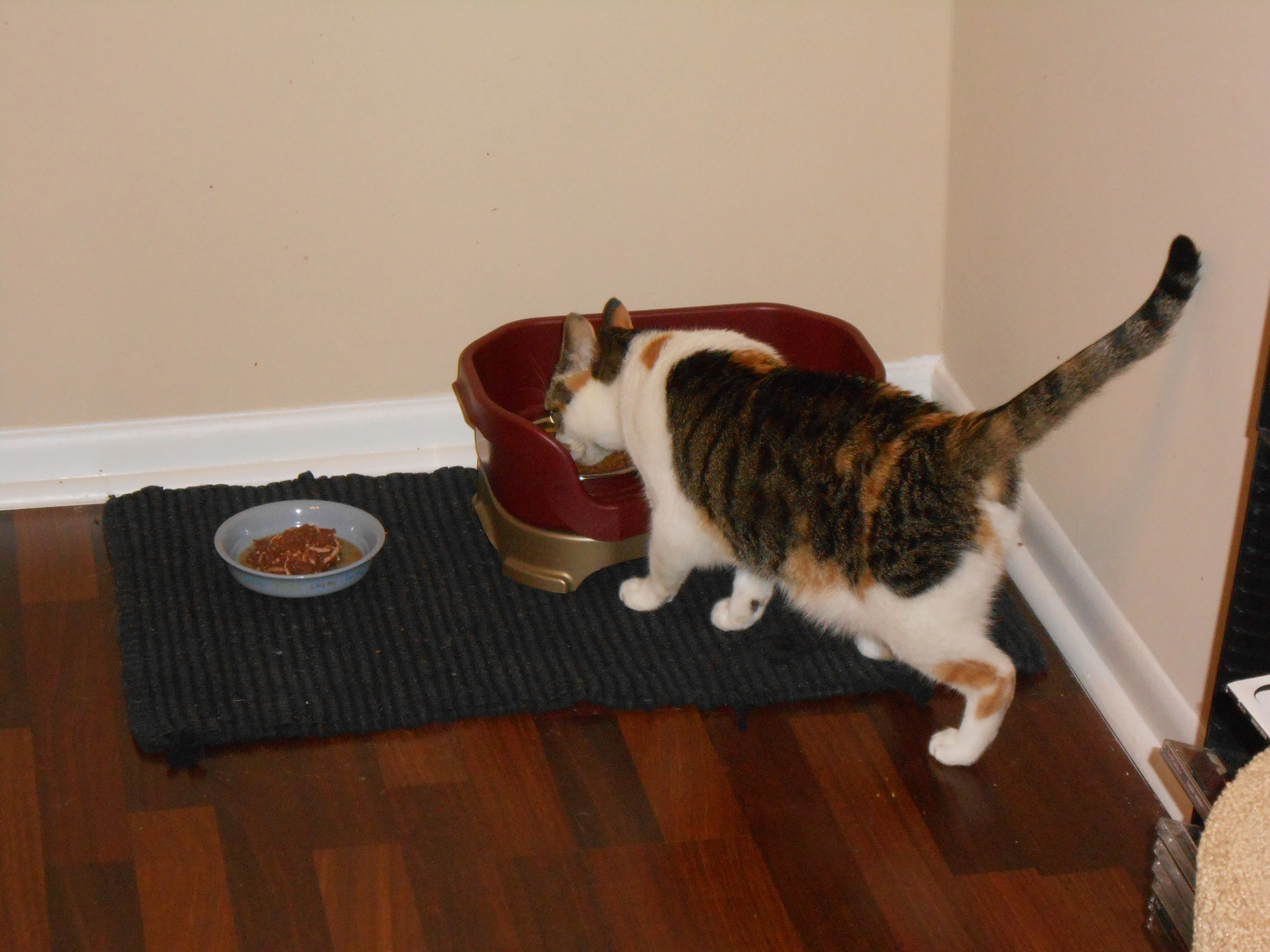 The Neater Feeder can be purchased directly through the site online as well as at many fine Pet Stores. To find a location near you, simply visit the Find a Retailer page on the Neater Feeder website. Be sure to connect with Neater Feeder on both Facebook and Twitter to keep up with the latest promotions, deals and more!