These days there is a lot of focus on the type products women are using for skin care, or more specifically, what ingredients are in those products. I personally prefer to use only those products that are made with organic and natural ingredients, and that are free from chemicals and other possible harmful ingredients. So when I was offered the opportunity to try some products from the Michael Todd True Organics line, I was curious to see how well they work.
Michael Todd True Organics takes a blended approach, combining organic ingredients with powerful anti-aging and blemish healing ingredients to create an effective skin care line care without the use of potentially harmful additives. Their products contain no added water, no parabens, no mineral oil or artificial color or fragrance. They are free of triclosan, phthalates and sulfates, and are never tested on animals – in fact, they are actually tested on their own chairman!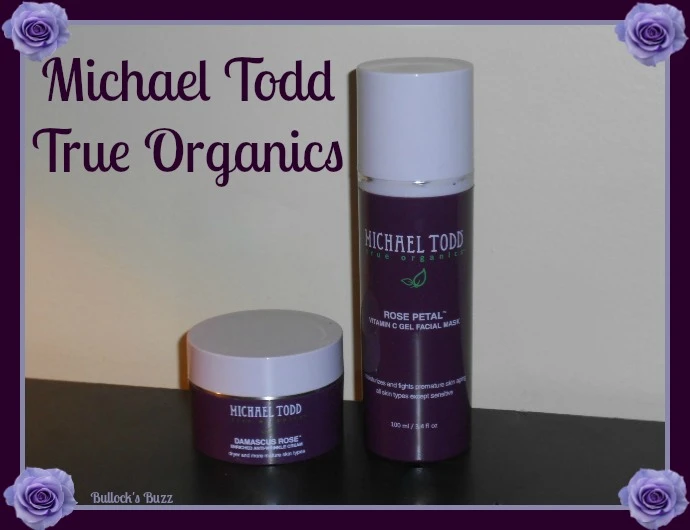 For many skin care companies, their first ingredient is cheap water, sugary fruit juice, drying alcohol or skin suffocating mineral oil. Michael Todd True Organics' first ingredient is 100% organic aloe vera juice, which contains more than 75 nutrients including 20 minerals, 18 amino acids and 12 vitamins, and is well-known for its anti-bacterial, antiviral and anti-inflammatory characteristics. The other ingredients are a blend of organics (usually 70%-95%) and powerful skin actives known for their anti-aging and blemish healing properties such as Alpha Hydroxy Acid and Epidermal Growth Factor to name a few. And so you know exactly what you are using, Michael Todd True Organics state on each product the percentage of certified organically grown plants and fruits used and if the product is vegan.
The Michael Todd True Organics complete skin care line includes products for every skin care issue including anti-aging, blemishes and dry skin. There are cleansers, masks, moisturizers, eye and lip care products and many more – for both women and men. Below are the two products I tried and my opinions of both.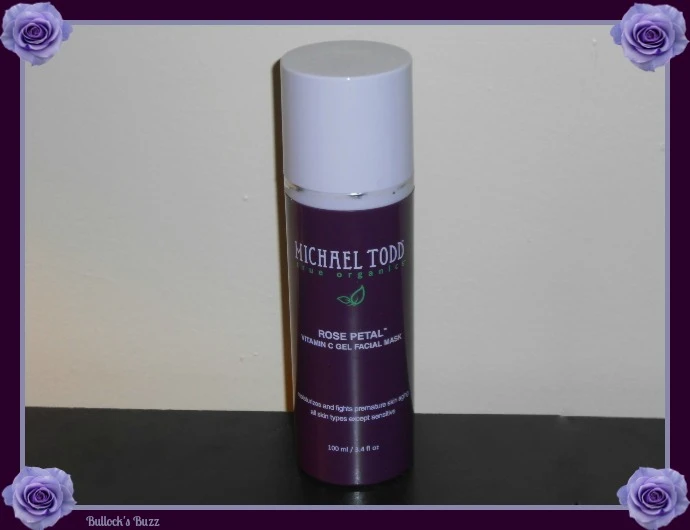 Michael Todd Rose Petal Vitamin C Gel Facial Mask
The Rose Petal Mask is a hydrating, antioxidant and toning mask made from a concentrated extract of real roses. While the rose is best known for its amazing fragrance, it also yields a nutrient-rich oil that helps hydrate, sooth, tone and restore the skin. From rose hips comes the best form of antioxidant Vitamin C which is combined with acai to help fight the effects of free radical and environmental impurities. Finally, the formula is infused with glycolic acid which effectively exfoliates dead skin cells and improves the appearance of fine lines and wrinkles. It is ideal for all skin types except sensitive.
My Opinion
This lightweight gel mask is best used right after your cleanse your face. A small amount is all it takes to completely cover your skin and envelope you in the sweet fragrance of rose. After about 10 minutes, rinse with warm water and be prepared to be amazed! I have been using this mask for a little over 6 weeks, and absolutely love what it does for my skin. Not only is my skin smoother and softer, but it is moisturized and has a more radiant appearance.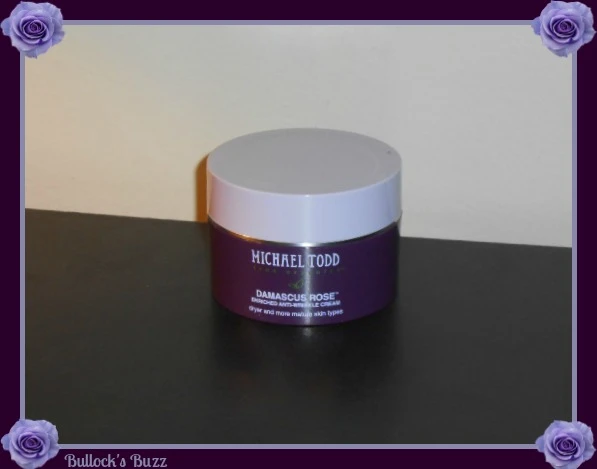 Michael Todd Damascus Rose Enriched Anti Wrinkle Cream
The Damascus Rose Enriched Anti Wrinkle Cream was created specifically for adding moisture to dry skin. It contains 10 different "peptides," including next generation tri-peptides to increase collagen production in aging, collagen-deficient skin, and is loaded with the essential oils of Avocado, Jojoba, Palm, Rose Hips, Wheat Germ, Carrot Seed and Neem. Add antioxidants A, B5, C, E and Co-Enzyme Q-10 to fortify against environmental stressors while restoring the skin's optimal moisture balance, and you get a very effective defense against dry skin and the signs of aging.
My Opinion
This moisturizing cream is my personal favorite and I love how just a small amount leaves my skin hydrated, soft and radiant. It has a wonderful scent, and absorbs quickly without leaving a greasy or oily residue. You know those annoying tiny wrinkles that try to form in the corner of your eyes once your reach a certain age? Those have made absolutely no headway since I began using this moisturizer. It also works great as a night cream!
Where to Purchase Michael Todd Products
Both of these products, along with the entire Michael Todd True Organics skin care line, can be purchased directly though the Michael Todd True Organics website as well as on Amazon.com. If you are looking for a skin care line for aging or problem skin that is made with organic ingredient and is free from damaging chemicals, I definitely recommend the Michael Todd True Organics line!
What type skin care issues are you struggling with?