This is a sponsored post for Advertise with Bloggers on behalf of Mighty Smighties.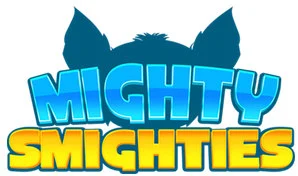 Mighty Smighties: Become the Smightiest of All!
Herotainment, the creators of apps such as Tango Chase, has released their newest multiplayer collectible card game for iPhone, iPad and iPod Touch called Mighty Smighties. If you are looking for a fun, kid-friendly game, that adults will enjoy as well, you have found it!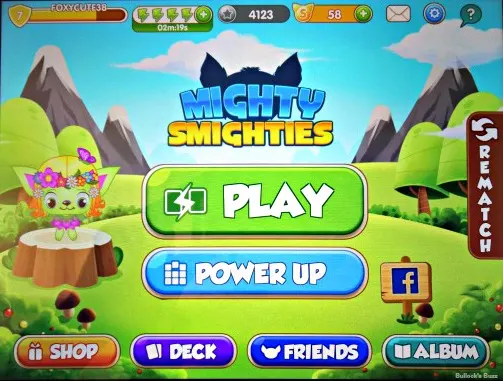 Mighty Smighties is a fun, multi-level card battle game where players can earn rewards by battling the app, challenging their friends, or playing against other players around the world. There are several different gameplay modes and many strategic levels.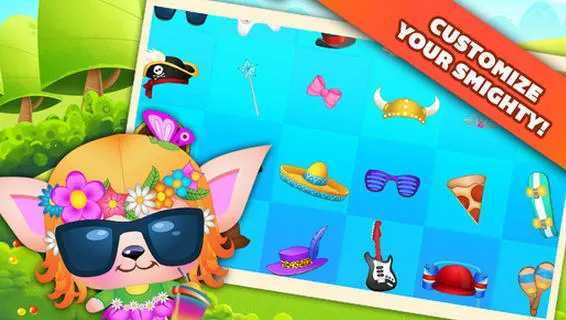 Before beginning play, players get to create and customize their adorable Smighty, choosing colors for the fur and hair. There are tons of characters from which to choose, and all sorts of customizations that you can add as you win coins in the Power Ups challenges.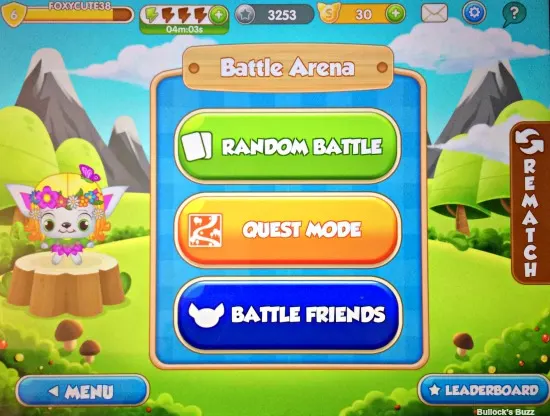 Playing Mighty Smighties
Players have the choice of playing in one of the two real-time, online multiplayer modes (Random Battle or Battle Friends), or exploring the huge Mighty Smighties universe in the single player Quest Mode. In Random Battle, players are matched up with a random online opponent whose experience level varies from lower than yours to several levels above yours. In Battle Friends the game play idea is the same, except here you can pick who you want to challenge and face off against from your friends list. You can build your list by inviting friends to play via Facebook, email, etc.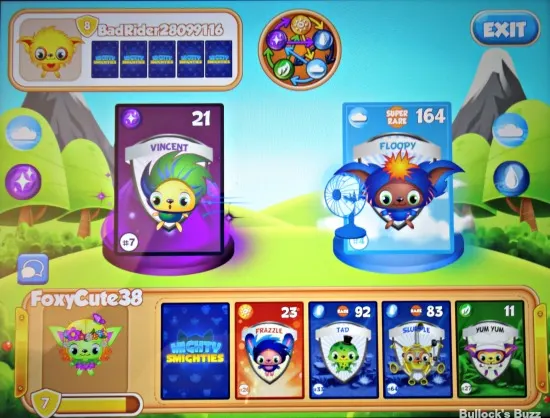 At the beginning of play, players receive a deck of cards. On each card is a Smighty that has its own special elemental power and its own power level, and is of varying rarity. The special powers used within the Mighty Smighties Universe include Earth, Air, Fire, Magic and Water, and each of these has their own strengths and weaknesses. The overall object of the game is to try to play a card whose element beats the element shown on your opponents card. If both players happen to play the same element type, whoever has the highest power level number on their card wins. The winner then gets a free spin on the prize wheel where they can win gold and silver coins, energy cards and other surprises.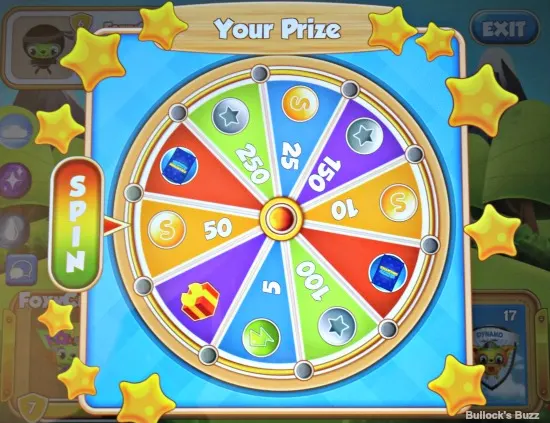 In these play modes, players can actually compete with each other in more than one way since there are Leaderboards set up weekly. This is where the highest-ranked members are listed and can receive some awesome rewards. All players can also build up an in-game profile that shows their in-game stats, including their global ranking, the percentages of games won, the Smighties they own and more.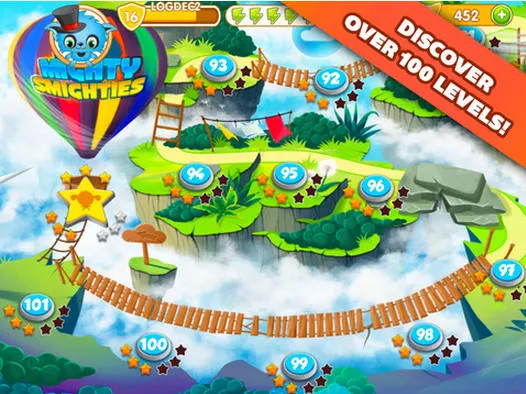 When playing in Quest mode, or single player mode, the object of the game is still to beat your opponent with the best card, but in this mode you journey along a map through the Mighty Smighties Universe. As you move from level to level, you are tasked with completing quests in order to gain gold and silver coins (which can be used to buy customizations for your Smighty, booster packs and more). Each level has three modes of difficulty including Normal, Power and Epic, all of which add variety and challenge to the game – although you only need to win in Normal mode to move on to the next level.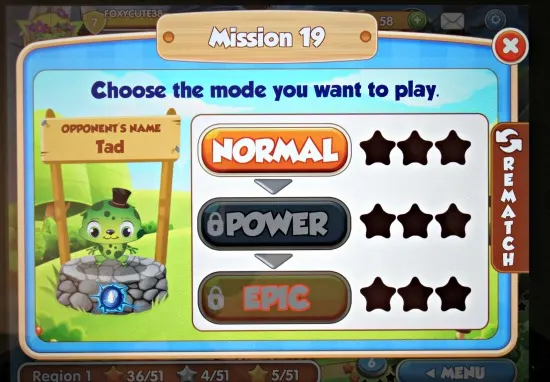 In Normal mode play is the same as it is in the above multi-player game modes. It is the basic mode where you defeat your opponent by playing a card whose element beats your opponent's element, or by having a higher power level number if both players happen to present the same element card.
In Power mode the card with the highest number wins. This mode introduces the Card Overcharge meter which is where you click to spin a meter which can stop on random amounts that will then be added to your cards value.
'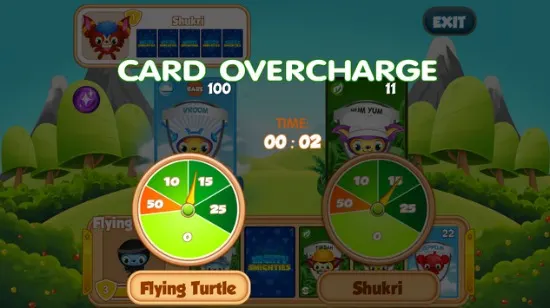 Epic mode is similar to Power mode except the cards you play with are randomized and the Card Overcharge meter now includes negative values. So even if the card you present has a higher number than your opponent's, you can still lose if the Card Overcharge meter stops on a negative value because it subtracts from the value on your card!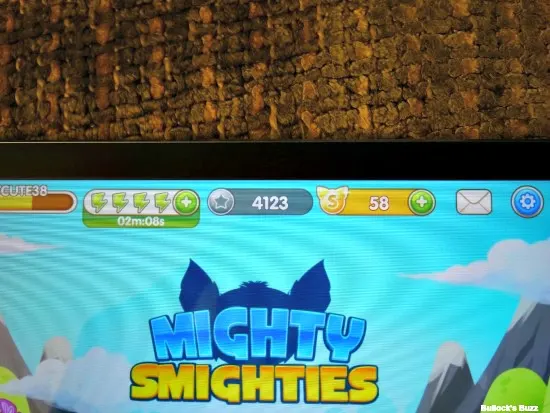 Challenges and Strategy in Mighty Smighties
To make the game even more challenging, each move is timed, and many of your actions in the game require energy. You only have have a limited amount of this energy before you run out. However, there is a Power Up mini-game which lets you earn back energy, as well as earn additional silver coins. This is helpful not only for the obvious reasons, but also because it lets kids continue to play without having to make any in-app purchases for more energy.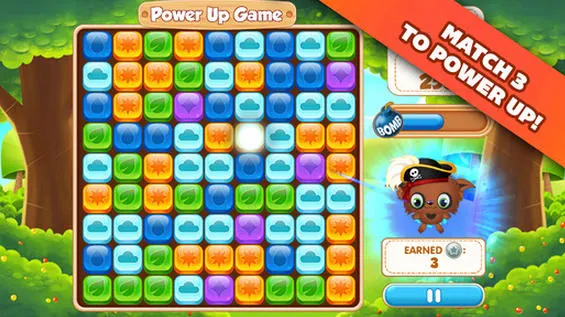 Speaking of purchases, the Mighty Smighties game also includes a Shop. This is where you can buy more energy, coins, single cards, booster card packs and even Smighty customizations either with the currency you have earned through play, or through in-app purchases using real currency.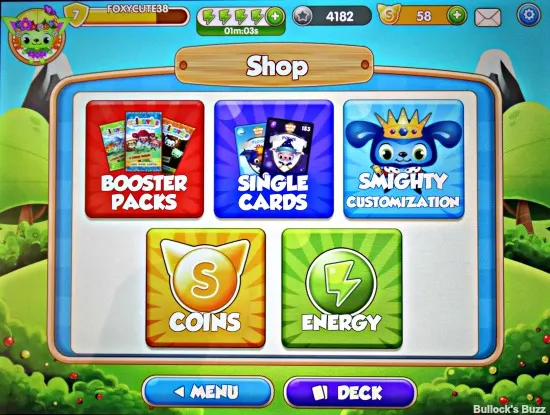 As you progress through the different levels of the game, you gain the ability to build your own deck of cards (and to collect tons of new cards), therefore introducing even more strategy into the game. Likewise, you gain the ability to Combine cards from your deck to make them more powerful, as well as to Evolve your cards which serves to unlock an ability unique to that particular card's element. Together these abilities add new dimensions to gameplay and makes it even more fun for everyone involved!
My Thoughts on Mighty Smighties
With cute animations, bright colors and many options and levels for play, Mighty Smighties is a great game for kids – and adults – of all ages. One thing I particularly like is that the game and the level of strategy is simple enough that younger kids will be able to understand what is going on and enjoy playing, while older children will really enjoy getting into the strategy behind the battles, and behind combining cards and evolving them to unlock their unique powers.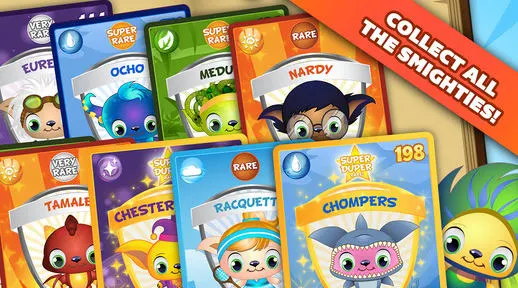 Mighty Smighties is currently available for iOS devices in the iTunes store as a FREE download, although the app also offers in-app purchases. It requires iOS 6.0 or later, and is compatible with iPhone 4, iPhone 4S, iPhone 5, iPhone 5c, iPhone 5s, iPhone 6, iPhone 6 Plus, iPad and iPod touch. It is also optimized for iPhone 5.