The Form-Fit Pillow: Naturally Cool and Comfortable with Adjustable Support
When I lay my head down at night, I not only want to be comfortable, I also want – and need – to have the proper support for my head and neck. A car accident in my mid-20's left me with neck and shoulder pain that can easily be made worse without the proper support when sleeping. For years now I have been trying to find the perfect pillow – one that is soft and comfortable, yet supportive – and preferably remains cool to the touch. For some reason I haven't had much luck. Then I heard about the Form-Fit Pillow.
Please note, this post may contain Amazon affiliate links to make shopping easy. If you make a purchase through these links, I'll make a small bonus at no extra charge to you.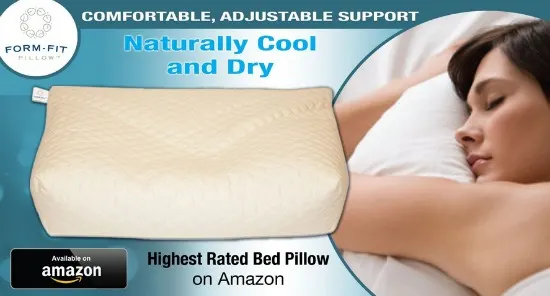 Carrying the title of the Highest Rated Pillow on Amazon (110 reviews, 4.9 rating), the Form-Fit Pillow
is unlike any pillow you have tried before. Instead of using down, memory foam, or foam, this innovative pillow uses a blend of clean, all natural buckwheat hulls and soft foam for the filling.
Buckwheat Hulls and the Form Fit Pillow
Buckwheat hulls are the hard outer shells of the seeds of buckwheat grain. These hulls are strong, aromatic and do not retain or reflect heat. They are (and have been for years) very popular throughout Asia, where they are used in everything from furniture to pillows. While the thought of using these hulls in a pillow may seem a bit odd at first, these pillows are actually quite popular for several reasons.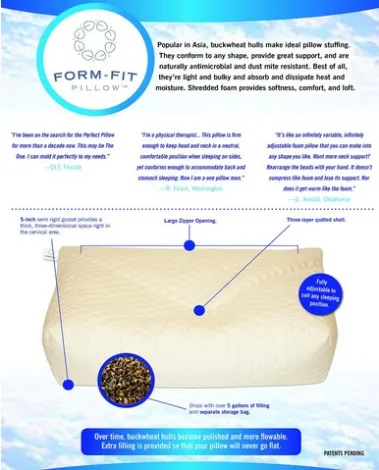 First of all, buckwheat hulls don't compress, instead they conform to your shape, providing comfort and support for your cervical spine and neck. They will hold whatever shape your prefer, and are naturally cool, dry and breathable. In addition, they are naturally anti-microbial, and are a great non-allergenic alternative for many who suffer from allergies. The makers of the Form-Fit Pillow have also mixed in pieces of foam with the buckwheat hulls, adding softness and loft, and making this unique pillow even more comfortable.
Adjusting the Form-Fit Pillow
The Form-Fit Pillow arrived over-stuffed, along with an empty plastic bag and a container that you can use to remove as much of the filling as you prefer. The pillow's three-layer, quilted cover is made from natural, unbleached cotton muslin, and can be machine-washed as needed. The cover is very well-made, and has a large zippered opening to make adding and removing the filling fast and easy. If the pillow is too full for your comfort level, simply unzip the case and use the cup to remove however much filling you want. Of course, the more filling you remove, the less firm the pillow will be. Place the excess into the provided plastic bag, and put it away until you need it again. Finding the perfect level is definitely a process of trial and error, one that took me several days. However, once you find the amount that works for you, it is totally worth it.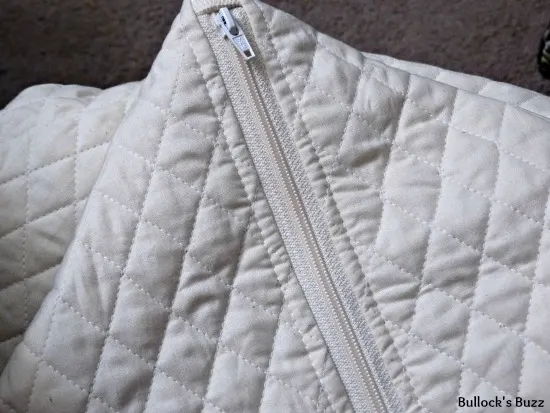 When I first opened the zipper, I was surprised at the way the filling looked and felt – it was definitely not what I was expecting. The buckwheat hulls were a lot lighter than I thought they would be, and they can get everywhere if you are not careful! I actually placed the pillow inside the box it came in before scooping the filling out in order to avoid any spills. There is more than enough filling included, so you won't have to worry about not having enough or your pillow going flat.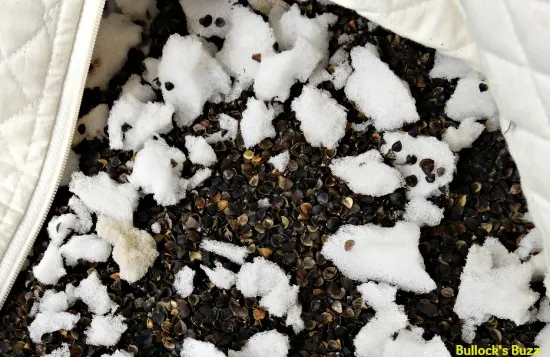 Using the Form Fit Pillow
Once you have the pillow filled to your liking, it's up to you if you want to put it inside a pillowcase. Although the cover it comes with is nice and soft, it is designed to fit any standard size pillowcase. To set the pillow, simply shake the filling down to the sleeping edge (the one without the zipper), lay it flat- and then find your most comfortable position for sleep. You can adjust the pillow to any position whether you sleep on your side, back or even on your stomach by simply pushing on it to adjust the filling to the shape you prefer.
When it comes to care, the Form-Fit Pillow is machine washable, although you want to be sure that you remove all of the filling before washing, and then follow the instructions on the label. Once it is clean and dry, you simply refill it and you are good to go!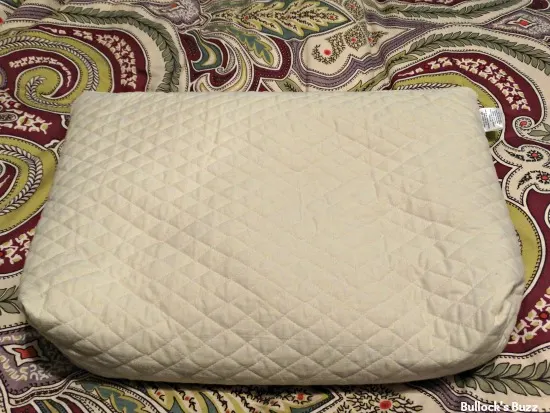 My Opinion of the Form-Fit Pillow
As soon as I had my Form-Fit Pillow ready to use, I have to admit I developed several doubts. First of all I had noticed the 'crinkly' sound the hulls made when I was removing some of the filling, and when moving the pillow around. I was worried about it bothering me as I changed sleeping positions throughout the night. Secondly, although I love the idea of being able to adjust it to my comfort level by adding or removing filling, I just couldn't imagine how this hull-and-foam filled pillow could be soft and comfortable. In addition, although the hulls are light, the sheer amount of them made the pillow semi-heavy, and I have always preferred a light pillow. This Form-Fit Pillow was definitely unlike any other pillow I had ever used, but I was willing to give it a try in my search for comfort and support.
I have now been sleeping on this pillow for a little over 3 weeks, and as far as my above concerns, I needn't have worried. At first it took me a couple of nights to get used to this pillow. Not only was finding the right amount of fill a process of trial and error, but getting used to sleeping on pillow filled with something other than foam or feathers also took some time. After those first few nights though, I have been sleeping comfortably. The noise I had originally noticed turned out to not be a factor at all – especially since it only occurs when adjusting the pillow. As far as comfort, it is a lot more comfortable than I could have ever imagined it to be. It really does conform and hold whatever shape/position you push it into, and it provides plenty of support. I can't even begin to tell you how nice it is to wake up in the morning without any of the usual aches and stiffness in my neck and shoulders that I used to experience. My husband even mentioned that I am not tossing and turning as much as I used to. As far as allergies, neither my husband nor I suffer from them, so I cannot give an opinion about the pillow's non-allergenic properties.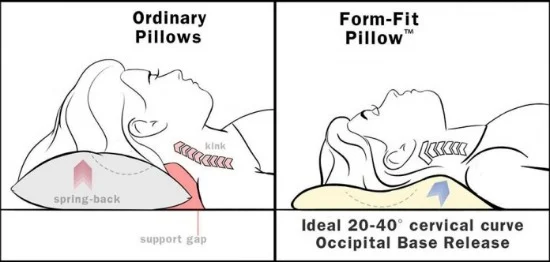 It's no surprise to me as why this pillow is the top ranked pillow on Amazon! It's soft, supportive, comfortable, clean and cool; and it even retains the position you push it into! If you are looking for a new pillow that will help you sleep more comfortably, then I definitely recommend giving the Form-Fit Pillow a try!
Purchasing the Form-Fit Pillow
The Form-Fit Pillow can be purchased directly through Amazon.com
. It is priced at $59.99, and carries a 10-year warranty. While its price of $59.99 may sound a bit steep for a pillow, the comfort and support it provides is well worth it. Plus, if you have ever shopped for a high-quality pillow, you may be surprised to find that some cost even more than this one.