I am a big fan of aromatherapy and have been using essential oils for years. But the one thing I have been lacking is an electric diffuser. A diffuser allows you to infuse essential oils into any room, dispersing the molecules into the air and enabling the body to use them as you breathe in their wonderful aromas. While I love using my tea light candle diffuser, I have been wanting something that has more power to spread the scent throughout the house. At the same time, I've been needing a humidifier to add some moisture to the dry air. Then I discovered the MIU Color 300 ml Aroma Diffuser Ultrasonic Humidifier.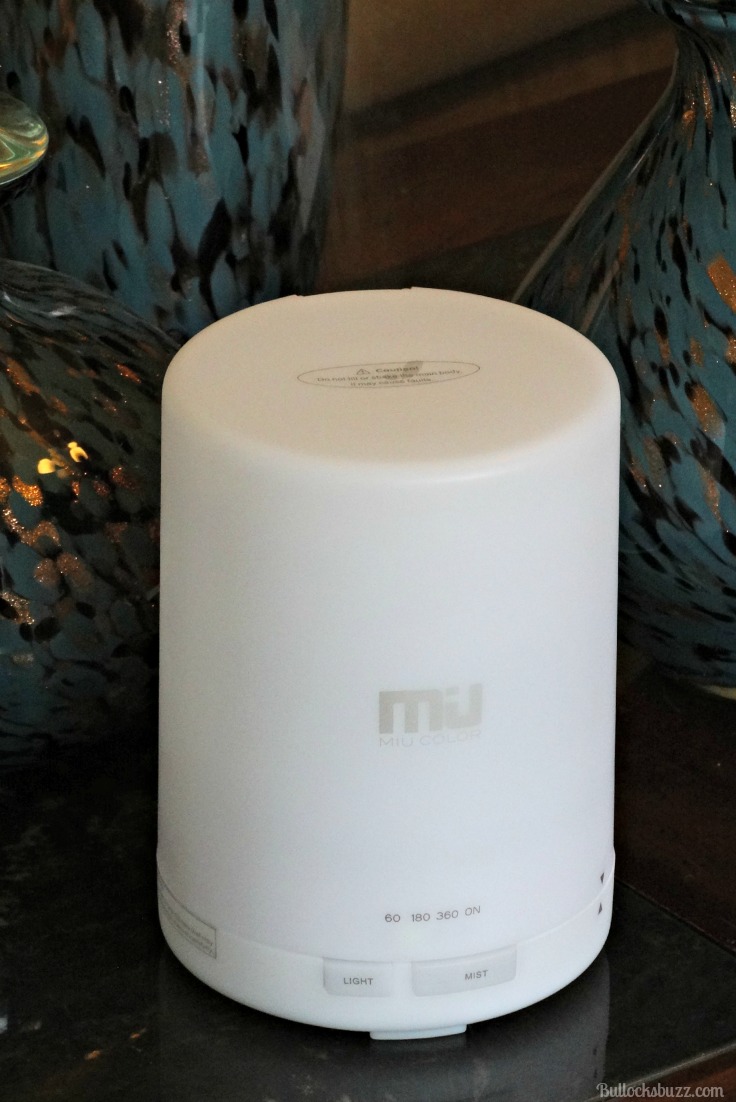 About MIU Color
"MIU COLOR® is based on the theme of "slow life ", simple, environmentally friendly, comfortable daily necessities for consumers everywhere, focusing on the development and extension of the day-to-day supplies, products ranging from home, office, travel, to clothing.
MIU COLOR® stores cover all over the world, and provide a relaxing and harmonious, natural enjoyment for the fans of" slow life "to enjoy the sun, air, water, exercise and the source of life and health."
The MIU Color 300 ml Aroma Diffuser Ultrasonic Humidifier
The MIU Color 300 ml Aroma Diffuser Ultrasonic Humidifier has a simple design that looks nice in any room, and at a mere 6″ high and almost 4.25″ in diameter, is very unobtrusive. But don't let its small size fool you, for this 300ml capacity diffuser is not only full of fun features, it also packs quite the punch!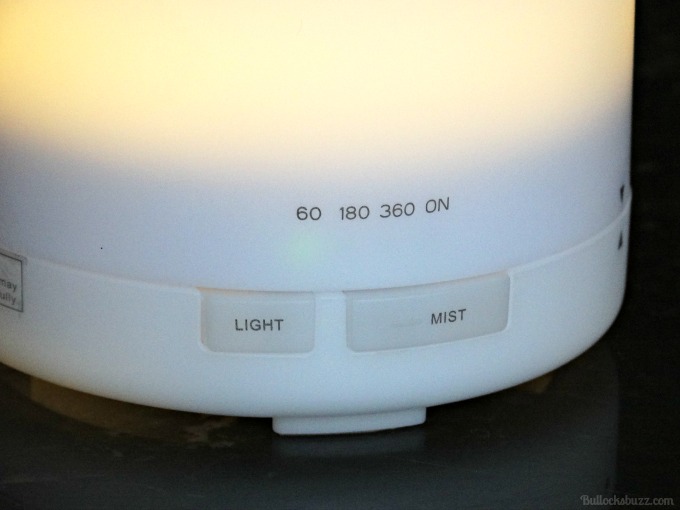 In addition to the fact that it is both a diffuser and humidifier, the MIU Color 300 ml Aroma Diffuser Ultrasonic Humidifier also features an LED light and a timer. Near the bottom of the unit are the unobtrusive buttons you use to control each feature. The light can be switched between two settings – high and low – and works to add even more atmosphere to a room, plus it also provides the perfect amount of light to use as a nightlight in a child's room. The timer is another great feature, and can be set to 60, 120, or 180 minutes.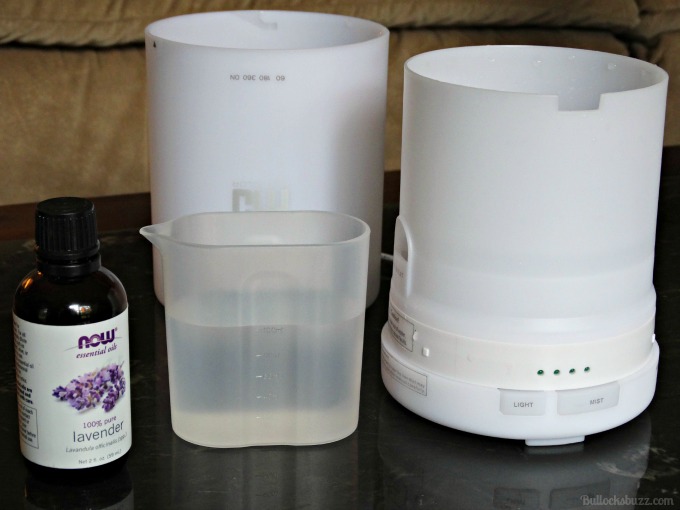 The diffuser is very quiet and simple to use. It comes with a measuring cup, so all you have to do is lift off the cover from the water tank and add however much water you want ( as long as you don't go over the fill line). Then you can add your choice of essential oils, put the cover back on and enjoy the wonderful scents!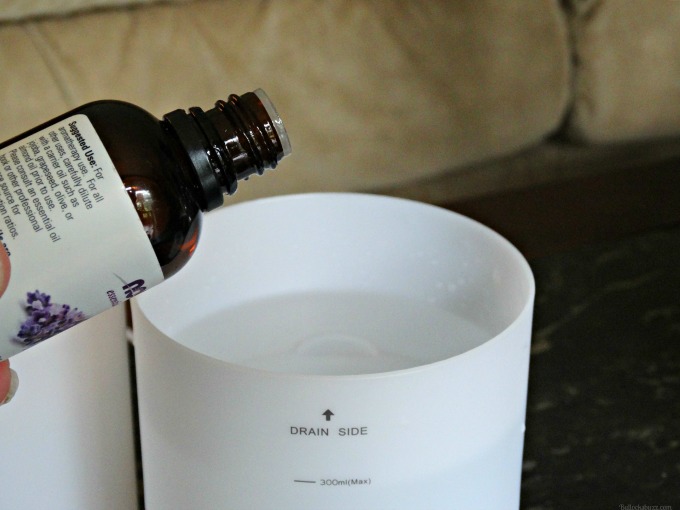 I am quite impressed with this little diffuser! Not only does it have lots of great features, but it works extremely well! I love the ease of use, the lack of noise, and the power this cute diffuser provides. I like to turn it on while I am working during the day, and within just a few minutes of adding the water and my favorite oils, the entire room smells wonderful, and the air is no longer dry. I've been using it for about three weeks now, and have not had any problems.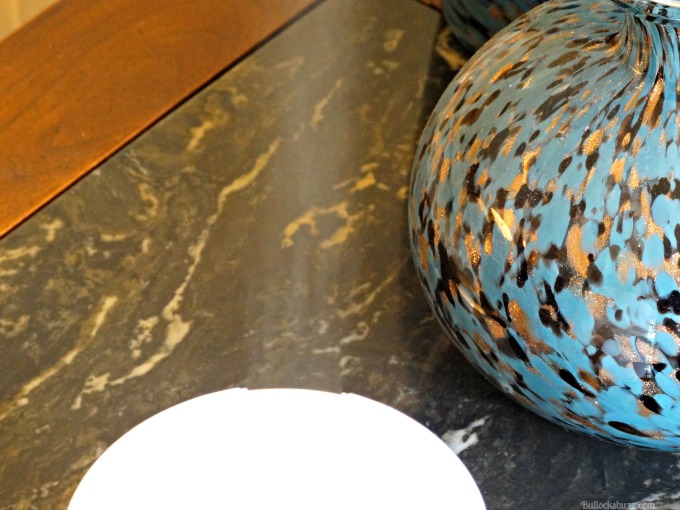 10 Aromatherapy Blends You Have Got to Try!
Those of you who are familiar with aromatherapy know that scent can be used for a myriad of things ranging from helping you relax to settling an upset stomach. While each essential oils can be used alone, you can also combine them for a plethora of fantastic scents. Below are some of my absolute favorite essential oil blends.
Quick Pick-Me-Up or Alertness: 2 drops each of Wild Orange and Peppermint essential oils
Wake Up: 2 drops Wild Orange + 2 drops Peppermint
Fresh and Clean: 2 drops Lavender + 2 drops Lemon + 2 drops Rosemary
Headache Relief: diffuse equal parts Marjoram, Thyme, Rosemary, Peppermint, and Lavender oils
Calming: 4 drops Roman Chamomile, 3 drops Lavender, 2 drops Clary Sage, 2 drops Geranium, and 1 drop Ylang Ylang
Clear breathing & Healthy Immune System Boost: 2 drops Lavender + 2 drops Lemon + 2 drops Peppermint

Cold & Flu Relief:

1 drop Lemon + 1 drop Lime + 1 drop Peppermint + 1 drop Rosemary + 1 drop Eucalyptus

Bug Repellant: 1 drop Lemongrass + 1 drop Melaleuca + 1 drop Thyme + 1 drop Eucalyptus + 1 drop Rosemary
Emotional Healing: 2 drops each Wild Orange, Bergamot, Cypress, and Frankincense essential oils
Holiday Celebrations: 4 drops Patchouli, 3 drops Cinnamon, 4 drops Sweet Orange, 1 drop Clove, and 1 drop Ylang Ylang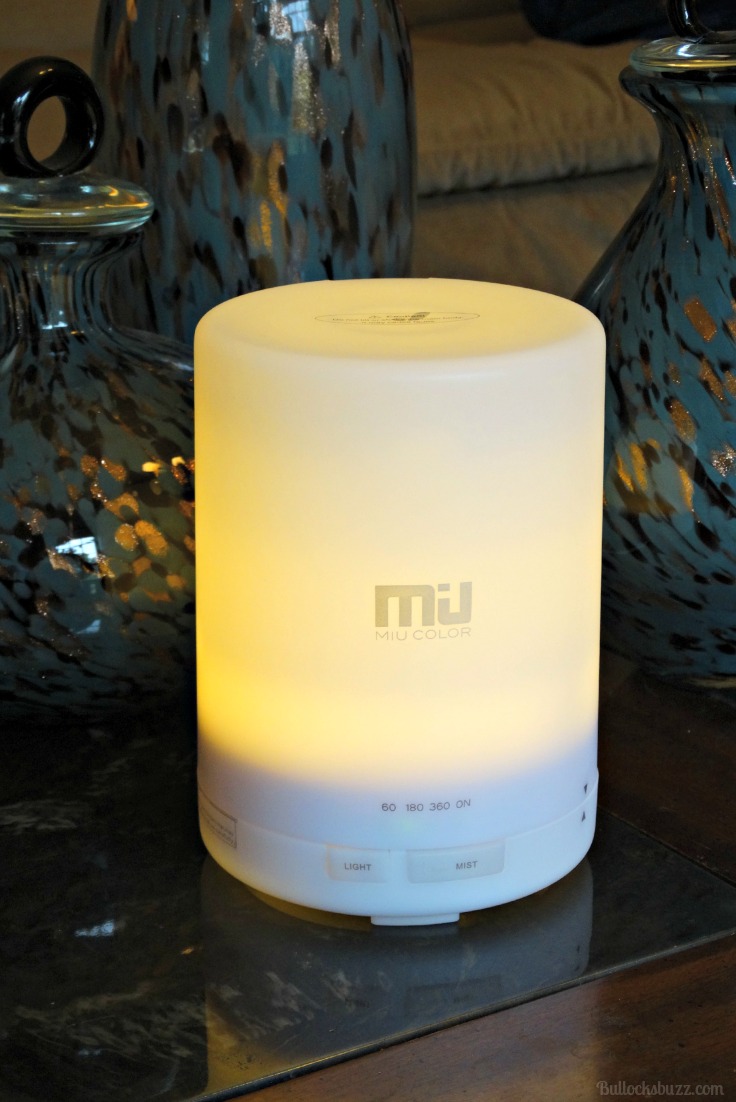 More About the MIU Color Aroma Diffuser Ultrasonic Humidifier
Ready to try it for yourself? The MIU Color 300 ml Aroma Diffuser Ultrasonic Humidifier can be purchased either directly through the MIU Color website, or on Amazon.com
. Don't let its budget friendly price fool you though, this little diffuser really works great!
MIU Color has several different diffusers including one that you can change the color of the light. This particular one only has the white light.
Connect with MIU Color: Website | Facebook | Twitter
Do you have a favorite essential oil recipe? Share it with us below!