Filled with fun and festive treats, this simple New Year's Eve Charcuterie Board is the perfect way to ring in the new year! Best of all, it takes just minutes to make!
Those of you who read this blog often probably know that I love to create charcuterie boards for special events and holidays. Heck, I've made an Easter Charcuterie Board, a St. Patrick's Day Dessert Charcuterie Board, and even a spooktacular Halloween dessert board! So of course I just had to make a New Year's Eve Charcuterie Board, too!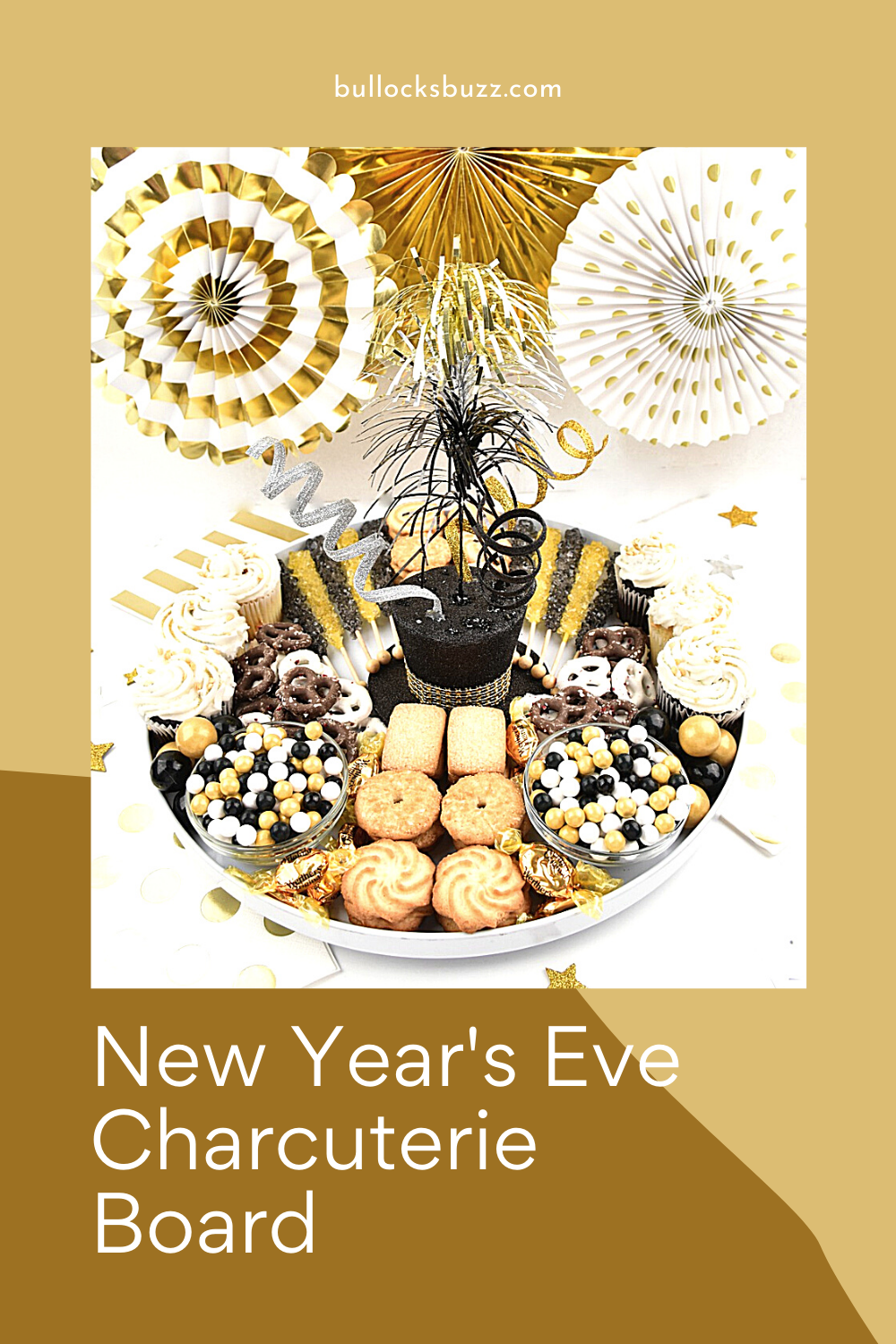 This New Year's Eve Charcuterie Board is one of my favorite dessert boards I've made so far! I love how the colors look together, and the combination of sweet and salty treats are perfect for ringing in the new year. Plus, it's so easy to make!
Best of all, this New Year's Eve Charcuterie Board literally takes just minutes to make. So if you're in need of a last-minute snack idea for a gathering or party, there's no need to look any further; you've found it!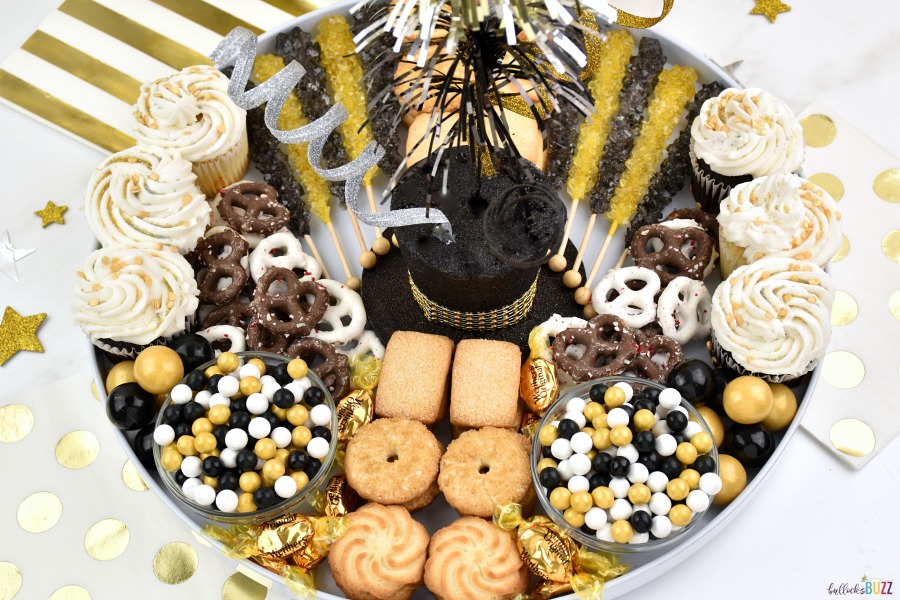 How to Assemble a New Year's Eve Snack Board
Since many of us won't be attending huge parties with lots of people, I decided to make this particular dessert board a bit smaller. It turned out to be the perfect size for a family celebration. Of course, you can make yours as large or as small as you need.
How to Make a New Year's Eve Dessert Charcuterie Board
This fun and festive Dessert Charcuterie Board for New Year's Eve is filled with delicious sweets and treats! Let me show you what I used to make this sweet-filled dessert tray in time for your New Year's celebration.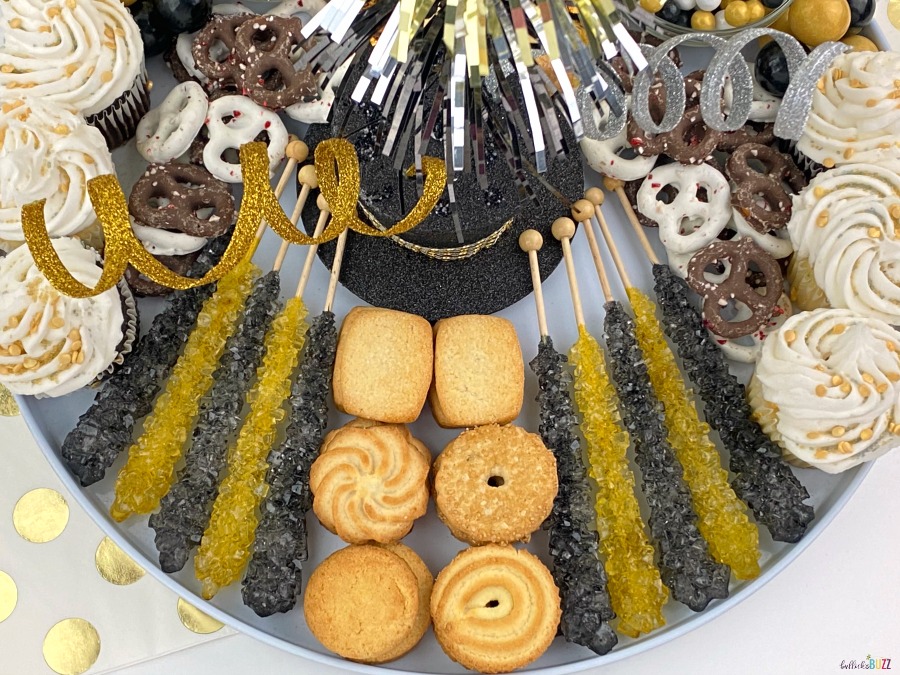 Disclosure: This blog post contains affiliate links for products or services I think you'll like. This means if you make a purchase from one of these links, Bullock's Buzz will make a small commission at no additional cost to you. I only recommend products that I use and love.
Ingredients for New Year's Eve Charcuterie Board
It's so easy to find treats to go on your board. I used a bit of leftover holiday candy and found everything else I needed through Amazon; although the cupcakes came from Walmart. You can really use whatever you want! Here's a list of treats I used to make my New Year's Eve dessert board: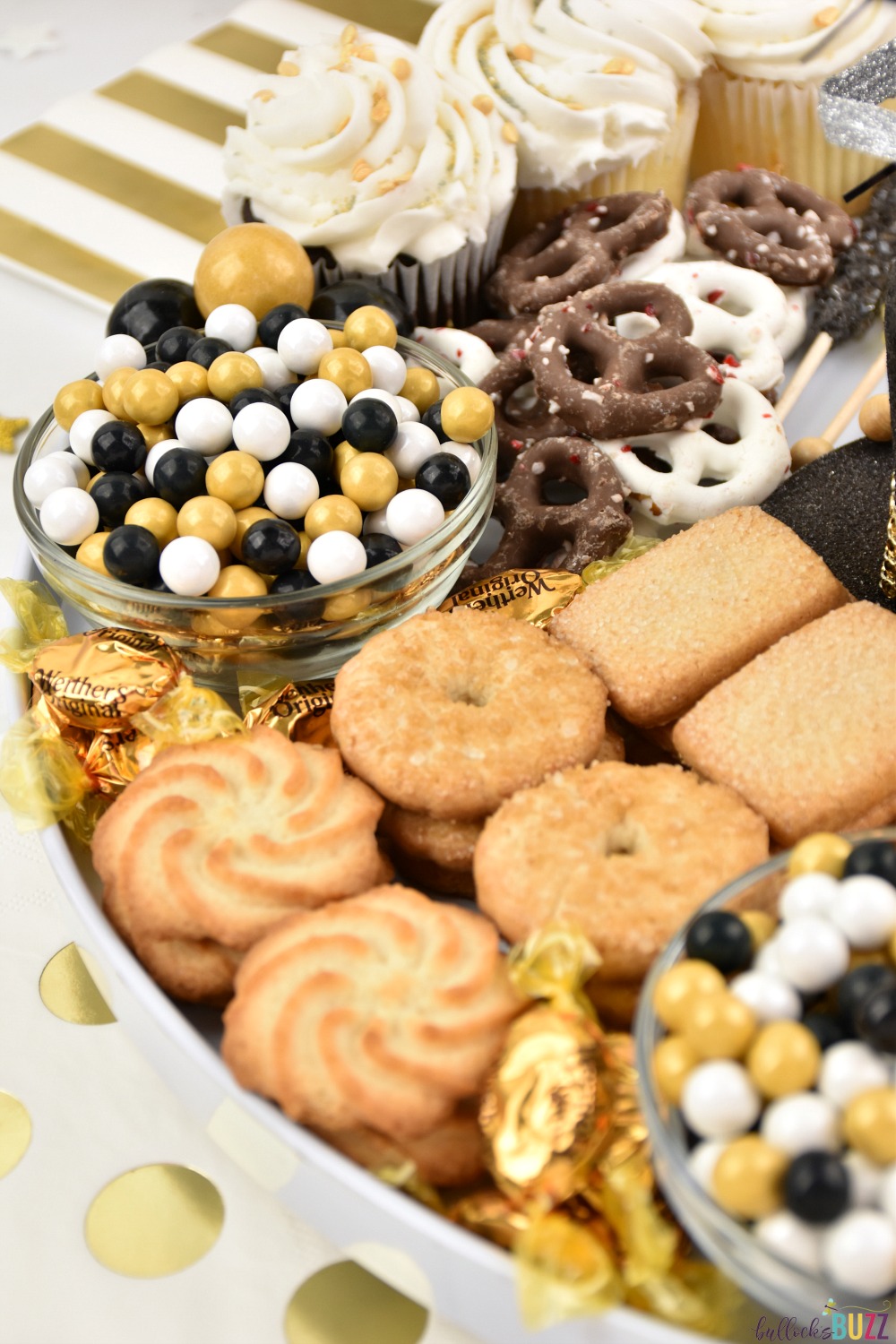 Charcuterie Board Instructions
When making a New Year's Eve charcuterie board, the very first thing you will need is some type of tray or board. I like to use this Lazy Susan turntable tray as people can simply give it a spin to pick out the treats they want.
Once you're ready to put your dessert board together you will want to start with some type of centerpiece. This is actually the part that took me the longest, until I had my eureka moment and remembered I had this hat (insert eye roll here).
Once you have your centerpiece, put it down first in the middle of the tray, and then build out from around it. After laying out the main treats, use smaller candies or even sprinkles to fill in any empty spaces.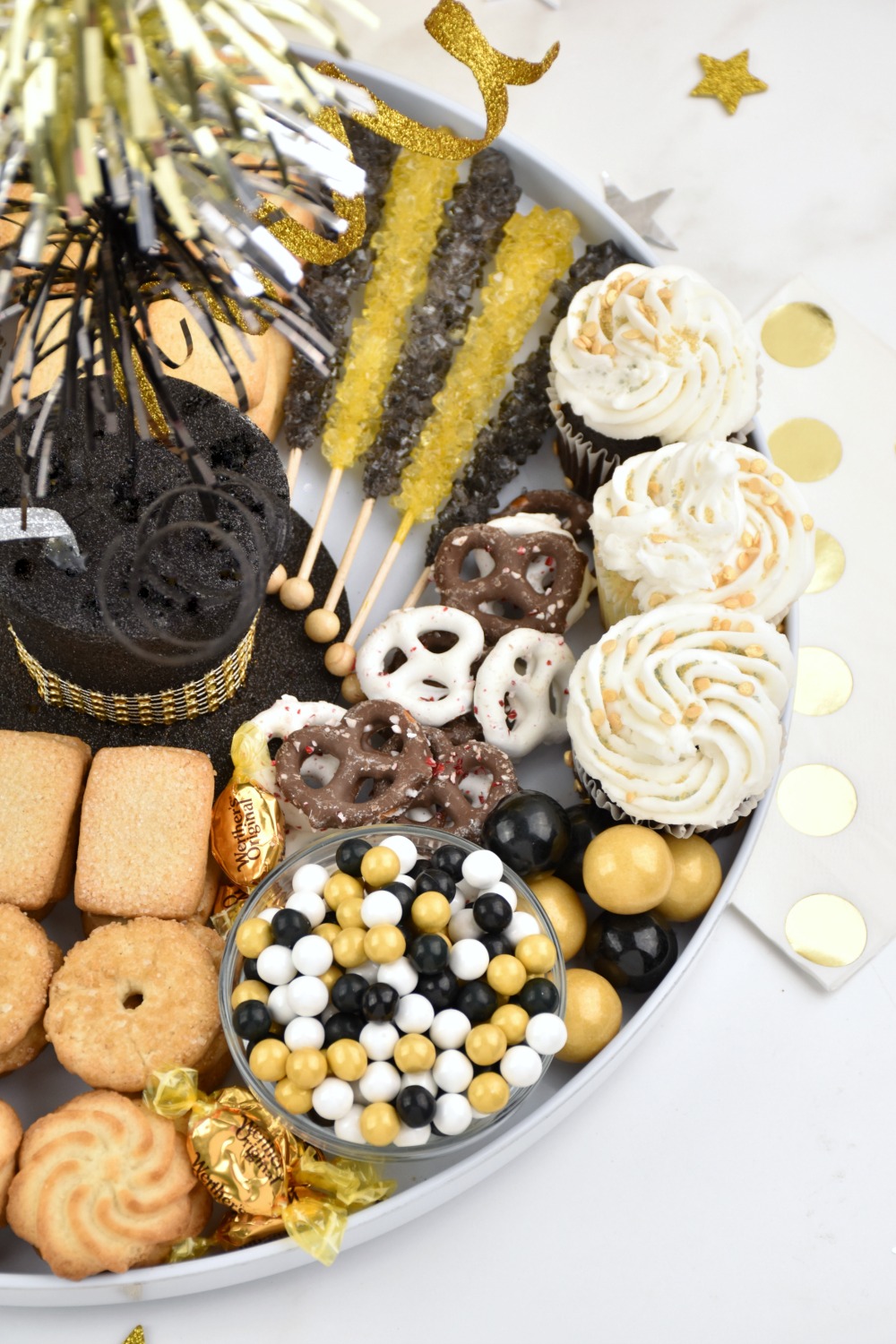 And that's it! It literally takes 30 minutes or less to make an outstanding charcuterie board.
Need a few more tips?
Charcuterie Board Tips
There are no set rules when it comes to building any type of charcuterie board. Feel free to take inspiration from mine, but this is a great opportunity to let your creativity shine! Here are a few more tips to help you out:
offer a variety of snacks in different colors and textures.
add visual interest by using a few smaller dishes or plates to divide things up.
alternate treats of different types, textures and colors to make your selections stand out more.
get creative and have fun with it!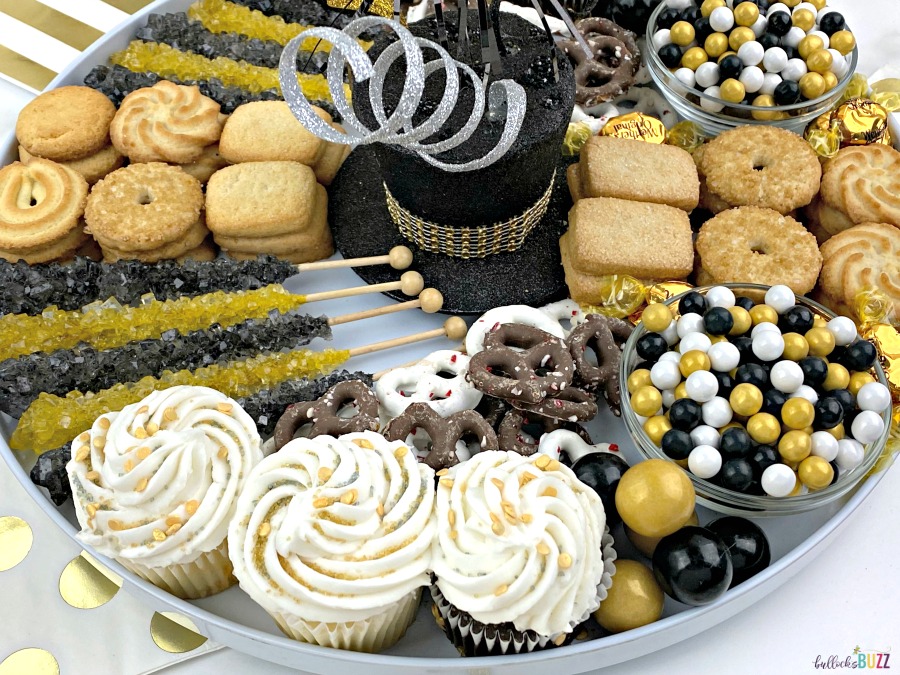 I hope you enjoy this New Year's Eve Charcuterie Board as much as I did! It's so easy-to-make and fun to eat! If you give it a try, I'd love to know! Leave a comment below, rate it, and tag a photo @bullocksbuzz and #bullocksbuzz on Instagram or Facebook so I can see your New Year's Eve creations!
More New Year's Eve Recipes
Looking for more easy and tasty treats for New Year's Eve? Give these a try!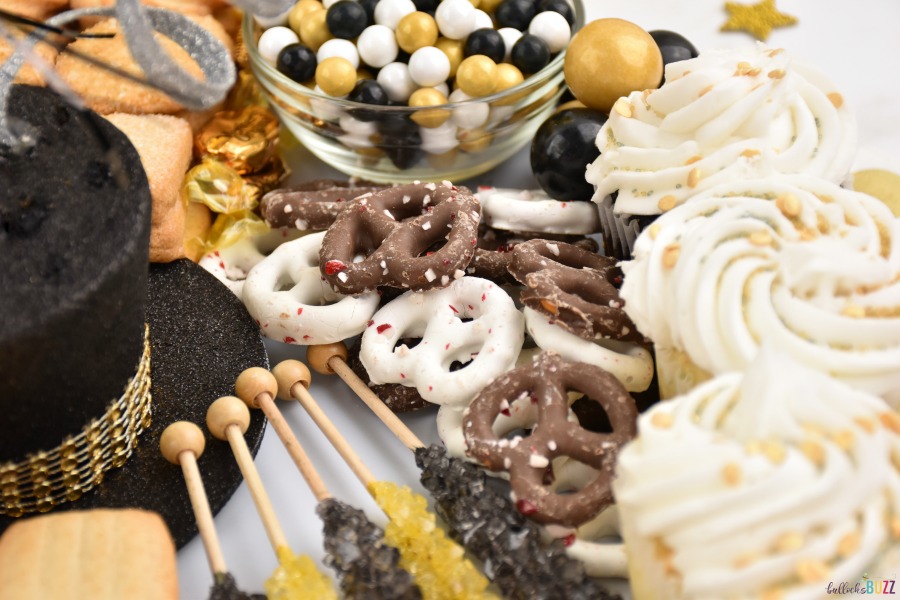 Hungry for even more delicious recipes for holidays and every day? Check out these recipes on me and my bestie's other blog, Sweet and Savory Morsels!