2014 Holiday Gift Guide
Please note, I added Amazon affiliate links to make shopping easy. If you make a purchase through these links, I'll make a small bonus at no extra charge to you

Give your table a chic makeover with this bright and colorful dinnerware collection from Novogratz! For over twenty years, the fun, hip and artsy Novogratz couple has designed and developed everything from real estate to home decor. Now they bring their innovative designs to your dinner table with the new Fall 2014 Novogratz Dinnerware Collection.
"Renowned for their distinctive aesthetic, Cortney and Robert Novogratz mix elements of modern and vintage style for a fashion-forward dinnerware pattern featuring robust shapes and bold designs."
The Novogratz Dinnerware Collection contains practically every color of the rainbow in fun geometric patterns and designs. From polka dots to stripes to horizontal lines, each piece has a different pattern that works great when placed together with the whole set, as well as on their own. With so many colors, individual pieces could easily be added to a pre-existing set.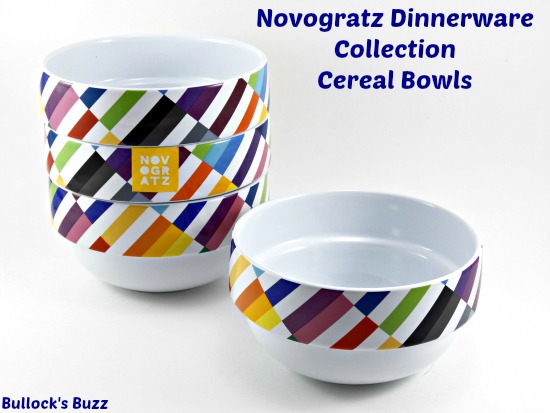 I fell in love the first time I saw this bright and colorful dinnerware collection! Having been in need of new bowls, the Novogratz Collection Stripe Cereal Bowl is exactly what I have been looking for. Bright enough to chase away those wintertime blues, these bowls also match my everyday china perfectly. At 5.8″ in diameter and 3″ in height, they are deep and wide, making them ideal for everything including soups, stews, chili, one-dish meals, as well as cereal, oatmeal and even ice cream. Plus, made of durable stoneware, they are both dishwasher and microwave safe – although I found that they tend to get pretty hot in the microwave, so be careful when pulling them out!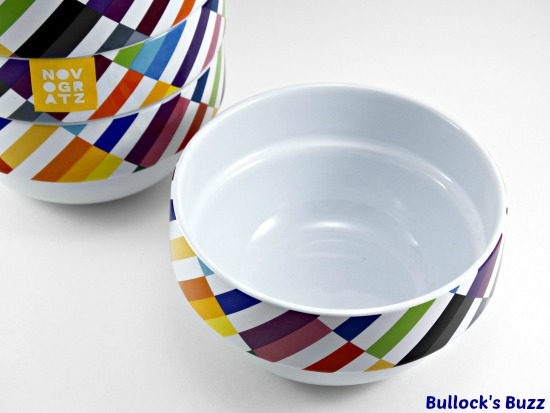 Although great for adults of all ages, the Novogratz Dinnerware Collection would also make the perfect dinnerware set for your college dorm or first apartment! The collection is easy-to-clean, stackable and durable. Plus, young adults will love the bright and bold colors and geometric patterns. And did I mention the great affordable price?
Whether looking for a new set of casual china, some replacement pieces for a current set, or even a first set for a young adult, the Fall 2014 Novogratz Dinnerware Collection is definitely worth looking into! The collection is available exclusively at Macy's stores and on Macys.com. You can also find other similar Novogratz collections on Amazon!