2014 Holiday Gift Guide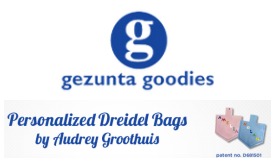 Growing up my family celebrated Chanukah, so while we didn't decorate a tree, we did decorate our home – especially the den – with Chanukah decorations. We even had our own Chanukah stockings to hang on the fireplace that were knitted for us by a close family friend. Living in the South, during in the late 70's and early 80's, it was not easy to find Chanukah decorations except maybe at the temple gift shop. Nowadays it is much easier to find decorations, especially since you can simply go online and order them! And while doing just that I cam across one of the cutest hand-crafted Hanukkah decorations I've seen in a while – personalized Dreidel Stockings!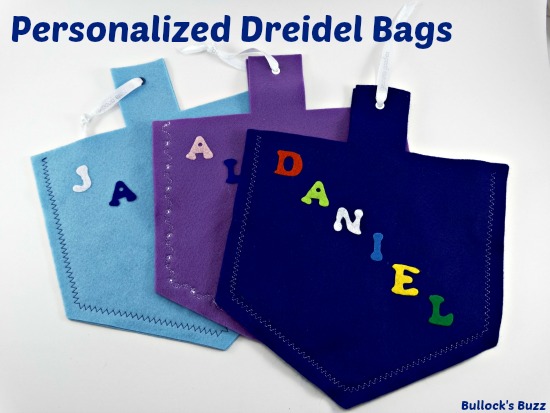 Designed and crafted by Audrey Groothuis, Dreidel Stockings are perfect for starting a new family Chanukah tradition!
"Audrey Groothuis, a Jewish mom, is creative designer of gezunta goodies handmade dreidel bags. Not surprising, growing up in an artistic Southern California home, where she was always imaginative with a stylish twist. She gains joy from the smallest things in life and this one is close to her heart. First creating dreidel bags as a child, and enjoying them ever since. She has built wonderful memories with the personalized dreidel bag and looks forward to helping you do the same."
Each beautifully designed and crafted Dreidel Stocking is made from soft and sturdy felt, and can be personalized with each family member's name. Exquisite stitching not only adds to the handmade appearance of each bag, but adds to the durability as well. Each bag measures 9″ by 8.5″ providing you with plenty of room to fill with treats and goodies! Bags are available in blue, light blue, pink and lavender.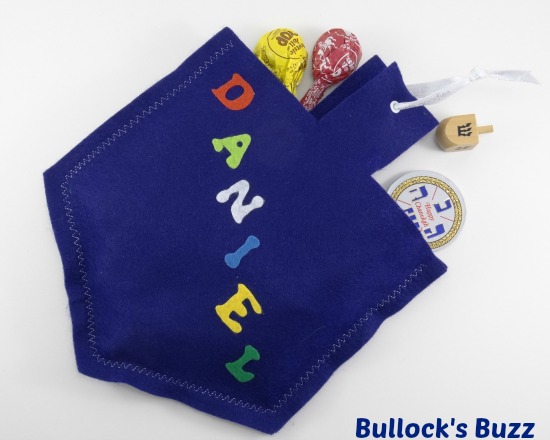 When personalizing, you can add up to a maximum of 9 characters. The letters used for personalization are also made from felt, and are securely glued to the front of the bag. Choose from either all white letters or multicolored letters to make your bag perfect!
All orders ship within 3 to 5 business days, so you have plenty of time to get your personalized dreidel bags for Chanukah this year!
Order your Dreidel Stockings from the gezunta goodies website and start a new tradition with your family for Chanukah this year!