2013 Holiday Gift Guide Suggestion

As a child one of my favorite parts of Hanukkah was helping my dad hang up the decorations. In our house we had exposed wood beams running across the ceiling, and it was from these beams Dad would hang all sorts of decorations: a banner that said Happy Hanukkah, and a variety of hanging dreidels, Stars of David, menorah's and more. I loved how the bright colors would fill the room with an aura of warmth and happiness, and how he would dim the lights as we lit the candles and their flames would reflect in the blue and silver foil of the decorations.
For years as an adult I missed this, and now that I find myself married and starting a family of my own, I want our children to grow up with the same feeling of delight and wonder.
Unfortunately, I have had a hard time finding similar decorations, especially here in Alabama. This year, having worked with the Oriental Trading Company once before, and being offered the chance to do so again, I decided to look around their site to see if they might carry decorations for Hanukkah.
I am glad I did because I found a wonderful selection of party items, party favors, games, decorations, crafts and more, made specifically for the celebration of The Festival of Lights.
And once again, the Oriental Trading Company was kind enough to send a great selection for items for me to share with you including several types of Hanukkah decorations, a package of wrapping paper and all of the crafting supplies needed to make a cute Hanukkah Candy Bucket which will be a post of its own coming in just a day or two!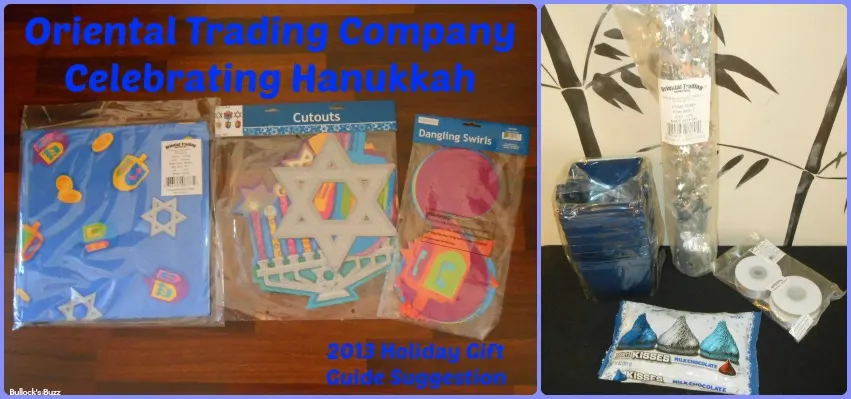 The first set of decorations was a pack of Hanukkah Dangling Swirls which has different Hanukkah themed paper ornaments dangling from colorful swirls. There are Stars of David, dreidels and menorahs all hanging from twists of colorful paper in pink, yellow and two different shades of blue. Twelve swirls come in each pack, and they are very easy to hang using a thumb tack or tape. Each one is approximately 27″ in length, and is made of a sturdy paper.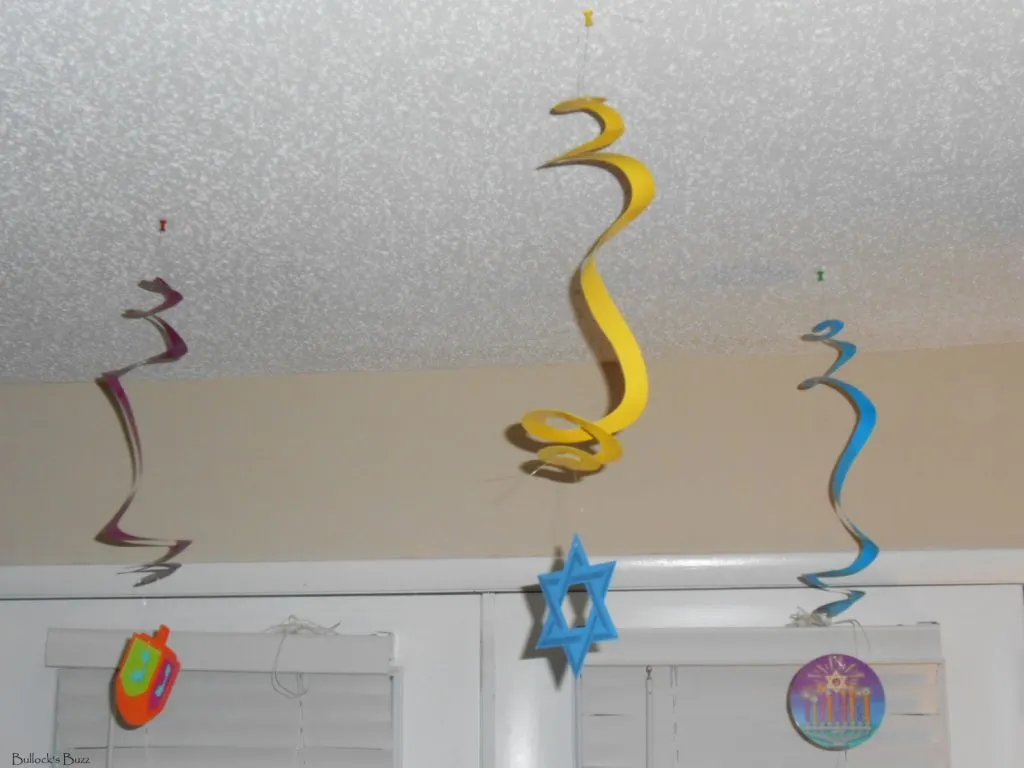 The second pack of decorations was the 12 Hanukkah Glitter Cutouts which contains several different cut outs of dreidels, Stars of David and menorahs that you can easily hang on the walls, doors or windows. Each decoration is bright and colorful with accents of glitter. Usually I am not a fan of glitter decorations as the glitter gets all over your hands and the house, but these are so well made, no glitter comes off at all.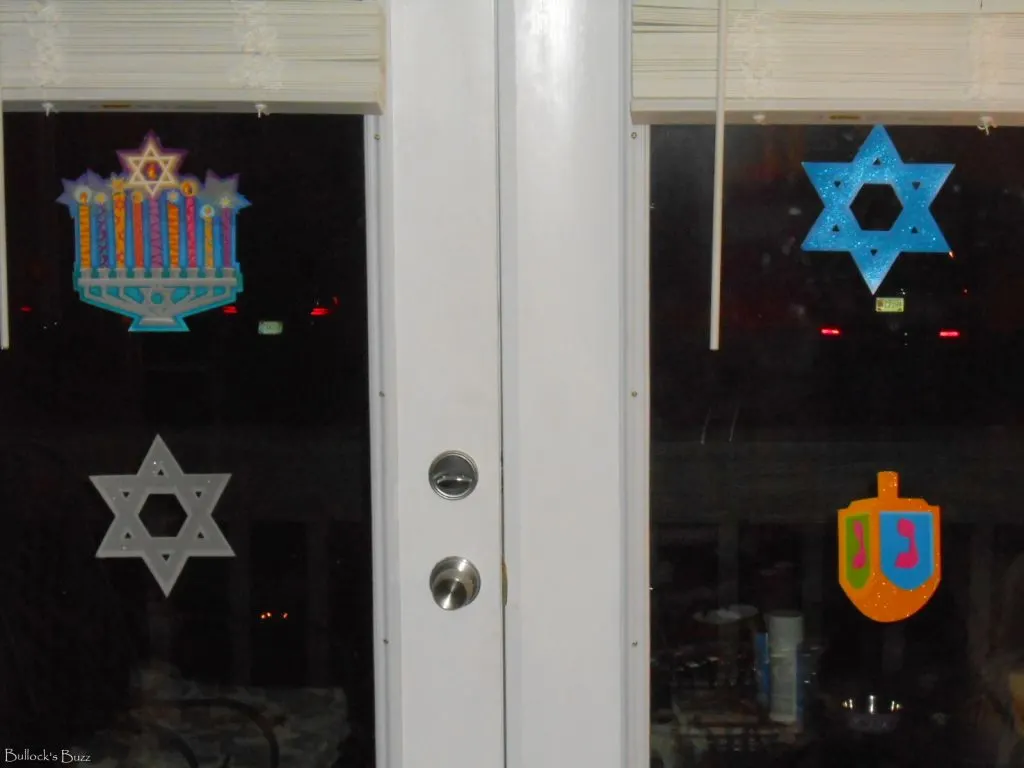 The Hanukkah Wrapping Paper contains 8 sheets of wrapping paper, each of which measures around 2 feet by 3 feet. The design is that of dreidels, gelt (chocolate coins) and Stars of David on a pretty blue background. The paper is nice and thick and does not tear easily. I especially like that the paper comes in pre-sized sheets instead of on a roll as it makes it so much easier to wrap the presents!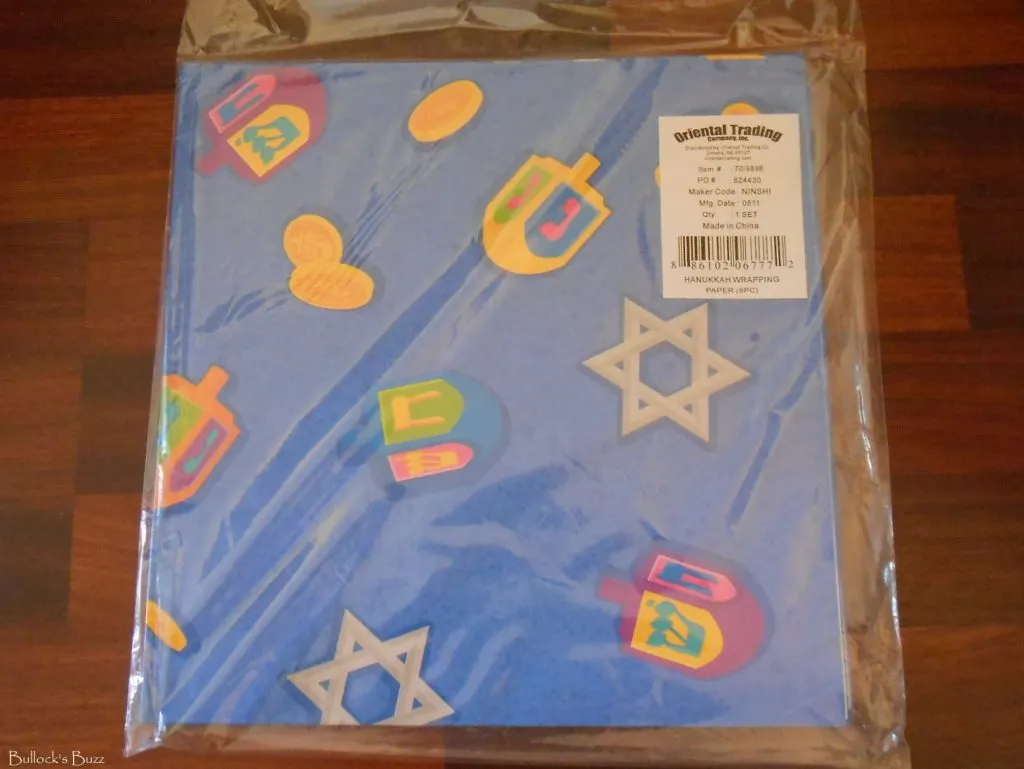 The last items they sent included everything I need to make one of their featured Hanukkah crafts, the Hanukkah Candy Bucket. Once made, these work great as gifts, party favors and decorations! As I mentioned above, check back in the next day or two for a post that includes instructions, pictures and the final product!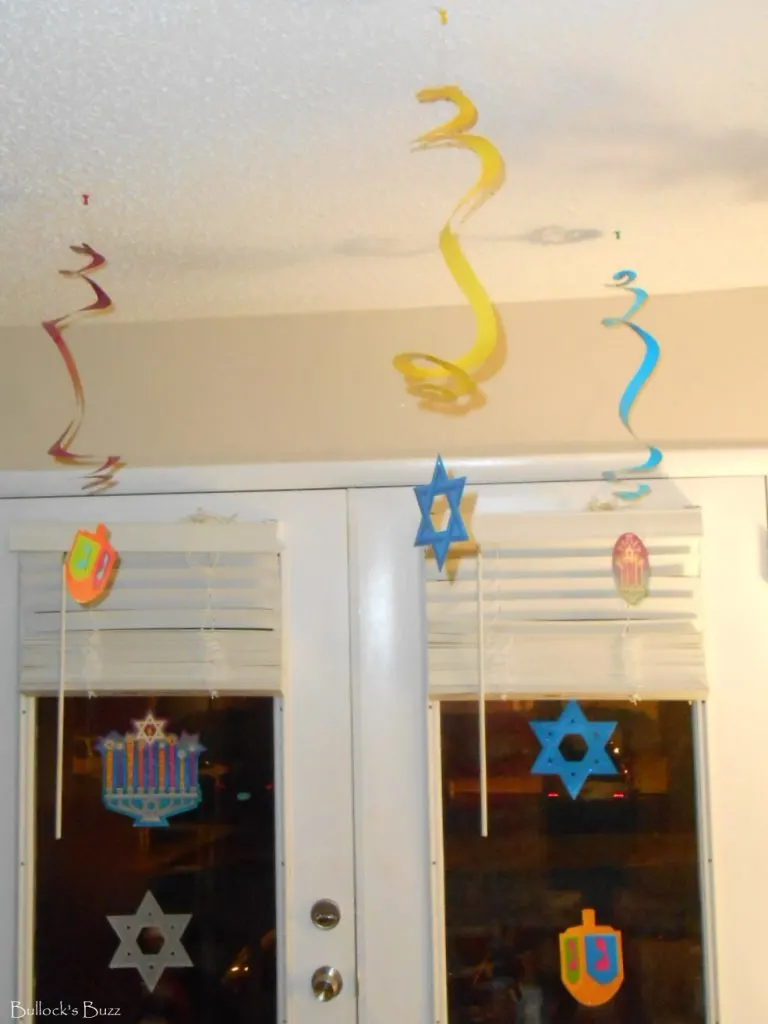 As you plan to decorate for the Holidays, be sure to visit the Oriental Trading Company online and get what you need at an affordable price! Items ship quickly, so there is still plenty of time to get decorations for Christmas and possibly even Hanukkah! Also, be sure to connect with the Oriental Trading Company on both Facebook and Twitter for great tips and ideas, sales, promotions and more! And don't forget, The Oriental Trading Co. also carries a great selection of items for the next time you plan a party, need some new decor, get an urge to craft or want to supplement your child's education!
GREAT DEALS FOR BLACK FRIDAY AND THE HOLIDAYS
Don't miss out on these awesome deals that are going on right now for a limited time only! On Black Friday you can save up to 60% on tons of select items! And for just a short time, you can get FREE SHIPPING on any items! Plus, if your order totals $49 or more, you will get a $10 ecard emailed to you within 2 weeks! To take advantage of these awesome deals you must order between now and November 29th at 11:59pm CST and be sure to use promo code: BFCY13 when you are ready to check out! See the site for more in-depth details!