From restaurants to shops, live theaters to arcades, watersports to amusement park rides, OWA and The Park at OWA in Foley, Alabama should be a must-see vacation destination the next time you visit the Alabama coast!
About 25 minutes from The Beach Club Resort and Spa in Gulf Shores, is the small town of Foley, Alabama. A small town that is packed with lots of things to do thanks to OWA and The Park at OWA.
I partnered with VisitOWA for our visit so that we could explore all that the area has to offer and share our experience with you.
During our fall visit to The Beach Club Resort and Spa in Gulf Shores, Alabama, James and I spent a late afternoon and evening visiting the OWA Entertainment District and the Park at OWA, and we had a fantastic time!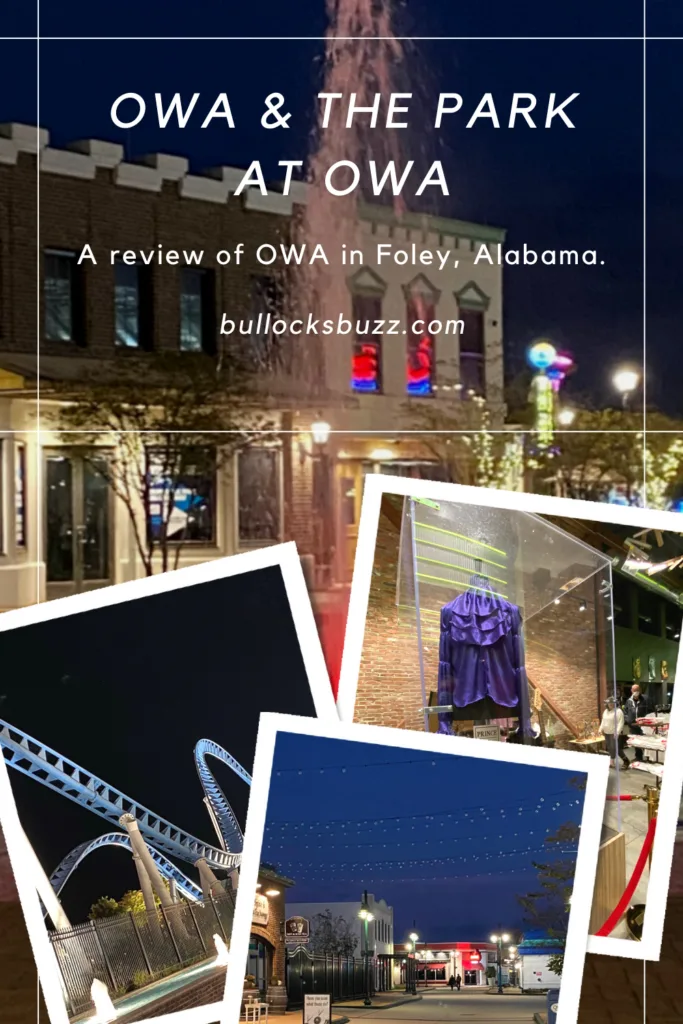 What Is OWA in Foley, Alabama?
OWA, pronounced "Oh-Wah" is a 520-acre resort destination that offers a rich mix of shopping, dining, and entertainment. The word OWA means "big water" in the Muskogee Creek Indian language, and the destination is owned and operated by the Poarch Band of Creek Indians,
Inside, you'll find a 14-acre lake, a 1.5-acre island, shops, restaurants, live entertainment, watersports, and a 14-acre amusement park named The Park at OWA.
There is no charge to enter the retail and dining amenities at OWA. In fact, the only fee is to enter the gated amusement park if you choose to ride the rides.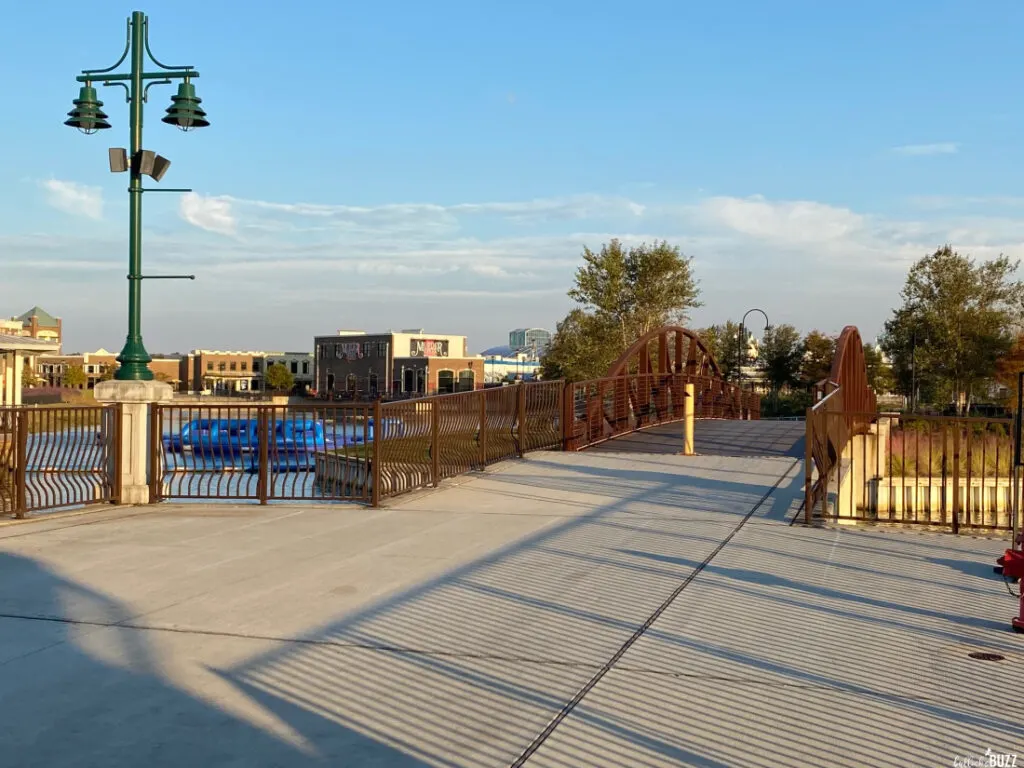 There is also a Marriott TownePlace Suites located right at OWA so you can enjoy everything the area has to offer just steps from your room.
James and I visited OWA and The Park at OWA during our Gulf Shores trip. There was shopping, dining, live entertainment and lots of fun activities!
Here are just a few of the many things you can expect to enjoy at OWA.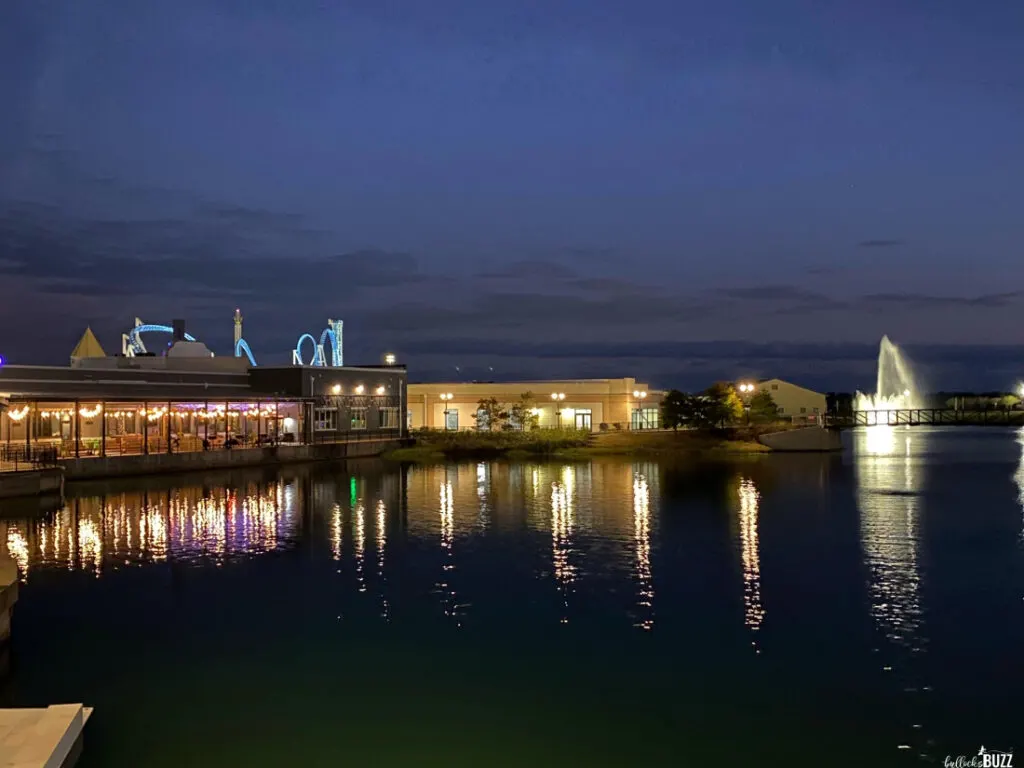 Live Entertainment
Live entertainment at OWA offers something for everyone regardless of your age. There are comedy shows and concerts, dinner shows, festivals, and other events all year round.
There is the OWA Theater where you can watch shows like The Christian Comedy Fest, musicals, and the longest-running show in Las Vegas history, Legends in Concert tributes series. The building is also available to rent for corporate parties, business seminars, recitals, award ceremonies, and even weddings.
The Brandon Styles Theater is home to Gulf Coast Comedy Fest, Murder Mystery Dinner Shows, and more.
And OWA also holds seasonal events like a Christmas Tree Lighting, arts and crafts festivals, food festivals, and more.
Shopping at Downtown OWA
For those of you who enjoy shopping, you can spend hours looking through the shops and stores located throughout Downtown OWA and in The Park at OWA. There are souvenir shops, clothing shops, jewelry shops, candy shops, and more.
Some of my favorite stores included Body Tune Plus, Brandon Styles Magic Shop, Native Treasures, and the Fairhope Soap Company. And of course, no visit to the coast would be complete without a visit to Alvin's Island.
Places to Eat at OWA
Shopping and playing at OWA will definitely work up an appetite! Luckily there are lots of tasty places to eat in Downtown OWA. From sushi to southern cooking, cocktails to ice cream, you're sure to find something for every taste.
For meals there's El Diablo Taqueria & Cantina, Groovy Goat, Lucy's Retired Surfers Bar & Restaurant, Sassy Bass Amazin' Grill, Sushi Co., and Paula Dean's Kitchen.
For snacks or light bites there's Auntie Anne's, Coco's Italian Ice, Cinnabon, Hershey's Ice Cream Parlor, and The Spice & Tea Exchange®.
And for us adults there's Rum Island Daiquiri Bar, Murder Creek Distillery, and the C'est Le Vin Wine Bar & Shop.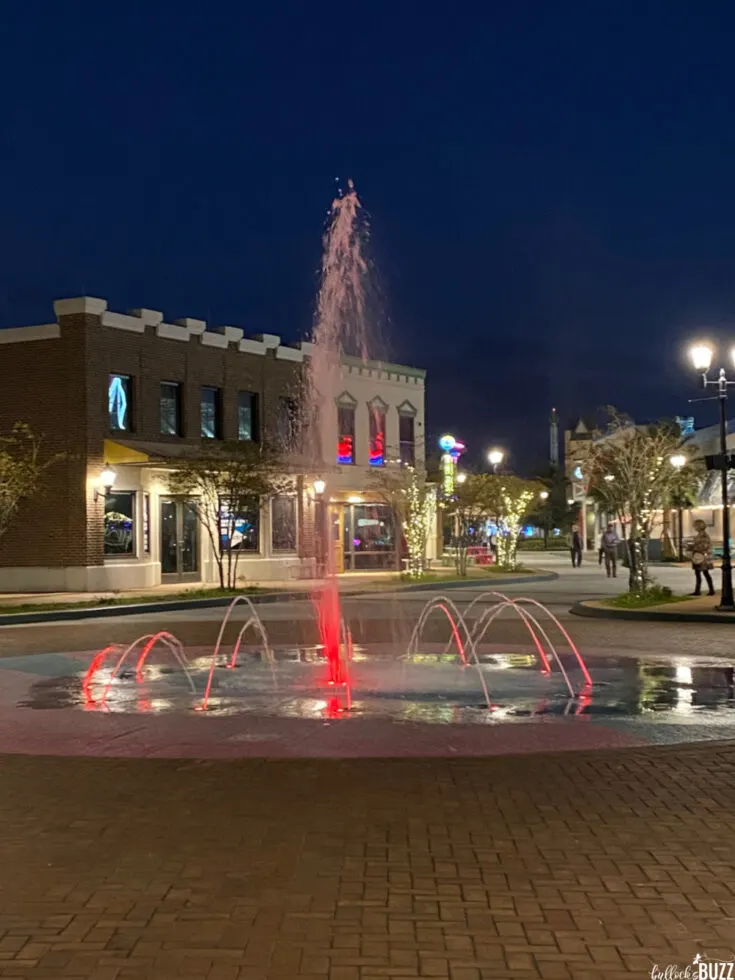 Fun-Filled Activities at OWA
In addition to live entertainment, OWA also offers all sorts of fun activities for every age. There's The Park at OWA amusement park, the Clash eSports Center, Gravity Island Watersports, and the OWA Arcade.
The Arcade
This state-of-the-art arcade has more than 50 amazing arcade games. Players use play-cards and can accumulate points without the hassle of paper tickets. Points can be cashed in for win awards in their redemption center. If you love arcade games, then you're really going to love the OWA Arcade!
The Clash E-Sports Center
Featuring today's newest and most exclusive games including Mortal Kombat 11, Sims 4 (with all DLC and expansion packs), Far Cry New Dawn (released in 2019), PUBG, Dragon Ball FighterZ, Overwatch, and more. Games are updated on a regular basis, and all equipment is provided with premium controllers available for an upcharge.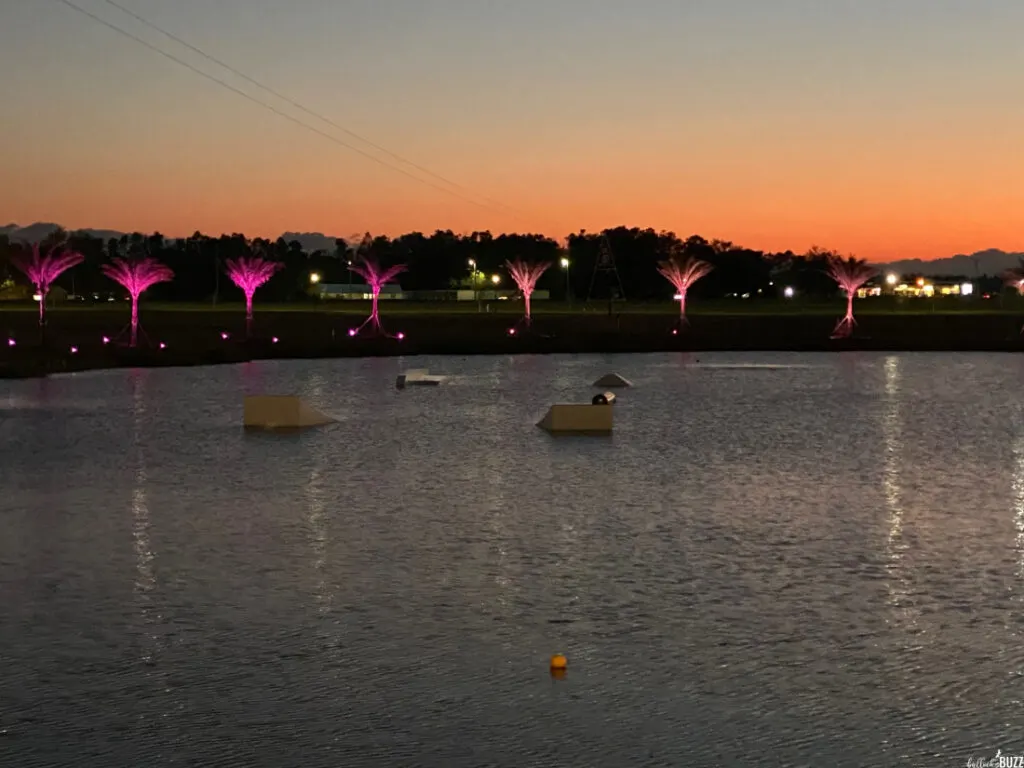 Gravity Island Watersports
Gravity Island Watersports Aqua Play and Wake Park are the first of their kind in Coastal Alabama where watersports lovers can experience their favorite sports in a safe and controlled environment.
Aqua Play is an inflatable obstacle course on the lake that's full of fun and challenging obstacles for all ages. The Wake Park includes a 2-tower cable system with an overhead cable spanning 700+ feet that is used to pull riders by rope and handle to wakeboard, wake skate, kneeboard, water ski or go tubing. It also has obstacles in the water below for extra challenges.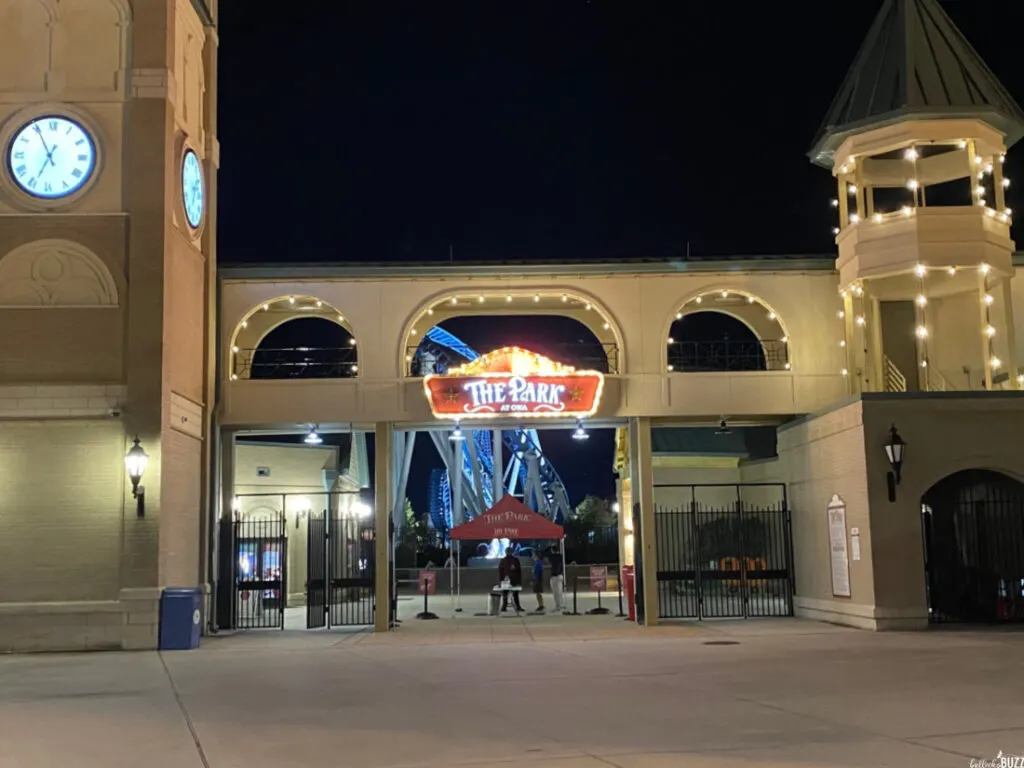 The Park at OWA
Saving the best fun-filled activity for last, The Park at OWA is a must-see! The Park is one of Alabama's largest amusement parks. With lots of attractions including 23 rides, an interactive splash pad, Midway Games, food, and the Parkside Gift Shop, everyone will have a blast!
James and I visited The Park after dark. We walked around the amusement park looking at the rides, checking out the games, and watching people have a blast. While we didn't ride anything this time, there were several I can't wait to experience the next time we visit.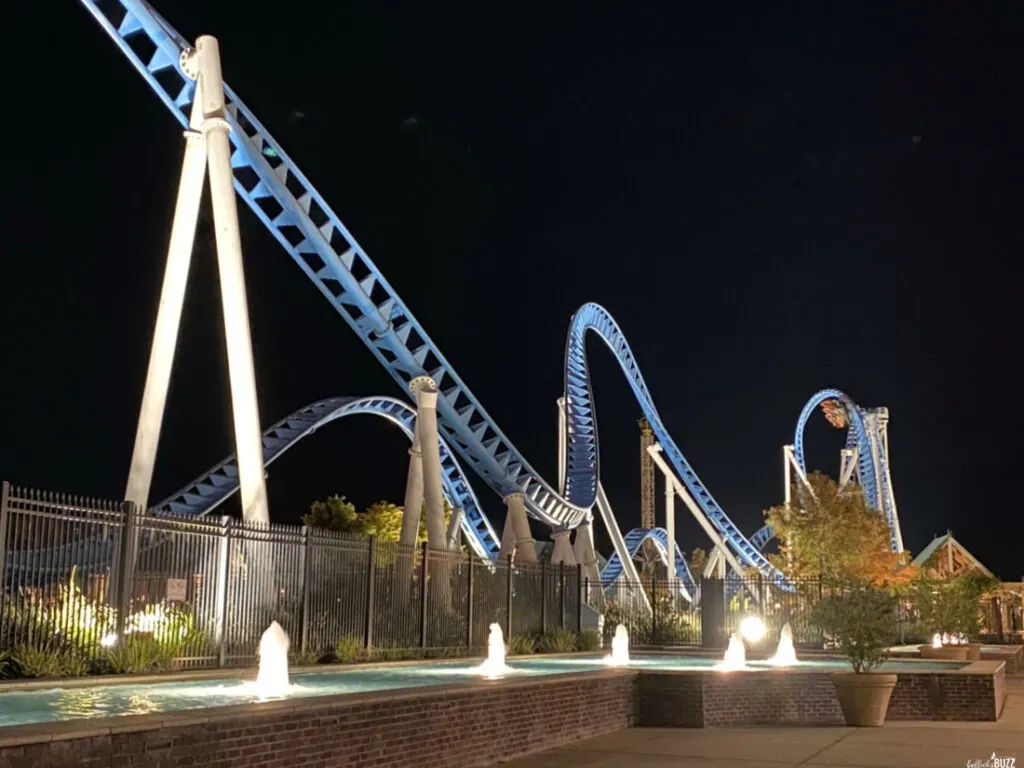 Topping my list for next time is The Park at OWA's largest roller coaster, Rollin' Thunder. With an almost 100-foot vertical drop and multiple twists and turns, the metal monstrosity snakes through the park. Its rider's screams of delight can be heard across the entire amusement park. It was definitely calling my name!
Other rides included the Crazy Mouse roller coaster, Flying Aces airplane ride, Flying Carousel swings, Alabama Wham'a wheelie ride, a kiddie coaster, teacups, and more.
Visitors can also enjoy the Wacky Waters Splash Pad.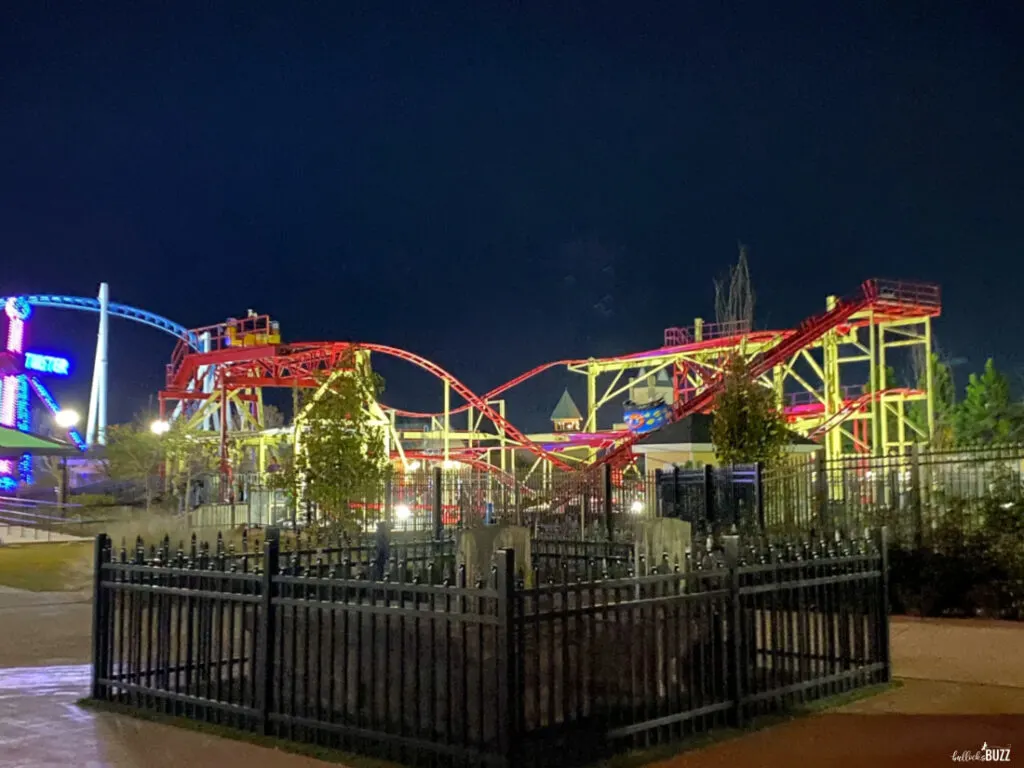 What are hours for the Park at OWA?
The amusement park's hours vary depending on the season, but on average, the Park at OWA is open 7-days a week from Memorial Day to Labor Day. It opens as early as 10 am and stays open as late as 10 pm. Their off-season days and hours vary.
When James and I visited in early November, the Park at OWA was open from 11 am to 8 pm. You can find their current hours on their website.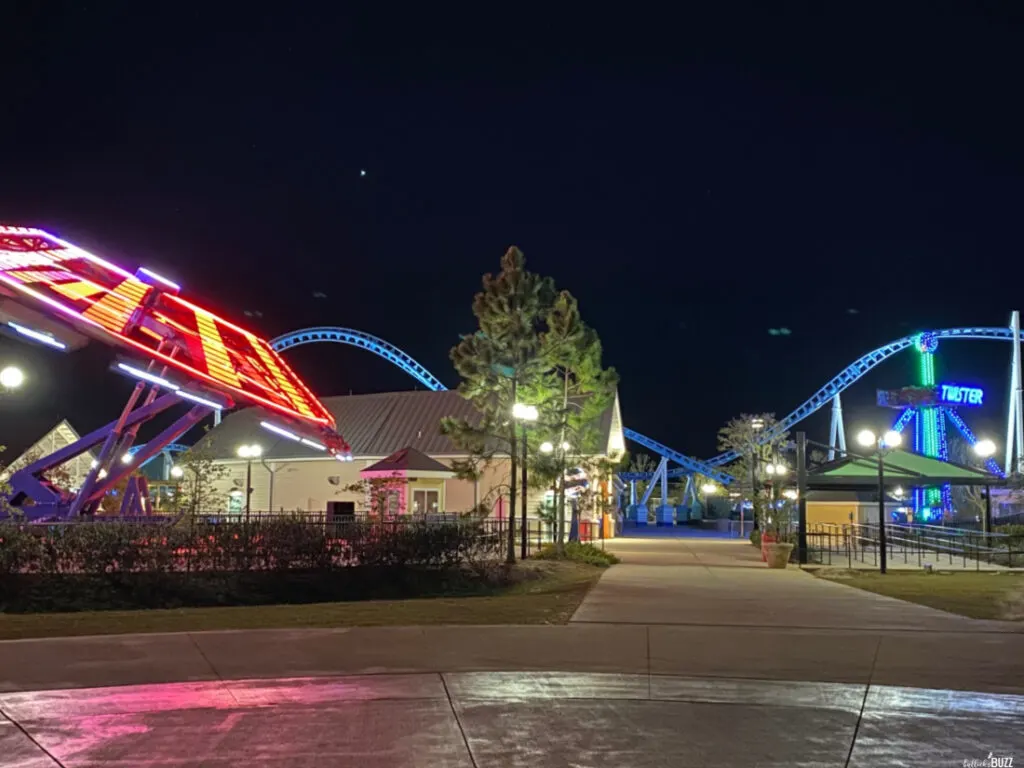 How much are OWA Amusement Park Prices?
Admission to the Park at OWA is pretty affordable, especially since they often run promotions and special deals. Currently, admission prices are as follows:
$30 for adults
$25 for children (48″ and under)
Kids 3 and under are free
Seniors ages 60+ are $25
Military (with ID) are also $25
However, if you don't plan on riding any of the rides, you can request a complimentary "non-rider" ticket at the front gate.
They also offer seasonal passes and seasonal promotions.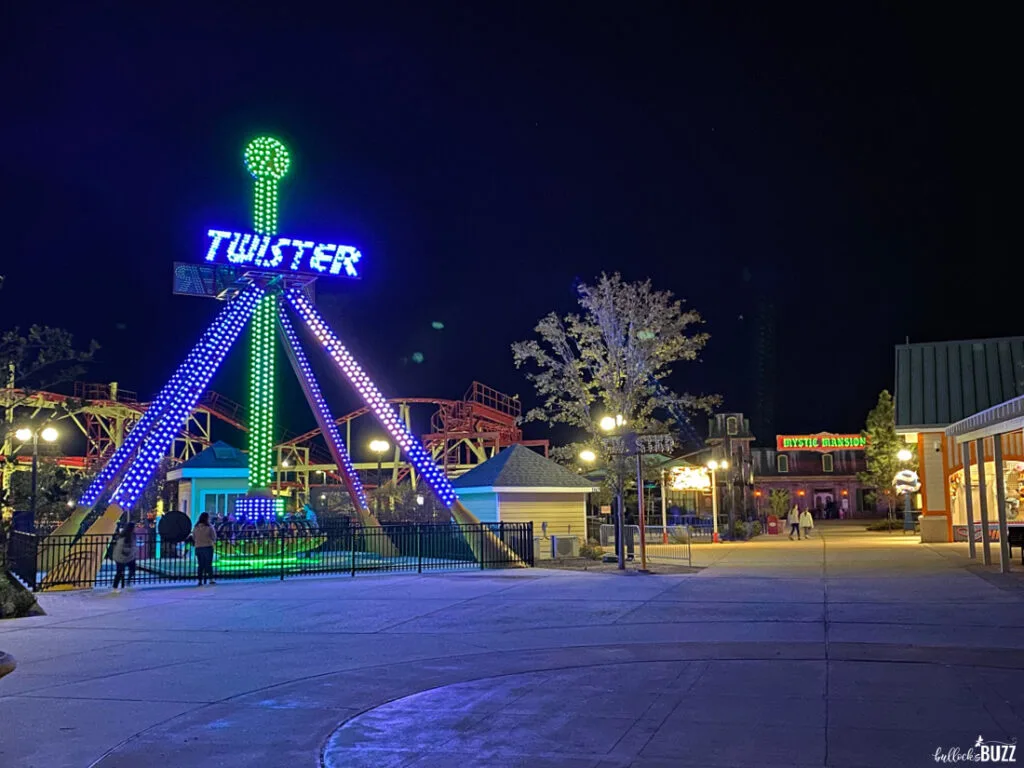 A Night at OWA
That evening, James and I enjoyed a walk, dinner, and a show.
Both Downtown OWA and The Park at OWA are beautifully designed and landscaped. There are plenty of pretty spots to just sit and relax, and lots of walking paths to stroll along and enjoy. And everything is very clean and well-kept.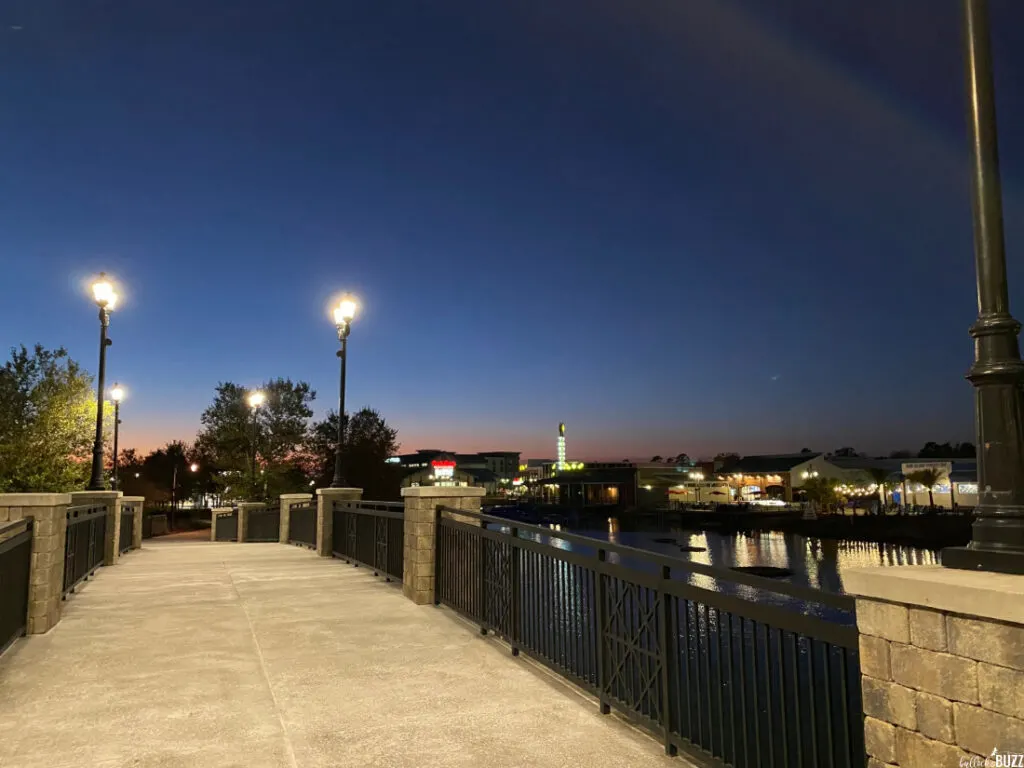 It was not very crowded that night, so we enjoyed plenty of privacy and the quietness of the evening. We did some window shopping and went in for some souvenir Moonshine from The Murder Creek Distillery.
We also walked around The Park at OWA checking out the rides, games, and more.
I loved the way the lake reflected the lights, and how the amusement park's jewel-colored lights lit up the night under a star-filled sky.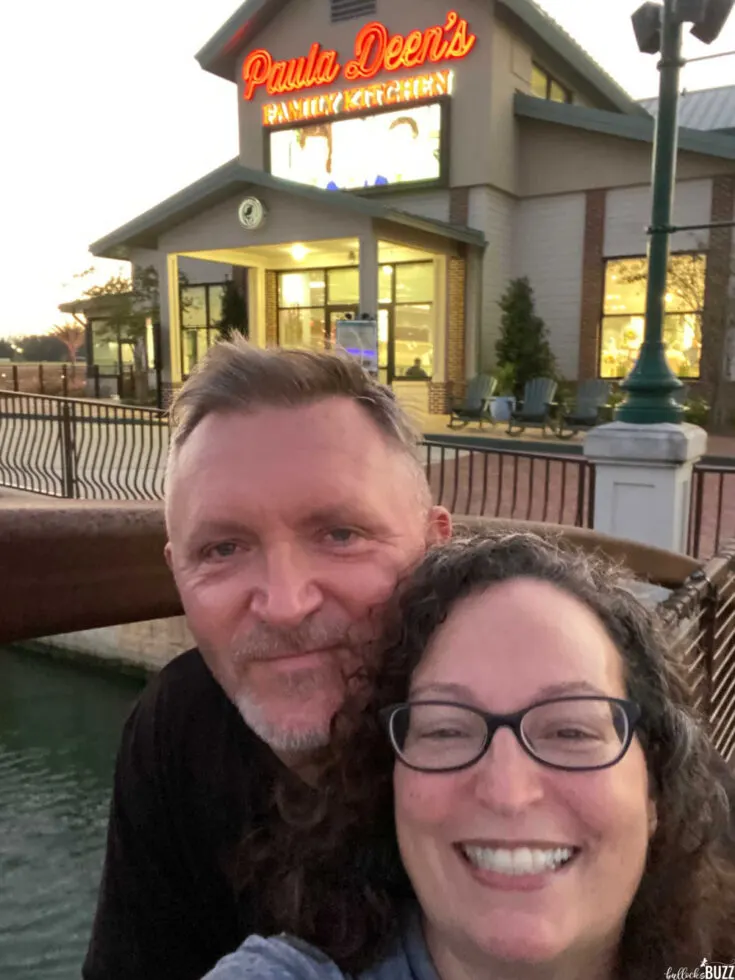 Paula Dean's Family Kitchen
We also had a wonderfully delicious, Southern cooked dinner at Paula Dean's Family Kitchen in Downtown OWA. The restaurant offers a unique dining and shopping experience.
Dinner is served Family Style which means you get to pick from three different family style spreads of hearty Down Home Dishes along with Paula's Famous Sides to be selected and shared by the entire table. Whichever spread you choose comes with endless potions of the meats and veggies so you can eat to your heart's content.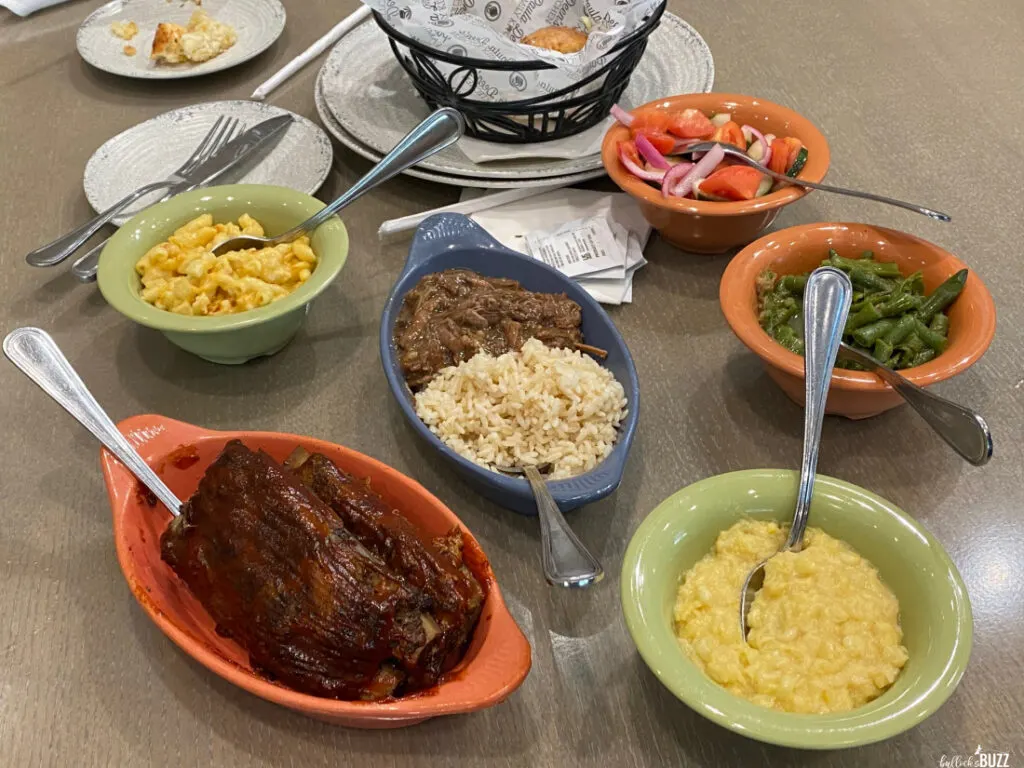 For example, James and I opted for the "The Albany" where we got to pick 2 Down Home Dishes and 4 of Paula Dean's Famous Sides. We choose the Beef Pot Roast and Spareribs, along with Creamed Potatoes, Baked Mac and Cheese, Tomato & Cucumber Salad, and Creamed Corn. Dessert was Ooey Gooey Butter Cake which reminded me of my Eggnog Gooey Butter Cookies!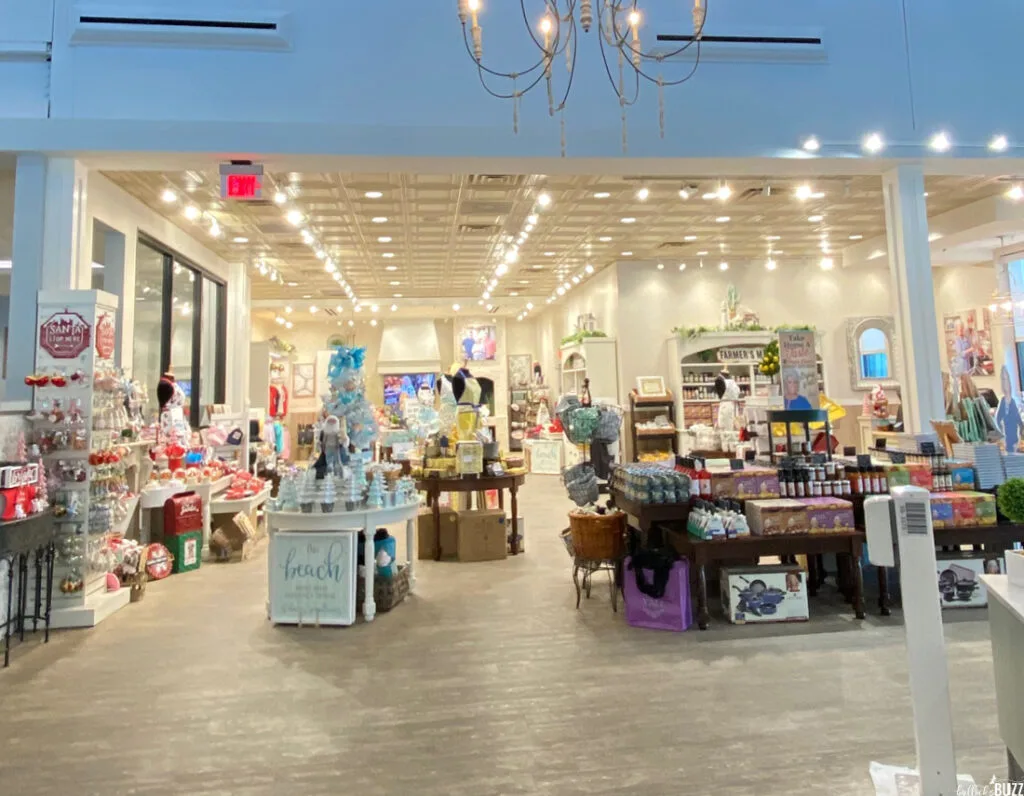 After dinner we enjoyed looking through the restaurants' gift shop. It took some serious self-control to not buy one of everything in there, lol!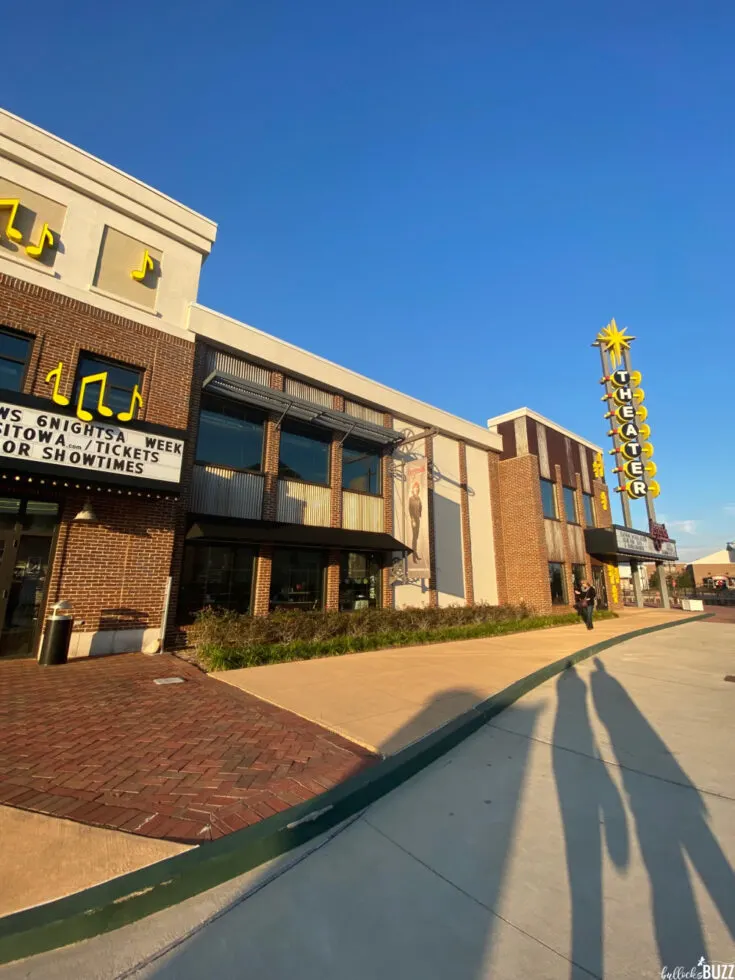 Christian Comedy Fest at the OWA Theater
We then headed around the corner to enjoy the Christian Comedy Fest at the OWA Theater.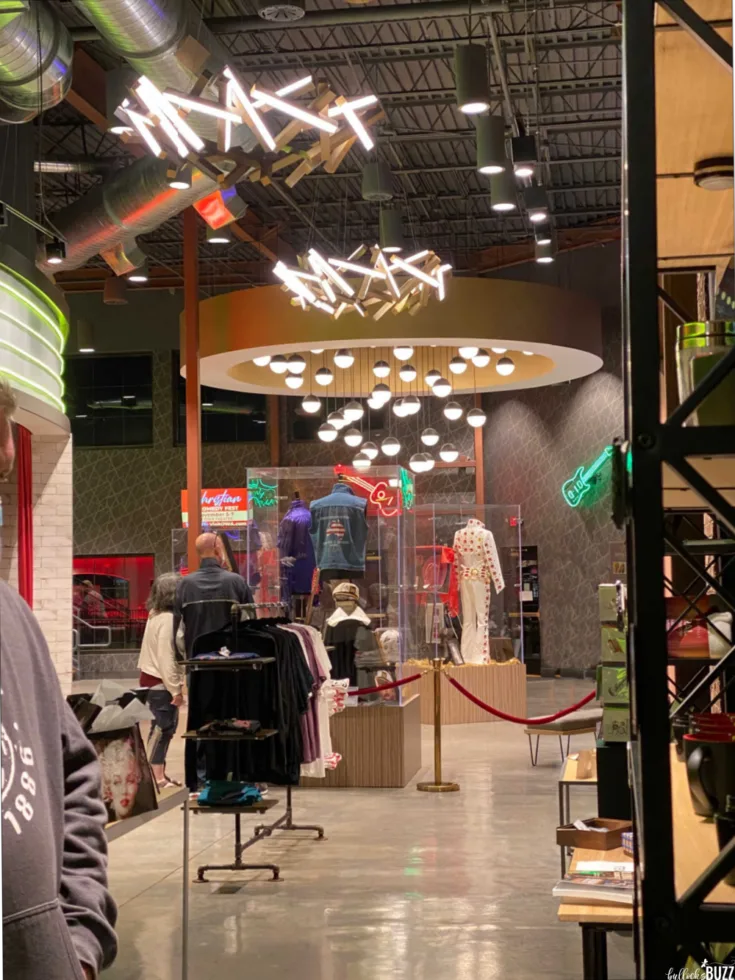 As soon as we walked in, I was captivated. The lobby has several display cases filled with memorabilia of singers including Prince, Dolly Parton, Elvis and more. Artwork is everywhere, and there are some super cool souvenirs. There was plenty to explore while waiting for the show.
The theater area itself was much larger than I'd imagined. Staggered seating was comfortable and provided a good view of the stage. As for the show, I haven't laughed so hard in a long time!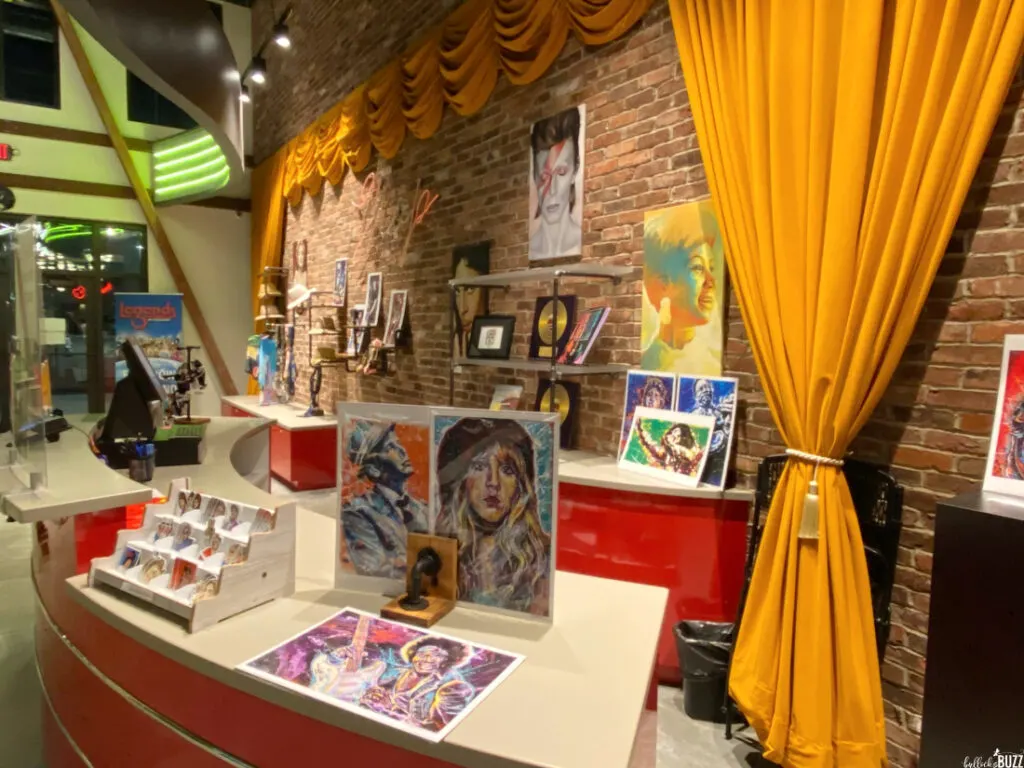 Upcoming Addition to OWA and The Park at OWA
OWA, the amusement park and entertainment destination in Foley, Alabama, has announced plans for a new waterpark coming in 2022. And the best part? It's largely indoors, so you can enjoy it all year round!
There are also future plans to include a luxury RV resort, four additional hotels, a resort level condominium, and more.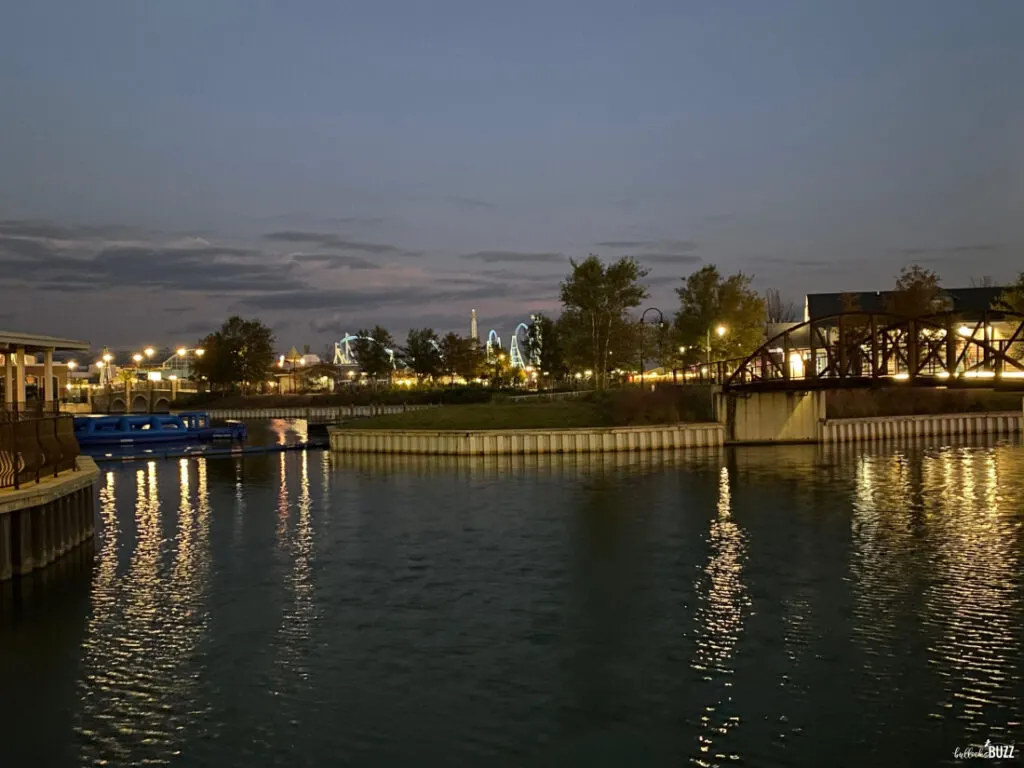 Final Thoughts on OWA
Overall, OWA made for a great date night on what was already a fun trip to celebrate our 11th anniversary.
OWA is definitely worth a visit next time you are visiting the coast of Alabama. There is so much to do and see there, that you definitely need more than a day to take it all in. James and I cannot wait to visit again and experience more!
To learn more about OWA, head on over their website at VisitOWA.com. You can discover everything the area has to offer, as well as upcoming events and special deals.