Escape to your very own piece of paradise at The Beach Club Resort and Spa in Gulf Shores, Alabama. Learn all you need to know with my review of this Southern beach resort vacation destination.
Alabama is a gorgeous state with so much to see and experience. From beaches and lakes to mountains and canyons, there are many reasons to plan your next vacation in Alabama. You'll quickly see why we call our state Alabama the Beautiful.
While I've lived in Alabama my entire life and spent a lot of time exploring my state, oddly enough I'd never been to Gulf Shores.
For years I'd heard of how pretty the area is and that there is so much to do. So, this past November my husband and I decided to celebrate our 11-year anniversary with a trip to Alabama's Gulf Shores.
I partnered with The Beach Club Resort and Spa and VisitOWA.com for our trip so that we could explore all that the Resort and the area has to offer and share our experience with you.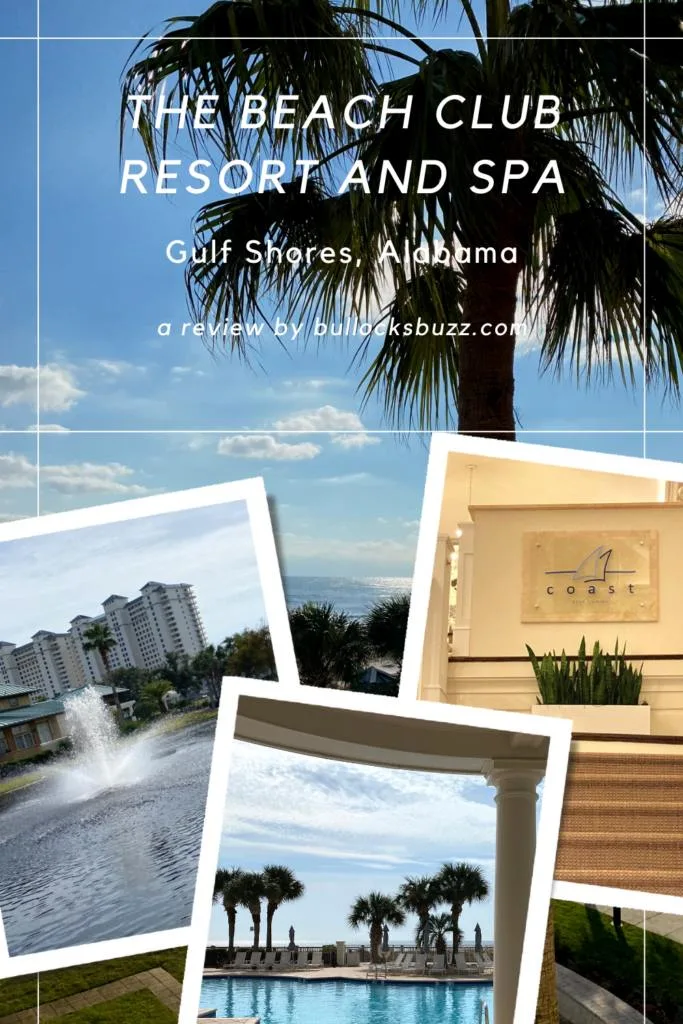 Fall in Alabama's Gulf Shores
When most people think about a beach trip, they think about Spring Break and summer. But I'm here to tell you that one of the best times to visit Alabama's beaches is in the Fall!
Fall Weather at the Beaches of Alabama
First of all, is the weather! With average daytime temperatures in the 70's to lower 80's, and nighttime temps averaging in the upper 60s and lower 70s, the weather is perfect whether you're heading to the beach, the pool, or one of the area's many attractions.
While rain can be hit or miss, there are none of the typical late afternoon storms that you encounter during the late spring and throughout the summer.
Warm gulf breezes keep the temperatures perfect for sunning on the beach and swimming in the pool. And at night it cools down just enough to make it ideal for hanging out in a hot tub!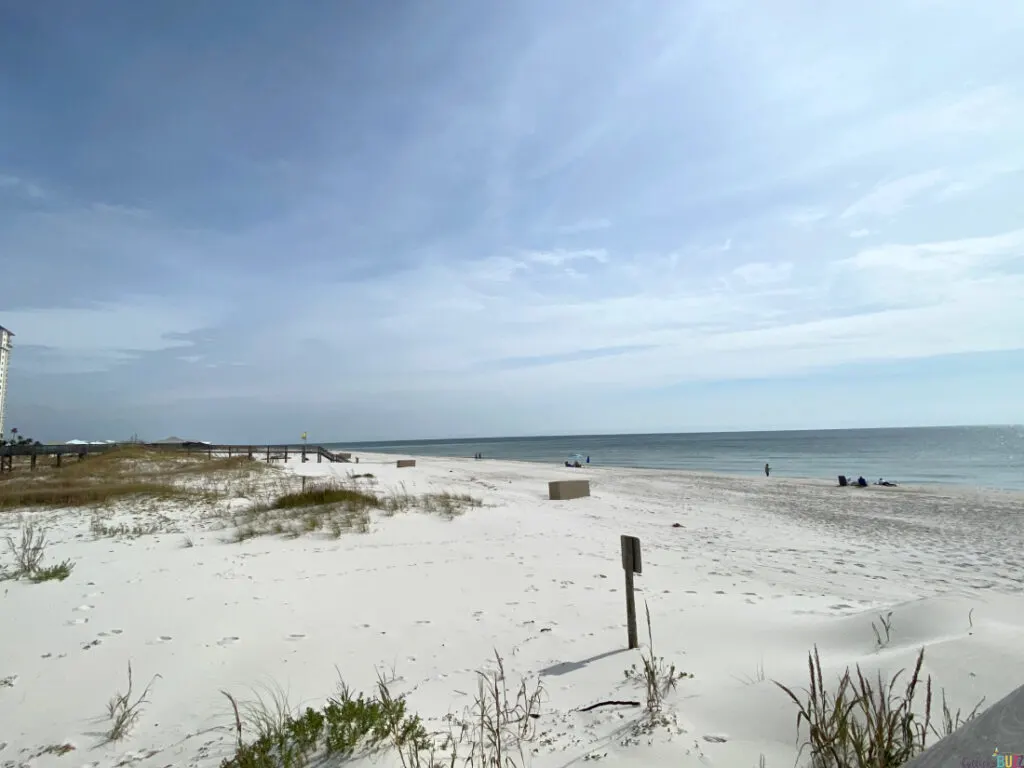 Things to Do in the Fall at Alabama's Beaches
From exciting festivals to beautiful beaches and endless activities, there are plenty of things to do at the beach in Alabama during the fall and winter. Restaurants and stores are open, many chartered fishing and dinner cruises are still operating, and you're very near one of the area's most exciting destinations, OWA and The Park at OWA in Foley, Alabama.
Best of all, the area is not super crowded. And that makes it perfect for a trip for two!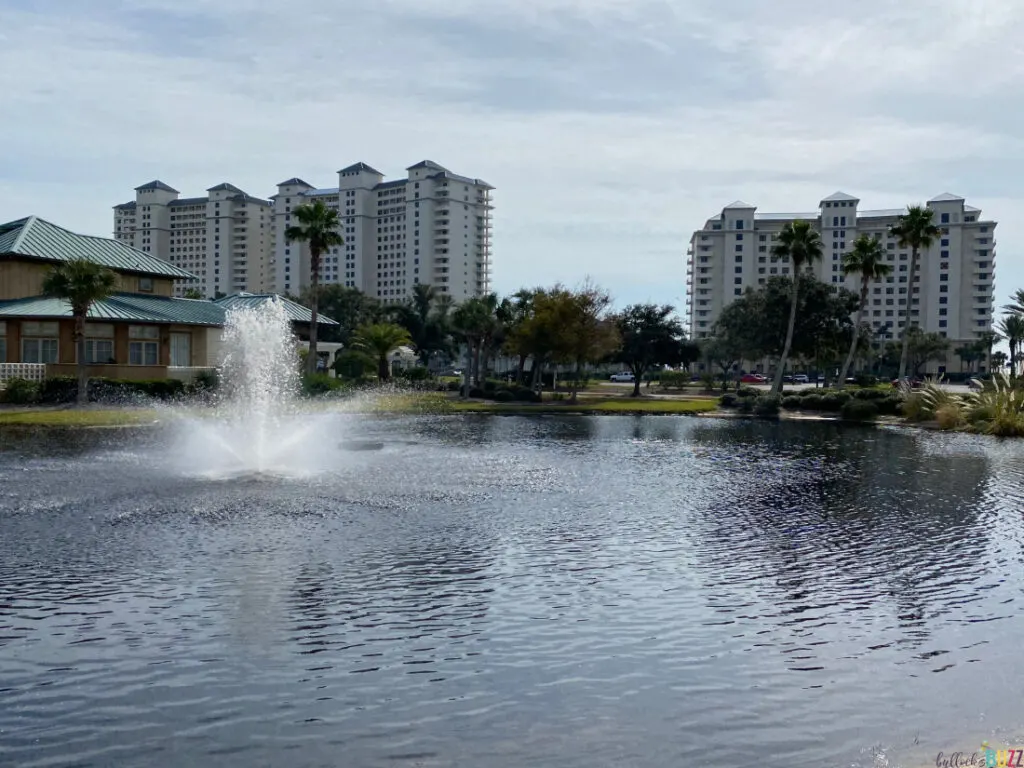 The Beach Club Resort and Spa of Gulf Shores, Alabama
Perfect for a romantic anniversary stay or a fun-filled family vacation, The Beach Club Resort and Spa of Gulf Shores, Alabama is a must-stay destination. Situated on 86 acres of natural beauty, The Beach Club has everything you need for an ideal vacation.
With private beaches, five outdoor pools, a heated indoor pool, a fitness room, arcade, spa and salon, the resort has everything you could want and much more. There are also multiple dining options, an ice cream shop, a tennis club, a kids club, and plenty of activities for all ages. There's really no need to leave the resort if you don't want to.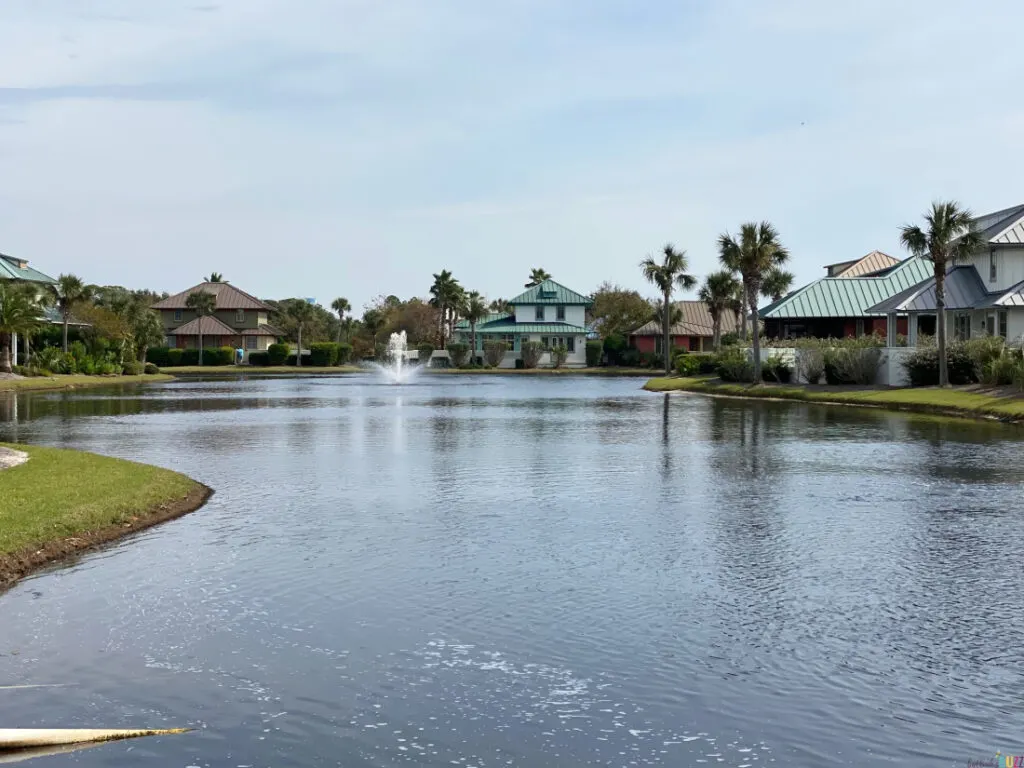 A percentage of cottages and condos in the resort of privately-owned. There are also many units available for rent through property-owner Spectrum Resorts.
Their condos range in size from one to five bedrooms, and they all offer beautiful, unobstructed Gulf views. The lakeside cottages range from two to five bedrooms and are quite spacious providing a home-like setting for your family or friends.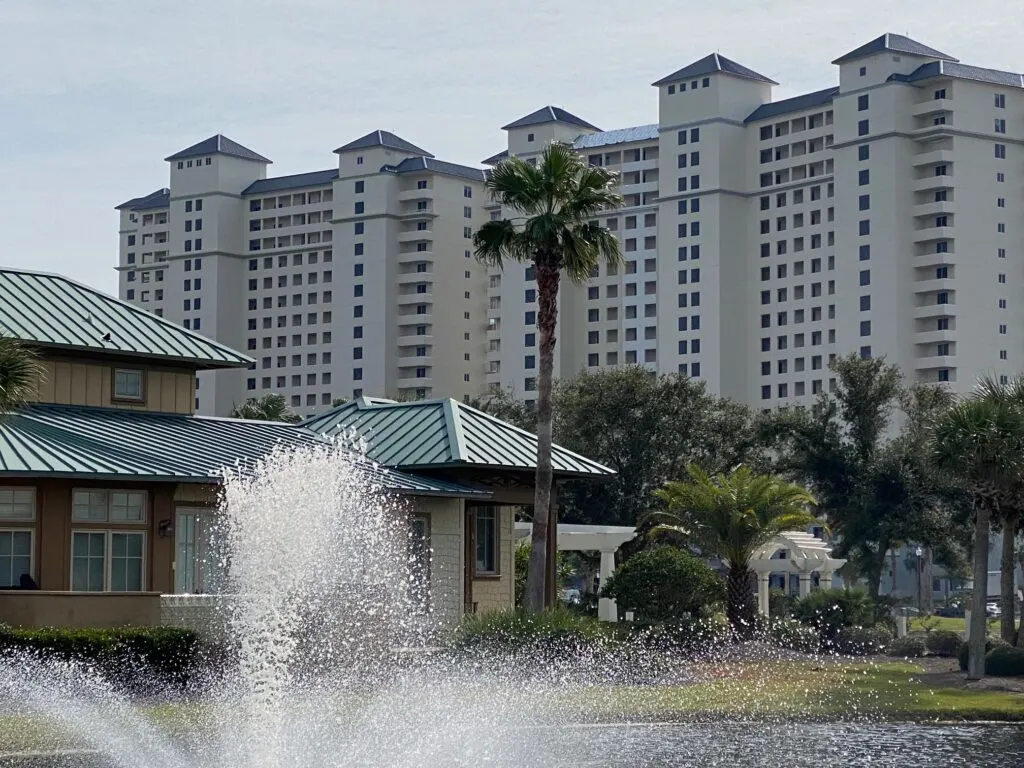 Unfortunately, when Hurricane Sally came ashore, it damaged the resort. However, before our visit we were informed about the possibility of on-going construction and how it might affect our stay.
Yet, when we arrived, the majority of the damage was repaired. In fact, I saw very little signs of construction.
Plus, to look at the bright side, they have built the resort back better than ever, with fully updated and remodeled condos and buildings, beautifully landscaped grounds, and more activities and amenities.
One Bedroom Condo at the Beach Club Resort and Spa
My husband and I stayed in one of their 1-bedroom condos which consisted of a king-size bedroom with ensuite bathroom, a full-sized kitchen, a family room, half bath, and a large balcony overlooking the Gulf of Mexico.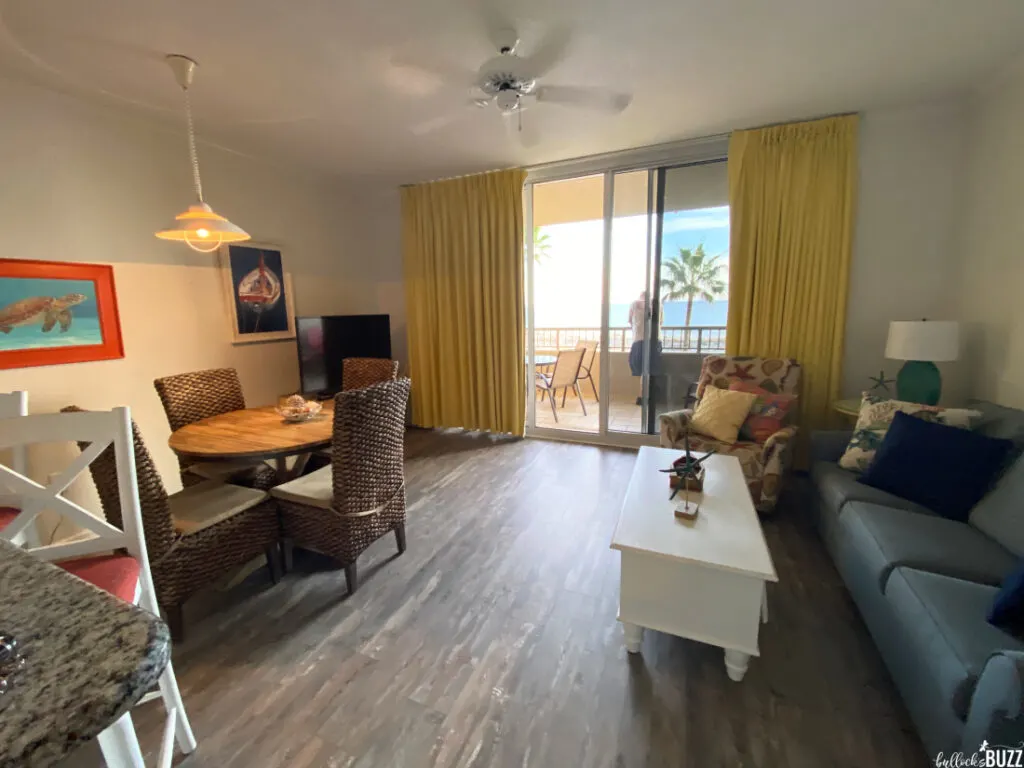 It was a very comfortable size for the two of us, although it also had a berth with bunk beds and a queen-sized sleeper couch in the family room. So, the condo could also accommodate a family of four to six comfortably.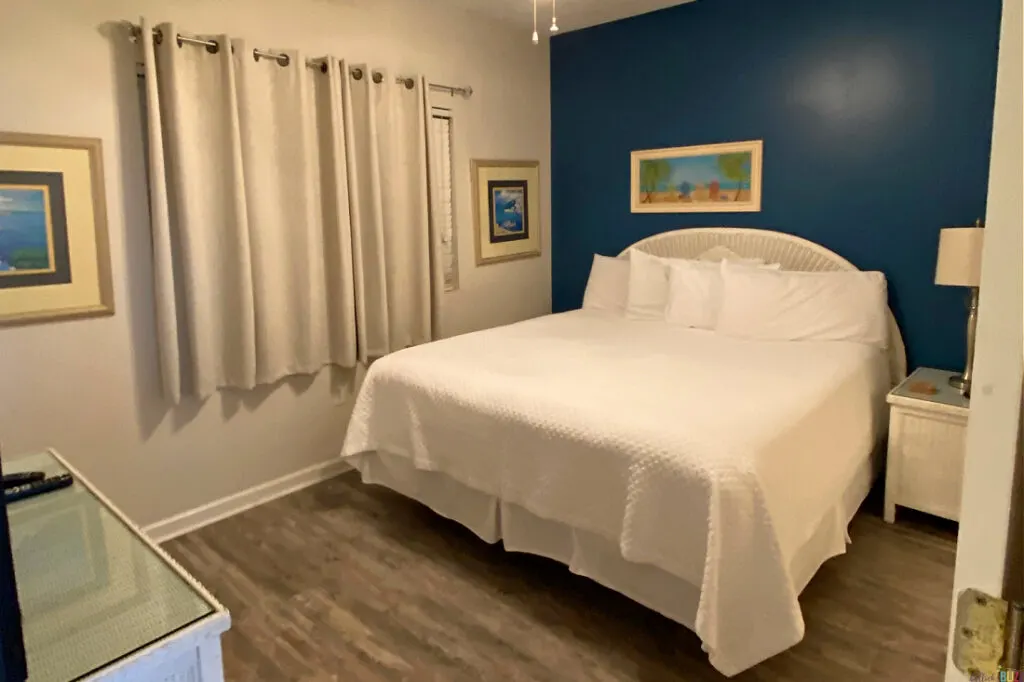 The furniture was comfortable, the bed was king size and had plenty of pillows along with super soft sheets and a coverlet. There was also plenty of room for our clothes, and lots of counterspace in the bathrooms for our bath products. And speaking of the bathroom, the water pressure was great.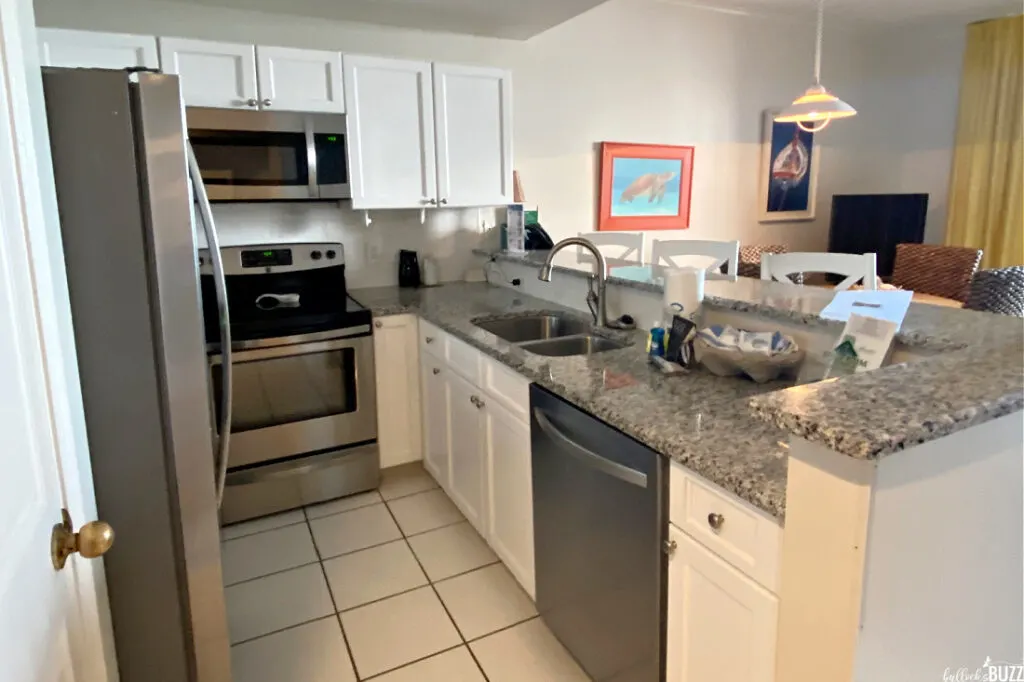 The kitchen was nicely updated with full-size, stainless-steel appliances and granite countertops. It was also completely stocked with pots, pans, cooking tools, plates, bowls, glasses, silverware and everything else one could possibly need.
Most importantly, everything in the condo was clean, from the countertops to the bathtub, the floors to the windows, and even down to the coverlet on the bed thanks to Spectrum Resorts' Clean Bed Guarantee.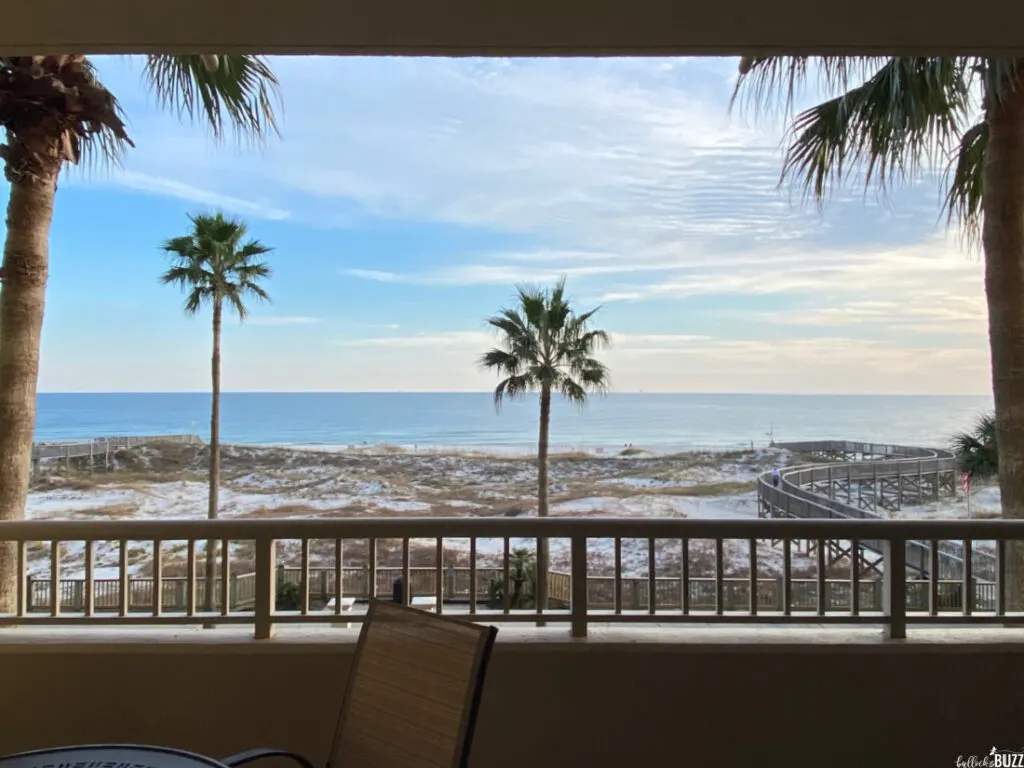 One of my favorite things about our condo was the views from our balcony. Morning or night, the views were absolutely breathtaking – especially at sunset!
I also appreciated how quiet the place was. Although there were not many people there for our first night, the rest of the weekend saw a lot of people.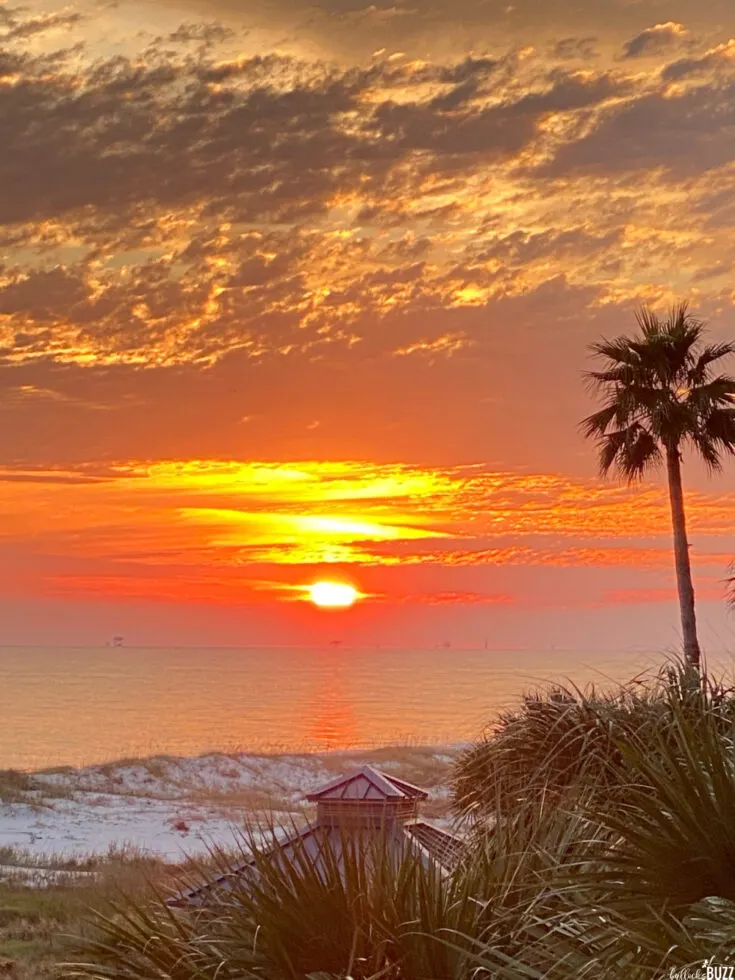 One of my biggest pet peeves about staying in condos at the beach is the noise level. People are there with kids, young adults are partying loudly, and the general atmosphere is often busy and loud. Even at night. Worse, you always seem to have to wait on the elevators when you are ready to go somewhere.
At The Beach Club, we didn't hear very much while inside our condo, unless we opened the balcony door. In fact, although I saw several kids and groups of young adults, the condo remained nice and quiet. We had no issues with noise keeping us up. And although the resort wasn't at full capacity, we didn't have to wait long for an elevator.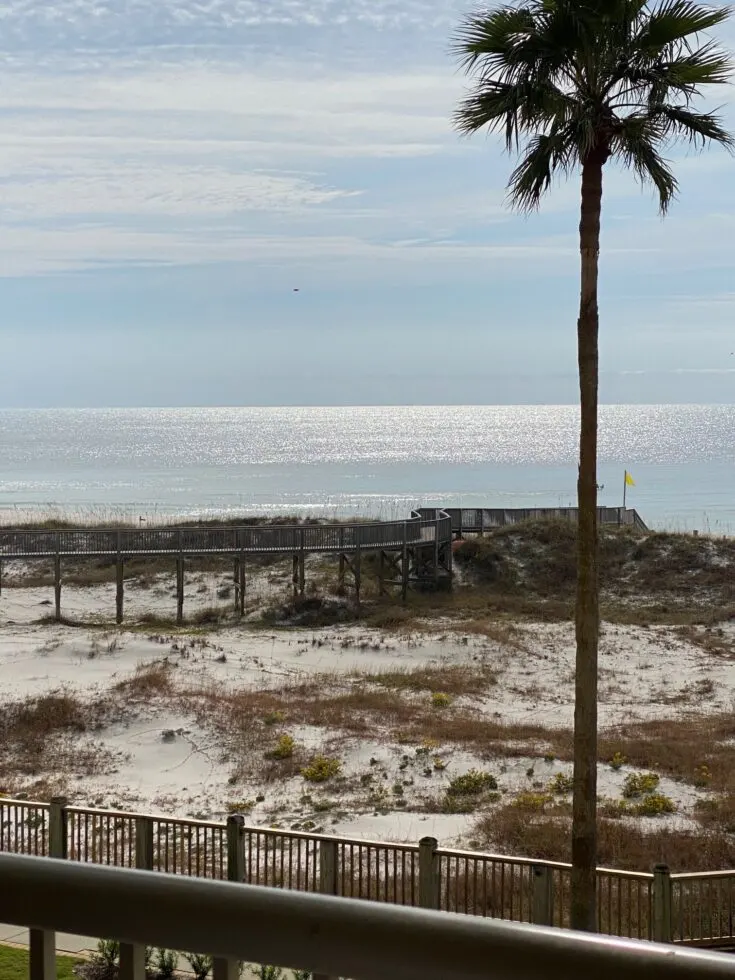 The Beach Club Activities and Amenities
As I mentioned above, this resort has pretty much everything you could want or need on a vacation. My husband and I had a wonderful time swimming in the indoor pool, walking along the quiet beach, playing games in the arcade, and more.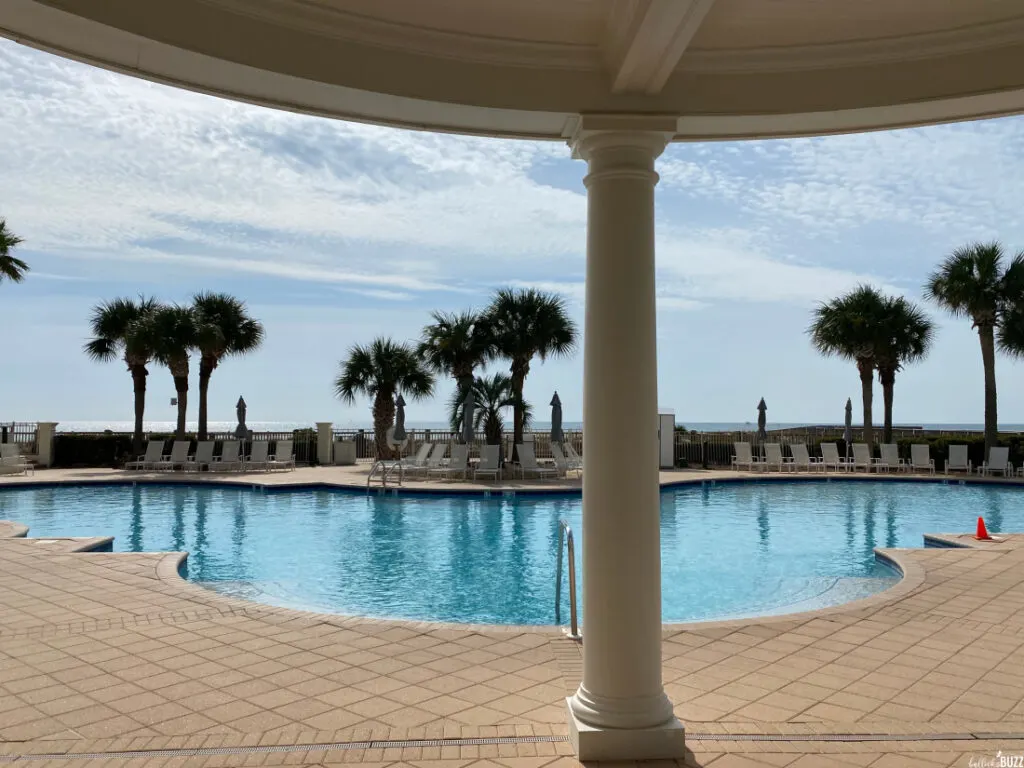 We took a bike ride around the resort, strolled through the Nature Preserve, ate some ice cream, swam in the outside pool, and enjoyed soaking in the sun on the beach.
At night we relaxed in the hot tub, then returned to our condo to watch TV and some DVDs. We even played some of the games they had in the condo.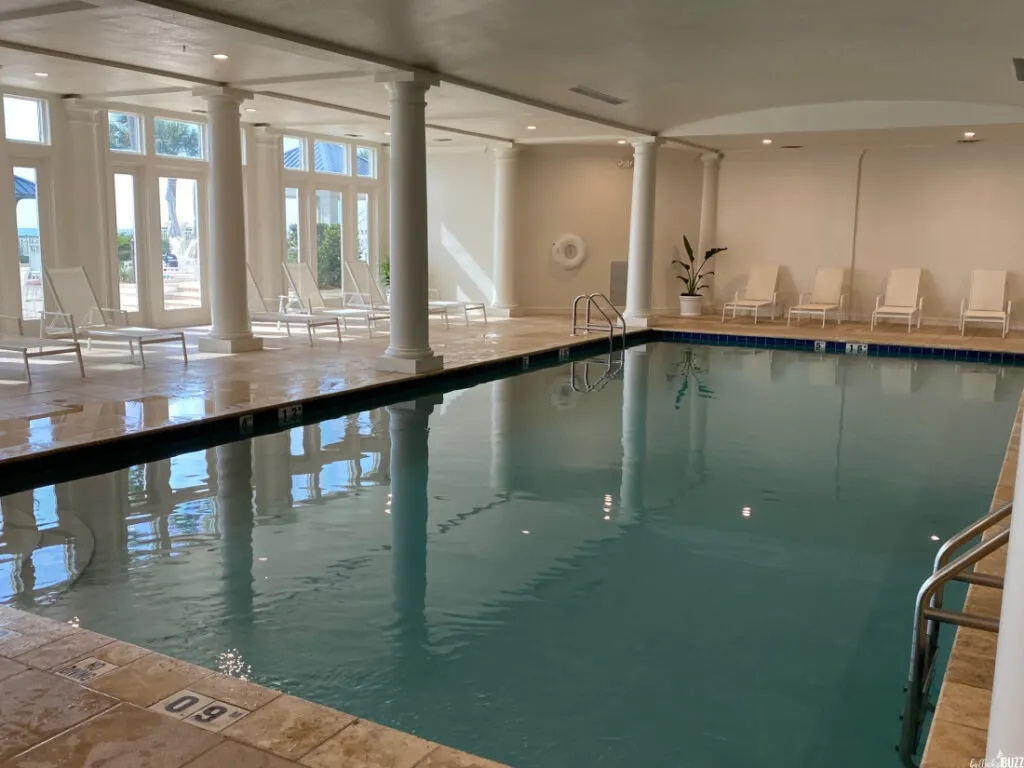 Coast Restaurant at The Beach Club
We also had a wonderfully delicious dinner at one of the resort's restaurants called Coast.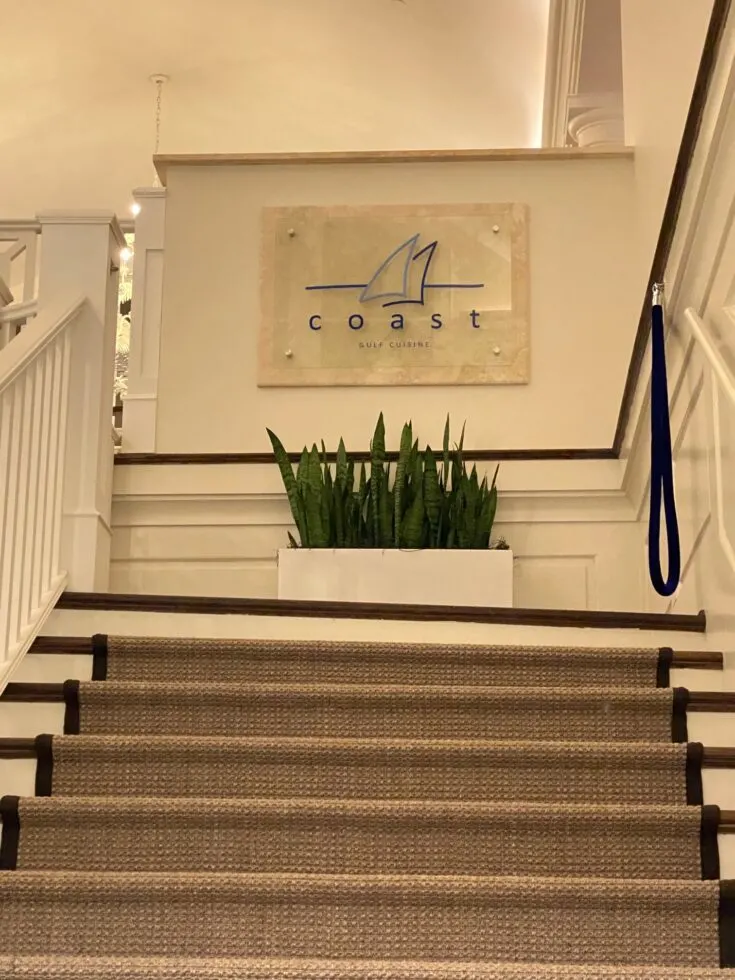 While not all of the resorts' dining options were open due to the season, our meal at Coast definitely made up for it!
Coast serves the freshest seafood, steaks, pasta, salads, and more. You can either eat inside or outside on the Veranda overlooking the Gulf of Mexico. The food was simply amazing! And our waiter rocked!
One other thing we were not able to experience this time around was a spa visit, but that just leaves us another reason to return! 🙂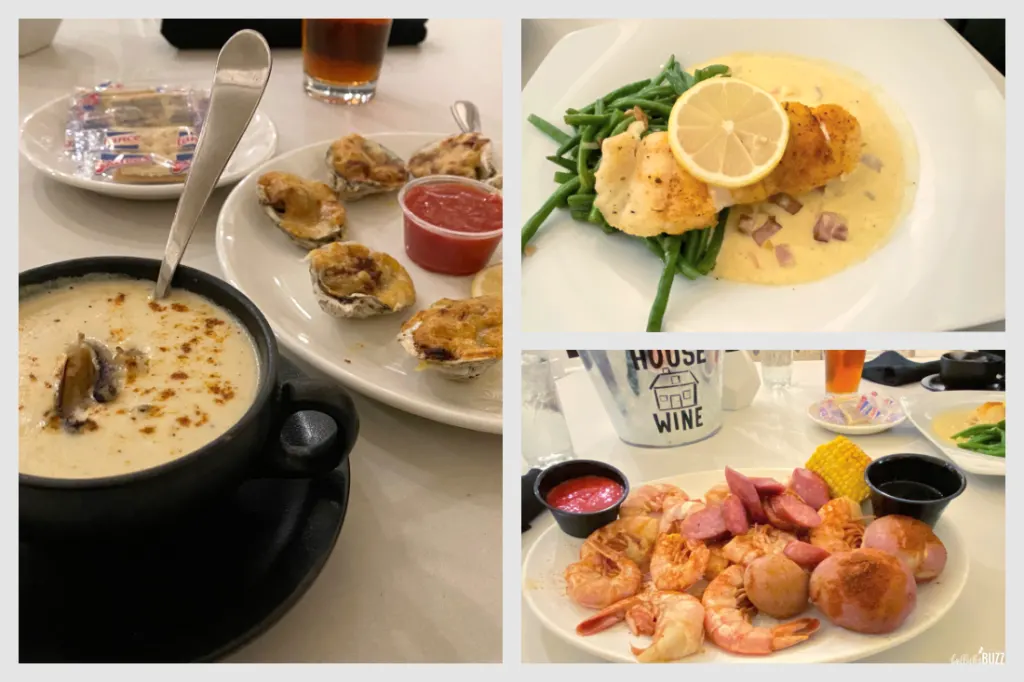 Outside the Resort
If you do want to venture out of the resort, there is plenty to do in and around Gulf Shores. You will find that you are ideally located to visit one of Alabama's most beautiful state parks, Gulf State Park, explore the history of nearby Fort Morgan, and enjoy the wildlife at the Audubon Bird Sanctuary and the Sea Lab and Estuarium on nearby Dauphin Island. Mobile is also a short drive away.
In addition, about 25 minutes from The Beach Club Resort and Spa in Gulf Shores, is the small town of Foley, Alabama. And thanks to OWA, that small town that is packed with lots of things to do.
James and I spent most of a day visiting downtown OWA and the Park at OWA and had a fantastic time! But that's an adventure for another post which you can read about HERE.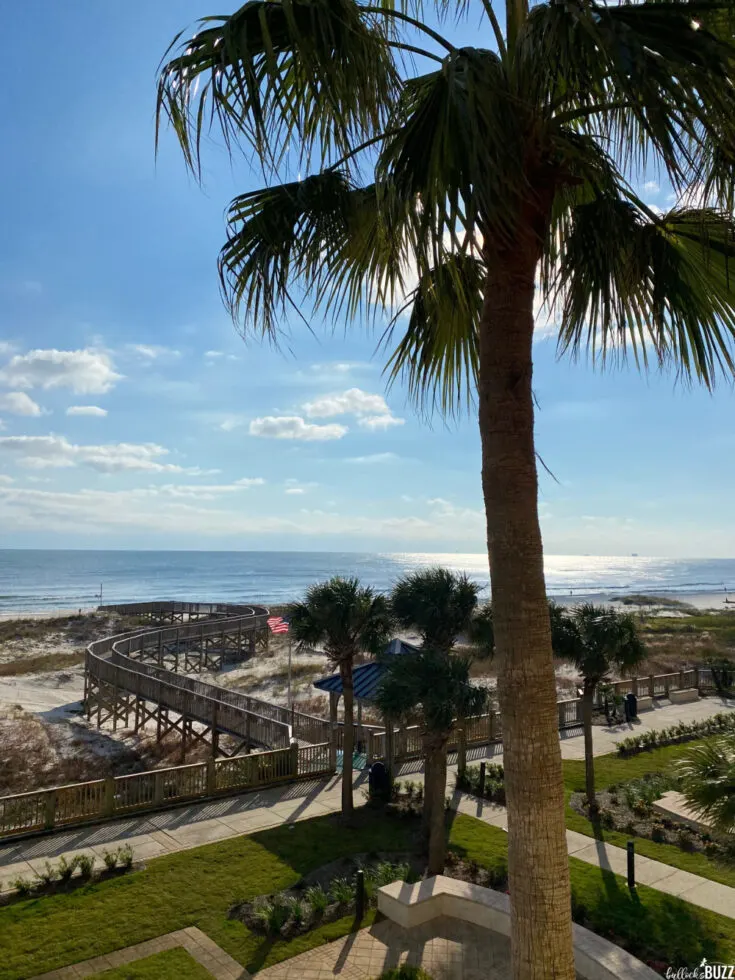 My Thoughts on The Beach Club Resort and Spa
This was our first time staying at a Spectrum Properties resort, and we would definitely stay there again.
The friendliness of the staff, the views, the activities, the food, and the cleanliness of the condo's, the grounds and clubhouse are just a few of the reasons why I would recommend a stay at The Beach Club.
The property is well-kept and feels safe and secure. And parents will love that the resort has all sorts of planned activities for the kids and the family all year round.
While the resort is definitely geared towards families, if you are looking for a romantic visit with your significant other or a fun-filled vacay with friends, there is still plenty to do.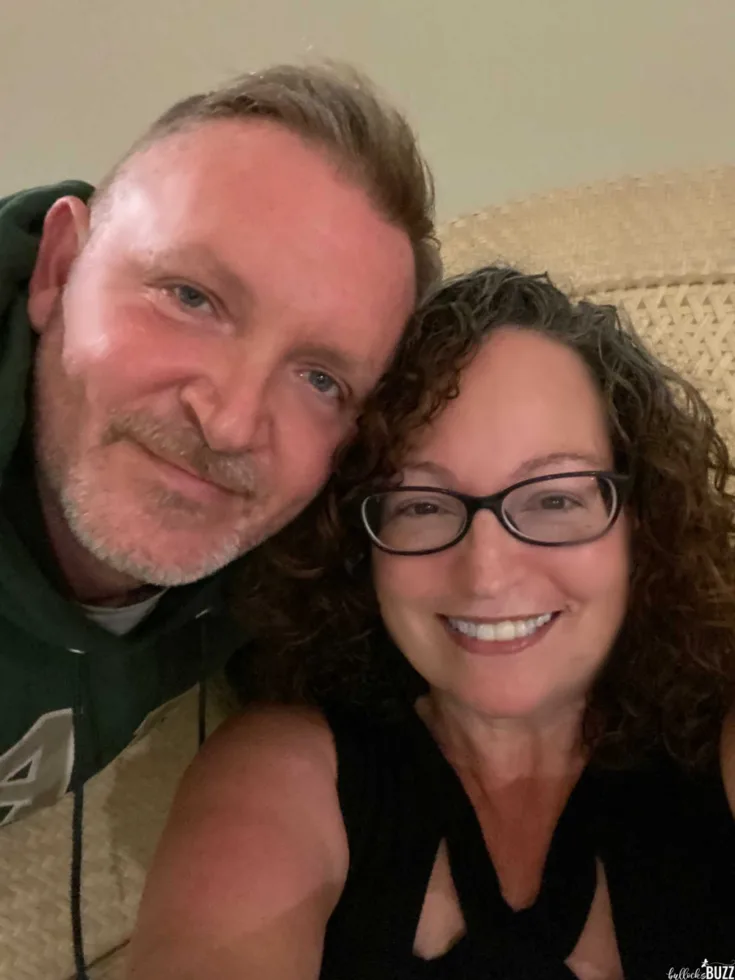 And then there's the Spectrum Experience which you get when you plan a stay with Spectrum Resorts. This bonus includes 10% off on all purchases made at the resort, complimentary resort activities and more. You also get a 100% satisfaction guarantee with your vacation rental.
Whether you are looking for a romantic getaway or a fun-filled family vacation, book a condo or cottage at The Beach Club Resort and Spa. You won't regret it!