Cupcake liners aren't just for baking anymore! Show your patriotism with this whimsical Patriotic Cupcake Liner Wreath that can be made in just a few simple steps.
Patriotic Cupcake Liner Wreath Tutorial
Ever since I've been on Pinterest, those cute DIY wreaths I keep seeing have been on my mind. I've been wanting to make one of my own for months now, but it wasn't until I was organizing my crafts materials yesterday that I came across everything I would need to make my own DIY Patriotic Cupcake Liner wreath. And with the Fourth of July just a week away, I had the perfect reason (excuse) to make one!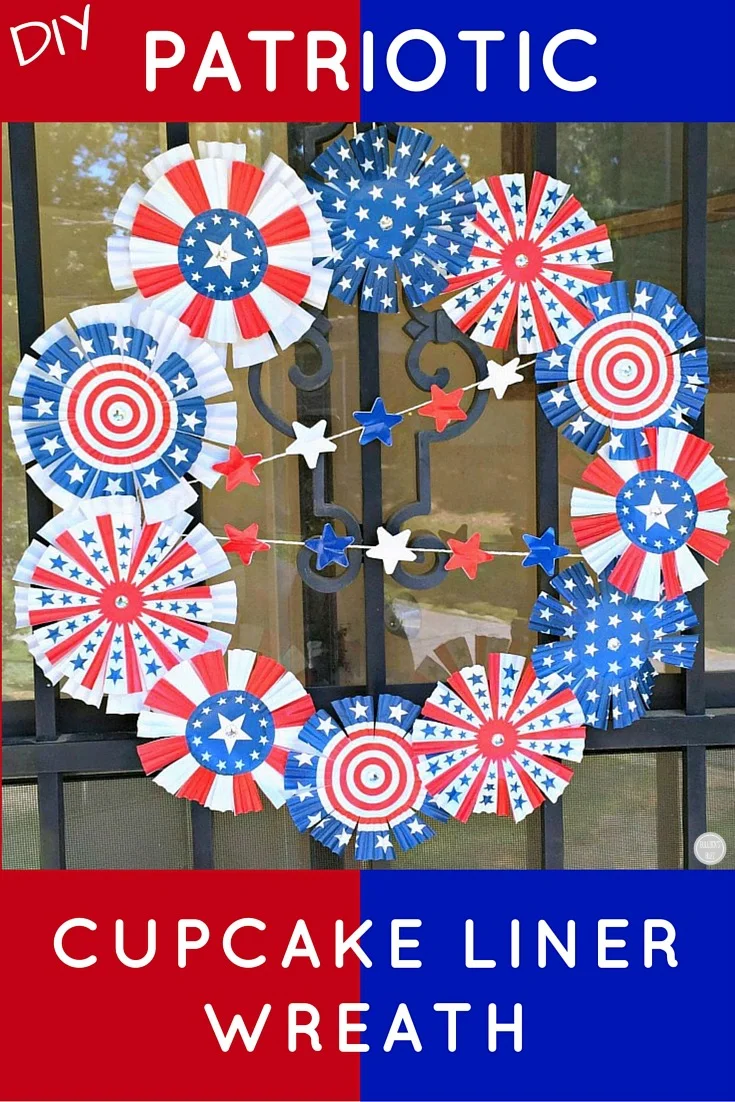 This being my first attempt I wasn't exactly sure how it would come out, but much to my surprise, I think I did okay. And the best part? It only took the better part of an hour! A lot of the supplies you need you most likely already have at home. The patriotic cupcake liners and the star topped picks I used came as a set from Oriental Trading Co., and I just pulled the stars off of the picks. As for the wreath, I cut one out from some super thick cardboard we had leftover from our move. I cut out a 14″ ring, and used 11 of the patriotic cupcake liners, and 3 white jumbo liners I had on hand. The exact amount of liners you will need will depend on the size wreath ring you have.
So, are you ready to see how to make this 4th of July Cupcake Liner Wreath?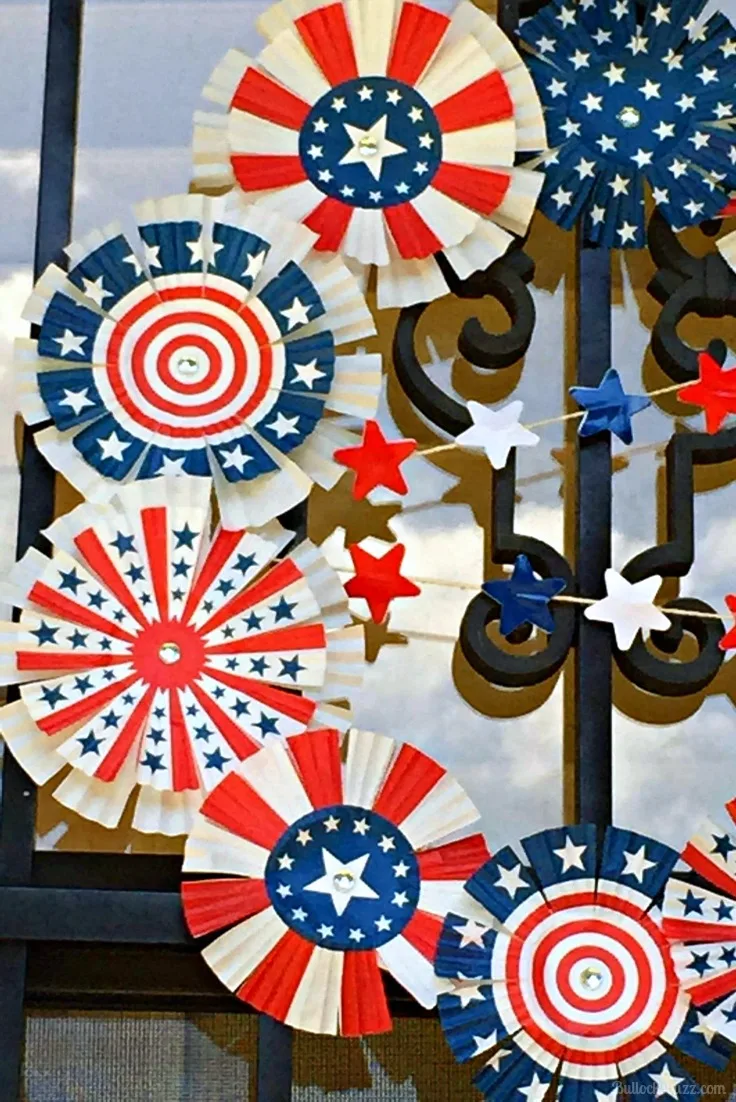 Here are the materials you will need:
– flat wooden wreath ring (or you can make one from cardboard)
– 3 Jumbo Cupcake liners in white
– 11 – 14 regular size cupcake liners in patriotic colors from Oriental Trading Company*
– 10 – 12 star topped food picks or paper craft stars from Oriental Trading Company*
– twine
– Craft Glue or hot glue
– clear tape
– 11 clear self stick rhinestones
– Scissors
– White spray paint or acrylic paint
– Foam brush is using acrylic paint
Amazon also has a great selection of similar cupcake liners (aff. link) and toothpicks.
Instructions:
1. Begin by painting the wreath white. The cardboard I used to make mine was already white so I didn't have to do any painting. Let the wreath dry completely.
2. Once the paint is dry, flip the wreath ring over to add the twine that will be used to hang the stars in the middle. Measure out enough twine to make the two lines going through the middle of the wreath, and attach the twine using glue and tape. Let dry, then flip back to the front side.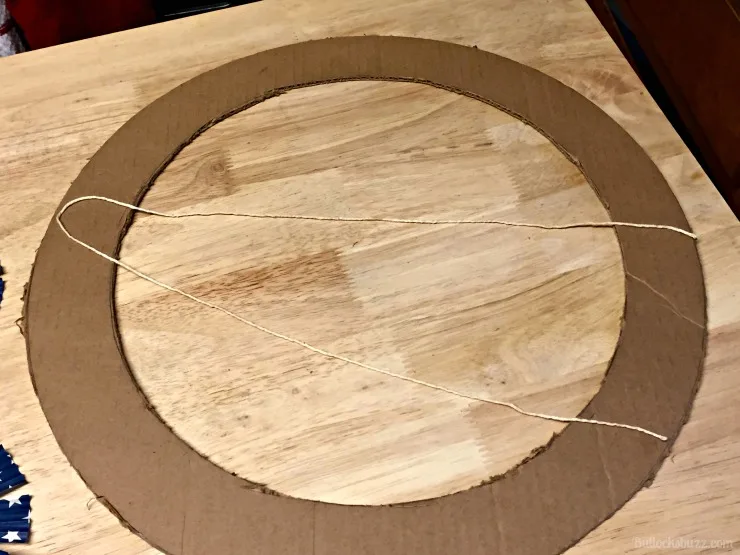 3. Next, gently flatten each of the cupcake liners with your hand, then spread them out on the wreath to make sure you have the exact amount of liners you need. Next, using the scissors, make cuts spaced out all the way around each cupcake liner going from the outside in, and stopping at the inner ring. Once cut the liners will sort of resemble a flower.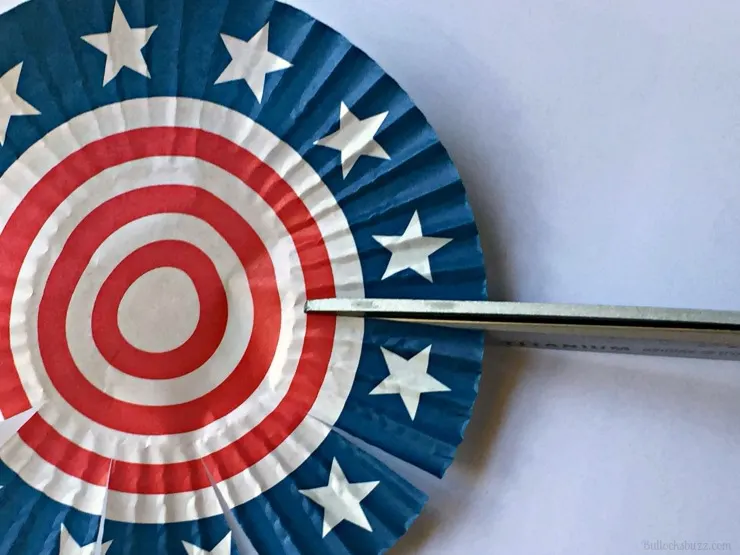 4. Now add one of the self stick rhinestones in the very middle of each of the cupcake liners.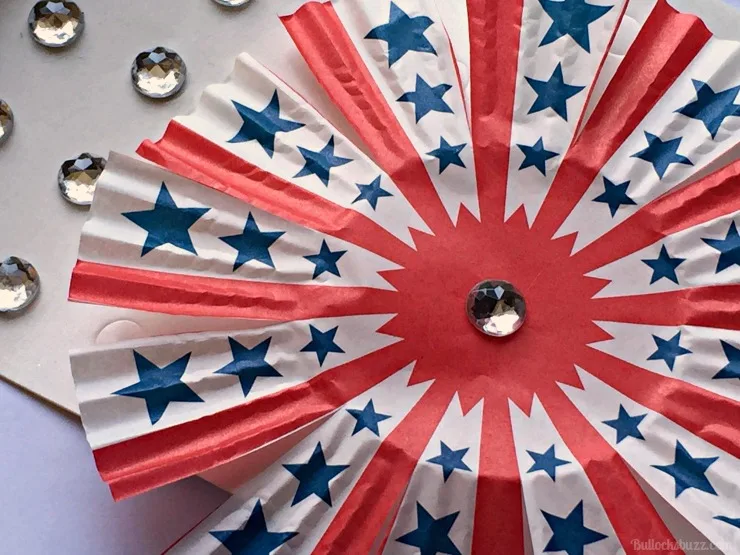 5. The next step is to glue a patriotic cupcake liner on 3 of the white Jumbo cupcake liners, then set them to the side to dry.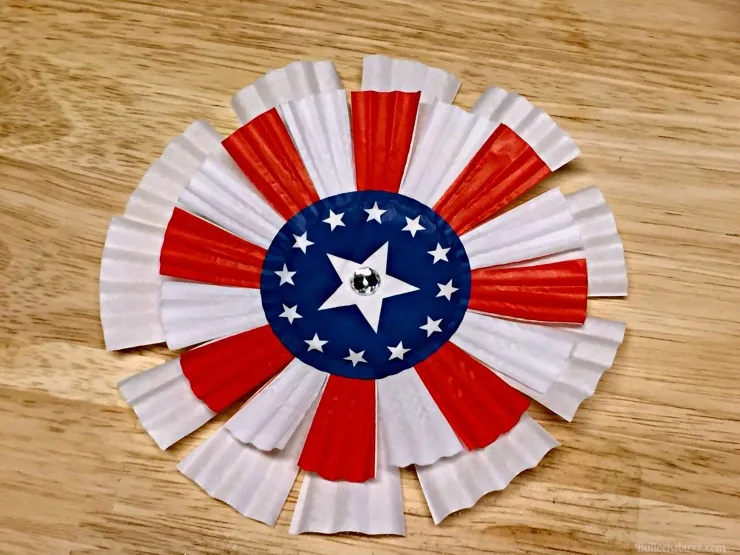 6. Now, before you start gluing the liners to the wreath, arrange them in the pattern you want to make sure you have enough. Once that is done, go ahead and start gluing them to the ring beginning with the 3 Jumbo ones. Add a small dab of glue to the back and press each one in its place on the ring.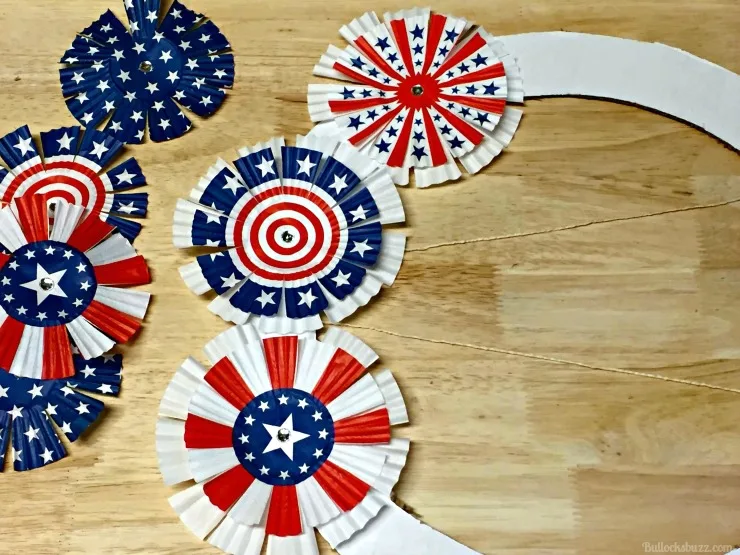 7. Once the large ones are in place, glue the remaining cupcake liners in their place on the ring, letting them overlap just the smallest amount. Tip: if using hot glue or craft glue, a small dab is really all you need. If you add too much, it could soak through the cupcake liners or look lumpy.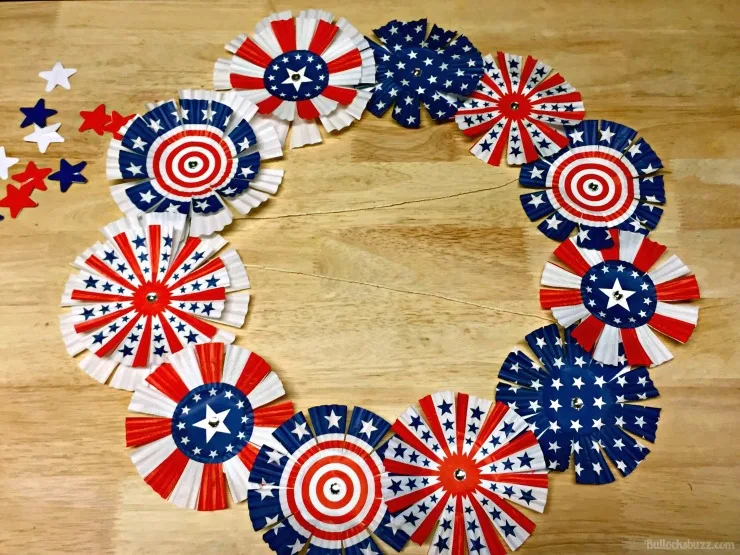 8. Once all of the cupcake liners are glued to the wreath, you can add the stars to the twine in the middle. To do this simply add some glue to the back side of each star, attach it to the twine in your chosen pattern, and let dry completely.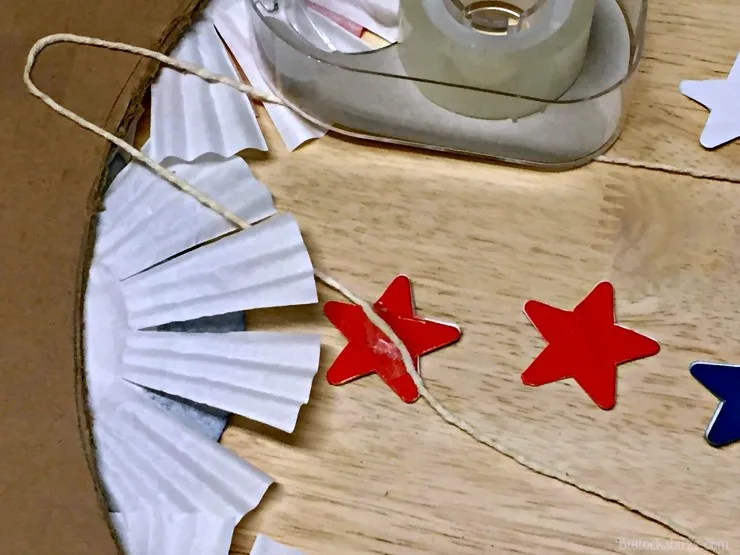 9. Now all that is left is to add a loop of twine at the top for hanging, and you are done!
I hope you enjoy this cupcake liner wreath as much as I enjoyed making it!
Have a happy and safe 4th of July!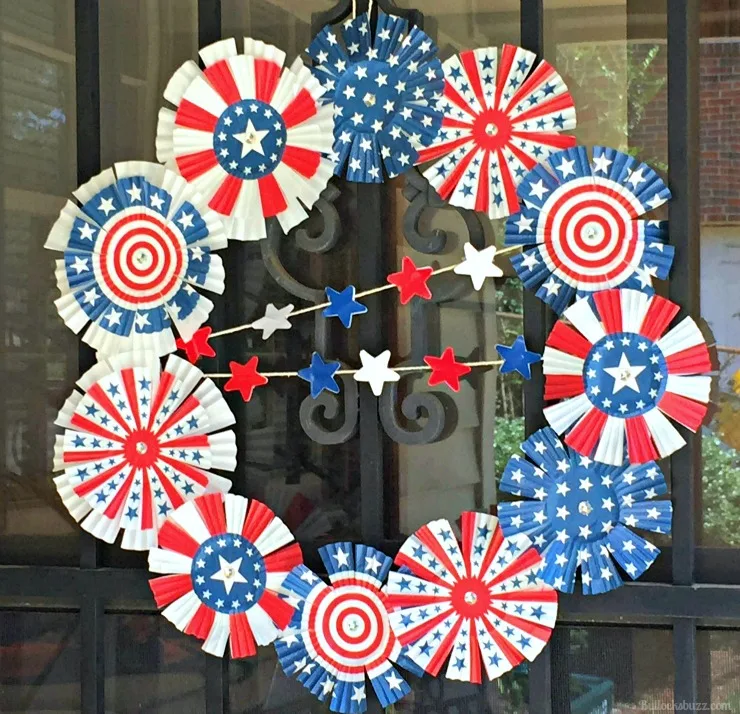 What kind of 4th of July crafts have you made?
Like this craft? Pin it to save it, and then share it with your friends and family using the buttons above or below this post.
Looking for more patriotic ideas for your celebration? Check out these Red, White and Blue recipes!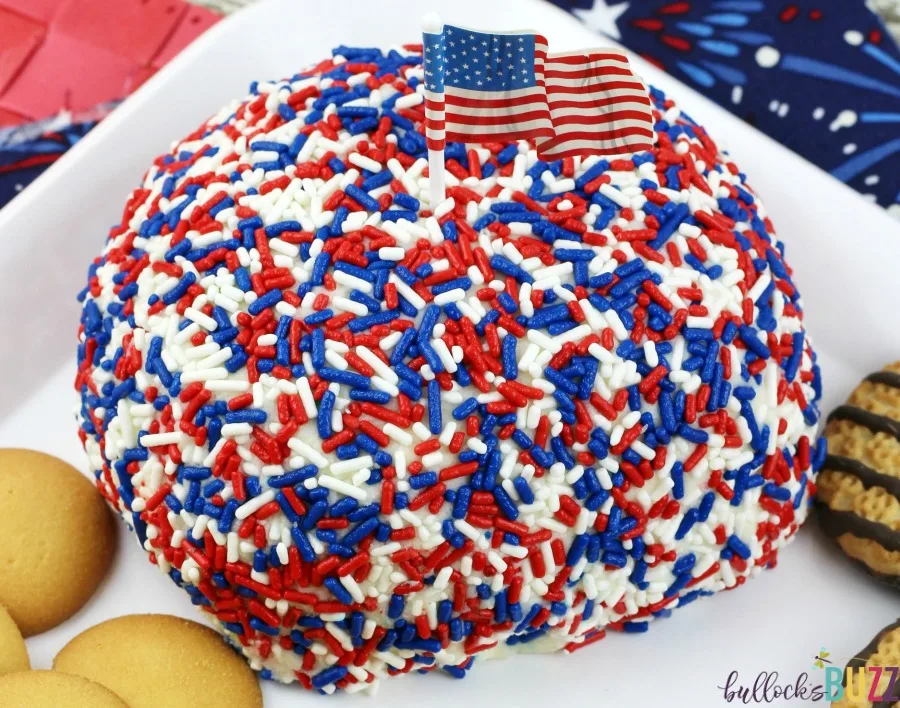 Patriotic Funfetti Cake Cheese Ball – No Bake Treat