The name candle comes from the Latin word candere meaning "to shine". One of my favorite simple pleasures in life is watching the warm glow of a candle flame and smelling the scent as it drifts through my home. Years ago candles were used as the main source of light, to welcome people home, to remember loved ones and more. Today, while we still use candles for those purposes, they have also become one of the most popular pieces of decor. And it's no wonder as they come in so many different colors, sizes, and designs. The warm glow of several candles placed around the room can completely transform that room and its atmosphere. Add in scent, and you can evoke memories, create an inviting atmosphere, and even affect one's mood. Candles are a very easy and very economical way to decorate, and they look good whether lit or not.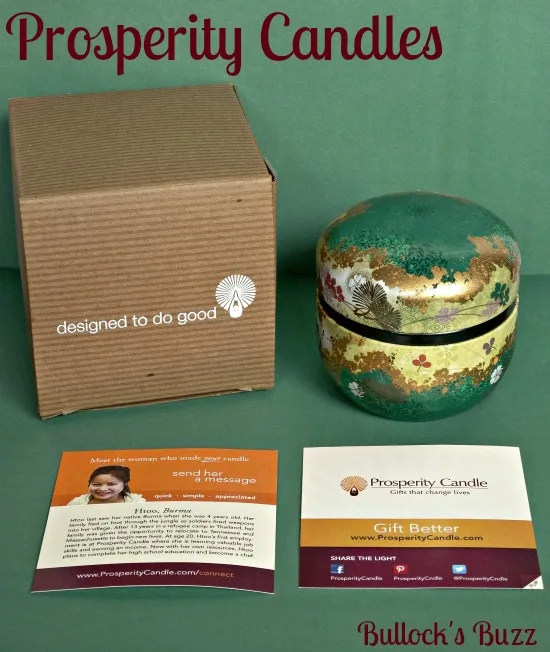 Prosperity Candles are designed to do more than just look good, they are designed to do good. A member of the World Fair Trade organization, Prosperity Candles is a social enterprise that focuses on helping women from some of the world's most distressed regions to start candle businesses with access to local and global markets. They teach the women the art of candle making and the business skills needed to build and manage their own business, empowering them to raise above the poverty and rebuild their lives. They work with women in Iraq, Haiti and even here in the US with recently resettled refugees from places such as Burma who have escaped years of tragedy and loss.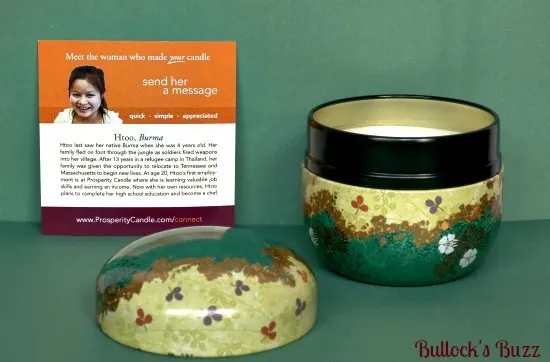 Their candles are made with only clean-burning waxes that are sourced right here in the US. They make two different types, a beeswax blend, and a soy wax blend, and no dyes are used in either one as it compromises the purity of the burn. The wicks are all natural cotton, coated in soy wax, and do not contain any metals or any other component. Candles that are scented are done so with either essential oils or fragrance oils based on essential oils. Each beautiful candle is hand poured, and comes gift boxed with the name and story of the woman who made it, allowing the recipient to send messages of hope and support through the website.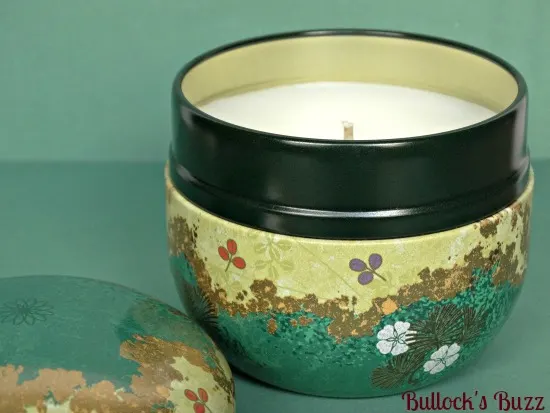 All Prosperity Candles are meant to be reused or recycled. The one I received is encased in a beautiful Japanese floral tin, and is part of the Bloom Travel Tin collection. It has a wonderfully soothing and peaceful bamboo and green floral scent – named Reflect – that reminds me of Spring and fills my home within minutes of lighting. Since the candle is made of a soy wax blend, it burns cleanly, without any of the dark smoke or black soot you get from pure paraffin candles. And once the candle is gone, I will have the beautiful tin to use as a decorative storage box!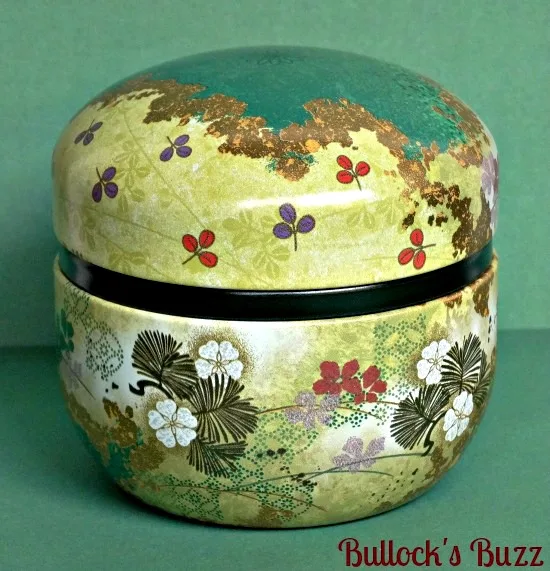 Prosperity Candles has tons of beautiful candles from pillar candles to candles in hand painted stoneware. Be sure to check out their full collection of the website and connect with them on both Facebook and Twitter.