With cell phones and car clubs, many of us are lulled into a false sense of security when it comes to driving a road trip. However, the truth is a roadside emergency can happen at anytime and anyplace, and where you break down may not always be in a safe location with cell phone service and a tow truck minutes away. Being prepared can make all the difference. Most people don't think about having a car emergency kit until it's too late. Don't be that person. Below is a list of must-have items for a road trip emergency kit.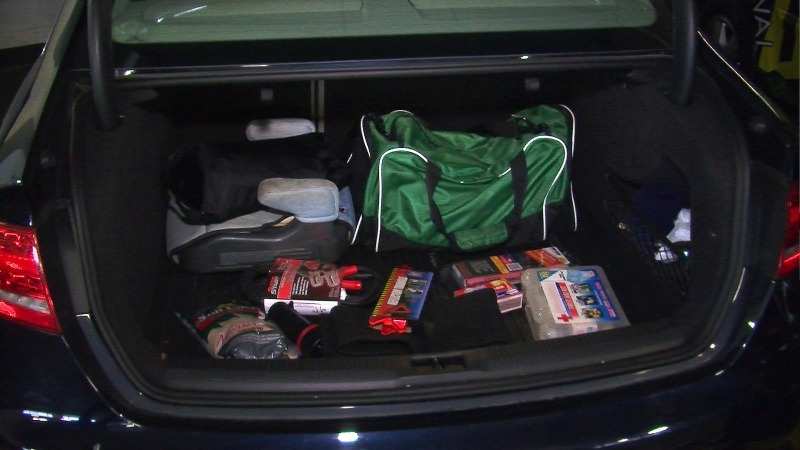 Image via Flickr
1. Charged Cell Phone and Extra Charger
Although you most likely carry one on your person, it doesn't hurt to consider getting either an extra, basic model cell phone or one of those that are made specifically for use in emergencies. Also, before getting in the car make sure your regular cell phone is always fully charged. Keeping a spare charger in your car at all times is also a great idea.
2. Flashlight and Extra Batteries
Always keep a flashlight in your car. Pick one that has LED bulbs so it is extra bright, and one that is also weatherproof. Also, keep extra batteries and a spare bulb available.
3. Multi-Tool
A multi-tool like one of those small Swiss Army Knives with several different tools or a Leatherman Tool will work perfectly. There are also several tools on the market that are made specifically for car emergency kits. These often have several common tools, a knife, a seat belt cutter, and something that can be used to easily break out the windows.
4. Matches, Lighter or some other type of fire starter.
5. Warm Blankets and/or Extra Clothes
Having extra clothes or a blanket for warmth is especially important during the cold, winter months.
6. Bottled Water and Non-Perishable Snacks
Be sure to keep several bottles of water and snacks. Energy bars, nuts, dried fruit, hard candy and crackers all work well. If you know you are going on a long road trip, make sure you pack enough for you and each passenger. Also, be sure to check the expiration dates on the food regularly.
7. Towel, Rags or Paper Towels.
8. Warning Lights, Hazard Triangles, or Flares
If you find yourself broken down on the side of the road, you need a way to warn other drivers. Make sure you have either reflective hazard triangles or flares – both are quite effective and don't require batteries. If you opt for the triangles, make sure you get a set so you can space them out at intervals. You could also look for a battery-powered warning light, but make sure you also keep extra batteries.
9. Fire Extinguisher
When choosing a fire extinguisher, you need one that is rated for both Class B and Class C fires by the National Fire Protection Association (NFPA). Class B fires involve flammable or combustible liquids, such as gasoline, diesel fuel and kerosene. Class C fires involve electrical equipment such as panel boxes, switches and batteries.
10. First Aid Kit
While there are all types of pre-made first aid kits in the stores, save some money by putting together one of your own. Include the basics such as band aids and antiseptic wipes. A first aid kit for the car should also include adhesive tape, gauze pads, aspirin, antiseptic cream or ointment, a small pair of scissors, and anything specific to you or your family. Make sure any medications are not temperature – sensitive, and check the expiration date on a regular basis. The same goes for the expiration dates on aspirin, antibiotic creams and antiseptics.
Remember, an ounce of prevention can make all of the difference. Keeping your car regularly maintained can often help prevent a breakdown. Bring your car into Akins Dodge, Jeep, Chrysler for service before you head out on your next road trip.