Pork Chops are sauteed in olive oil flavored with fresh rosemary, sage, and garlic resulting in tender and juicy chops that taste as though you spent hours preparing them in this quick and easy Rosemary Sage Pork Chop recipe.
This Rosemary Sage Pork Chops recipe is not only quick and easy, but you most likely have all the ingredients in your kitchen. And the aroma of the herbs cooking will fill your house and delight your senses!
Pork chops are one of my favorite cuts of meat. They are affordable, delicious, and incredibly versatile. Plus, there are so many delicious ways to cook them!
For example, you can grill them, like in this Savory Grilled Pork Chop recipe, cook them sous-vide like this Garlic-Basil Rubbed Pork Chops recipe, or make a one-pot meal out of them like in this Pork Chop Dinner.
Today's Rosemary Sage Pork Chop recipe, calls for sauteeing the chops in olive oil infused with fresh herbs. Yum! It's easily one of the best pork chop recipes I've made.
In fact, this flavorful Rosemary Sage Pork Chops recipe is my second most popular pork chop recipe after these Southern Fried Pork Chops!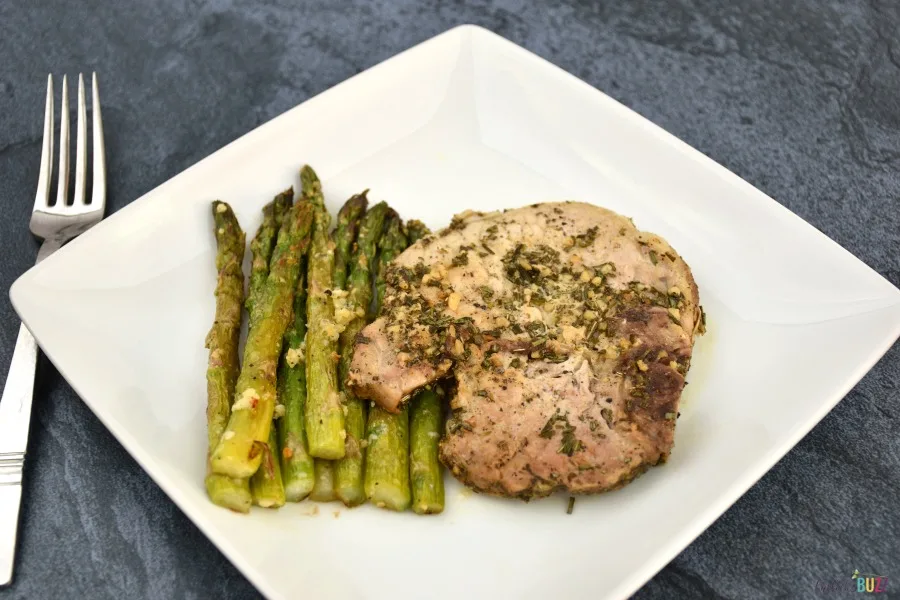 How to Make Rosemary Sage Pork Chops
This pork chop recipe is one of those easy dinner recipes that's absolutely perfect for weeknights.
It comes together in about 20 minutes or less. And it tastes amazing! So simple. Yet, so delicious.
Kitchen Tools You May Need
Disclosure: This blog post contains affiliate links for products or services I think you'll like. This means if you make a purchase from one of these links, I may make a small commission at no additional cost to you. P.S. I only recommend products that I use and love.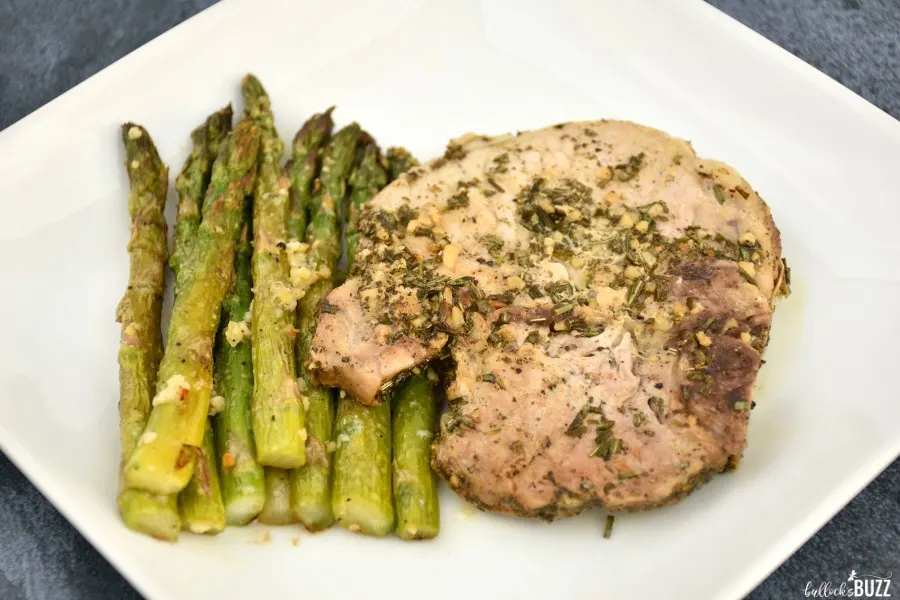 Rosemary Sage Pork Chops Ingredients
This basic pan-seared pork chop recipe is proof that you can create an amazing meal with just a few simple ingredients. All you need to make Rosemary Sage Pork Chops is the following:
bone-in pork chops
extra virgin olive oil
fresh rosemary
fresh sage
fresh garlic
sea salt
ground black pepper
Although this recipe calls for fresh herbs, you can totally use dried. See my tips below for substituting dry herbs for fresh.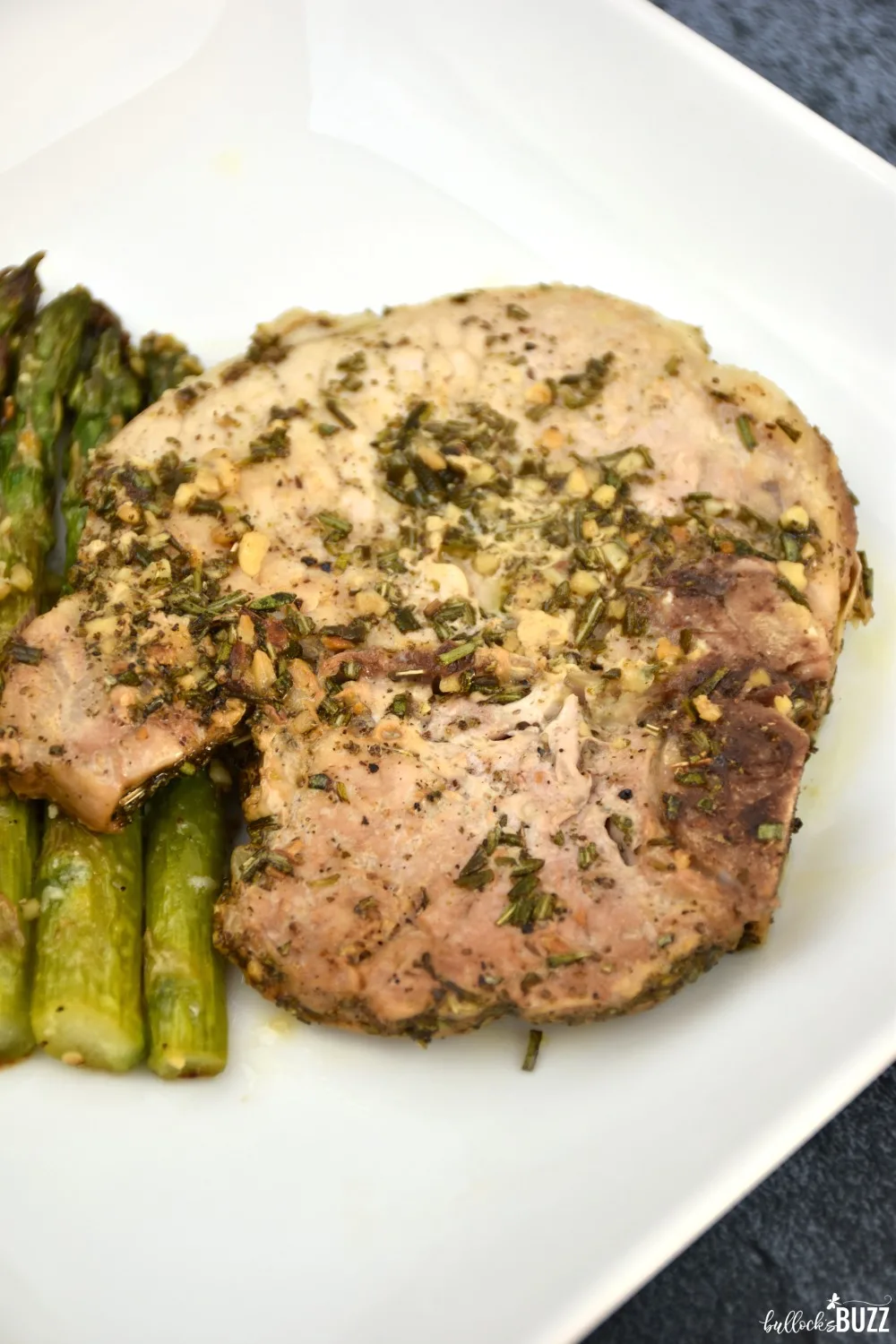 Recipe Instructions
It really doesn't get any easier than this pork chop dinner recipe. Simply sauté the herbs in olive oil. Add in the pork chops. And cook until they're ready. That's it. You're done!
It's a simple, yet elegant pork chop recipe that tastes as though you spent hours in the kitchen when it reality it comes together in less than 20 minutes!
What Is the Best Cut of Pork Chop for a Pan-Seared Pork Chop Recipe?
Nobody enjoys a leathery, dried-out, tough pork chop. To avoid this, always pick the best cut of pork chop for the method of cooking.
In my opinion, center-cut, bone-in pork chops work the best with pan-seared pork chop recipes as they turn out moist and flavorful. Also, because they are easier to work with:).
However, you could also use boneless pork chops which work very well for searing because they are thick and tender. Or you could use loin chops although they are leaner than center-cut chops.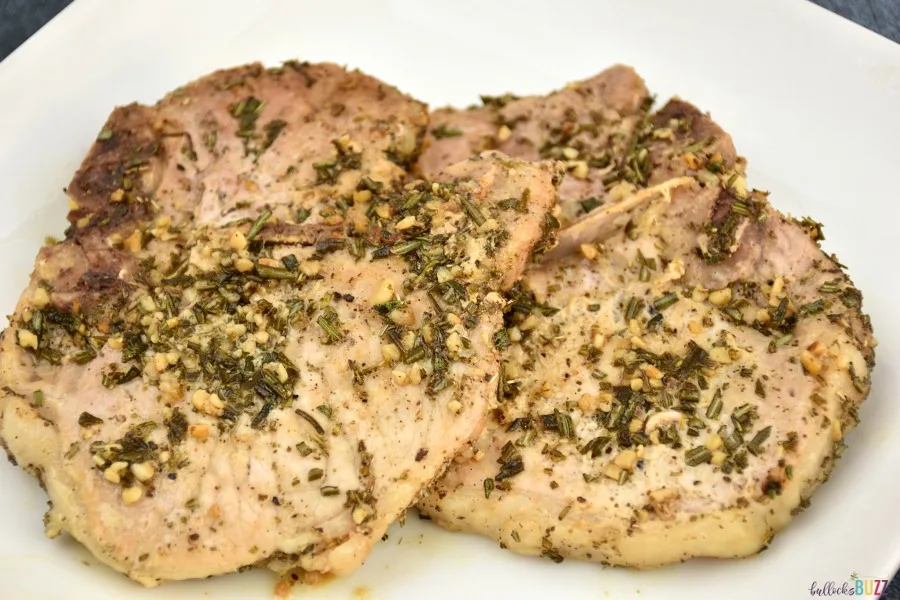 Tips and Tricks for Perfect Pan-Seared Pork Chops
Once you've picked out the cut, the following tips and tricks for perfect pan-seared Rosemary Sage Pork Chops can help your pork chops turn out tender, juicy, and full of flavor!
Remove the pork chops from the fridge and allow them to rest for about 20 minutes on the counter before cooking them. Allowing them to come to room temperature before cooking will ensure they cook evenly and the center will reach the perfect temperature.
Don't be shy when it comes to seasoning pork chops. Being liberal with seasonings makes for a delicious and flavorful pork chop. That's why this particular recipe uses a fairly large amount of herbs.
If using oil, be careful not to let it get too hot or you can burn the herbs – especially if using dried herbs.
Always use a meat thermometer to check the internal temperature of your pork chops. Don't rely blindly on cooking time.
After cooking, let the pork chops rest on a plate for about 10 minutes. They will continue to cook a bit, bringing them to the recommended 145 F degrees.
Remember, cooking time will vary based on the thickness of the pork chops.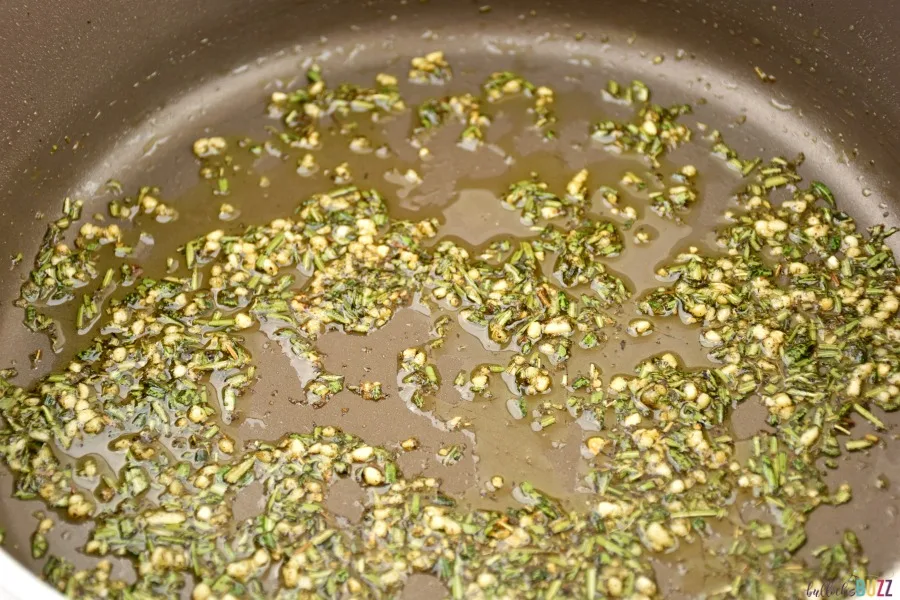 How to Substitute Dry Herbs for Fresh Herbs
Although this recipe calls for using fresh herbs, if you don't have any on hand, you can always use dry. Although I have to say the flavor you get with fresh herbs is worth a trip to the store!
When using dried herbs, you need to keep in mind that the flavor is much more concentrated than in fresh herbs, so less is required. A general rule of thumb is to use a third of the amount of dried as you would fresh herbs.
So, for example, if a recipe calls for 1 tablespoon chopped fresh rosemary, you would use about 1 teaspoon of dried (since 1 tablespoon is equal to 3 teaspoons).
The reverse also applies: if the recipe calls for 1 teaspoon dried rosemary, you would substitute 1 tablespoon fresh rosemary instead.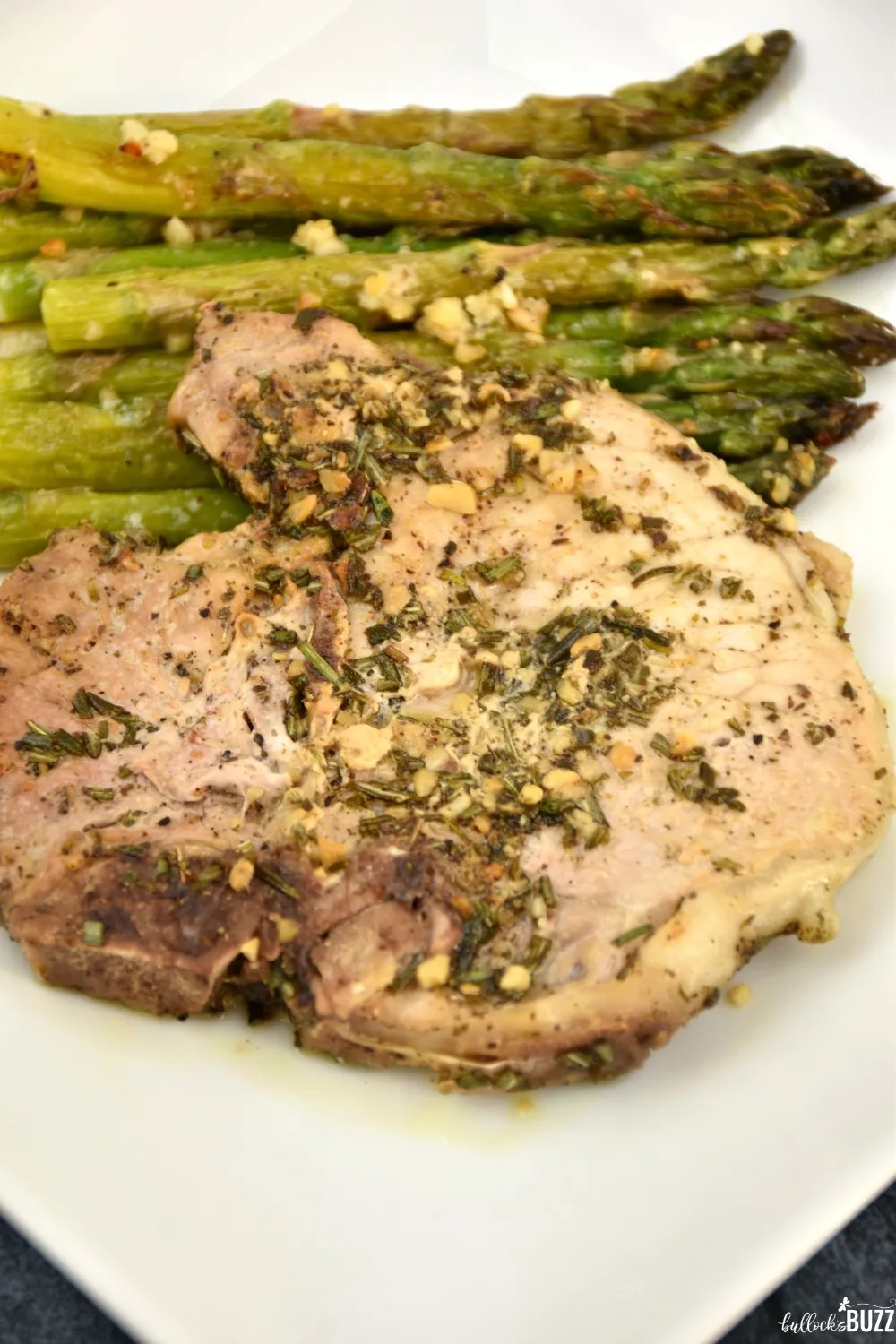 More Tasty Pork Chop Recipes
Looking for some more tasty pork chops recipes? I think you'll love these:
Rosemary Sage Pork Chops Printable Recipe Card
Yield: 2 pork chops
Rosemary Sage Pork Chops recipe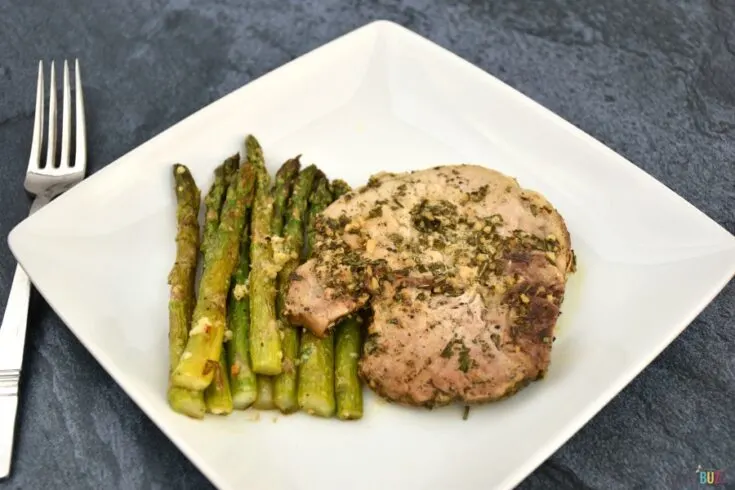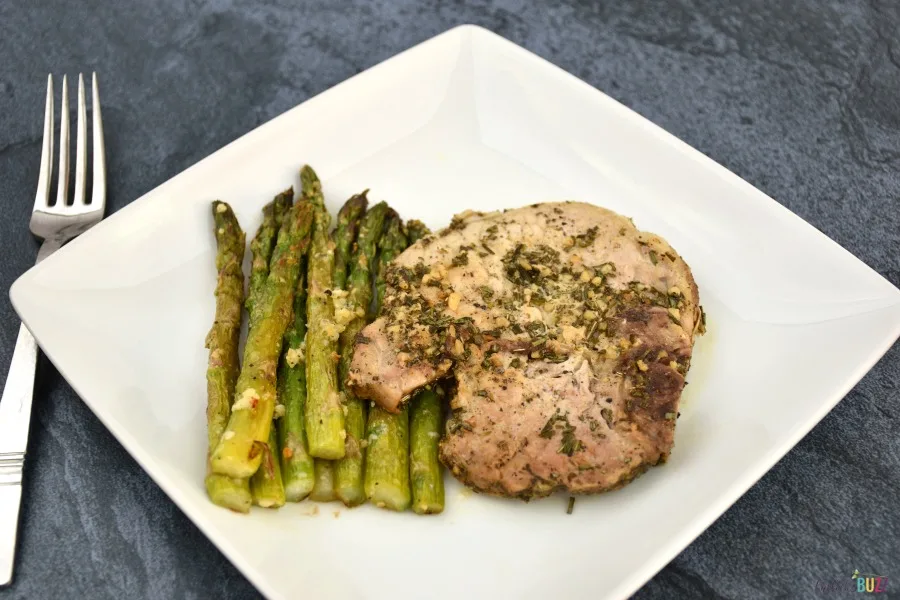 Pork Chops are sauteed in olive oil flavored with fresh rosemary, sage, and garlic resulting in tender and juicy chops that taste as though you spent hours preparing them in this quick and easy Rosemary Sage Pork Chop recipe.
Ingredients
2 tbsps olive oil
2 tbsps fresh sage
2 tbsps fresh rosemary
2 large garlic cloves, minced (or 1 tablespoon minced garlic)
2 large bone-in pork chops, 3/4" to 1" thickness
sea salt, to taste
fresh ground black pepper, to taste
Instructions
Begin by rinsing pork chops and patting dry with a paper towel. Season both sides with salt and pepper. Place to the side.
Add the oilve oil to a large, heavy-bottomed skillet over medium heat.
Once the oil starts to shimmer, stir in the sage, rosemary, and garlic. Be careful not to let the oil get too hot or you can burn the herbs, especially if you are using dried herbs.
Add in a dash of salt and pepper, then saute for 2 to 3 minutes, stirring occasionally.
Then increase heat to medium-high and carefully add the pork chops to the skillet, directly on top of the herb/garlic mixture.
COVER the skillet and allow to cook undisturbed for 5 minutes.
Flip the chops over, cover the pan, and reduce heat to medium.
Cook until just cooked through, about 5 minutes for 3/4" thick chops. Adjust the time according to the thickness of the chops.
Transfer the finished pork chops to plates. Serve and enjoy!
Nutrition Information:
Yield:
2 pork chops
Serving Size:
1 pork chop
Amount Per Serving:
Calories:

458
Total Fat:

31g
Saturated Fat:

7g
Trans Fat:

0g
Unsaturated Fat:

20g
Cholesterol:

132mg
Sodium:

379mg
Carbohydrates:

2g
Fiber:

1g
Sugar:

0g
Protein:

41g
Nutritional information is automatically calculated with ingredients and serving size and may not be accurate. Please always double check with your own nutritional apps as well.