2013 HOLIDAY GIFT GUIDE SUGGESTION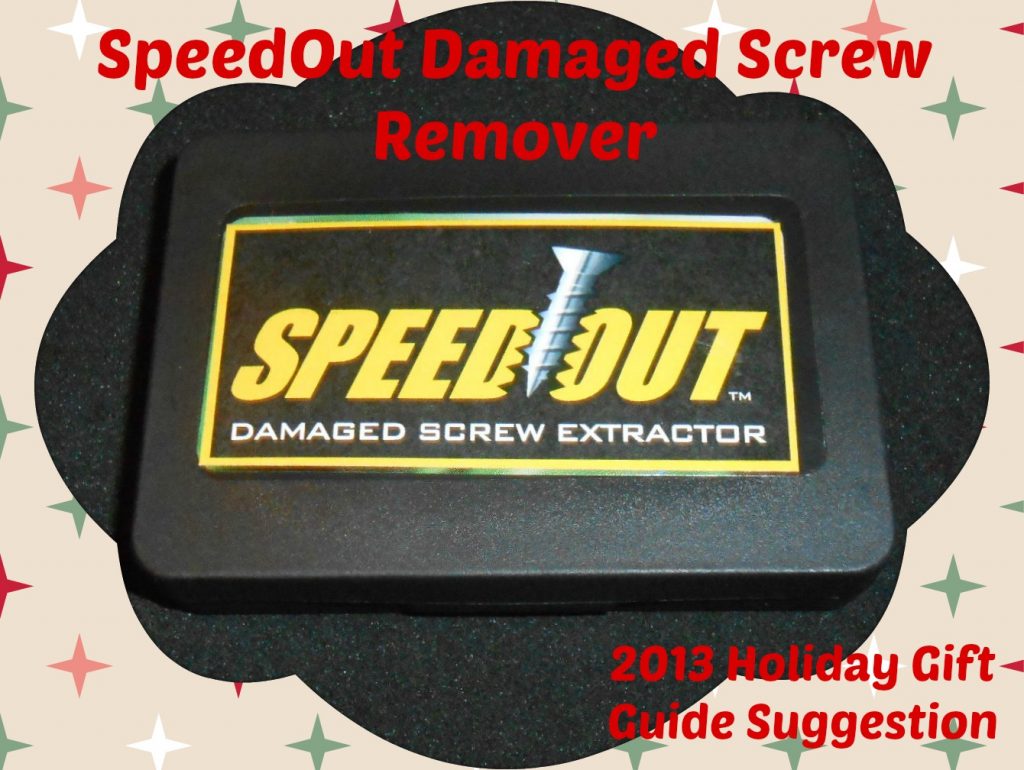 How many times have you sat there and fought to get a stripped screw out of the wall? Now, thanks to SpeedOut, the fight is over! With a husband who works in construction, there was no way I was going to refuse when I was offered the opportunity to try it for myself!
SpeedOut is the perfect name for this set of extractors designed to make removing damaged screws and bolts quick and easy. The kit includes four different sizes of SpeedOut extractors, each one made of professional grade, hardened steel, and sized to help you remove screws from as small as number 4 to as large as number 24. It will remove all types of stripped screws including Philips heads, flat heads, hex heads, and even painted-over heads. It also works to remove broken bolts. In fact, SpeedOut works so well it can even remove four-inch long deck screws out of redwood. Even if you break off the entire head of a screw or bolt, you can still extract it right out with no problem!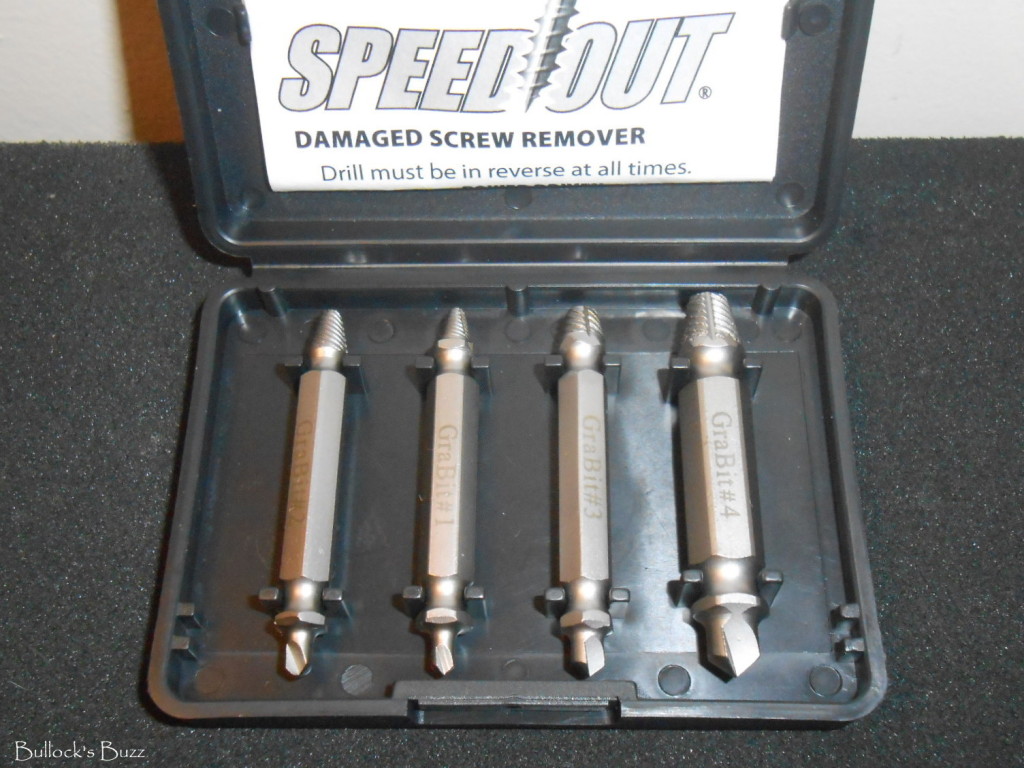 SpeedOut is incredibly easy to use, you just snap it onto an electric drill and it will pull out broken bolts and damaged screws in two simple steps: first drill out the damaged area using the burnishing end of the remover, then, use the extracting end of the remover to pull the screw or bolt right out in 10 seconds or less! What makes SpeedOut unique is that its cutting end makes a perfect cone in the screw, creating an ideal surface for the extracting end to grab onto.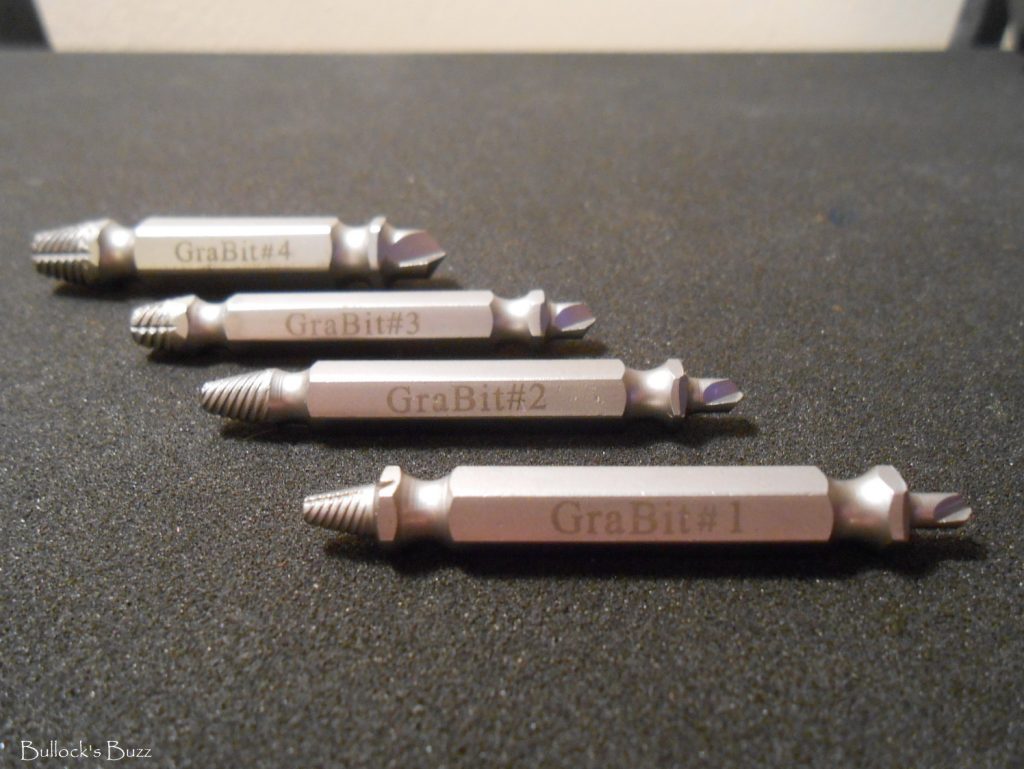 My husband has used them several times at work and loves them. Before it would take precious time to sit there and try to remove a stripped out screw, no he can just grab his drill, insert the appropriate extractor and pull; the damaged screw out. I have even used them myself on small projects at home and was quite impressed with how well they work!
Each SpeedOut bit comes with an ironclad lifetime guarantee. If it ever breaks, they will replace it with no problem. To order visit https://www.buyspeedout.com/. For a limited time, you can get Speed Out for only $19.99 with free shipping! Keep in mind, with the Holiday's right around the corner, SpeedOut would make a great stocking stuffer for anyone including hobbyists, home do-it-yourselfers, boat owners, mechanics, carpenters and more!
SPECIAL DISCOUNT CODE! SAVE $5!
From now until the end of the year, Bullock's Buzz readers can save $5 off the price of SpeedOut when they use the promo code: DISC5 at check out. So now you can get it for about $15! An awesome deal for something most everybody will use at some point or another, that will last a lifetime!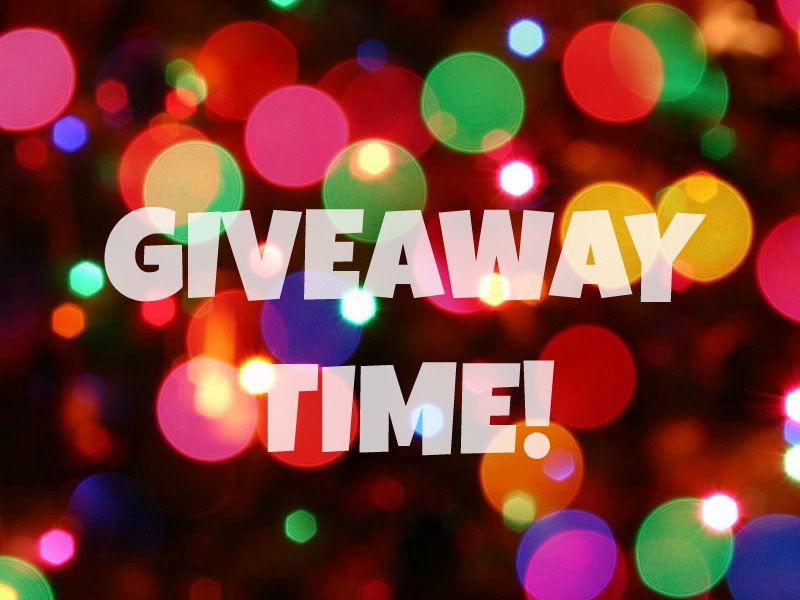 Here's you chance to win SpeedOut! Entry is easy, and open to US residents age 18 and up only. This giveaway will ends Monday, November 17th at 11:50pm.
TO ENTER:
Visit https://www.buyspeedout.com/ and watch the short video. Thne return here and leave a comment telling me about a time when you've been in a frustrating situation where you needed a damaged screw extractor. BE SURE TO LEAVE YOUR NAME AND EMAIL SO I CAN CONTACT YOU IF YOU WIN!
TWO BONUS ENTRIES:
Follow Bullock's Buzz on Pinterest, then return and leave me a comment telling me your Pinterest URL.
Disclosure of Material Connection: I received one or more of the products or services mentioned above for free in the hope that I would mention it on my blog. Regardless, I only recommend products or services I use personally and believe will be good for my readers. I am disclosing this in accordance with the Federal Trade Commission's 16 CFR, Part 255: "Guides Concerning the Use of Endorsements and Testimonials in Advertising."