SPONSOR SPOTLIGHT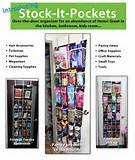 Living in an apartment, I am very familiar with the need to get creative when it comes to finding extra storage space! Bathrooms and kitchens are sorely lacking in cabinets and drawers, and you can count yourself lucky if you have a pantry! Closets are small and have very few shelves, really I could go on and on. That's why when I saw Stock-it-Pockets, I knew I was seeing an ideal storage solution!
Created by Dina Newman, professional organizer and owner of Organizing Concepts & Designs, Stock-it-Pockets is an attractive and innovative over-the-door organizing system that is easy to install and provides plenty of room for storage! Made from water-resistant polyester, it is extremely durable and simple to clean. It hangs easily from any door using the included hooks, and even the holes which you hook onto are encircled with metal so you don't have to worry about any tears.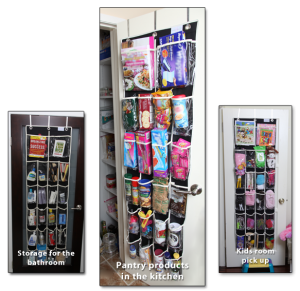 While there are similar products out there, Stock-it-Pockets is unique in several ways. First of all, while most of the other over-the-door hangers have plenty of pockets, you can only put so much in them because they are limited in height and width. With Stock-It-Pockets, the pockets are square on the bottom and rectangular in height, and are designed to expand so you can store a wide variety and amount of products.
There are 22 pockets total, and instead of all the pockets being the same size, there are both large and small pockets so you have several options. Stock-it-Pockets also has a unique roll-and-tie feature, allowing you to easily carry it with you where ever you go. I know every time I have gone on a cruise or stayed in a hotel, I wished I'd had an easy place to store my shampoo, brush, hair dryer and other toiletries.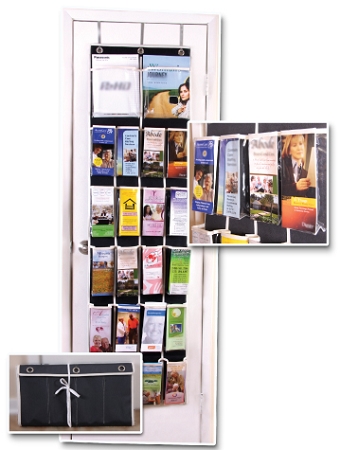 Here are just a few suggested uses:
DORM ROOM: there is never enough drawers or closet space!
BATHROOM: use it for toiletries, shampoo, lotions and even cosmetics!
KITCHEN: use it to store cans, boxes, single-serve packets and more. Clear off those shelves!
KIDS ROOM: clothes, socks, toys, accessories.
HOME OFFICE: no desk? Use it for pens, pencils, rulers, scissors, files, disks and more!
CRAFTS: perfect for scrapbooking supplies, paints, tape, scissors, stickers, ribbon, sewing supplies.
SCHOOL: perfect for those who home school or as a way to organize weekly homework assignments!
COUPONING: ideal for that stockpile and those newspaper inserts!
The list goes on and on for all of the creative ways you can use this perfect organizing tool! You can learn more and purchase Stock-It-Pockets directly through the website for only $24.95!
Do you have some more creative ways you can use Stock-it-Pockets? Share them with us below!