Enjoy the summer heat without the booze. Here are three summer mocktail recipes that taste so good you won't miss the alcohol!
Lately, cocktails without alcohol, like this Lava Flow mocktail, are growing ever more popular. As warmer weather appraoches, more and more people are cutting down on libations. Not only because of the fact that reducing your alcohol intake can improve your health, but also because laws pertaining to drinking and driving are becoming stricter and carrying heavier penalties.
For example, anyone under the age of 21 in Michigan can be charged with DWI when caught drinking and driving because of their zero-tolerance laws. Pennsylvania, on the other hand, has a law that can result in jail time after a second DWI conviction. Having a problem with alcohol can destroy important relationships — and considering that first marriages have a 41% divorce rate, you'll want to do everything you can to preserve the partnerships in your life.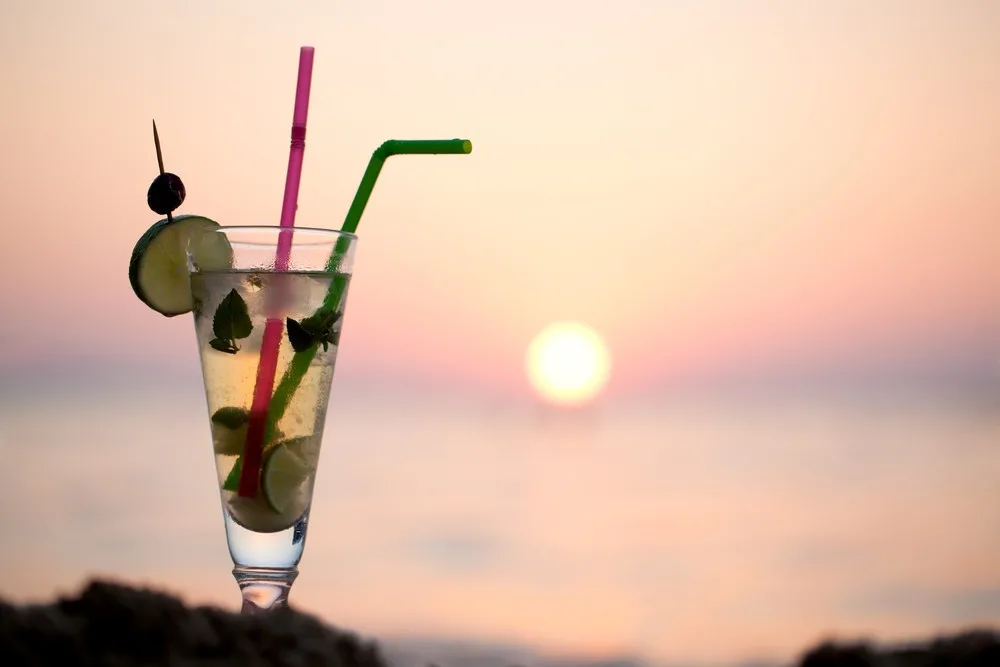 Of course, giving up alcohol doesn't have to be that serious. You don't need to be struggling with substance abuse to cut back on the booze. Below are three delicious summer mocktail recipes ideals for the warmer season.
Orange Berry Fizz Summer Mocktail
Berries are sold all year round, but they're at their peak during the summer. This Orange Berry Fizz mocktail uses fresh strawberries, blueberries, raspberries, or blackberries to bring unique sweet and tart flavors to this refreshing beverage. Perfect for a night at home or even a picnic in the park, this alcohol-free drink uses seltzer or club soda to bring a nbnit of bubbly fun to the party.
Ingredients:
1 pint fresh blueberries, strawberries, or raspberries
1 and 1/2 cups orange juice
1 bottle of seltzer or club soda
1 tablespoon sugar or honey
Ice
Instructions:
Wash berries in a colander, cutting off the green top of the strawberries to discard. Puree fruit in a blender and put in a glass or plastic container with a lid. Add orange juice and sweetener and mix well. Chill in the refrigerator for a few hours. In a tall glass, add some ice and pour the mixture into the glass about half-full. Add chilled seltzer or club soda. You can also add more sugar or honey for extra sweetness. Keep the seltzer and fruit and orange mixture separate to maintain freshness. Store both in the refrigerator.
Lemon Limeade
Lemons and limes are a popular way to serve mocktails and lemonade reminds us of summer. There are many ways to use lemons and limes in serving refreshing summer drinks that everyone can enjoy. Combining lemons and limes can even provide your taste buds with a new version of the traditional lemonade.
In this recipe, you can use fresh lemons and limes or concentrate like True Lemon and True Lime. One fresh lemon produces about two tablespoons of juice, while one lime makes about one tablespoon of juice. This recipe uses concentrate to save time. Try adding a few dry packets of powdered grapefruit concentrate to this recipe if you like!
Ingredients:
8 tablespoons of lemon concentrate
8 tablespoons of lime concentrate
Cold bottled or filtered water
1/2 cup of sugar or honey
Ice
Sliced lemons and limes for garnish
Instructions:
In a pitcher, measure the lemon and lime concentrate and add the cold water. Mix well. Add the sugar and mix again. Chill in the refrigerator for an hour. In tall glasses, add ice and pour the lime lemonade into the glasses. Garnish with slices of lemon and lime. Serves 12.
Peach Italian Soda Summer Mocktail Recipe
Fruit-flavored Italian sodas can be made with store-bought syrup, but you can also make your own syrup using fresh fruit. In this recipe, we will provide instructions on how to make your own fruit syrup for soda. This is a refreshing drink for a picnic or outdoor gathering.
Ingredients
For the fruit syrup:
2 cups sliced peaches, skins removed
1/2 cup of water
2/3 cup sugar
For the soda:
2 tablespoons of homemade or premade simple syrup
1/4 cup heavy cream
Seltzer or club soda, chilled
Instructions
First, you'll make the fruit syrup:
Wash the peaches and remove skin and pits.
In a pan on the stove, add water and fruit and bring to a boil. Reduce heat and simmer for 15 to 20 minutes until the fruit loses its texture.
Strain the fruit and discard.
Add your mixture back into the pan and add the sugar. Add a few tablespoons of water if needed.
Simmer until thickened.
Then, you will make the Italian Soda :
In a tall glass put two tablespoons of syrup, 1/4 cup cream, and chilled seltzer or club soda.
Add ice and stir.
These quick and easy Summer Mocktail recipes are a tasty way to enjoy the summer. With so many online recipes, you will find many different ideas to improve your health — all without sacrificing on taste.