This post, featuring a frozen yogurt dots recipe, is sponsored by Greek Gods Yogurt but all thoughts and opinions are my own.
As a busy stepmom, wife, and business owner, finding time to relax and indulge myself isn't easy.  Every day, normal days, are busy and chaotic enough. And now that the holiday season is here, it's even busier. My days are filled with working, shopping, cleaning, planning, and preparing for our holiday houseguests. For me, it gets stressful, and sometimes I just have to stop and remind myself to take a break and indulge in some pampering. And part of that pampering includes a delectably delicious treat: Frozen Yogurt Dots!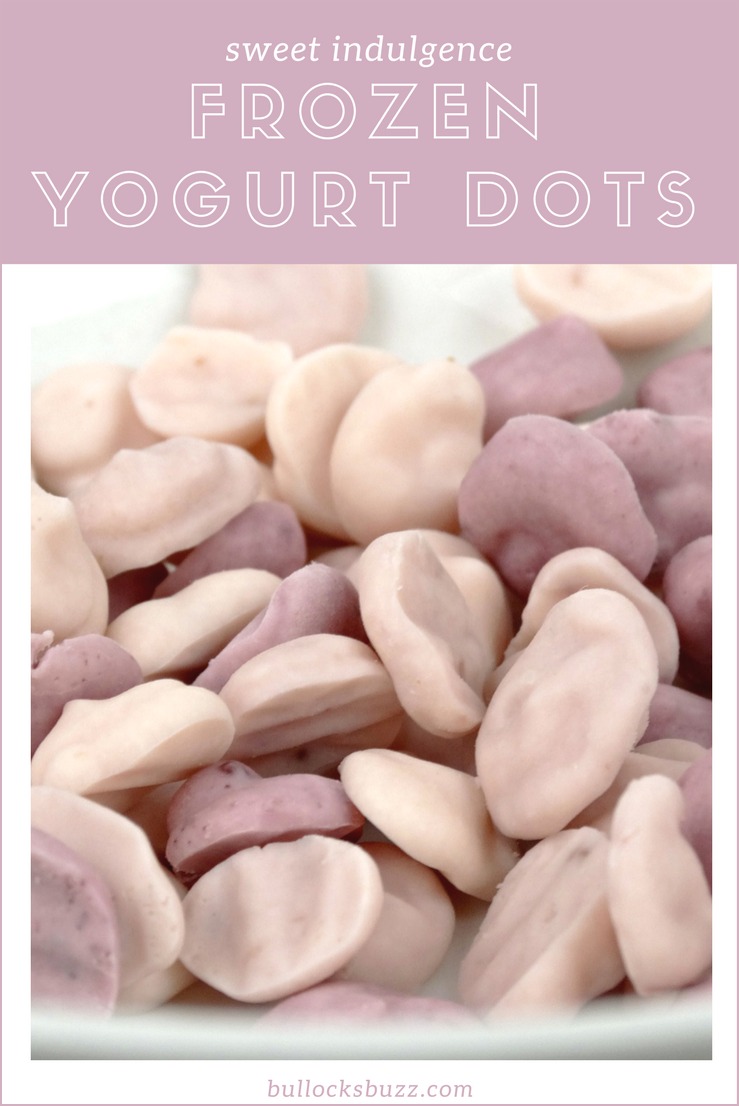 Now I know you've seen those Frozen Yogurt Dots all over the internet. But have you tried them with Greek Gods Seriously Indulgent Yogurt?! O.M.G. You guys, this is one seriously decadent treat that makes for a seriously indulgent snack! And it's the Greek Gods Yogurt that makes them that much more awesome!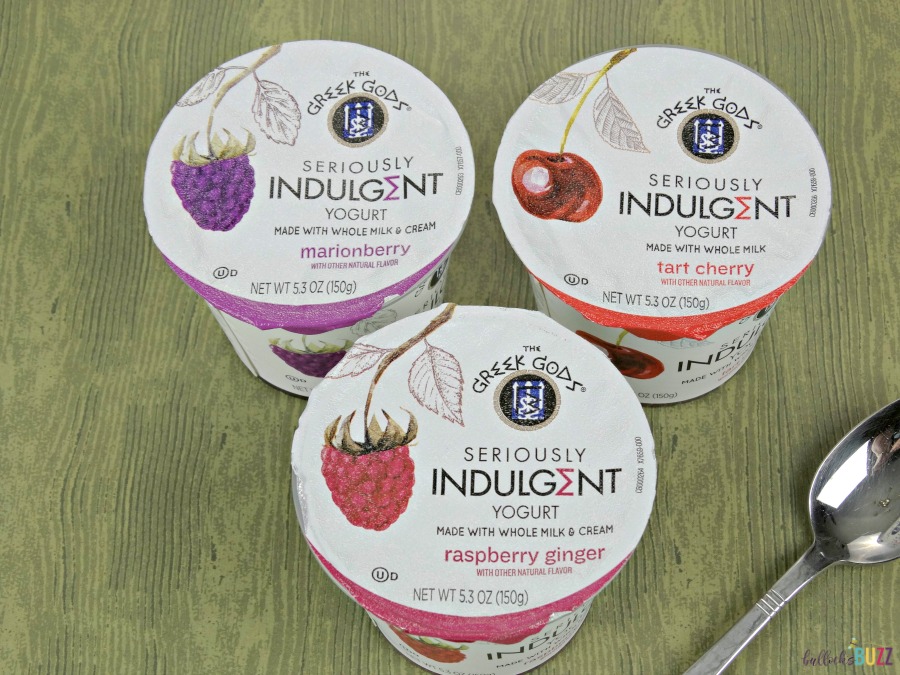 Found at Walmart in the dairy aisle, Greek Gods Seriously Indulgent Yogurt is exactly what its name implies – a decadent and indulgent treat. Made from whole milk and cream, and complete with live and active cultures, it's super delicious, rich, fruity, and creamy.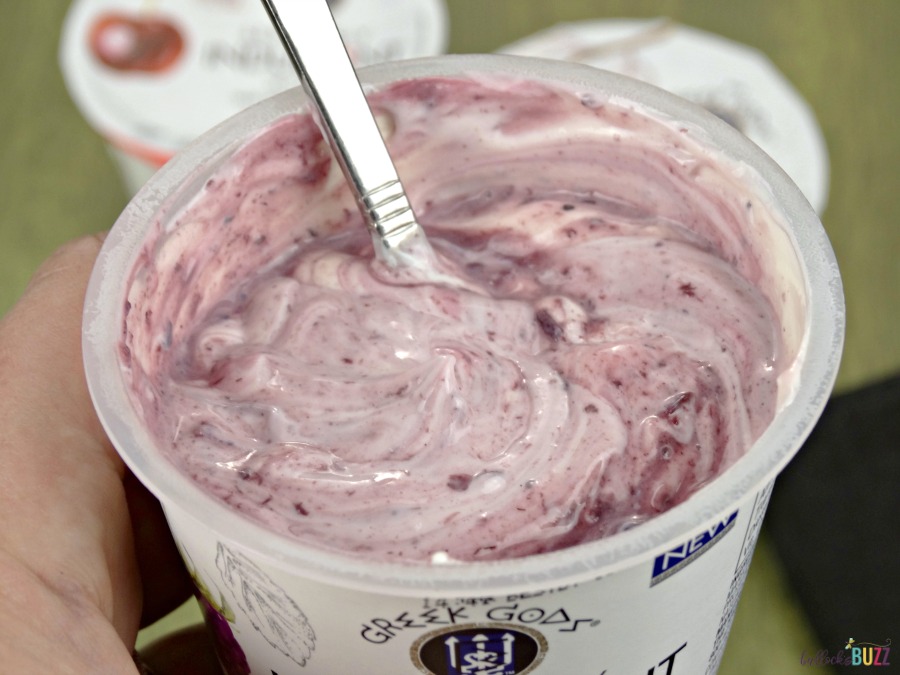 Each spoonful is the absolute perfect amount of sweet and tart. And the new 5.3 oz. single serving is just the right size!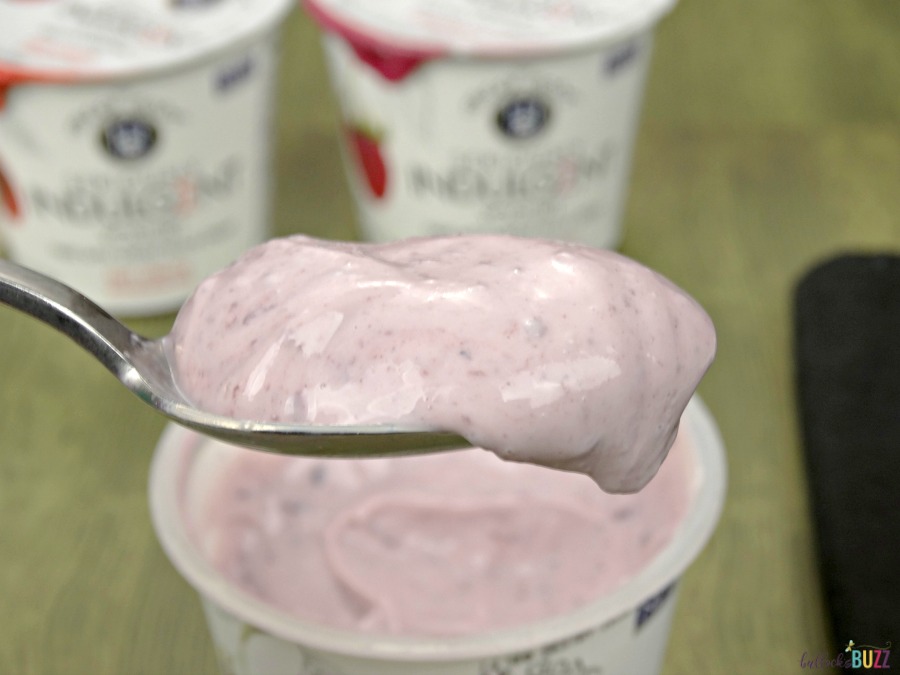 Seriously Indulgent Yogurt comes in a variety of fabulous, fruity flavors. So far, I've tried the Marionberry, Raspberry Ginger, and Tart Cherry. And, while they are all delicious, I especially enjoy the Marionberry! I can't wait to try the Lemon next.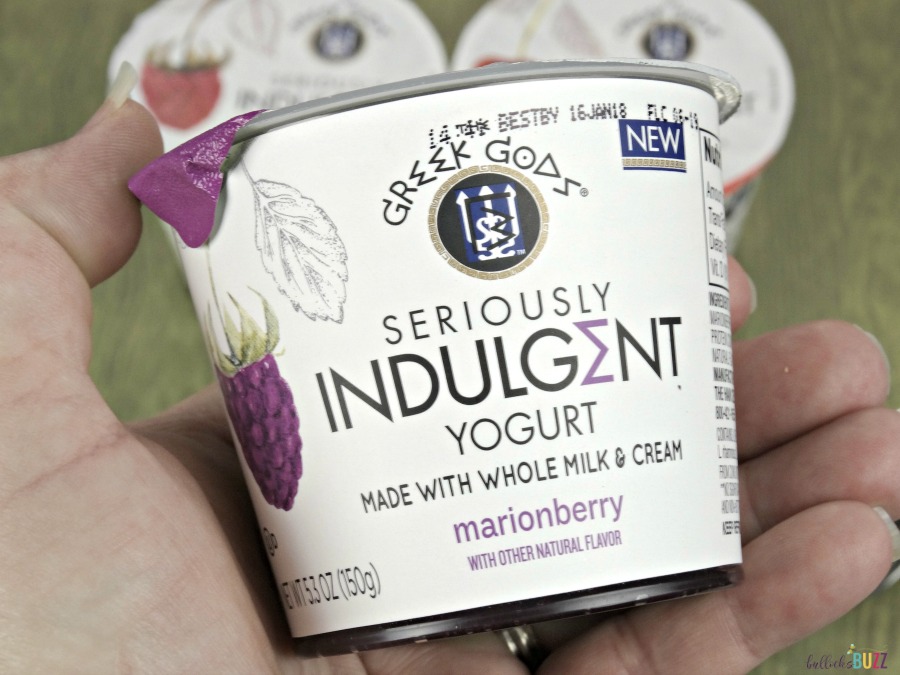 And while Seriously Indulgent Yogurt is amazing right out of the cup, it also tastes incredible frozen – especially in this recipe for my Sweet Indulgence Frozen Yogurt Dots recipe. And since we are on the topic of indulgence, this is one recipe you have got to try! Here's how to make it: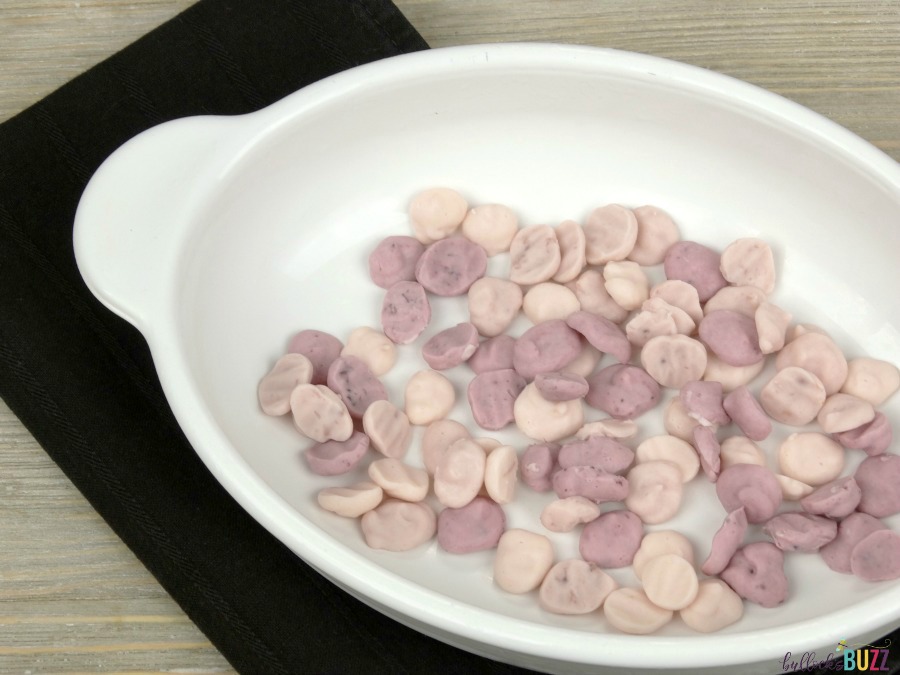 Sweet Indulgence Frozen Yogurt Dots
Ingredients to Make Sweet Indulgence Frozen Yogurt Dots
Greek Gods Seriously Indulgent Yogurt, your choice of flavors
Small icing bag or snack bag
Scissors
Cookie sheet
Silpat or parchment paper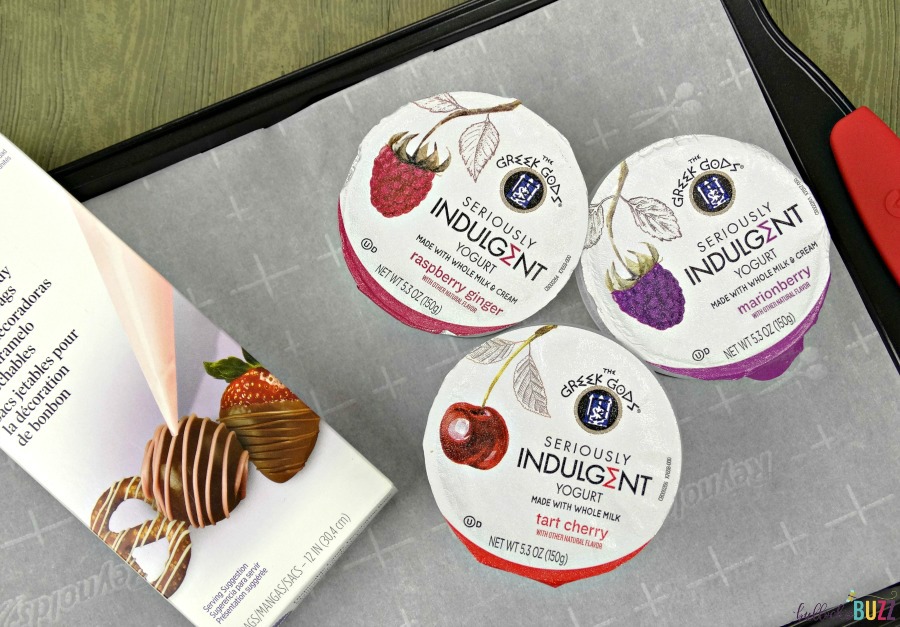 Directions to Make Sweet Indulgence Frozen Yogurt Dots:
Begin by spooning your favorite cup of yogurt into the small icing bag or snack bag. Pro Tip: stick the bag inside a glass, fold the edges down over the sides of the glass, then use a small spatula to scrape the yogurt into the baggie. This not only saves time, it's a lot less messy, too!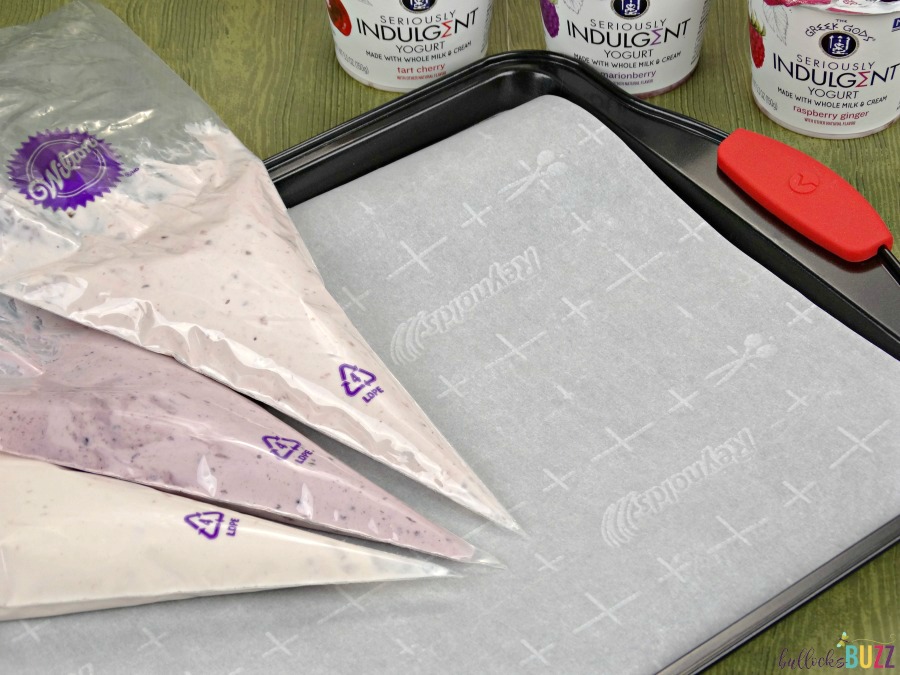 Next, prepare your cookie sheet by lining it with a silpat or a sheet of parchment paper. Use the scissors to snip off one of the bottom corners of the icing bag, then begin piping little dots of yogurt onto the lined cookie sheet.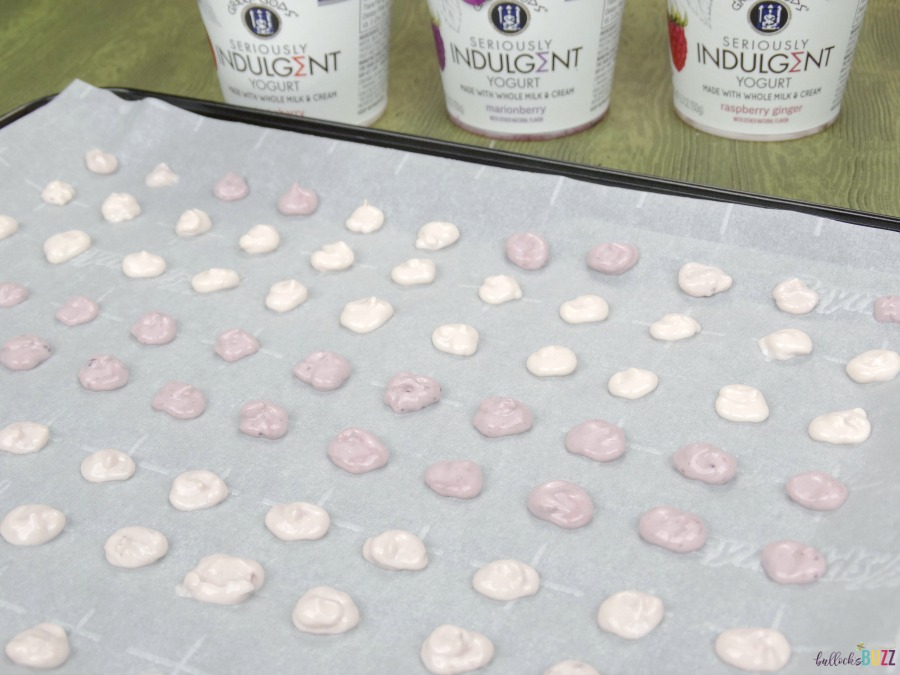 Now place the cookie sheet into the freezer to allow the yogurt dots to freeze. This should take about 20 minutes or so, depending on the size of your dots.
Once the dots are all frozen solid, peel them away from the paper or mat. Place them into a small bowl, serve and enjoy!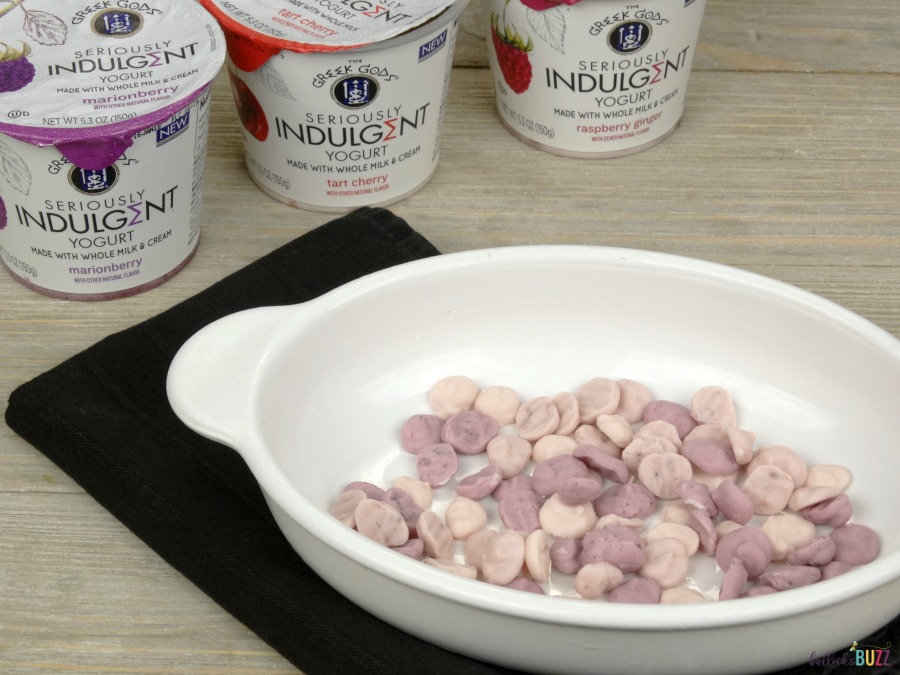 Not only do these frozen yogurt dots make a delicious and healthy snack, but they're fun to eat, too!  They are exactly what I need when I take some Me Time and indulge myself.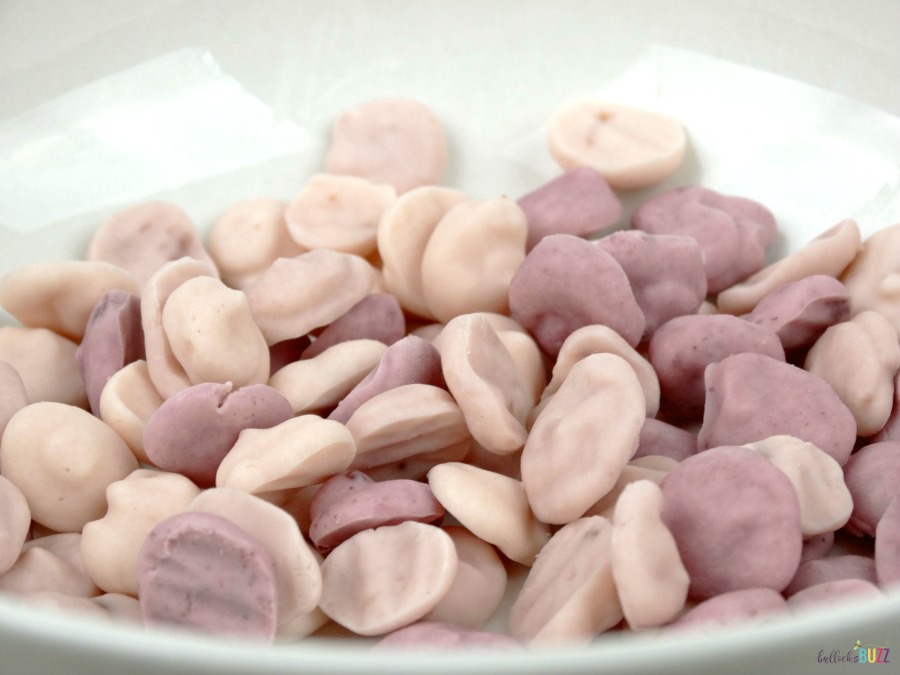 Allow Yourself Some Indulgence!
Do you need some time to indulge yourself? Check out the following three offers that make it easy for you to enjoy some much deserved me-time today!
One: use the Ibotta cash back offer below and you can get $1.50 back on purchase of 1 Seriously Indulgent Yogurt cup. Even better, you can redeem this offer up to 2x on the same receipt (cost of product is $1.50, so this is essentially a full rebate). But wait, there's more!
Two: take advantage of the following VUDU Movie Offer! Shoppers earn $3 movie credit with validated purchase of 2 units!
You must validate your Walmart receipt first by uploading it either:
via microsite: www.ggvudu.com
via text: ggvudu@uploadreceipt.com
Third: a sweepstakes that allows you to seriously indulge yourself! Enter to win either a $250 Spafinder gift card or $150 Walmart gift card in the sweepstakes below! Good luck!
Greek Gods – Seriously Indulgent Giveaway