One of my favorite things about Spring and Summer is that I can wear sandals and flip-flops! I love the feeling of sunshine and open air on my feet. However, lately I have been having lots of problems with my feet, and was recently diagnosed with heel spurs and plantar fasciitis, which basically means many shoes, especially sandals and I no longer get along. For months now I have been searching for a pair of shoes that provide enough cushioning and arch support that I am able to walk long distances and stand on my feet for a decent period of time. I have tried everything from $130 shoes to $9 inserts, and while some relief has been found, I still cannot be on my feet for long periods of time without my heels absolutely killing me. While searching the internet for solutions, I came across a site for shoes called Therafit, and they sounded exactly like what the doctor ordered! Imagine how happy I was when I was given the opportunity to review a pair of their sandals!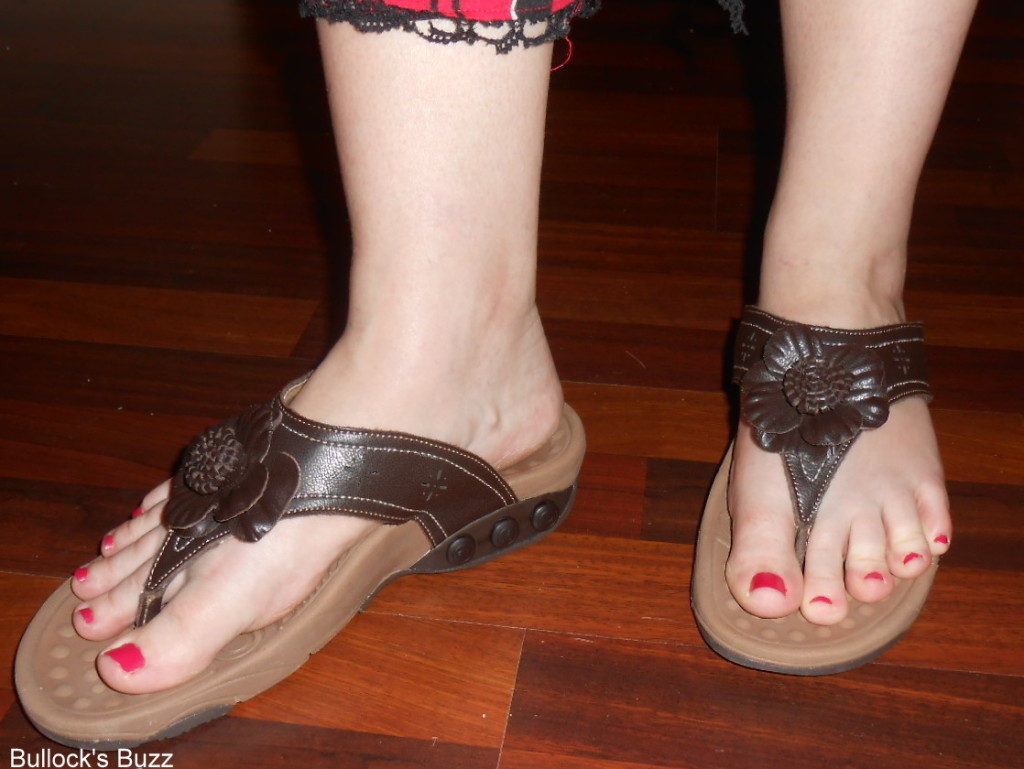 Therafit shoes were created by Dr. Lisa Masterson who designed them specifically for women and the busy, active lifestyle we lead. Dr. Lisa understands how we are on our feet constantly, and for the majority of that time we are running around in shoes that are not conducive to that lifestyle, and as a result this leads to pain in the feet, legs, hips and back. Her goal was to create what she called the 12 hour shoe for the 12 hour day; a shoe that was not only comfortable, but attractive enough to where women would want to wear it. The Therafit shoe line was born; comfortable, stylish and attractive shoes that are accredited by the National Posture Institute, a leader in posture and body alignment programs and solutions.
These shoes are available in several different styles including work shoes, athletic shoes, walking shoes and sandals. Since I was looking for a warm weather shoe, I decided on a pair of their sandals. There are three main styles of sandal – Tiffany, Sandy and Carly. The Tiffany Sandals are available in silver and black and feature a bit of "bling" along the strap for added style. The Sandy Sandal is more sporty and comes with a white sole and either a pink, blue or yellow strap. The Carly Sandal, my personal favorite, is more of a casual sandal that is available in brown or orange.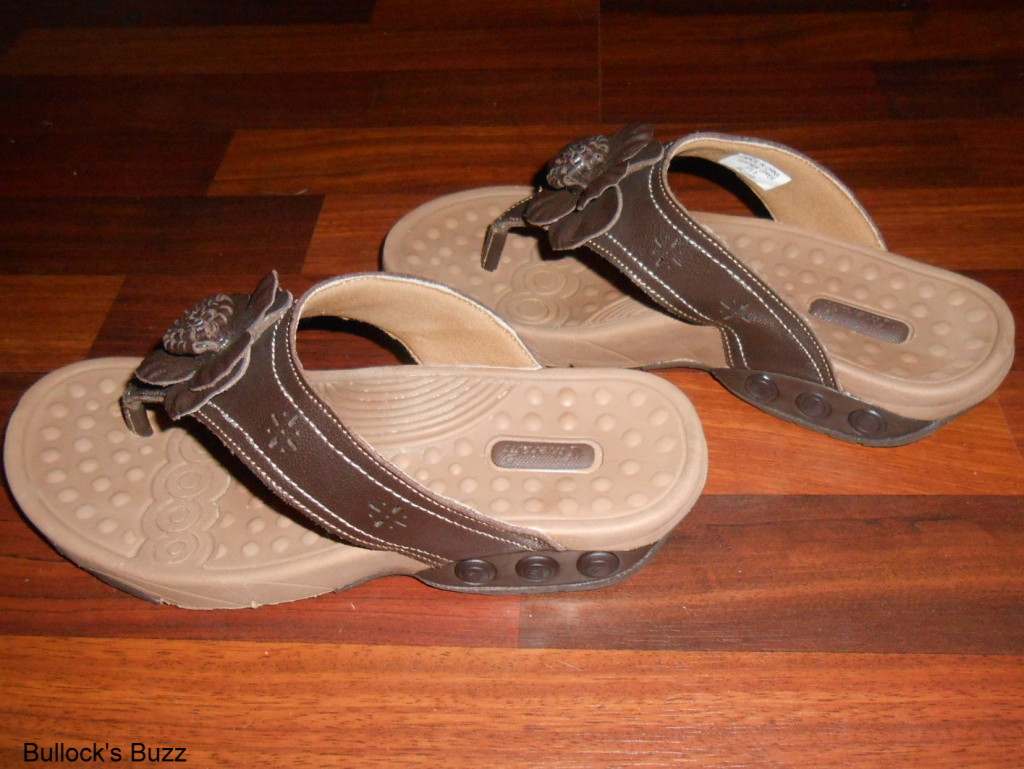 I choose the Carly Sandal because it can be worn easily with a sundress or skirt as well as with jeans or shorts. I choose it in brown since it would match more of my clothes. These sandals have a light brown sole with a dark brown leather strap. On the strap is a laser cut flower that is the perfect size, not so big as to be tacky, and not so small to be unnoticeable. Now for the best part – the level of comfort.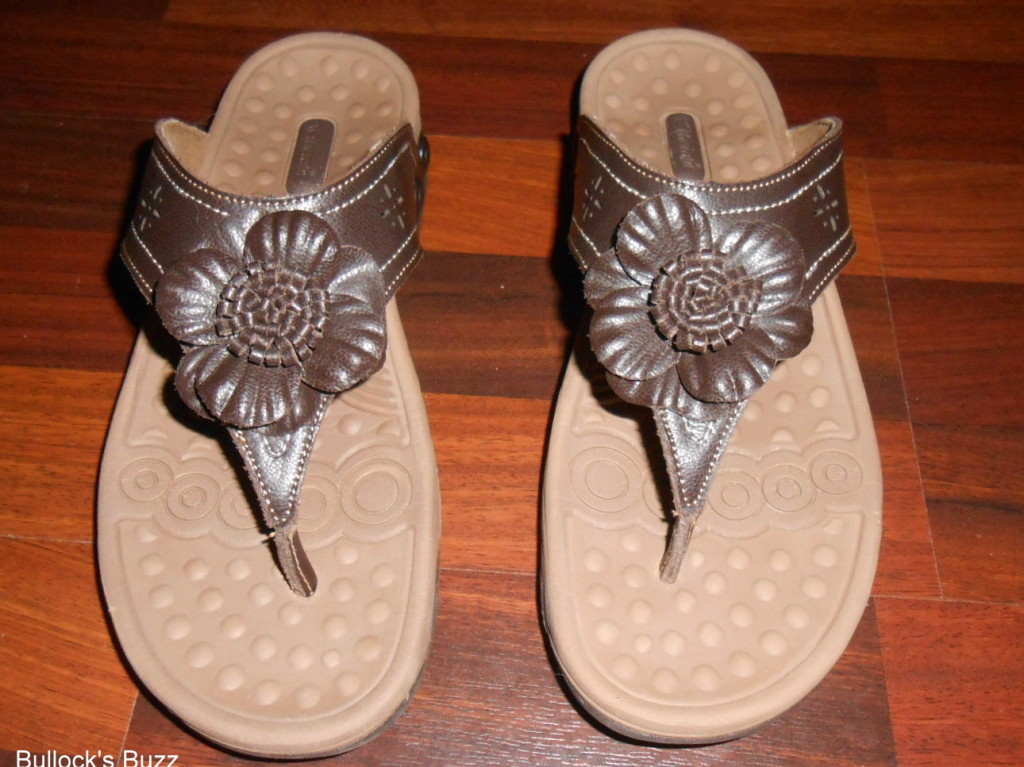 Like all Therafit shoes, the contoured midsoles of the sandals are made up of multiple layers and densities to provide cushioning and support for the arch down to the heel. With every step you take, these layers also distribute the shock from impact downward and outward instead of your foot absorbing it.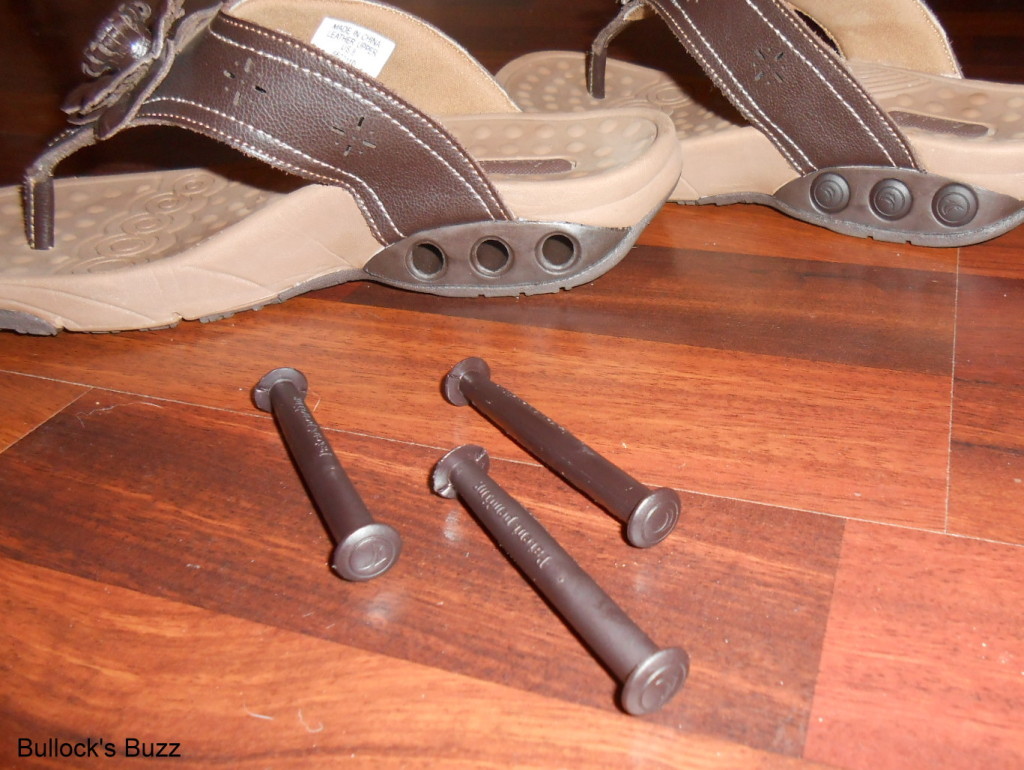 Therafit shoes also utilize an innovative Personal Comfort System (PCS) technology which allows you to adjust the level of cushioning in the heel area by removing one or more of three adapters from the outsole. These specially designed adapters resemble pegs and are quite easy to remove, you just push from one side, grasp the end of the adapter on the other side and twist while pulling. Adding or removing the adapters allows for an increase or decrease in impact resistance.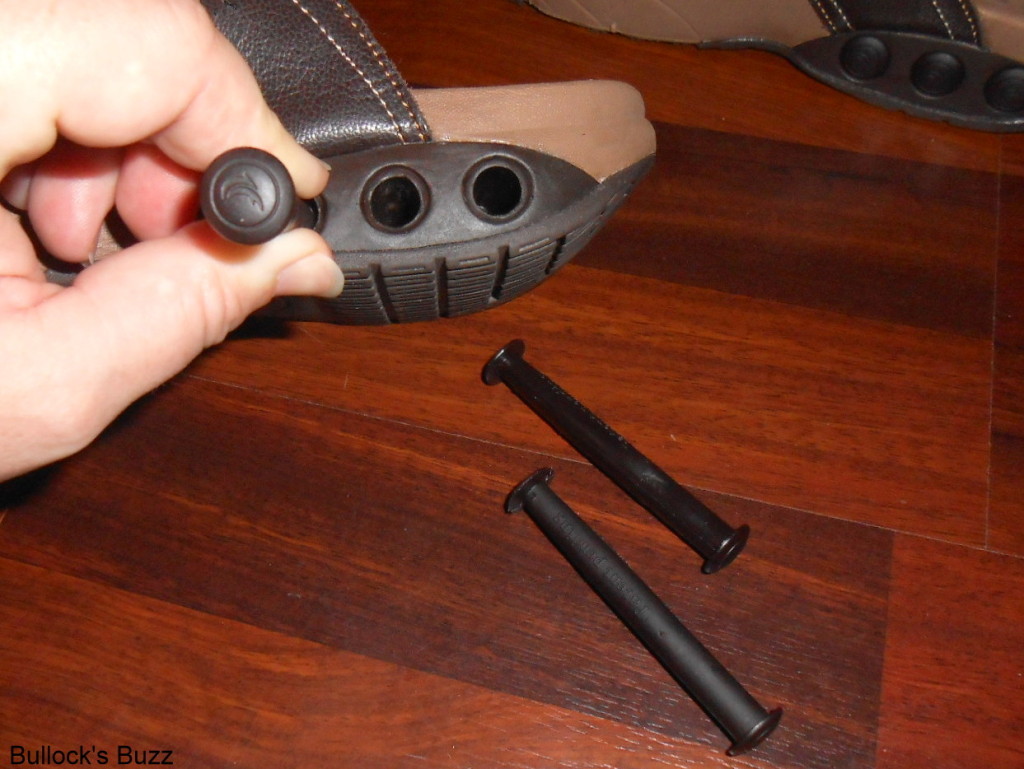 For even more comfort, the sandals have 86 reflexology nodules, or little bumps all over the footbed which similar to acupuncture put pressure on certain points of your foot helping to loosen tension and even improve circulation. A deep heel bed allows for even more support, stability and comfort.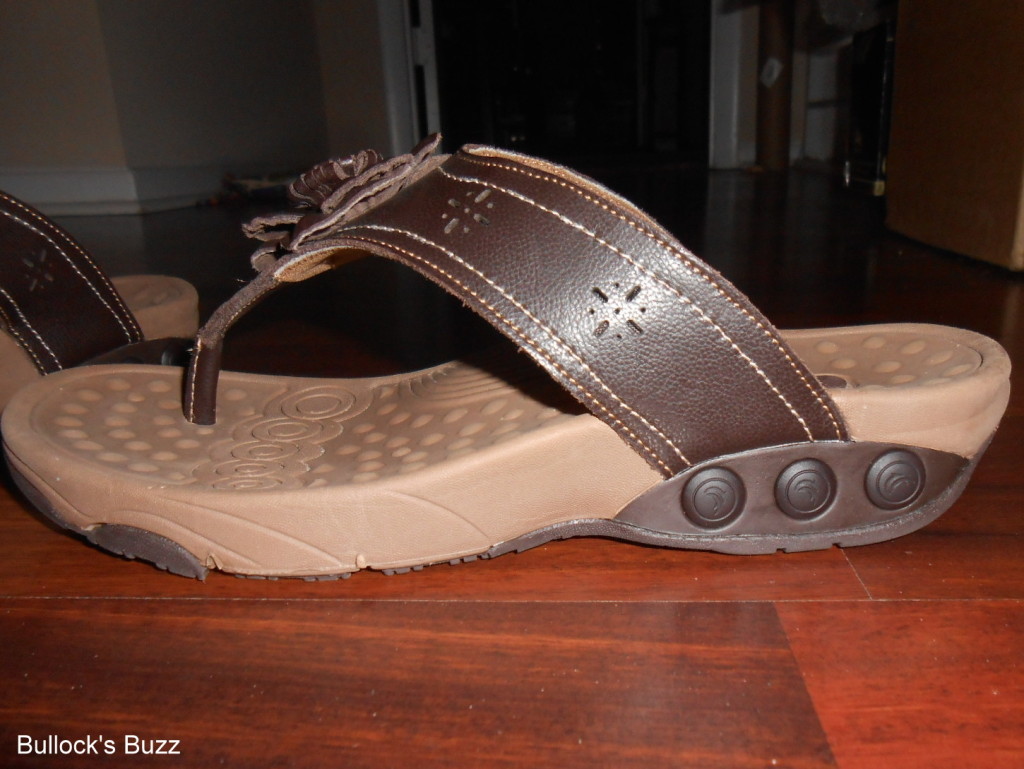 The first time I put these sandals on I could immediately tell a huge difference. Where with other sandals it quickly becomes apparent that there is little to no cushioning or support, the Therafit sandals feel as though they are conforming to the shape of the bottom of my feet. The midsole is supporting my arch allowing my weight to be more evenly distributed, where with other sandals it feels as though all of my weight is being supported on my heels and the balls of my feet. The heel is definitely where I needed to find some relief, and these sandals do exactly that. Since the heel bed is deep and has all of those levels of cushioning, I feel as though my heel is resting on a soft, supportive pillow as opposed to a hard slab. And the unique adapters make even more of a difference! The more adapters I remove, the more cushioned the heel feels, yet there is still plenty of support. For myself, I found removing two of the adapters provides enough support and cushioning where a lot of my pain is relieved, finally! I can see why they say these are the sandals you will want to wear year round!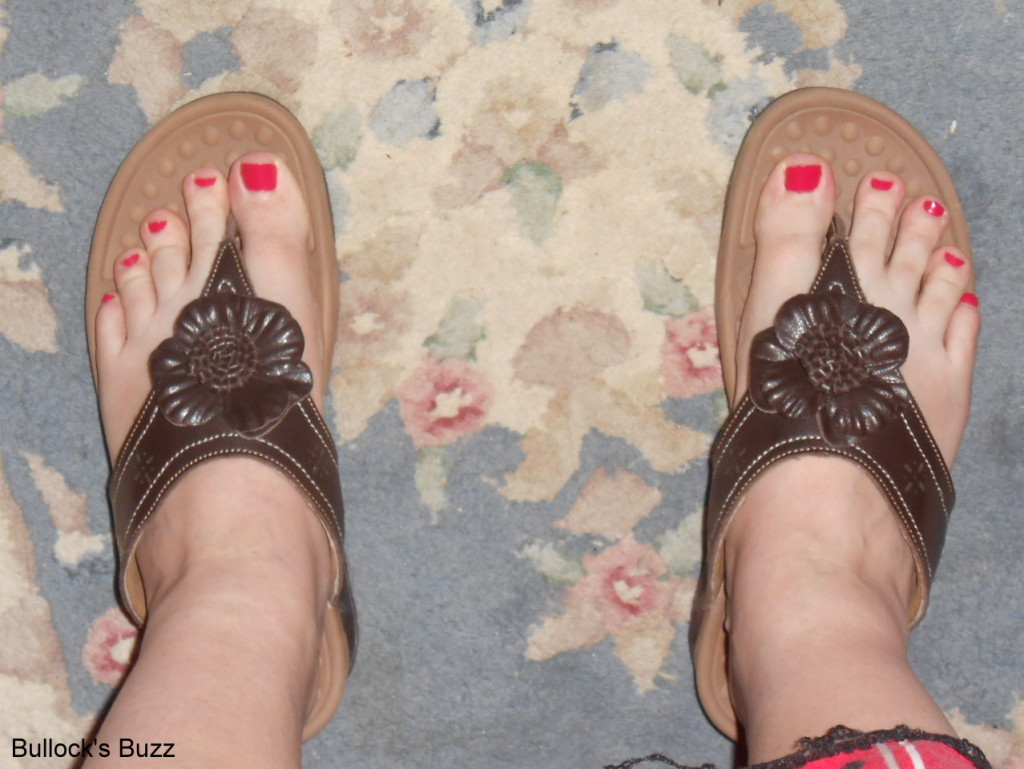 Therafit also believes in giving back with their One Step Forward Giving Campaign. For every purchase you make $1 will be donated to the charitable partner of your choice. When you go to checkout you get to select the charity you want from their current list. Right now those partners are: Maternal Fetal Care International, Educate Tomorrow, Animal Recovery Mission, and Breast Cancer Research Foundation. Just think, not only will your feet be happy but you will be making a difference!
Therafit shoes can be purchased directly through their website where you can can learn even more about these awesome shoes. You can connect with Therafit on Facebook and Twitter, and to keep an eye out for any promotions and deals!
Disclosure of Material Connection: I received one or more of the products or services mentioned above for free in the hope that I would mention it on my blog. Regardless, I only recommend products or services I use personally and believe will be good for my readers. I am disclosing this in accordance with the Federal Trade Commission's 16 CFR, Part 255: "Guides Concerning the Use of Endorsements and Testimonials in Advertising."