Put away the vinegar and dye and try one of these twenty fun and unique ways to decorate Easter eggs!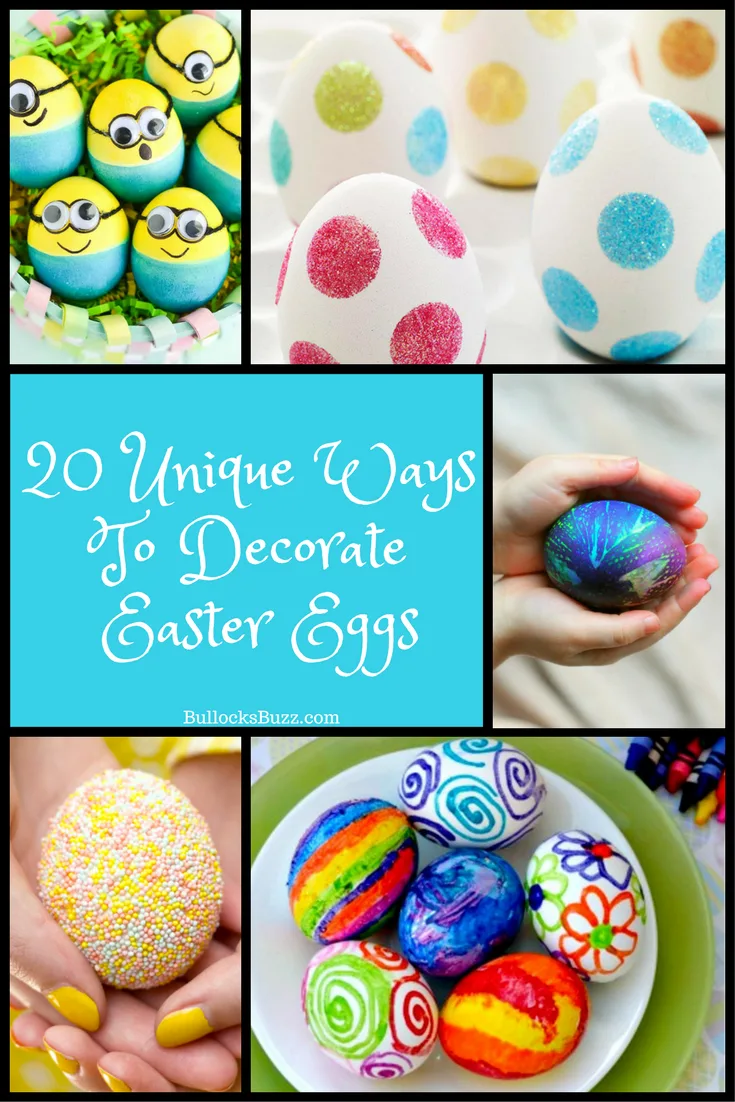 While I enjoy using traditional dye for coloring eggs, I also love to try out new Easter Egg decorating ideas! This year I decided to go on an Easter Egg hunt to find some of the cutest and coolest ways to decorate Easter Eggs to share with you.
From colorful melted crayons to brightly painted aluminum foil, these twenty unique ways to decorate Easter Eggs will give you the brightest and best eggs at the Easter Egg hunt!
1. DIY Nail Polish Marbled Eggs
These brightly colored eggs from Hello Glow are full of gorgeous, bright colors and are made with nothing more than nail polish!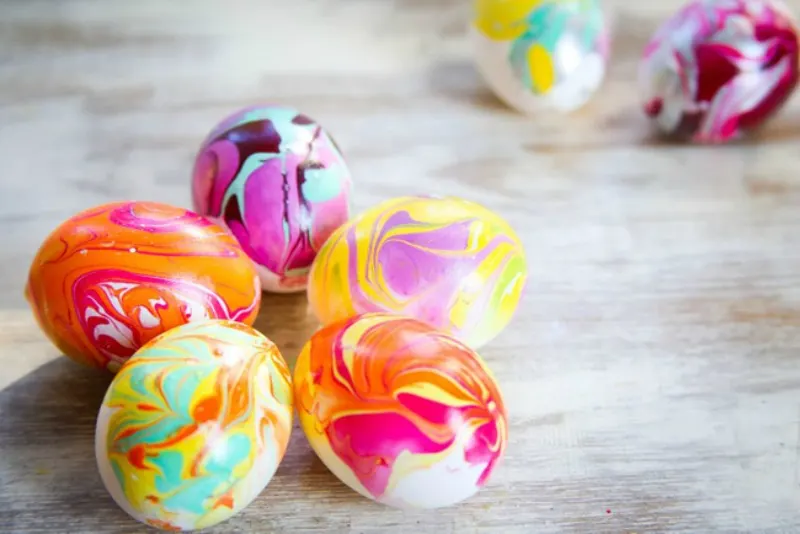 2. Melted Crayon Easter Eggs
Why throw away those broken crayons when you can do what Sarah of A Thrifty Mom did – – save them, melt them, and make these cool Easter eggs! Use a selection of bright colors to create any design you want. It's frugal fun everyone will love!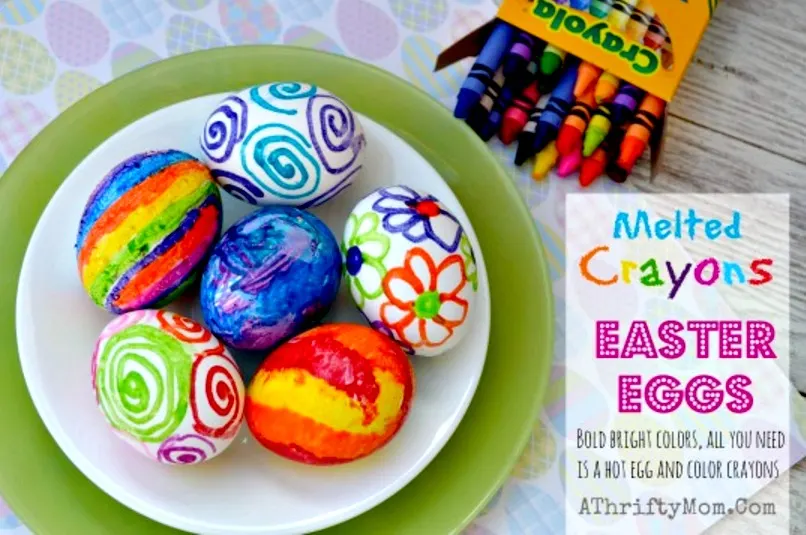 3. Washi Tape Eggs
Add some bling to your Easter with these fun and sparkly Washi Tape Eggs from Savvy Saving Couple. It's a super easy and shiny way to decorate eggs!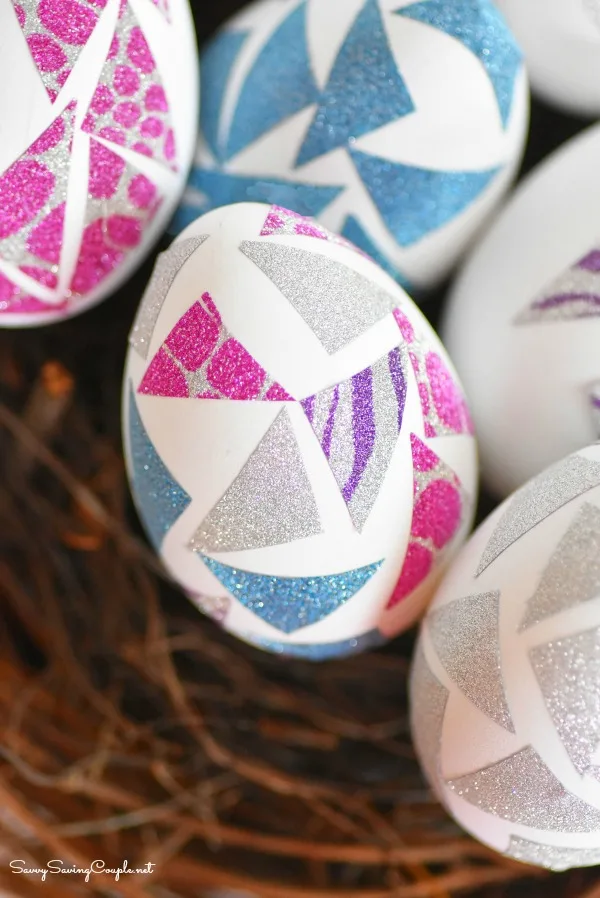 4. Watercolor Easter Eggs
Lucy of craftberrybush used watercolors to decorate these delicate and lovely pansies on her eggs! All you need is a paintbrush, a cup of cold water, and watercolor paints.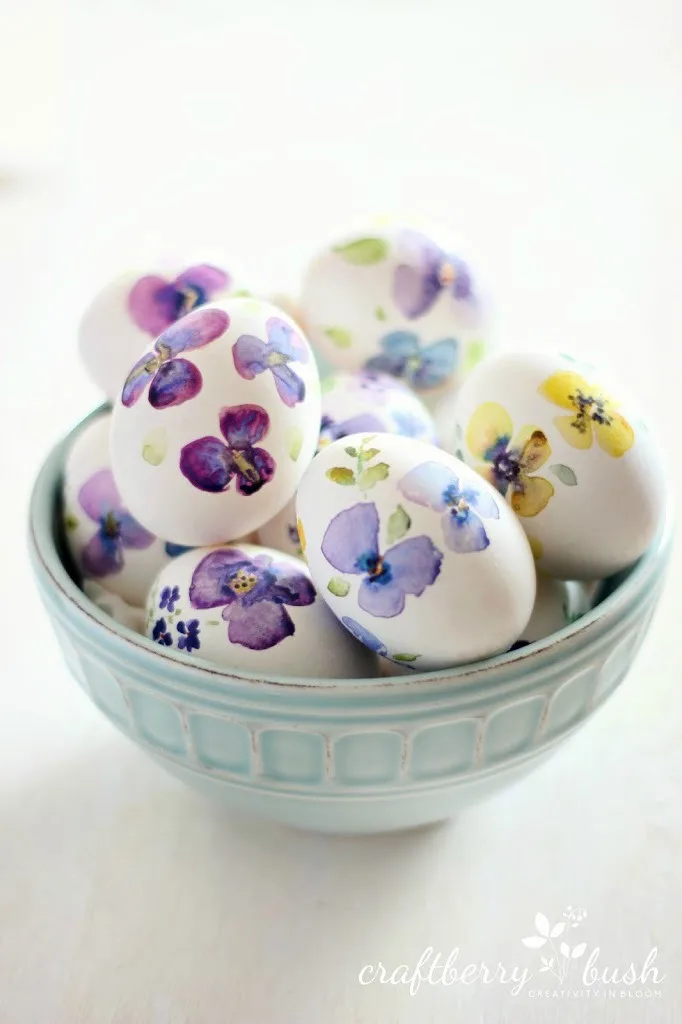 5. Chalkboard Paint Eggs
If you love chalkboard paint as much as I do, then you've got to check out these awesome eggs from It's Overflowing! This great tutorial will show you how to take your eggs to the next level!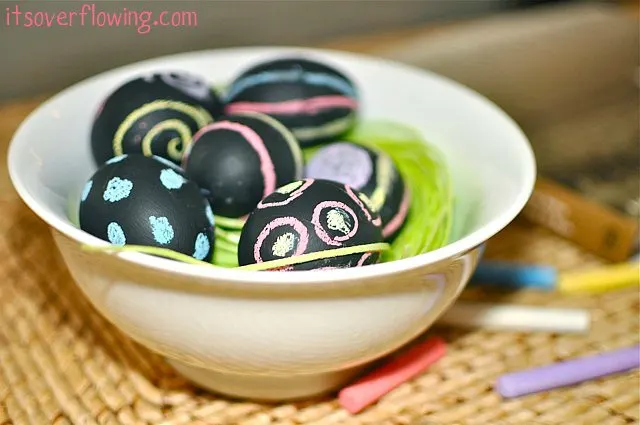 6. Chinese Marbled Eggs
I love using natural dyes to color Easter eggs! These incredible-looking eggs were made by putting cracked eggs in a tea/soy mixture. Get step-by-step instructions at steamykitchen.com.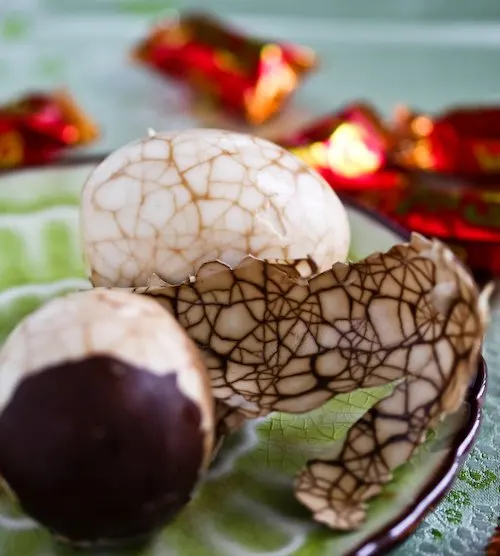 7. Dyed Minion Easter Eggs
If your munchkins are mad for Minions these adorable Easter eggs from A Pumpkin and A Princess will have them singing the Banana Song while filling their Easter baskets!
8. Black and White Easter Eggs
These cool eggs from Obviously Sweet were made with nothing more than a black Sharpie marker. From polka dots to stripes, and thick lines to unique designs, the sky's the limit when drawing on these hard-boiled eggs. You could even use plastic eggs. It doesn't get much easier than that!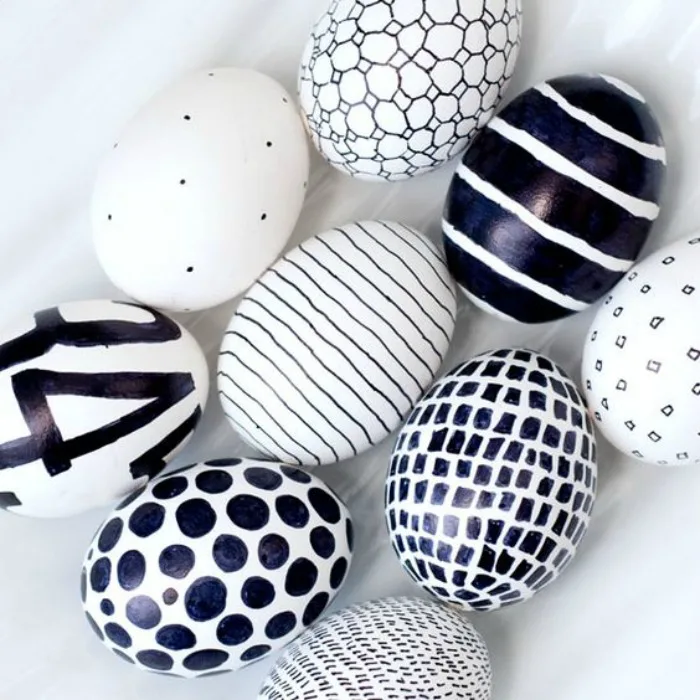 9. Dot Sticker Flower Eggs
So that's what I can do with all of those leftover stickers! This would work on hard-boiled Easter eggs, plastic Easter eggs, or wooden eggs! Find the instructions at bhg.com.
10. Tie Dyed Easter Eggs
These psychedelic-looking eggs from Fun at Home with Kids are almost too cool for words! Using hard-boiled eggs, paper towels, rubber bands, food coloring, vinegar, plastic bags, and a spray bottle, your kids will have some of the best-looking eggs on the block!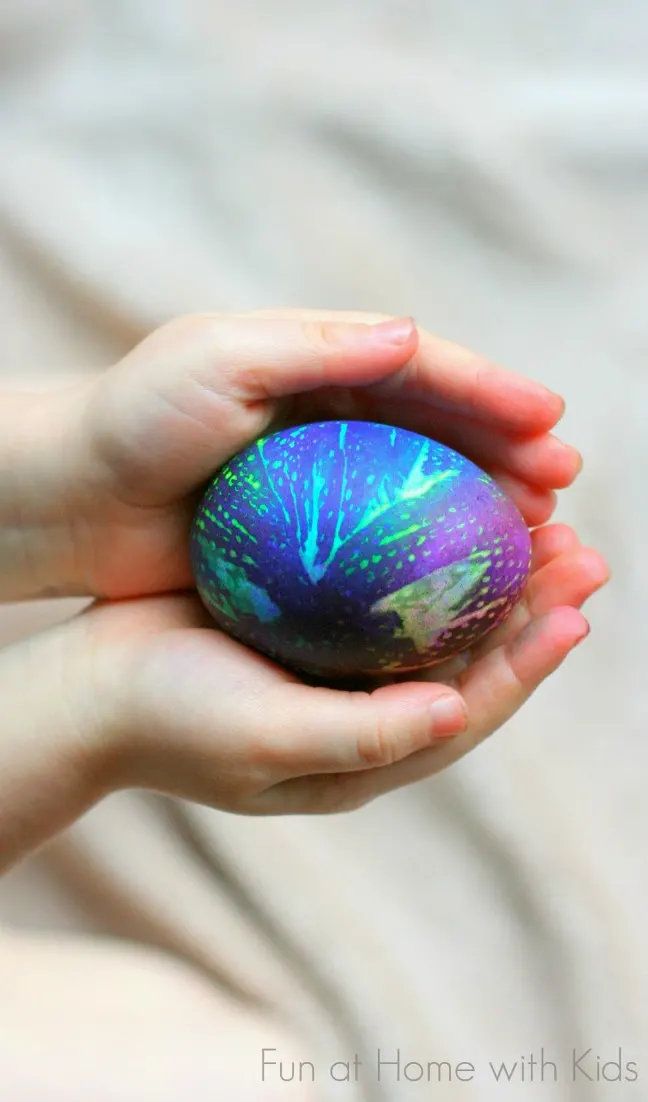 11. Watercolor Eggs
Another creative way to use watercolors and paint brushes from SpoonForkBacon. Use templates or freehand your designs. Whichever way you choose, get ready for a day of fun!
12. Hot Glue Easter Eggs
Creative Connection for Kids came up with a very unique way to decorate their eggs – using hot glue! Parents can help younger kids make designs on the eggs with hot glue. Then dip the eggs in dye, allow them dry, then let your kids peel the glue away. Fun and pretty!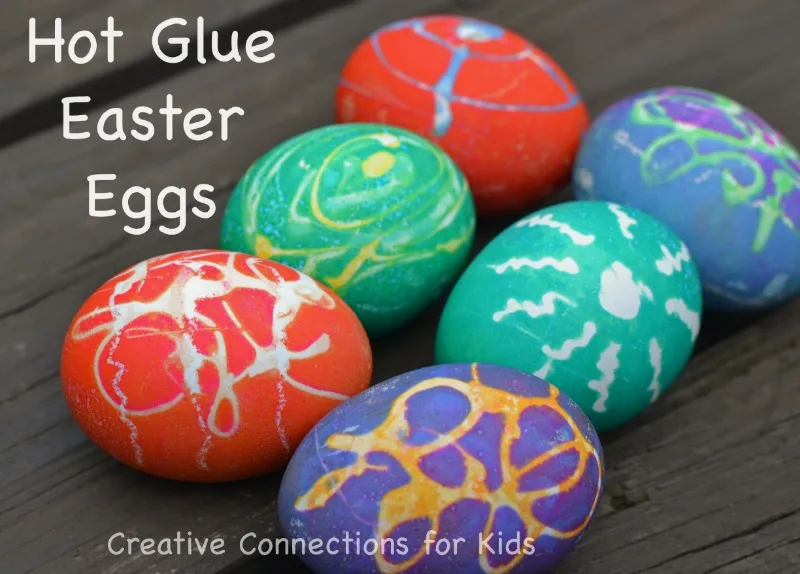 13. Sprinkle Easter Eggs
When it comes to unique ways to decorate Easter eggs, these sweet little Easter eggs from StudioDIY use glue and candy sprinkles like you would put on cookies, cupcakes, or a cake. Speaking of cake, they also look good enough to eat (but don't).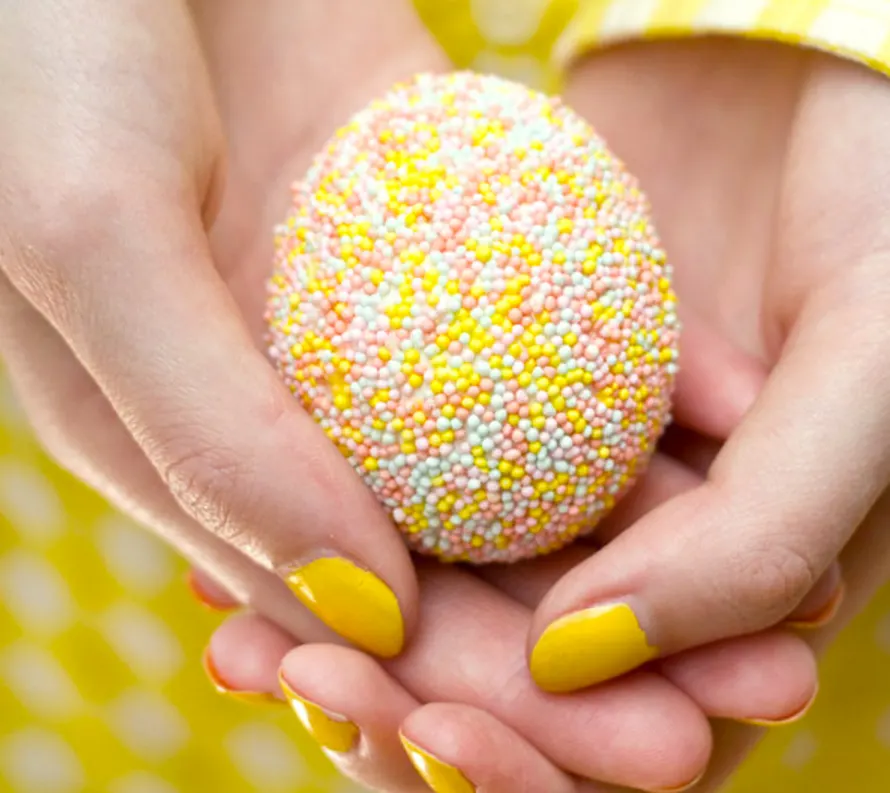 14. Easy Spotty Eggs
More sticker ideas from Red Ted Art these polka dots eggs are a fun and easy way to decorate Easter eggs! Simply color the eggs first, let them dry, then add some colorful polka dot stickers.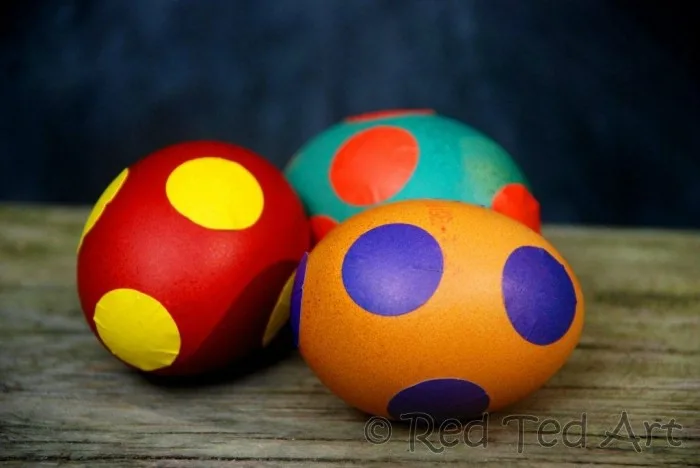 15. Volcano Egg Dyeing
Kids will love the process and the result of these super cool Easter Eggs from Toddler Approved! What a blast!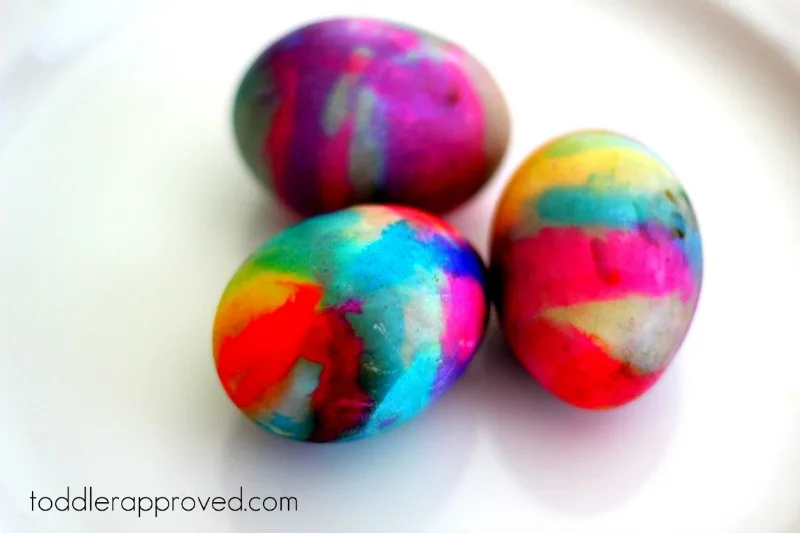 16. Glitter Dot Eggs
So simple, yet so pretty! The Easter bunny will have a blast hiding these shiny and colorful eggs. Learn how to make them at bhg.com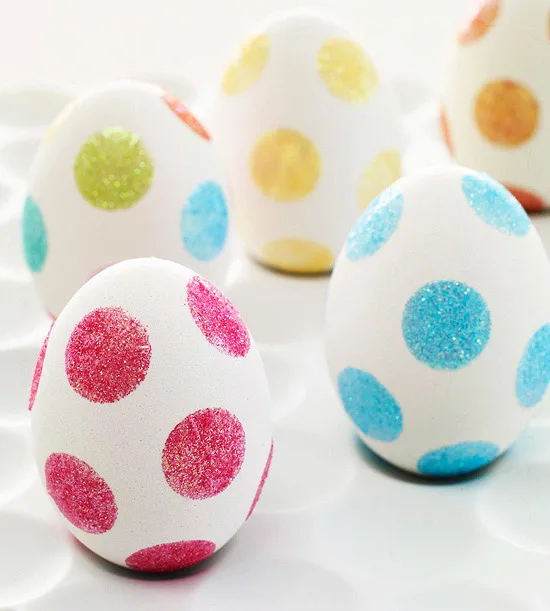 17. Foil-Covered Easter Eggs
To get this awesome look from Suzy's Sitcom, all you need are eggs, foil, and acrylic paint. I'm thinking a paint pen or craft paint would work as well!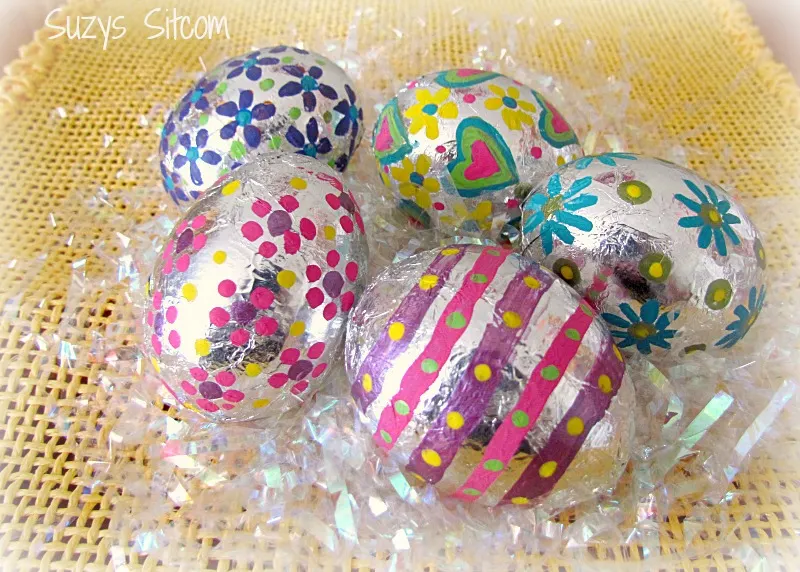 18. Papier-Mâché Easter Eggs
These beautiful eggs from Fireflies and Mudpies are so much fun to make! All you need is paper mache eggs, tissue paper, newspaper, Mod Podge, glue, and scissors. These cute eggs will add a quirky flash of color to your Easter celebration.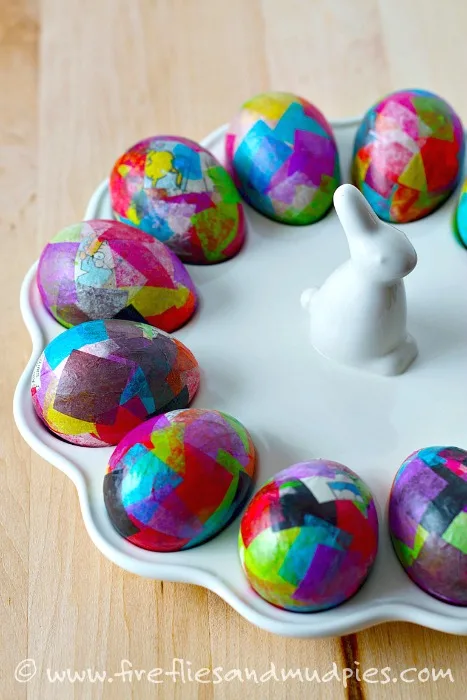 19. Neon Polka Dot Easter Eggs
Loving these bright, colorful, and fun Easter Eggs from Design Improvised! These eggs are so easy to decorate, the whole family can get in on the fun, regardless of their skill level!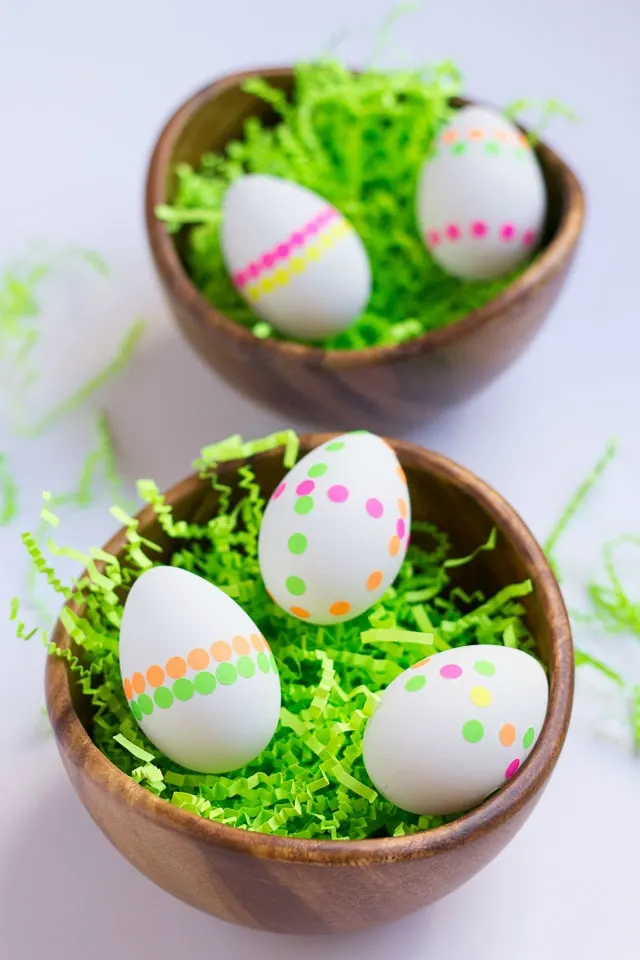 20. Doily Stenciled Eggs
Urban Comfort used pieces of doilies as stencils to make these eggs. It's a fresh take on Easter egg decorating and is so unique! You will dye the eggs with a base color of your choice, then cut out pieces of doilies that you will then adhere to the eggs. It makes such beautiful and intricate designs!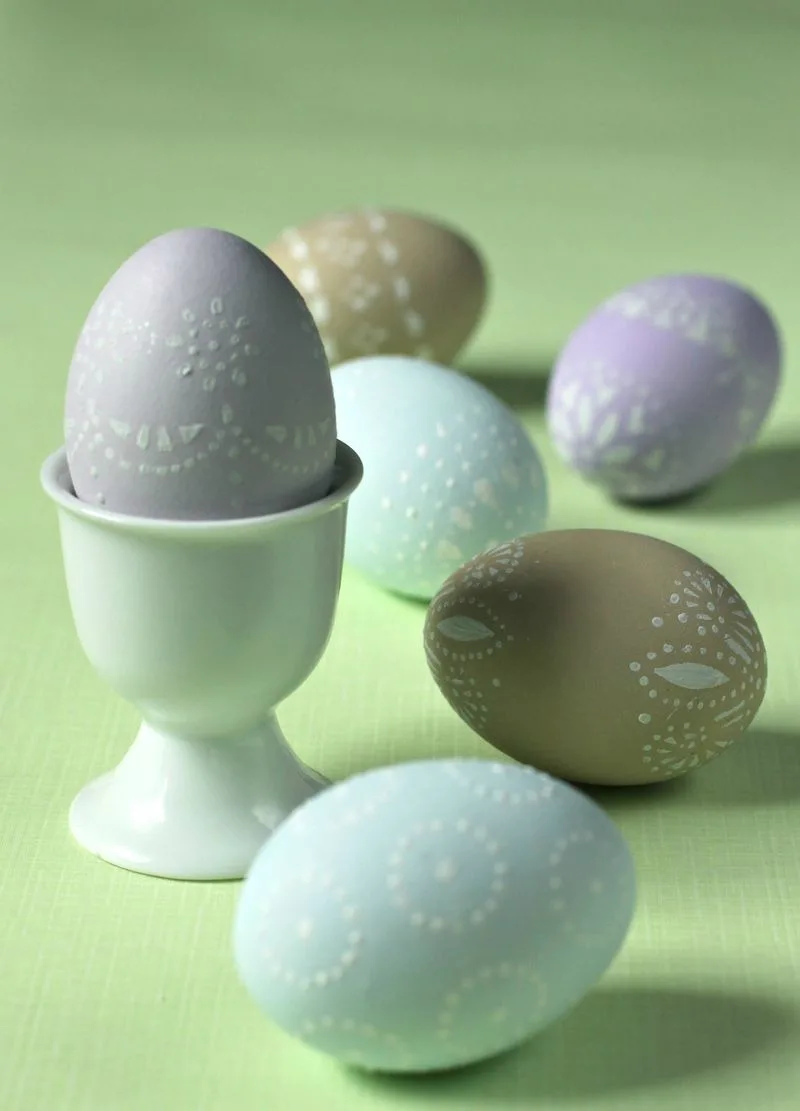 I hope you and your family enjoy all of these different ways to decorate Easter eggs! My family and I are planning on trying a few of these ideas each year to make a fun tradition.
Which one of these twenty unique ways to decorate Easter eggs is your favorite?
Like It? Love It? Please Share These Unique Ways to Decorate Easter Eggs!
Did you like these creative and unique ways to decorate Easter eggs? If so, I'd love to see which ones you tried!
Tag me on Instagram @bullocksbuzz or using #bullocksbuzz and share a photo of your creative creations!
Be sure to save this post either by clicking on that little heart over there to your right or by pinning it on Pinterest. Then share with your friends and family by clicking the share buttons above the post title, too!
More Easter Crafts and Recipes
Love this post? Here are some more creative Easter crafts and recipes I think you'll love!