Whether you are looking to store your Christmas ornaments or to start the New Year off by cleaning and organizing, Ultimate Christmas Storage and their premium ornament storage boxes make storing and organizing a cinch!
Since the year we married, my husband and I have made it a holiday tradition to buy one special Christmas ornament each year. Ten years later, our collection has grown. I've been keeping all of our Christmas and Hanukkah decorations in a plastic storage tote, and the ornaments are kept in the boxes they come in. Needless to say, every year we unpack that tote with bated breath waiting to see if any ornaments failed to survive. So far we've been lucky, but our collection is getting too big and way too meaningful for that plastic box.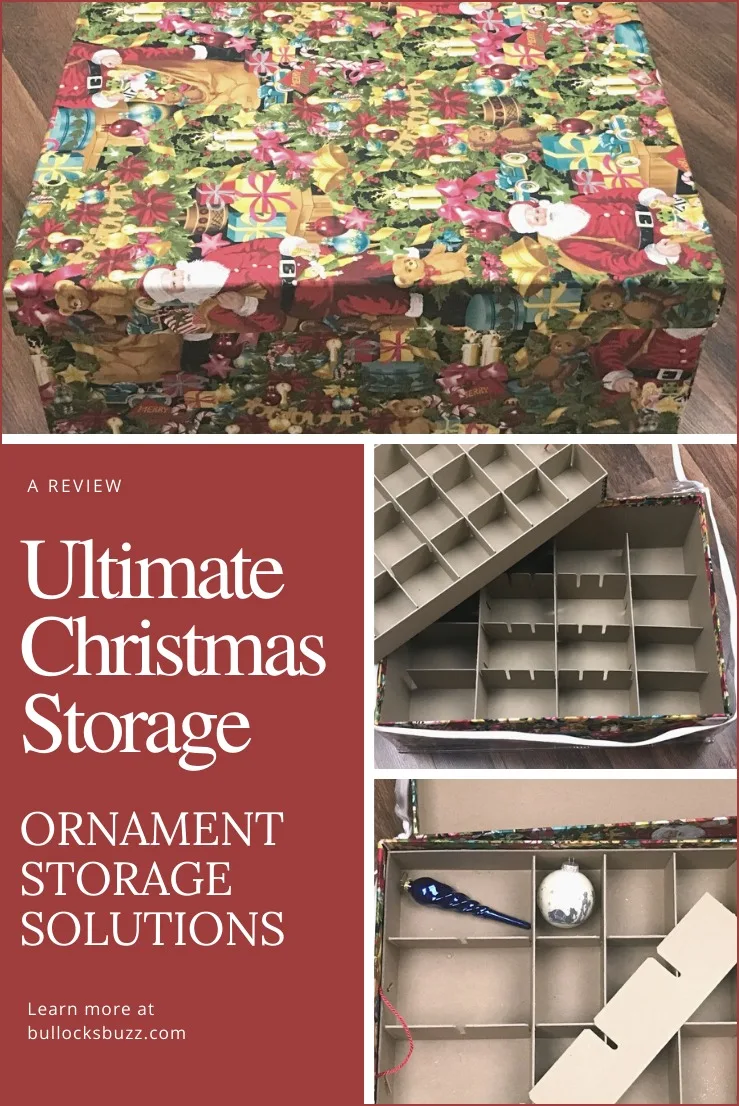 Then I learned about Ultimate Christmas Storage and their ornament storage boxes.
Ultimate Christmas Storage
Ultimate Christmas Storage specializes in exactly what the name suggests: high-quality, durable, and customizable storage boxes that are absolutely perfect for precious Christmas ornaments, crafts, toys, home organizing, or even as a special gift box. Zero space is wasted as everything fits perfectly into its own protective, designated space.
And the boxes are so beautiful, that as a bonus when the ornaments are on the tree, the boxes can be used as additional decor either under the Christmas Tree or around the house!
Ultimate Christmas Storage – Storage Boxes
Ultimate Christmas Storage offers a great selection of premium storage boxes in two different lines, the Ultimate Line and the Kraft Box line. All boxes come with removable trays and up to 100 adjustable compartments depending on the size box you choose.
The Ultimate Line features beautiful, premium fabric-covered Christmas ornament storage boxes that are perfect for storing heirloom ornaments. These boxes are available in several different pretty holiday designs, and come in three different sizes including:
The Ultimate Ornament Box – 2 levels, 44 compartments
The Ultimate Ornament Chest – 4 levels, 100 compartments
Ultimate European Ornament Chest – 3 levels, 44 compartments
It's also important to note that the boxes are constructed from acid-free materials which means your ornaments will be safe from the damaging effects of environmental acid and tarnish!
They also have the versatile Kraft Collection Boxes line which can be used to organize craft materials, kids' toys, clothes, decor and much more. It also comes in various sizes including:
3″ Combo – four boxes for a total of 112 adjustable compartments, all 3 inches deep
4″ Combo – three boxes for a total of 48 adjustable compartments, all 4 inches deep
5″ Combo – three boxes for a total of 36 adjustable compartments, all 5 inches deep.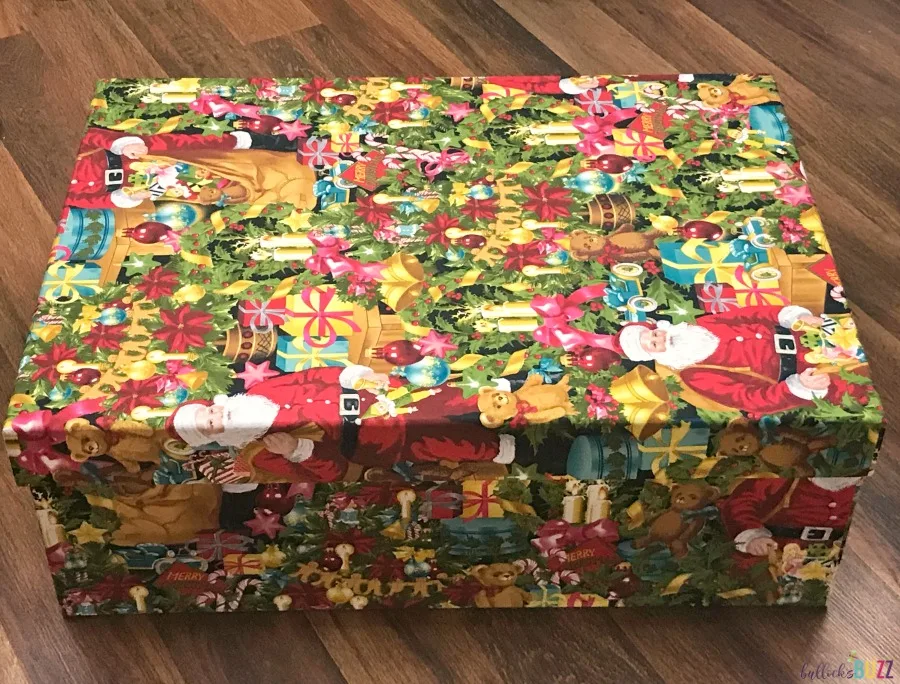 After reading about their ornament storage boxes, I know they'd be exactly what I needed to store our holiday decor in! I couldn't wait to give one of the premium Ultimate Ornament Boxes a try.
Ultimate Ornament Box Review
Once my storage box arrived, the very first thing I noticed was the weight and sturdiness of the box. While I didn't think it was going to be flimsy, I was surprised at just how sturdy, well-made and durable this box is!
The next thing I noticed was the fun and festive fabric covering the box. The design is St. Nicolas and I find it to be absolutely perfect. The fabric is soft, bright, and very colorful. It is also securely attached to the box, so I'm not very worried about it coming off.
This premium ornament storage box measures around 22-inches long, 16-inches wide and 8-inches high.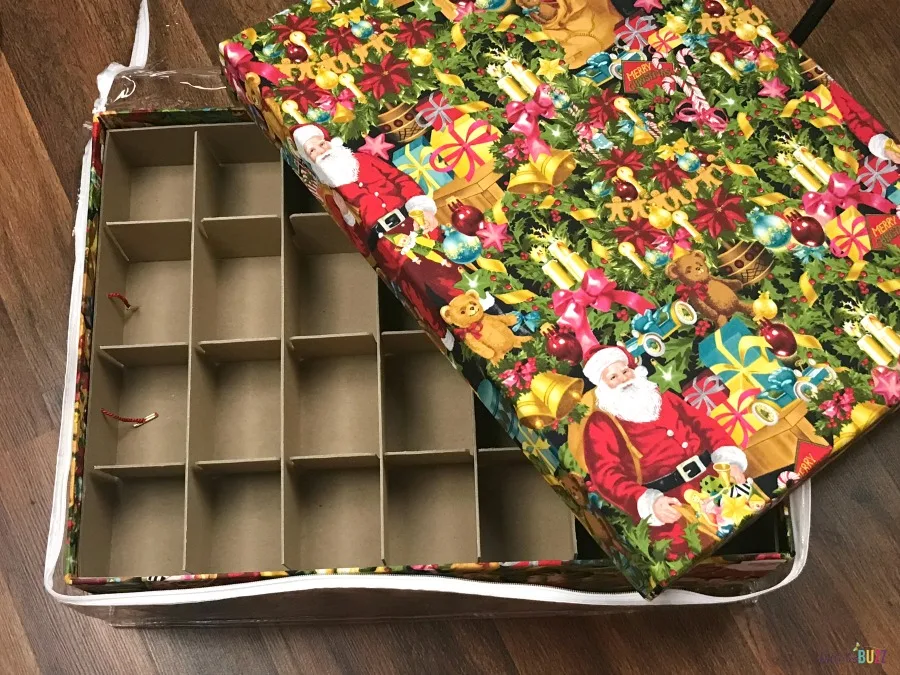 Inside are two trays, the top one of which is removable and measures 3-inches in depth. This tray has 28 adjustable compartments. There is also a rope handle on each end to make it easy to lift and remove.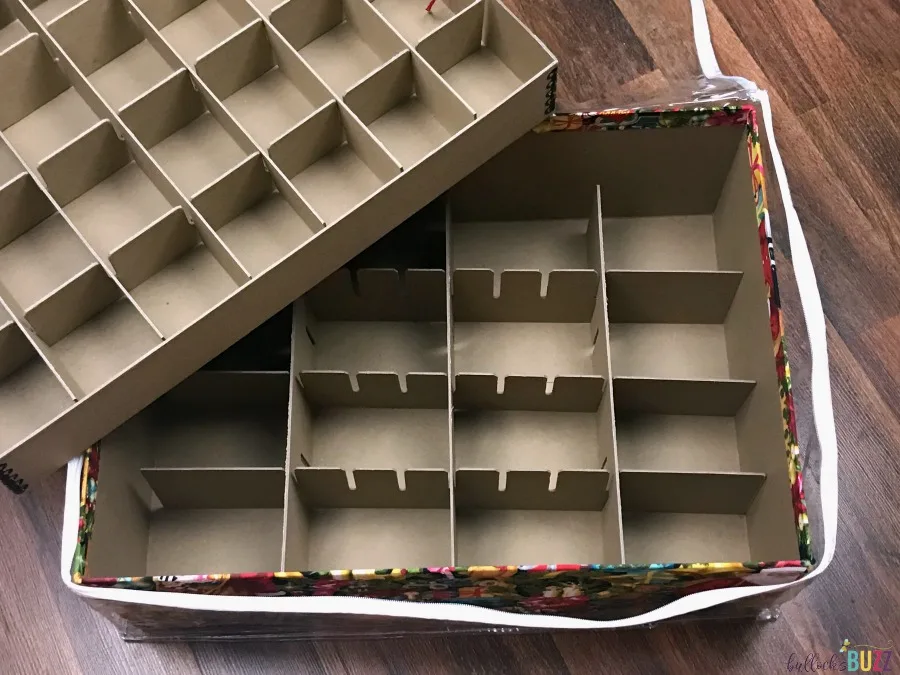 The lower tray is non-removable and measures 4-inches in depth. It has 16 adjustable compartments for a total of 44 compartments.
Each compartment is already the perfect size for a variety of ornament shapes and sizes, but I love how they are adjustable to fit those odd-sized and odd-shaped ornaments.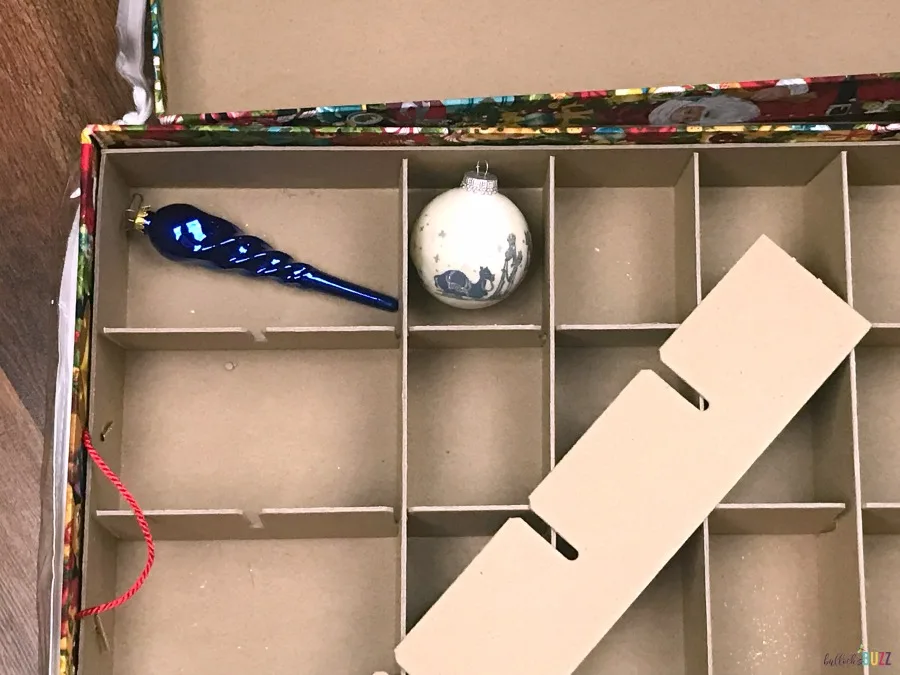 The box also came with a very nice, heavy-duty, zippered vinyl bag for extra protection. This is perfect since we store our holiday decorations in the basement!
Overall I really like my Ultimate Christmas Storage ornament storage box! It's going to make storing my Christmas and Hanukkah decor much more organized and a whole lot safer than that plastic storage tub I was using. Plus, I love how it can double as decor thanks to the festive paper covering the box.
In fact, I am so happy with my Ultimate Christmas Storage box, that as soon as the holidays are over, I am ordering several of their Kraft Collection Boxes to help me tackle and organize my craft room! Similar to the Ultimate Line, the Kraft collection also comes in various sizes making them ideal for craft, toys, jewelry, clothing, and so much more.
Where To Buy Ultimate Christmas Storage
Both the Ultimate boxes and the Kraft Collection are available directly through the Ultimate Christmas Storage website.
With the holidays just days away and the New Year right around the corner, people will soon be looking for ways to store their holiday decor and organize their homes. Whether you are looking to store your holiday decor or looking to start the New Year off with cleaning and organizing then I highly recommend checking their selection of storage boxes out and giving them a try!