2015 Valentine's Day Gift Guide
Most women would love to go spend a relaxing day being pampered at the spa, but the reality is many of us cannot just leave our jobs and families for a day away. In fact, most moms spend more time pampering their children than they do themselves!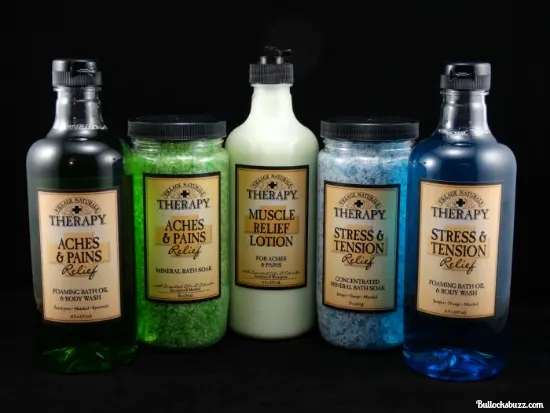 Indulge your body and your senses with Village Naturals Therapy, a luxurious line of body washes, bath soaks and hand and body lotions that are specifically designed to wash away everyday ailments such as aches and pains, sleeplessness, stress and even cold and allergies. These naturally derived aromatherapy solutions are infused with essential oils, extracts and soothing menthol to help relax your mind, soften your skin and keep you feeling more like yourself. Made right here in the USA, each product is made with only the highest quality ingredients, and are never tested on animals.
Village Naturals Aches & Pains Relief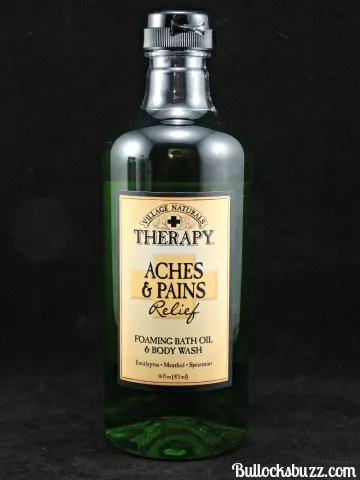 Feel like you are getting the flu with those aches and pains? Add a small amount of Village Naturals Aches & Pains Foaming Bath Oil & Body Wash to a tub full of warm water and you will literally feel the discomfort melt away as you soak in the cooling blend of eucalyptus, spearmint and menthol. If you don't have time for a long soak, this also doubles as a body wash. Just pour a little on your washcloth or pouf, lather up, and let the extracts do their job.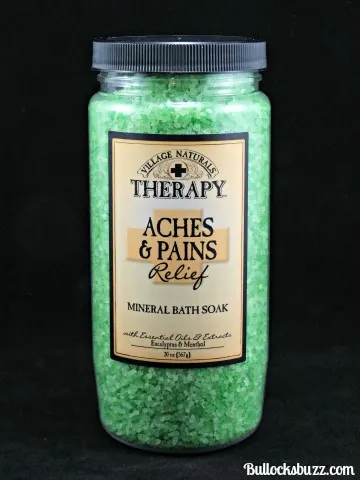 Not a fan of foaming baths? Add 2 tablespoons of Village Naturals Aches & Pains Relief Mineral Bath Soak Salts to the warm water. This blend of sea salt and magnesium sulfate help draw out impurities, while extracts of Spearmint and Matricaria softens skins and soaks away soreness. This works great in a foot bath too to help tired, achy feet feel better!
Village Naturals Stress & Tension Relief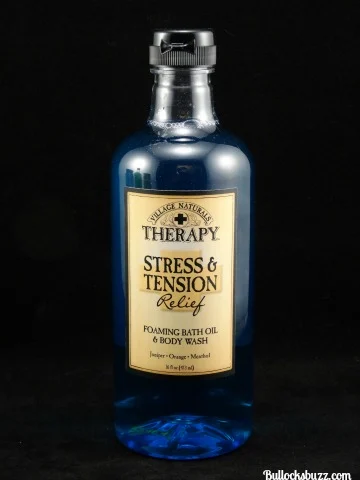 Stressed out after a long day of dealing with the kids or people at work? Fill the tub with warm water and a small amount of Village Naturals Stress & Tension Relief Foaming Bath Oil & Body Wash and clear your mind. The powerful blend of essential oils and extracts including Juniper, Orange and cooling Menthol will help your mind and muscles relax. This relaxing blend also works great as a body wash for those days when you just don't have enough time.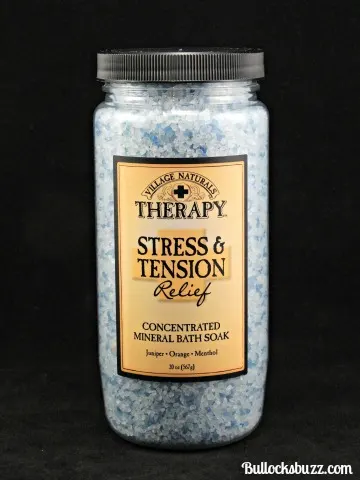 Not in the mood for bubbles? Fill your tub with warm water then add two tablespoons of Village Naturals Stress & Tension Relief Mineral Bath Soak. The powerful combination of sea salt and epsom salt will help draw out impurities and ease tired muscles, while Juniper, Orange and Menthol essential oils and extracts work to clear your mind of the day's troubles.
Village Naturals Therapy Hand & Body Lotion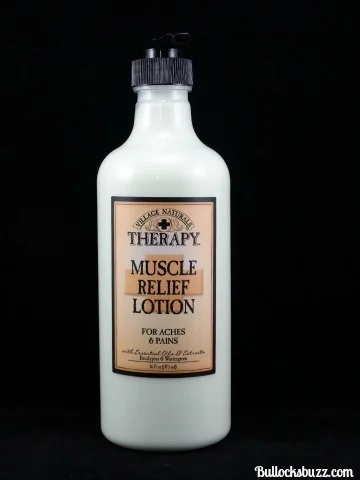 Massage sore muscles away with Village Naturals Therapy Muscle Relief Lotion. A powerful blend of essential oils and extracts including Eucalyptus, Wintergreen and cooling Menthol, work to penetrate aching and sore joints and muscles. Shea Butter, Aloe and Rosemary extracts hydrate while leaving your skin refreshed and silky soft.
My Opinion of Village Naturals Therapy
One thing to keep in mind about these products is that a little bit goes a long way! The first time I tried one of the Foaming Body Oil & Bath Wash blends, I followed the instructions and added about 2 ounces. Within minutes my tub was full of thick bubbles, and the entire bathroom smelled heavenly! I have to admit that the Stress & Tension Relief is definitely my favorite for baths and showers! As soon as you step in the warm temperature of the water combined with the soothing aromas has your muscles and mind relaxing, while the cooling menthol works it magic. And when it comes to achy, sore and tired feet, a warm foot bath with one or two scoops of the Aches & Pains Bath Soak salts works miracles!
Like the others, just a small amount of the Muscle Relief Lotion for Aches & Pain is all you need. As soon as you put some in your hands you can smell the menthol and wintergreen. While strong, the scent does fade after just a few minutes so you don't have to worry about walking around smelling like a medicine cabinet. That same menthol, together with the other healing extracts, feels great as you massage it into your sore muscles. The consistency of the lotion is perfect, not as thick as a body butter, but not so thin as to be runny. I love that it absorbs quickly into your skin without leaving a greasy or oily residue, and it leaves your skin soft and smooth!
Other Village Naturals Therapy Products
Village Naturals Therapy also has an incredibly relaxing Lavender, Chamomile and Passion Flower blend for those Restless Nights, and an Echinacea, Ginseng and Menthol infused line for Cold & Allergy. Both are available in either the Bath Oil & Body Wash or the Mineral Bath Soak salts.
Get the gift of relaxation this Valentine's Day with Village Naturals Therapy. Their products are available at all of your usual shopping places including Walmart, Target, Walgreens and other national retailers. You can also find their products online at Amazon.com
.
What is your favorite Village Naturals Therapy scent?
Want to win a box full of Village Naturals Therapy products? Enter HERE.