2014 Back to School Guide
Now that school is back in session, kids need access to computers and tablets for their classwork. But entrusting a young child with a $400 to $500 tablet is enough to make any parent cringe, which is why I am excited to share with you a durable, affordable, and kid-friendly tablet made by Vivitar called Camelio.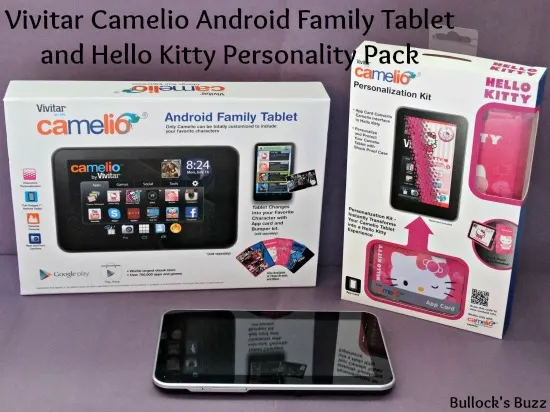 The Vivitar Camelio Android Family Tablet Features
The Vivitar Camelio Android Family Tablet is an ideal tablet for both children and parents. Up to 5 users can share the unit, each using their own personalized profile upon login. Running Android 4.2 (JellyBean) with automatic upgrades, the Camelio features a 1.1 GHz processor and 1 GB RAM, along with a 4 GB flash hard drive that is expandable up to 32GB using SD cards for storage. It also has built-in 802.00b/g/n WiFi technology, a 7″ screen with 1024 x 600 resolution, HD video, a front and rear facing camera, a built-in microphone, and headphones. It comes with more than 25 pre-installed productivity, utility, educational and game apps, as well as direct access to Google Play.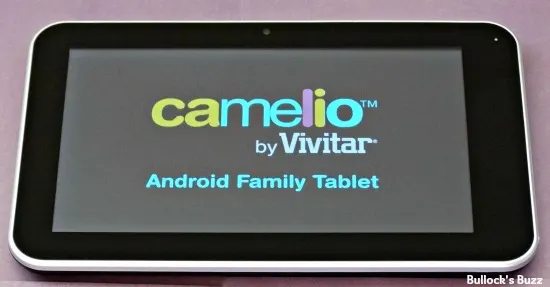 The Camelio was designed with young children in mind. The tablet itself is quite durable and lightweight (0.74 lbs) with smooth, rounded corners, and textured backing with a special 'grip-able' design to help little hands get a better grasp. Its kid-friendly interface makes it easy to add programs with a simple touch of a button, and parental controls ensure a safe user experience for children of all ages. While each user has a personalized profile, he or she can further customize their account with their favorite characters using one of Camelio's unique "Personality Packs" (sold separately).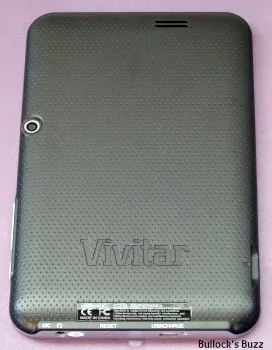 The Vivitar Camelio Android Family Tablet Personality Packs
The Camelio's one-of-a-kind "Personality Packs" lets kids (and adults) totally customize their tablet for a unique user experience. Each kit comes with a themed, shock proof bumper case, a themed tablet cloth, and an app code that unlocks branded content such as wallpaper, widgets, lock screens, and a camera and photo editor. In addition, licensed games, videos, music and books are also included. Themes include such favorites as Batman, Barbie, My Little Pony, Hello Kitty, Monster High, Hot Wheels, Thomas the Train, the WWE and many more. Best of all, the Personality Packs can easily be changed as your child grows and their interests change.
My Review of the Vivitar Camelio Android Family Tablet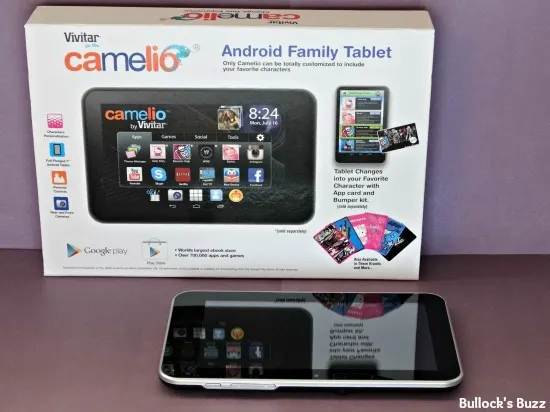 In my opinion, I believe the Camelio is an excellent tablet especially for children. With its low price point, it could easily be classified as a budget tablet, although its features and quality place it well above other tablets in this category. When using tablets there are certain things I look for which include speed, memory, display and features. I was actually quite impressed with the speed of this tablet, and the responsiveness of the screen. The display appears sharp and clear, although a bit dim. The Camelio's rechargeable lithium-ion battery lasts for around 7 to 8 hours, which to me is average, but plenty long enough for a child. Besides, it can always be easily recharged. And as far as features, I have another tablet that costs almost twice the amount of the Camelio and it doesn't have as many features as this one. In summary, I found the Camelio to be a very innovative and user-friendly tablet that can provide hours of both educational and entertaining fun. With this tablet, Vivitar has remained true to their reputation of providing affordable, quality electronics with features that everyone wants.
My Review of the Vivitar Camelio Android Family Tablet Personality Pack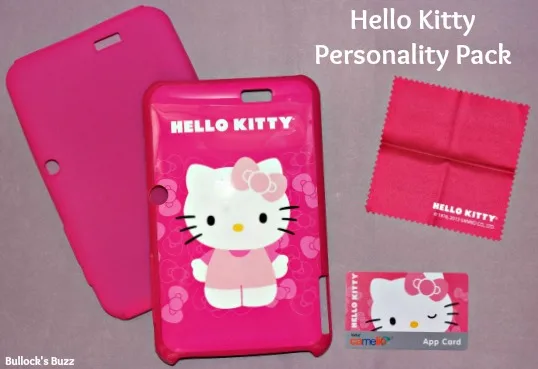 The Personality Packs are such an innovative idea and they really make this tablet stand out from other kid tablets. I received the Hello Kitty Personality Pack
and found it to be an excellent product. The pack includes a bumper case, cleaning cloth and access code for unlocking all sorts of themed apps and activities. The bumper case consists of a soft rubber backing and a harder shell that fits over it. Together it provides even more protection to what is already a durable tablet. The cleaning cloth is made of microfiber and is a great way to encourage your child to take care of their possessions. The app card is very easy to install, and turns the user's profile interface into a Hello Kitty themed bonanza with matching wallpaper, lock screen, clock, address book, camera and photo editor and more! Kids will love it (and even some adults)!
Where to Purchase the Vivitar Camelio Android Family Tablet and Personality Packs
The Vivitar Camelio and the separate Personality Packs are available online through WalMart.com, Target.com, Amazon.com
and others. You can also find the tablet and Personality Packs at Wal-Mart, Kohl's, Target and many other retailers across the nation.
In addition to tablets, Vivitar also makes a large selection of high quality binoculars, telescopes, professional cameras, digital cameras, digital video recorders such as the Vivitar XVN1 DVR that I had the opportunity to review last year, and more. Be sure to visit them online, and connect with them on Facebook and Twitter.