Disclosure of Material Connection: I received one or more of the products or services mentioned above for free in the hope that I would mention it on my blog. Regardless, I only recommend products or services I use personally and believe will be good for my readers. I am disclosing this in accordance with the Federal Trade Commission's 16 CFR, Part 255: "Guides Concerning the Use of Endorsements and Testimonials in Advertising."
2014 Back to School Guide
With school back in session, whether your children are in elementary school, high school or college, they will more than likely be needing a computer and printer for all of their reports, essays and projects. While you don't want to spend a bundle on a printer and replacement ink cartridges, you do want a printer that will be able to handle all of these jobs and more. The new Epson Expression Home XP-410 Small-in-One™ Printer offers several great features perfect for families and students including the ability to print, copy and scan, all at an impressively affordable price.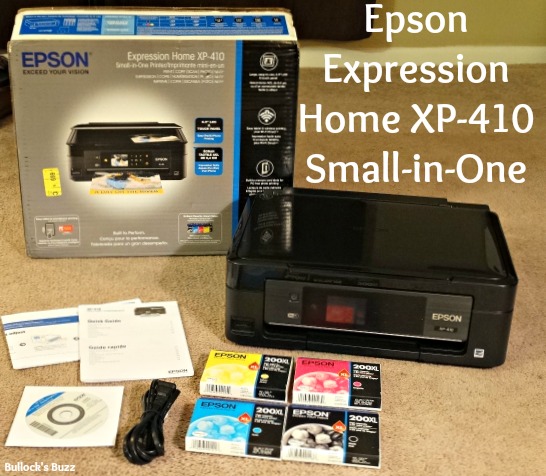 Epson Expression Home XP-410 Specifications
3-in-1 inkjet: print, copy, scan

Print Speeds: up to 8.7ppm black, 4.5ppm olor

Print resolution: 5760 x 1440 optimized dpi

2.5″ LCD adjustable touchscreen

Built-In Memory Card Reader

Mobile Print: Epson Connect, Apple AirPrint, Google Cloud Print

paper Capacity: 100 sheet, rear fed tray

Connectivity: WiFi. USB 2.0

Operating Systems: Windows, Mac OS X

Energy Star Qualified

1 year limited warranty
Epson Expression Home XP-410 Small-in-One Printer Features
I have owned several all-in-one printers, and the Epson XP-410 by far has the smallest footprint.At only 15″ x 12″ x 6″ in storage (15″ x 12″ x 11″ in use) it is the perfect size for fitting on top of a desk, filing cabinet and other small surface. Plus, since it offers wireless printing and scanning you don't have to worry about keeping the printer right next to your computer or even in the same room.
The printer has a 100-sheet rear fed paper tray that can handle a variety of media varying in size from 4″ x 6″ to 8.5″ to 44″, and an 8.5″ x 11″ flatbed scanner. An adjustable 2.5″ LCD touchscreen on the front of the printer gives you convenient access to printing photos, copying, scanning and more, directly from the printer without the use of a computer. You can scan and share documents and photos, or save them to an online storage account, as well as preview, edit, restore and print custom photos directly from the panel, PC-free!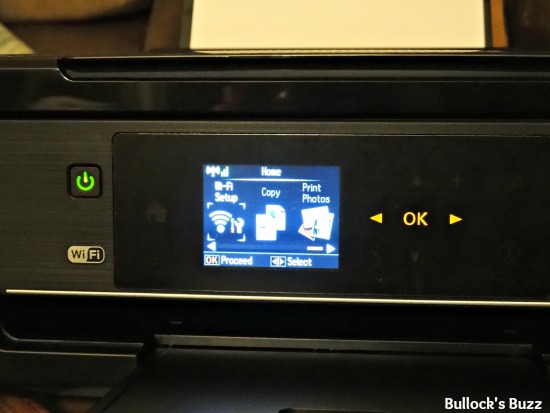 To the left of the control panel is a built-in memory card reader that is compatible with SD cards and Memory Stick/Memory Stick Duo. It does not, however feature a direct connection for a memory card adapter or a direct-print camera.
Instead of using one black ink cartridge and one color ink cartridge, the Epson XP-410 uses four different cartridges (C, Y, M and K) which can be accessed by lifting the top at the center of the printer. I really like this because it enables you to replace only the color you need instead of throwing away a half-full color cartridge just because you printed too much in one particular color! The ink itself is Epson DURABrite Ultra Ink which not only gives you crisp color, but dries immediately and is smudge, fade and water-resistant! The printer comes with standard size cartridges, although replacements are available in both standard and high yield. Replacement cartridge prices vary, although on average they run $12 for black, and $22 for color. You can see exactly how much ink you have remaining in the printer control panel, and once you start running low, you will be notified.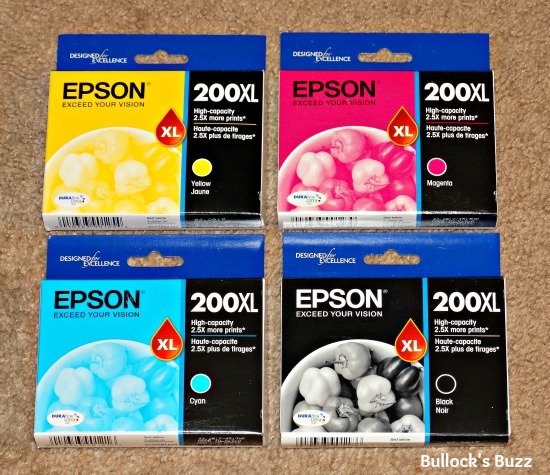 Easy Mobile Printing with Epson Connect™ and the Epson Expression Home XP-410

The Epson XP-410 also offers several free ways for you to print (and scan) while on the go. With Epson Connect™ all you need is a computer, smartphone, tablet, iPad, or iPhone to have the ability to conveniently print and share documents, photos, emails and more from anywhere across the globe. The printer also supports Google Cloud Print and Apple® AirPrint™ as well as other apps and mobile printing solutions, so you can have the freedom to print from wherever you may be.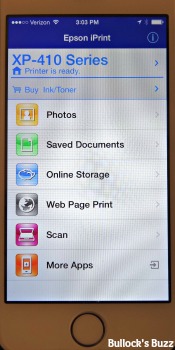 I made sure to install the Epson iPrint app on my iPhone and I absolutely love it! If I come across something I want to print like an email, I can do so with a few simple buttons, no matter where I am! And when I am working on my tablet, I can even print from the Google Chrome browser the same way! Plus, I love the ease of being able to scan a photo from the printer directly to the Cloud without having to mess with the computer at all!
Set Up and Installation of the Epson Expression Home XP-410 Small-in-One Printer
Set up and installation is incredibly easy and just takes a few minutes. The printer comes with everything you need to get started including the set up disc, ink cartridges, and quick-guide and a Users Guide. However, for some reason, it does not come with a USB cable which is odd since they do recommend (it is NOT required though) that you set it up the first time using a USB cable. Luckily, I happened to have one lying around that fit perfectly. I was able to connect my computer, tablet and iPhone within minutes.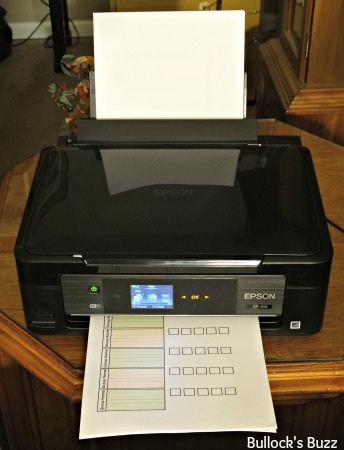 Printing, Scanning, Copying on the Epson Expression Home XP-410 Small-in-One Printer
The print speeds for the Epson XP-410 are advertised to be up to 8.7 ppm in black, and 4.5 ppm in color (not including photos) – I found these to be pretty accurate which is quite impressive compared to other printers I have owned. There is a draft mode you can select which definitely bumps up the speed to closer to 17 ppm, but these come out a light grey in color which makes them more difficult to read. I would not recommend using this for presentations, but rather for instructions or notes to yourself. I was also impressed with how quietly it prints!
Using the copy function is also quite easy. You just place your document face down on the scan glass, select the number of copies you want, and whether you want them in color or not. You can do this from either the printer control panel on your computer, or using the LCD touchscreen. Copying was surprisingly fast, and very clear.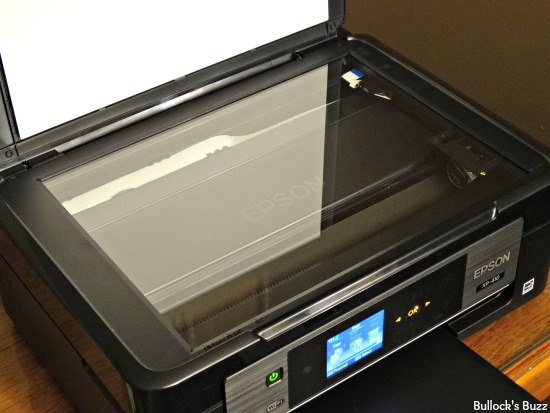 Scanning from the printer is also pretty simple. Simply select to where you want to scan (email, PC, memory card, etc), put your original face down on the glass and hit 'scan'. Using Epson Scan software, you can find even more scanning options including the choice of four modes: full auto, home mode, office mode and professional mode. Each of these modes will bring up the more common scan features for typical jobs.
Photo Printing on the Epson Expression Home XP-410 Small-in-One Printer
The Epson XP-410 does a pretty good job of printing photos. It not only offers you standalone photo capabilities with its built-in memory card slot and easy photo printing from the control panel, but it also offers BorderFree® photo printing in several popular sizes, as well as several customized layouts including 2-up, 4-up or 8-up on a page! As you can see below, it does a great job as far as detail and crispness, although I did see some difference in the colors between the photo I took and what printed. The picture below was printed on 4″ x 6″ Epson Premium Photo Paper Glossy, and it took around 1.5 minutes to print. As you can see, the colors appear a bit darker than in the original photo (allowing for camera too), but they are still bold and crisp, and the clarity is perfect. I then went up a size and printed the same photo on 5″ x 7″ Epson Premium Photo Paper Glossy. This printing took around 2 minutes and the colors remained true, as did the crispness and clarity of the photo.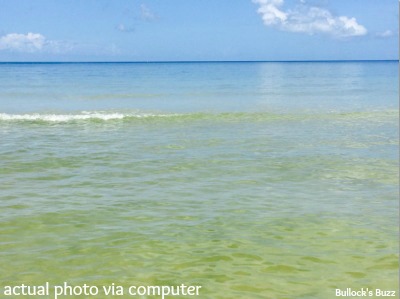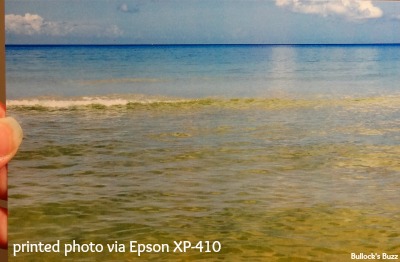 Overall, when it comes to printing photographs, the Epson XP-410 does a pretty darn good job! And as far as printing pictures on regular paper for reports and presentations, any printer that can do this good of a job printing photographs, will make a report look great!
Review of the Epson Expression Home XP-410 Small-in-One Printer
Overall I was very pleased with the Epson Expression Home XP-410 Small-in-One Printer. Set up and use is very easy, and the print quality of both text and photos is very good. I was actually quite surprised to learn about all of the features this printer includes, especially for such a low price point. As far as how long the ink actually lasts, I have yet to go through the cartridges that came with the printer. I can say that I have printed several photos of different sizes, a couple of calendars and tons of text documents. Once I do exhaust the ink, I will come back and update. Below I have listed some more specifications.
Where to Purchase the Epson Expression XP-410 Small-in-One Printer
The Epson Expression XP-410 is available directly through the Epson website, as well as at major computer, office and electronic superstores, online and a variety of retail stores across the nation. You can also find it at several online sites including Amazon
. Prices will vary, but on average the printer costs around $69.99. For more information, tips, prints projects and more, connect with Epson on Facebook, Twitter and Google+.